Feedback from the June 1st Hive Power Up Day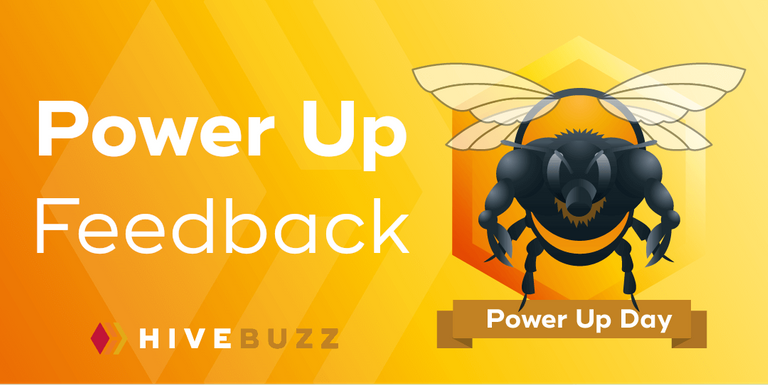 The Hive Power Up Day has truly become an important moment in the life of our community and, once again, this edition did not disappoint us.
But "aaaargh", we were so close to beat the records of participants in the Hive PUD. We only missed 3 more participants.
A few words from the PUD organizers

@traciyork
Happy June, everyone!

While $HIVE hasn't been the greatest price-wise over the past few weeks, you'd never know it based on how many people were excited about Power Up Day today! And with what I've been seeing both on the blockchain and on Twitter, I get the feeling we might beat our total from last month. We might even break a record, given @arcange said the @hivebuzz power-ups for badges during UTC time more than doubled May's total, which is beyond wicked awesomesauceness!

It's that kind of amazing response that reminds me of why I love this platform so much - our community is focused on building and holding for the bullish days ahead, and doesn't let FUD stand in our way!

As always, a huge thank you to everyone who participated in Power Up Day in any way, either by powering up, posting, or shouting out on social media. All of that helps shine a light on our blockchain home. Special thanks to @hivebuzz for always BEEing such an incredible buzz-maker for Hive Power Up Day, as well as all the other cool initiatives you do for our Hive community!
What are the PUD stats of this month?
As mentioned above, we didn't break records this time around.
Let's start first with those who choose to help others grow, the Power Up Helpers.
We have 22 users who have made a power-up to another account and have thus allowed 27 people to get their PUD badge.
Special kudos to those who were helping several accounts:
@traciyork (5), @ybanezkim26 (3)
Together, the helpers gifted 1311.388 HIVE!
Here is the complete list of helpers and their donation:
@tribesteemup (1000.08), @ybanezkim26 (58.01), @traciyork (55), @theguruasia (20), @brianoflondon (15), @dreemsavingsfund (11), @pegarissimo (11), @bighungrypanda (10.76), @charsdesign (10.50), @dwinblood (10.05), @bashadow (10), @eliezerfloyd (10), @junkfeathers (10), @melinda010100 (10), @miriannalis (10), @remenzer (10), @revisesociology (10), @schlees (10), @soulturtle (10), @stormcharmer (10) and @tibaire (10).
A huge thank you to them all for their generosity! Show them some love by upvoting one of their recent posts.
We now have 122 users who helped at least one less powerful user who never got any power-up from anyone. These benefactors got the so coveted Power Up Helper badge: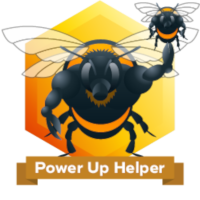 Congratulations to @traciyork (12), @junkfeathers (10), @reiseamateur (8), @tazi (7), @melinda010100 (6), @primersion (5), @louis88 (5), @victoriabsb (5), @ybanezkim26 (4), @french-tech (4), @carlagonz (3), @sandymeyer (3), @revisesociology (3), @scorer (3), @kubak (3), @fraenk (3), @ahmadmanga (3), @bashadow (3), @ecency (3), @tibaire (2), @kwame89 (2), @immanuel94 (2), @blocktrades (2), @p3ntar0u (2), @gr33nm4ster (2), @lesiopm (2), @saleg25 (2), @shmoogleosukami (2), @trumpikas (2), @trangbaby (2), @straykat (2), @sammie (2), @oliverschmid (2), @silversaver888 (2), @schlafhacking (2), @schlees (2), @dawnoner (2), @fw206 (2), @derangedvisions (2), @condeas (2), @dannewton (2), @jossduarte (2), @dreemsavingsfund, @manuelmusic, @pegarissimo, @tsunsica, @charsdesign, @ctrpch, @bighungrypanda, @emsenn0, @tribesteemup, @wedacoalition, @fronttowardenemy, @keco, @soulturtle, @vokus, @stormcharmer, @dwinblood, @theguruasia, @androshchuk, @remenzer, @thatcryptodave, @ramzimo68, @littlenewthings, @happyfrog420, @nomad-magus, @madefrance, @skylinebuds, @perceval, @alexvan, @valerianis, @maruskina, @richardfyates, @miriannalis, @successchar, @muscara, @yolimarag, @laloretoyya, @recording-box, @pardinus, @russellstockley, @pavelsku, @stayoutoftherz, @ph1102, @tarazkp, @phoenixwren, @walterjay, @pixiepost, @zirky, @quekery, @qwerrie, @satren, @felander, @jacobtothe, @hive-data, @arcange, @jesusalejos, @blue.rabbit, @forykw, @brianoflondon, @improv, @brittandjosie, @jeanlucsr, @cryptictruth, @ervin-lemark, @death-and-taxes, @fermionico, @deepresearch, @gregory-f, @jznsamuel, @iamraincrystal, @ksteem, @inertia, @elianaicgomes, @jacuzzi, @eliezerfloyd, @jeffjagoe, @elizabeths14, @joanstewart, @engrave and @jongolson.
(List by number of helpees)
Remember that the number of people you are helping will have a significant influence on the delegations we will do.
But before writing about that, take a look at how you did against the previous editions: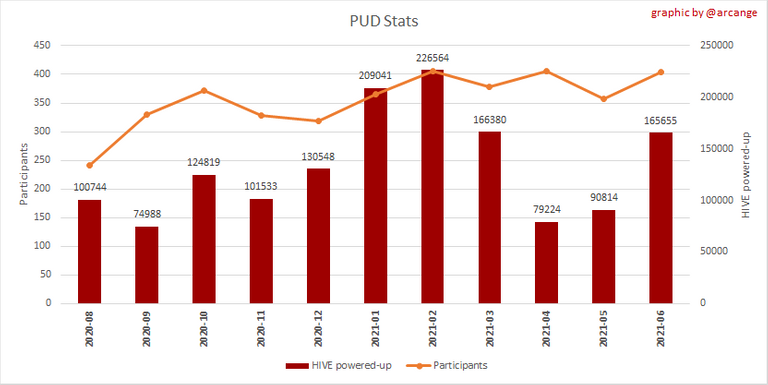 Compared to the previous month, we have a 55 %increase in the amount of HIVE powered up. Congratulations to the 404 users who together performed a power-up of 165655 HIVE. And as already said, we were so close to beat the number of participants record.
Let's now look at what happened with the distribution of power-ups: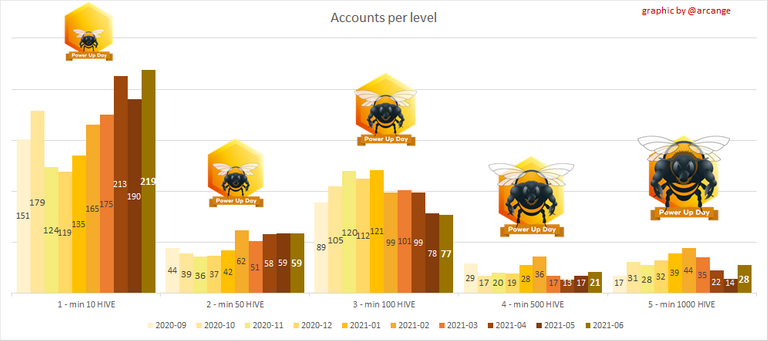 Less big power-ups with 28 big stakers who got the Jumbo-Bee thanks to a power-up of at least 1000 HIVE. This is double compared to the previous month.
Congrats to devrim (22593,066), @gleam-of-light (18063,209), @ecency (6000), @tarazkp (5833,224), @fredrikaa (5000), @jarvie (4400), @gniksivart (3962), @uwelang (3926,097), @peakd (2517), @slobberchops (2000), @thealliance (1582,323), @daltono (1579,787), @ashtv (1500), @ew-and-patterns (1465,962), @chronocrypto (1400), @pouchon (1383), @grecki-bazar-ewy (1300), @ewkaw (1290), @rem-steem (1200), @goingbike (1197,001), @traciyork (1111,111), @deepresearch (1001), @cooperclub (1000), @stayoutoftherz (1000) and @arcange (1000) .
On the other hand, we have an all-time high "level 1" participants! This clearly shows that many take pleasure in participating in the Hive PUD, even with a small power-up.
Hive Power delegations
Since the beginning of this year, we are rewarding regular participants and those who have also been generous in helping others by offering a 3 weeks Hive Power delegation.
To be eligible for a delegation:
you must have participated in this Power Up Day.
You must have performed at least 5 power-ups on Power Up Day. Power-up received from another user is not taken into account.
4 of these 5 power-ups must have been done on the last 5 Power Up Days (including this one).
To compute the amount of HP delegated to each user, we use the following criteria:
The number of power-ups performed.
The number and levels of power-ups you have performed (ex: you made two "level 3" and three "level 5" power-ups).
The number of people you helped to power up and the amount involved.
This month we will delegate no less than 4562 HP to 116 users
Congratulations to all of you!
See you on July 1st for the next PUD!
---
HiveBuzz is a project created by @arcange
---
---