Happy Birthday to the Hive Community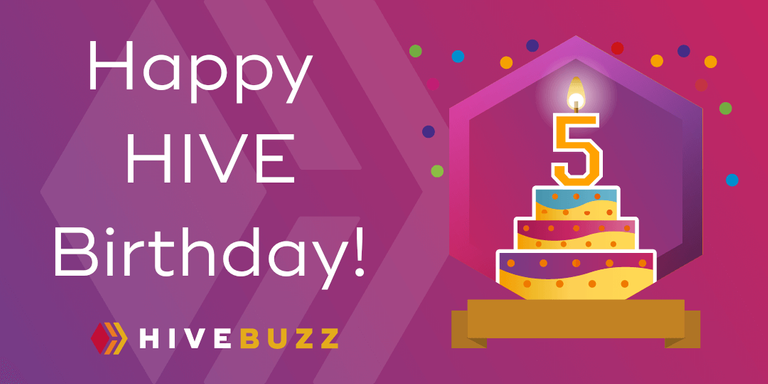 This announcement may seem strange to some because many of us celebrated the first "anniversary" of the Hive on March 20th. But in fact, that date corresponds more to the Hive "Forkday" as @arcange named it in his recent post.
Indeed, it would be unfair to deny our past and forget our long history.
A bit of history
Five years ago, Steemit inc. a centralized company (now owned by a supporter of censorship and theft) launched a revolutionary new blockchain combining technical, financial and social aspects.
The very first block of the blockchain was generated on 2016-03-24 16:05:00 UTC time!
Few minutes later, the very first accounts were created on 2016-03-24 17:00:03. They were 3 of them: @admin, @dark and @nxt1.
3 seconds later, 4 additional accounts were created: @nxt, @nxt, @dantheman and @administrator
Six days later, on 2016-03-30 18:30:18, the very first post was published on the blockchain and welcomed with great enthusiasm.
For many of us, the story started in July 2016. It is at this moment that we saw a massive arrival of new users. This was mainly because people received their first payout and realized that they could actually monetize their content.
For almost four years, many enthusiasts have joined the adventure: developers, bloggers, investors ... people from all walks of life.
Then happened what you all know: the split of our community and the fork to the Hive blockchain.
Many have decided to continue the adventure started four years earlier on this blockchain where the notions of decentralization and censorship-free remain more important values than ever.
Since then, the number of users on Hive has never stopped growing. As of writing, we have 1446405 registered accounts with a constant flow of new users registering and becoming active each day.
Happy Birthday Hive!
Despite last year's events, it would be sad not to celebrate the 5 years commitment of the early adopters and pioneers who are still with us and who allow us to benefit from their experience.
It is therefore with pride that we celebrate with them the 5th anniversary of our decentralized blockchain.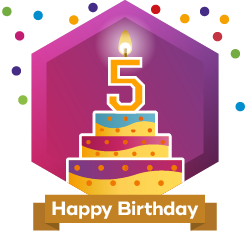 If you registered your account on the Hive blockchain 5 years ago, you will automatically get this badge on your board. Of course, you can reuse it in your post to show your fellow Hivers you are a Hive Veteran.
For those who joined us recently, you will have to be patient. But do not worry, on the first, second, third or fourth anniversary of your registration, you will also your deserved badge.
We wish you a Happy Hive Birthday!
The Hivebuzz Team.
---
HiveBuzz is a project created by @arcange
---
---