The Silver SQUEEZE is ON! This is Only the Beginning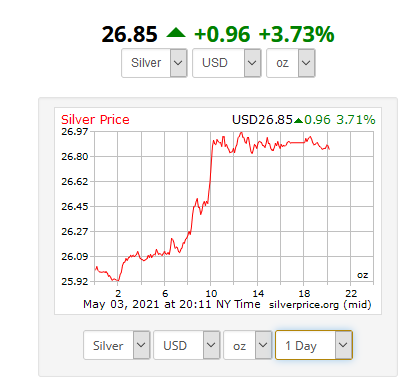 The Squeeze is Happening
Nobody knew what to expect, but everyone in the know is expecting something. The market did not disappoint - we are watching the perfect storm happening right now and the signs are already in place that we're getting ready for lift-off.
What is the silver squeeze? Silver enthusiasts and new investors purchasing physical silver to expose the price fixing of the silver market. The eventual result will be a massive correction in the silver market that cannot be artificially depressed.
What the silver squeeze is NOT: It is not a GME style PUMP-n-DUMP. If that's what you're looking for, you're in the wrong place. Yes, it's likely that silver will correct, however it's going to take more time than most are willing to endure. The nice thing is that in the meantime, you will be in possession of the shiney shiney - way easier to admire and hold than your crypto keys.
Why Silver? Why Now?
Physical silver is unique in that it is both an investment bullion metal and an industrial metal. So silver has demand on the collectable bullion world, as well as the jewelry world and in the industrial world. That's three entire sectors of economy that have demand for physical silver.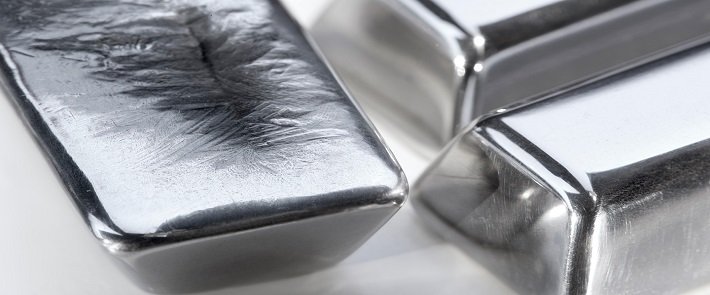 Source
One of the three is in our hands: the collectable bullion world. But further then that, we have massive demand in the industrial world.
1. SILVER in Autonomous Driving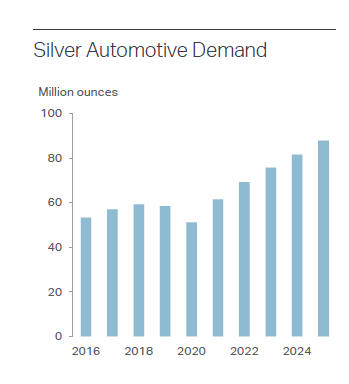 Source
Silver has unique properties unlike any other metal, especially having to do with electronics. With the rapidly growing electric automobile industry being revamped with "green" new initiatives, the demand for silver in the auto industry is expected to increase every year.
Silver loadings and the outlook for automotive silver demand... Average silver loadings have risen in light vehicles (LV) over the past four to five decades, although the growth in the use of silver has been concentrated over the past two decades or so.. Source
2. SILVER in Advanced Battery Technology
Demand has been increasing for batteries with more power capacity that are smaller/lighter than lithium-ion batteries. The Silver-ION battery offers a 40% increase in run-time and are fully recyclable, unlike the lithium-ion batteries which hasn't changed much since the 1990's.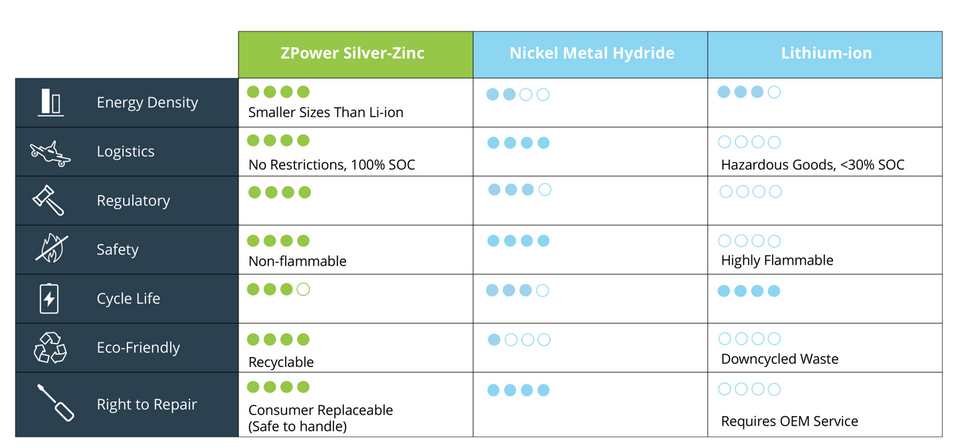 Source
More and more electronics are using rechargeable batteries and there is an unsatiable demand for longer battery life. The usual trade-off between long battery life is weight and size - a problem that has been solved using SILVER-ION technology.
The new battery provides up to 40 percent more run time than lithium-ion batteries and uses silver and zinc that are fully recyclable whereas the main constituents of lithium-ion batteries cannot be reused. Silver-zinc batteries also feature a water-based chemistry that is free from the thermal runaway and flammability problems that have plagued the lithium-ion alternatives. Source
3. SILVER in Solar Panels
With the new initiatives being put in place by our carbon-neutral overlords, we are seeing a MASSIVE push for solar panels. Why is silver so important in the manufacturing of solar panels?
If you're wondering why silver is so important in making solar panels, it's because silver is a metal with incredibly low electrical resistance. Other closely related metals cannot sufficiently match its conductivity for these panels. Silver is so crucial that it can equate up to 6 percent of the total cost of building each unit of the panel. Source
Every ounce of silver used in solar panels are "lost" or in the crypt world "burned" as it becomes cost-prohibitive to recover the metal from the panels. Because of the demand for solar panels, it's unlikely many will be recycled very soon.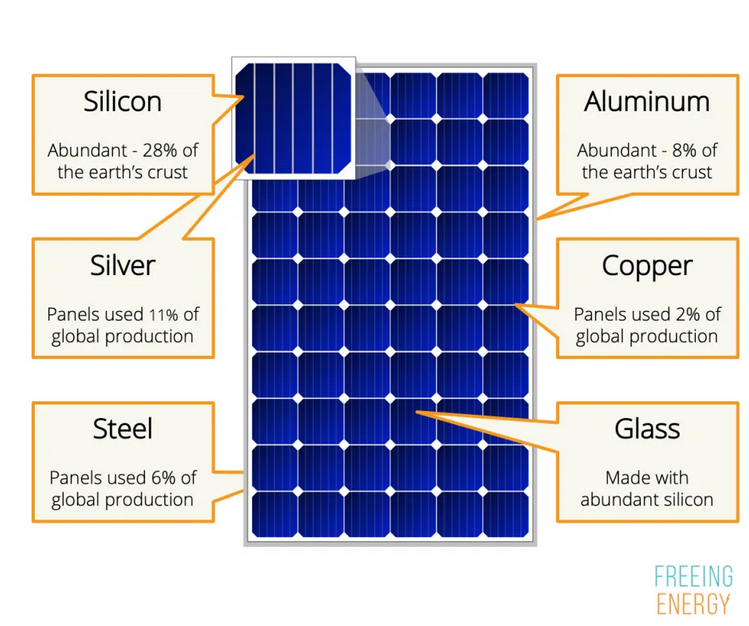 Source
We May Be Approaching the Final Days for AFFORDABLE Silver
Even with real-world silver prices increasing, it is still very affordable to purchase and ounce or two of this highly sought-after metal. On eBay, silver bullion goes for $35 - $45. It is expected that as supply decreases further, we will begin to see real-world prices go 2x - 5x the comex "spot" price.
If you're feeling extra brave, try spending some silver at a local store - you may be SHOCKED to discover they'll be willing trade for it. If you were owed some money and the one who owes you handed you some silver coins, believe me. Feeling the weight of the shiny shiny in your hand, you know that person's debt is settled. Especially if you pawn it for 2x or 3x the initial value.
How many oz's do you have in your wallet?
DO NOT invest more than you are willing to lose.. every investment has risk involved. I am NOT a financial advisor, i only share my experience and what i think about the world of Precious Metals & Crypto. Always be careful & responsible.. do your research before investing into ANYTHING.
---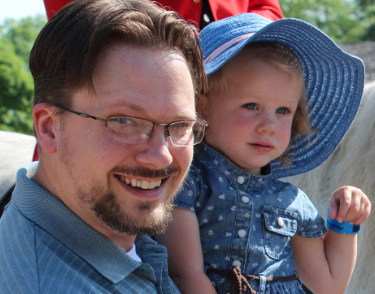 Benjamin Turner: God fearer. Rooted in Messiah. Husband of @lturner. Father of FIVE wonderful children. The guy behind the camera. Blockchain enthusiast.
Bless the Most High!

Teach Your Children Liberty from Sin
We encourage parents to teach their children principles of Godliness, beginning with the Word and an understanding who God is and what His Son has done to form a relationship with us.
No one can lay a foundation other than the one already laid, which is Jesus Christ. If anyone builds on this foundation using gold, silver, precious stones, wood, hay, or straw, his workmanship will be evident, because the Day will bring it to light. It will be revealed with fire, and the fire will prove the quality of each man's work. 1 Corinthians 3:11-13
Teach Your children Liberty from Tyranny
Second to this is the principle of self-determination and freedom, lest we loose the ability to teach our children the first principle in future generations. Our children read the Tuttle Twin books, specifically to learn libertarian principles, which most people learn later in life. These books are useful for our family, and yours, to teach children concepts that seem complicated, but are made simple in these books.
For a limited time, use coupon code FORTY for 40% off your purchase! Check out the books here.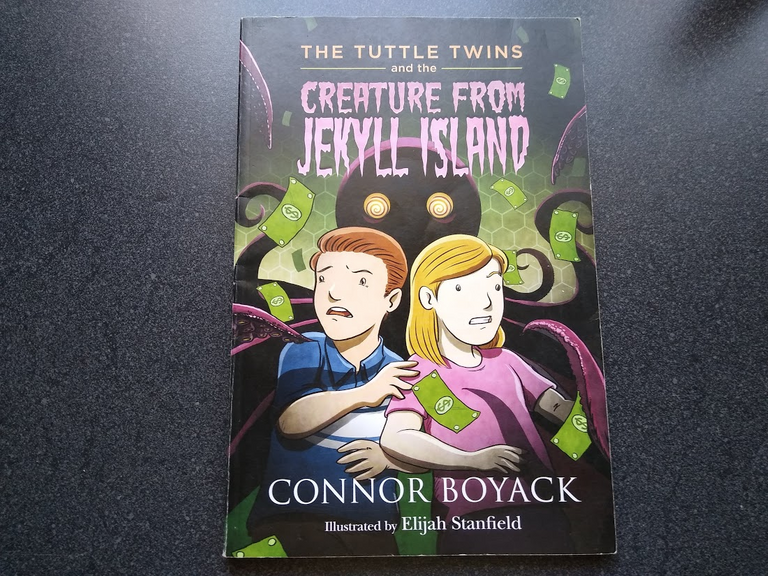 "SMART PEOPLE today are figuring out how to trade without the creature being able to control them - using things like gold and silver products, garden co-ops, online bartering and digital currencies such as Bitcoin."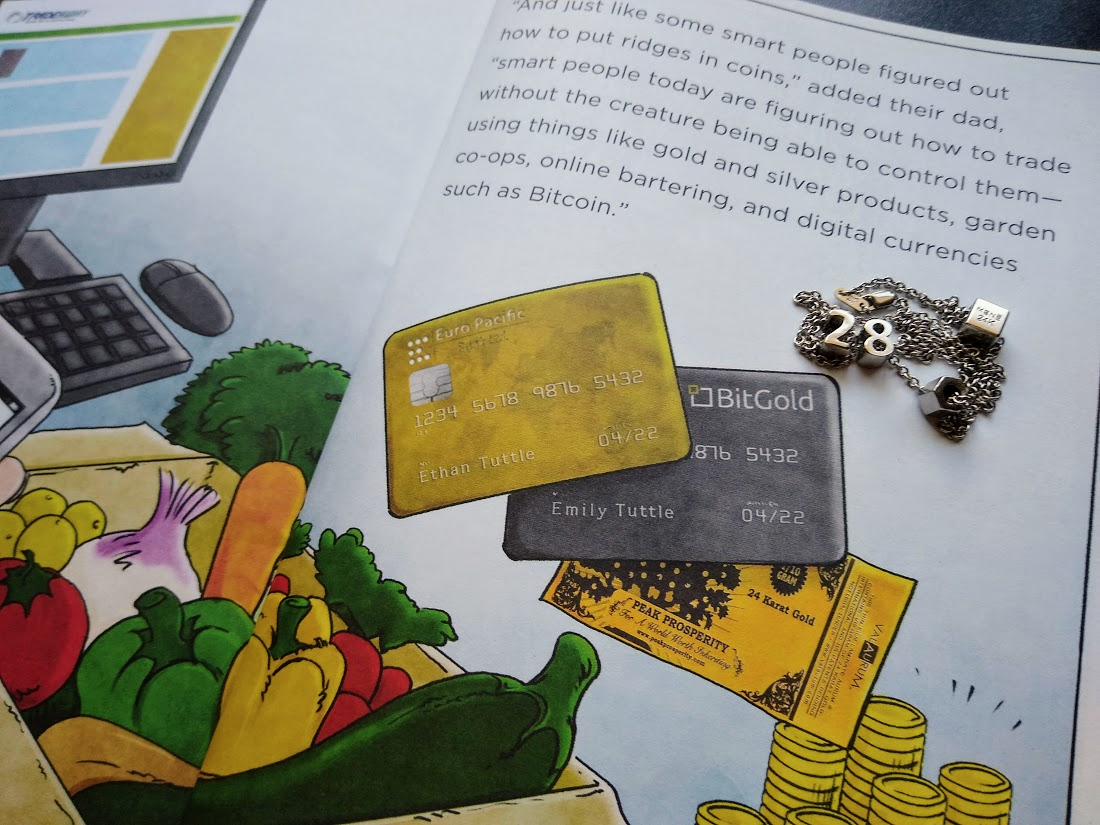 If you like my content, please consider a generous upvote and SHARE
I appreciate my readers and do my best to read and respond to your comments. Thank you for your support, it's what keeps the lights on!
sir, i upvote you for your upvote i thank you dear
---
Posted Using LeoFinance Beta
---
---