My Hive Goals - A march to Financial Prosperity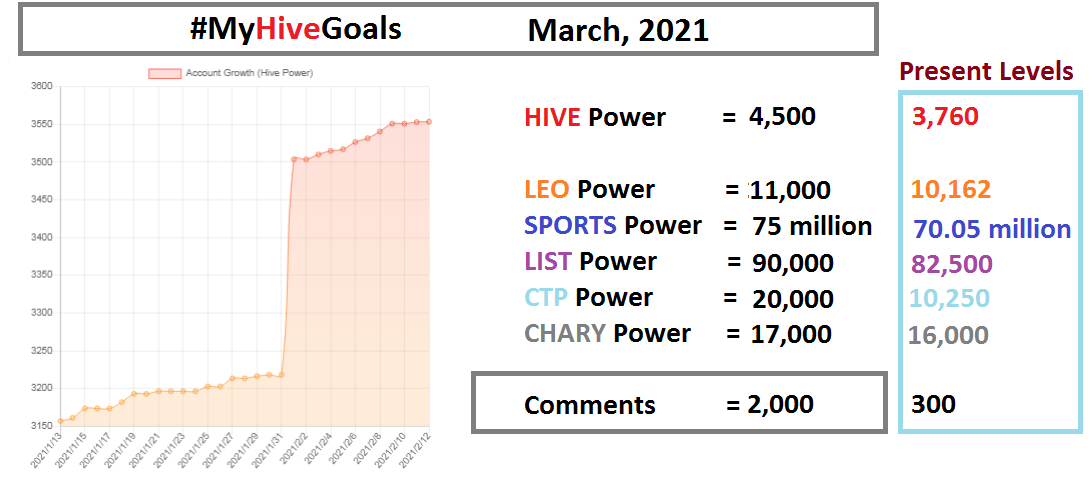 While I am making plans to do my "MondayHivePowerUp", it's important to see the growth thus far through contents earned mid-week power ups for Hive and Hive tokens. I think I'm beginning to appreciate more the need for auto-powerups which allows part of curation/author rewards to be deposited as stakes. It helps all token earners to invest into the future by default. We see this happening with HIVE and on the second layer -SPORTS, LIST and a few other tokens.
I am becoming more intentional about stacking up and building my crypto value for the future. The sudden rise in cryptos show that the financial future is bright for all those who bought in early. More important is the fact that staking tokens on Hive and its second layer helps me not to trade my tokens by impulse. I am keenly looking toward a future when my stakes shall sum to $1 million and that should come sooner.
New projects are birthing each day and we see a tremendous growth within the second layer of Hive. The most recent is the the availability of ETH on Hive-engine and soon, we'll be having Hive-engine ECR20 tokens. Thus, we'll be seeing wrapped-SPORTS, wrapped-CTP, wrapped-LIST, wrapped-STEM etc, just as we have wrapped-LEO on Uniswap. This time, everything would be obtainable within the confines of Hive on the second layer. Thanks to @Aggroed for the awesome addition to Hive-engine.
Within the first week of March, 2021, some tangible progress has been made with powering up some tokens towards achieving the March goal - LEO, SPORTS, CTP, LIST, and CHARY. Within the next three weeks and 3 days, I see how possible it'll be to double up efforts to hit the March goal. Already, there are green lights with CTP, SPORTS, LEO and Hive Power.
I dare to pass the 4k Hive Power as time for Hive bill run draws nearer than ever. The push to reaching 10k Hive Power becomes more interesting than ever as I wish to cast upvotes worth at least 15 cents. More airdrops are coming and perhaps more blockchain linkages via LEO which would make it easier for other crypto holders to buy into Hive.
Looking forward to engagement, only a piecemeal out of my target has been reached. A low 300 comments were made over the last 7 days out of the supposed 500 comments. Only leofinance.io interface recorded 161 engagement while other interfaces shared the other half. Let's see what props up in the coming weeks.
Posted Using LeoFinance Beta
---
---