SAMSARA - Ron Fricke - 2011
Cinema has the incredible ability to surprise us from time to time. Even though I knew who Samsara's director was, and having already seen his predecessor "Baraka", there was no way for me to escape the astonishment, emotional hypnosis that Samsara caused me when I saw him for the first, second, third time. Its director Ron Fricke definitely took some steps up the ladder of primacy and the making of works of art that determine what separates an ordinary film from a play that transforms viewers. But, after all, what is Samsara?

source:
Samsara is a film / documentary / non-verbal experience that resembles a kind of meditation guided by contemplating the world. Its director took five years to complete it and filmed it in 25 countries, with a 70mm camera to give it an impeccable photographic aspect (I highly recommend watching it in 4K). An unsuspecting person who sits down to contemplate Samsara can go through several stages, from incomprehension, discomfort, reflection, submission and stasis. Samsara succeeds through his impeccable and absolutely terrifying filming to hypnotize, either through the cosmic ballet of nature, or through long panoramas of unbelievable man-made constructions or by the extremely close view of human situations, intensely explicit with an often absurd narrative silence, which actually causes that difficulty to swallow saliva while contemplating something so striking.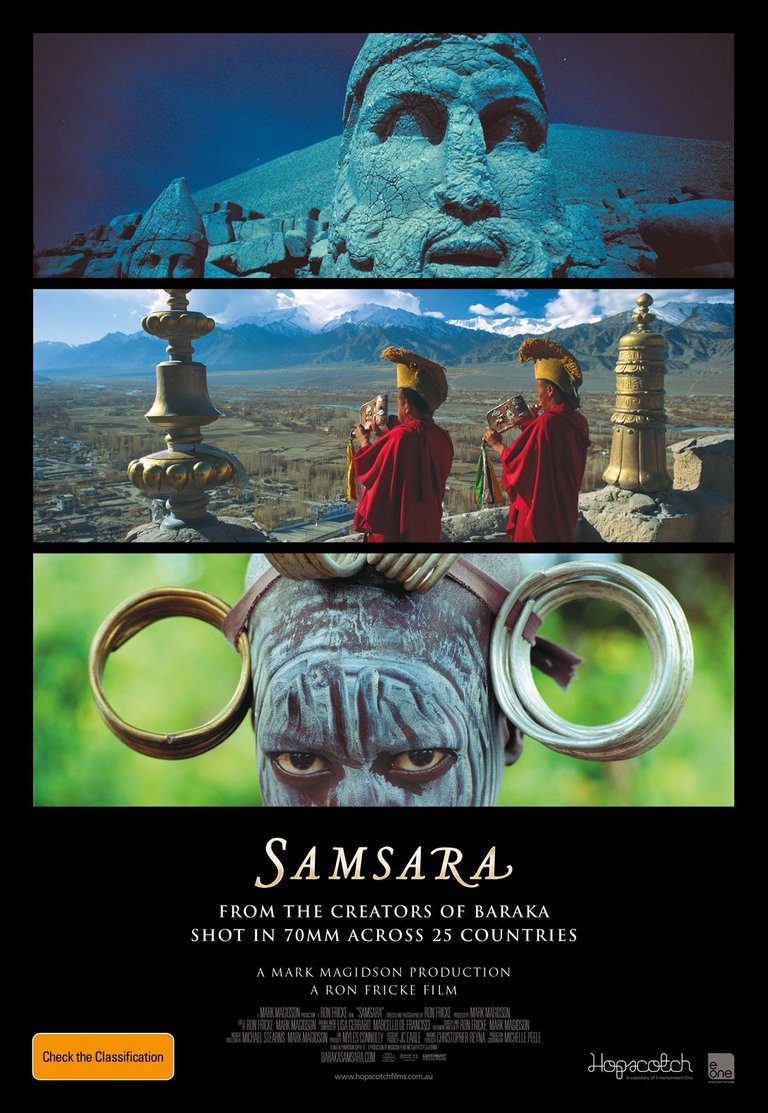 source:
We observed that the human is human wherever he is, and for that the director made a point of capturing unique scenes from: Saudi Arabia, Angola, Brazil, China, South Korea, Denmark, Egypt, United States, Ethiopia, France, Philippines, India, Indonesia, Israel / Palestine, Italy, Japan, Mali, Myanmar, Namibia, Thailand and Turkey. Interspersing poverty and wealth, suffering and joy, contemplation and despair, art and reality, all in a devastatingly artistic and touching way.
I have nothing left to do, except to leave the trailer for you to contemplate a little of what I am talking about. But, if I can give you a hint, it is: Watch Samsara today. And preferably in high quality, with the light off and concentration.
source: youtube
Movie: Samsara
Director: Ron Fricke
Genre: Documentary, Experimental
Year: 2011
Length: 1h42min
I thank you for your attention to this post, I hope it was a good movie suggestion, I intend to always bring something interesting to share with you! Thank you for your vote!
Thomas Blum
---
---