Recuerdos trágicos // Tragic memories [Eng-Esp]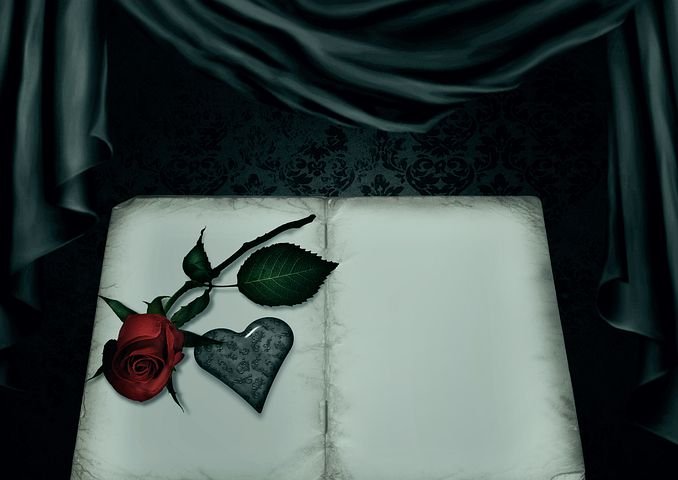 source
Four years ago, three months into our marriage precisely, I became a man's punching bag. Richard married me when I was still very young and vulnerable, my parents forced me to marry him because of the loan they owed to his father.
When he married me, he paid off the debt and took me far away from my hometown where my parents lived. He didn't let me have their phone lines to at least talk to them. Neither did I get the chance to say goodbye immediately after the wedding.
The last thing I saw was the tears that escaped my mother's eyes as she waved goodbye but I was already in the car, sitting like a purchased animal. I felt bad about the whole marriage thing but at least I was glad my parents would finally be at peace of being indebted to no one.
We drove for hours before arriving at the airport. It was my first time leaving my hometown so I didn't know where he was taking me, I just followed like a sheep following its shepherd.
After like three months of being with him, I began to question when I'll get to talk with my parents but he would give deaf ears to it. I kept asking because I missed them so much but he would only shut me up and send me out of his sight.
One day he got furious about it and rained insults on them. He called my parents beggars and said so many rash things to me. Tears of pain escaped my eyes and I let them flow freely so I could be, he got mad that I was crying and hit me to cry more. That was the beginning of his physical assault.
After the first beating, it became a continuous thing, he told me severally that I was his slave, I did more hard work than I used to do, he'd wake me up at midnight and make me prepare foods that take a long time to cook even when he knew I was with child.
I could no longer recognize myself when I looked in the mirror, my face had been disarranged with his cruel fists. He could beat me without mercy because he paid the debt which my parents owed. I got so scared of him to the point of praying that something bad would happen to him whenever he was out to work.
One day,before he left for the house, he hit me. I was in so much pain that morning that I dared myself to dial the police even after he had warned me sternly but I still went ahead to call them with one of his old phones since he refused to get me a phone then I made my complaint.
They arrived later but Richard had come home already. I didn't know how but immediately I dropped the phone, in less than a minute, he drove in. Fear was an understatement because I knew what Richard was capable of. He'd kill me I thought and immediately I set up a camera somewhere to record his actions which I'll use as evidence.
When they hit the door bell, I wanted to go get the door but he pushed me aside and rushed to get it . They asked him a few questions which I didn't hear because I looked down from the window upstairs but I knew he was gonna deny everything, of course he did and acted like a nice gentleman.
The police believed him and left, then I knew doom approached me. Richard was ruthless and could do anything to me after all nobody knew he had me in his house. When he came back upstairs, he had a knife in his hand.
My legs trembled and I saw my life flash before my eyes. I was four months pregnant already so I rubbed my stomach to at least make him remember that I was carrying his child but he refused to acknowledge it saying " that child you have there isn't needed in my house". After making the statement, he walked closer to me. With his knee, he hit my stomach twice. I groaned in pain as I watched blood trickle to the floor. I just lost the pregnancy in the most gruesome manner and it was extremely painful.
He laughed when he saw me roll on the floor covered in blood, then he lifted the knife to finish what he had started. At that point I felt this sudden energy get into me, I got up not minding the pain and somehow managed to seize the knife from him. I didn't wait a second to thrust it right into his stomach.
It went through straight and clean. I staggered backwards and watched life escape from his eyes. I felt good somehow but I knew I was now gonna be termed a murderer but I had proof then I grabbed the house keys and camera.
With the little strength I had, I ran down the stairs because I was losing a lot of blood. I opened the door and called for help. An elderly woman who was passing by saw me and came to my aid.
The next thing I remembered was seeing myself in the hospital, the doctors had done a great job and I was already feeling better. I passed out for two days, said the doctor. The woman had called the police and handed them the camera. They watched the video which vindicated me. I was so glad I recorded that video.
Words weren't enough to thank the old lady for helping me. When I was fully recovered, I went back to my hometown to reunite with my parents but my dad had passed away because of over-thinking. My mom was glad to see me, she regretted ever supporting the marriage after hearing my story.
Goodnight diary.
Eliana closed her diary and wiped off the bead of tears that had fallen on her cheeks. Heaving a sigh of relief she pushed the diary under her pillow and drifted off to sleep.
---
ESPANOL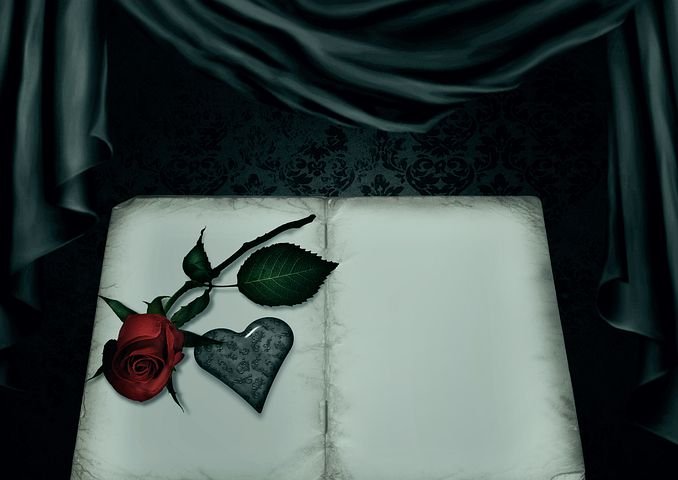 fuente
Hace cuatro años, a los tres meses de nuestro matrimonio precisamente, me convertí en el saco de boxeo de un hombre. Richard se casó conmigo cuando aún era muy joven y vulnerable, mis padres me obligaron a casarme con él por el préstamo que debían a su padre.
Cuando se casó conmigo, pagó la deuda y me llevó lejos de mi ciudad natal, donde vivían mis padres. No me dejó disponer de sus líneas telefónicas para al menos hablar con ellos. Tampoco tuve la oportunidad de despedirme inmediatamente después de la boda.
Lo último que vi fueron las lágrimas que se escaparon de los ojos de mi madre al despedirse, pero yo ya estaba en el coche, sentado como un animal comprado. Me sentía mal por todo el asunto de la boda pero al menos me alegraba de que mis padres estuvieran por fin en paz de no estar en deuda con nadie.
Condujimos durante horas antes de llegar al aeropuerto. Era la primera vez que salía de mi ciudad natal, así que no sabía a dónde me llevaba, sólo lo seguía como una oveja que sigue a su pastor.
Después de unos tres meses de estar con él, empecé a preguntarme cuándo podría hablar con mis padres, pero él hacía oídos sordos. Yo seguía preguntando porque los echaba mucho de menos, pero él sólo me hacía callar y me echaba fuera de su vista.
Un día se puso furioso por ello y les hizo llover insultos. Llamó mendigos a mis padres y me dijo muchas cosas imprudentes. Las lágrimas de dolor se escaparon de mis ojos y las dejé fluir libremente para poder estar, él se enfadó porque estaba llorando y me golpeó para que llorara más. Ese fue el comienzo de su agresión física.
Después de la primera paliza, se convirtió en algo continuo, me dijo varias veces que era su esclava, que hacía más trabajo del que solía hacer, me despertaba a medianoche y me hacía preparar comidas que tardaban mucho en cocinarse, incluso cuando sabía que estaba con un niño.
Ya no podía reconocerme cuando me miraba en el espejo, mi cara había sido desarreglada con sus crueles puños. Podía golpearme sin piedad porque pagaba la deuda que tenían mis padres. Llegué a tenerle tanto miedo que rezaba para que le ocurriera algo malo cada vez que salía a trabajar.
Un día, antes de que se fuera a casa, me pegó. Me dolía tanto esa mañana que me atreví a llamar a la policía incluso después de que él me advirtiera con firmeza, pero aun así seguí adelante y les llamé con uno de sus viejos teléfonos, ya que se negaba a conseguirme un teléfono, y entonces hice mi denuncia.
Llegaron más tarde, pero Richard ya había vuelto a casa. No sabía cómo pero inmediatamente solté el teléfono, en menos de un minuto, llegó en coche. El miedo era un eufemismo porque sabía de lo que era capaz Richard. Me mataría pensé e inmediatamente puse una cámara en algún lugar para grabar sus acciones que utilizaré como prueba.
Cuando tocaron el timbre de la puerta, quise ir a por ella pero me apartó y se apresuró a cogerla . Le hicieron algunas preguntas que no escuché porque miraba desde la ventana de arriba pero sabía que iba a negar todo, por supuesto lo hizo y se comportó como un buen caballero.
La policía le creyó y se fue, entonces supe que la fatalidad se acercaba a mí. Richard era despiadado y podía hacerme cualquier cosa, después de todo nadie sabía que me tenía en su casa. Cuando volvió a subir, tenía un cuchillo en la mano.
Me temblaron las piernas y vi mi vida pasar ante mis ojos. Ya estaba embarazada de cuatro meses, así que me froté la barriga para que al menos se acordara de que llevaba a su hijo, pero se negó a reconocerlo diciendo "ese niño que tienes ahí no es necesario en mi casa". Después de hacer esta afirmación, se acercó a mí. Con su rodilla, golpeó mi estómago dos veces. Gemí de dolor mientras veía cómo la sangre caía al suelo. Acababa de perder el embarazo de la manera más espantosa y era extremadamente doloroso.
Se rió al verme rodar por el suelo cubierta de sangre, y luego levantó el cuchillo para terminar lo que había empezado. En ese momento sentí que una energía repentina se apoderaba de mí, me levanté sin importarme el dolor y de alguna manera me las arreglé para arrebatarle el cuchillo. No esperé ni un segundo para clavárselo en el estómago.
Lo atravesó de forma directa y limpia. Me tambaleé hacia atrás y vi cómo la vida escapaba de sus ojos. De alguna manera me sentí bien, pero sabía que ahora me iban a calificar de asesino, pero tenía pruebas, entonces cogí las llaves de la casa y la cámara.
Con las pocas fuerzas que tenía, bajé corriendo las escaleras porque estaba perdiendo mucha sangre. Abrí la puerta y pedí ayuda. Una mujer mayor que pasaba por allí me vio y vino a socorrerme.
Lo siguiente que recuerdo es verme en el hospital, los médicos habían hecho un gran trabajo y ya me sentía mejor. Me desmayé durante dos días, dijo el médico. La mujer llamó a la policía y les entregó la cámara. Vieron el vídeo que me reivindicaba. Me alegré mucho de haber grabado ese vídeo.
Las palabras no eran suficientes para agradecer a la anciana su ayuda. Cuando me recuperé del todo, volví a mi ciudad natal para reunirme con mis padres, pero mi padre había fallecido por culpa de un exceso de pensamientos. Mi madre se alegró de verme, pero se arrepintió de haber apoyado el matrimonio después de escuchar mi historia.
Buenas noches diario.
Eliana cerró su diario mientras se limpiaba el goteo de lágrimas que caía sobre sus mejillas mientras escribía. Con un suspiro de alivio, metió el diario bajo la almohada y se quedó dormida.
---
---