Small steps to big goals. Hive savings. Thoughts. My Actifit Report Card: May 23 2022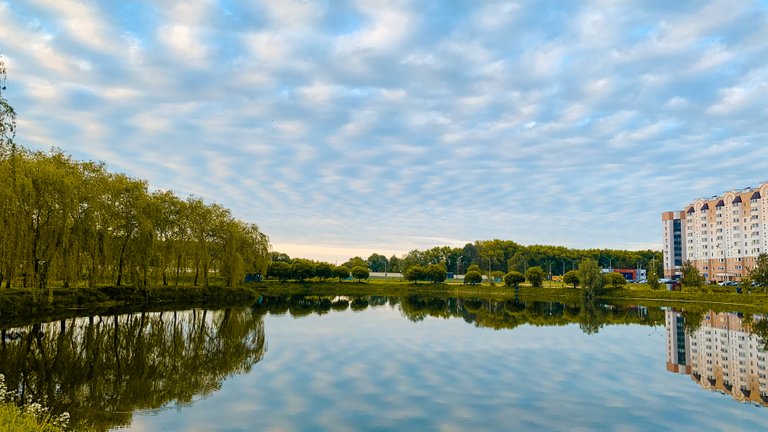 The abyss is in the details

Hi there!
What could be more important than views like these? What problems can override the feeling of the immense beauty of nature in every day? I couldn't tear myself away from this sky as I walked and took pictures from different places and angles. It was unique from everywhere. The reflection in the quiet lake doubles the sense of beauty, if not makes that beauty absolute.
May is my favorite month. Not just because my birthday is in May. Nature in my area wakes up and shows such beauty that you might not see at any other time of year. It gives the impression that the whole world is going to an important reception today. And at those receptions, you usually wear the best you've got in your closet. This is exactly the kind of reception I'm going to! And I'm at it...
RU: Ну что может быть важнее вот таких видов? Какие проблемы могут перечеркнуть ощущение огромной красоты природы в каждом дне? Я не мог оторваться от этого неба во время прогулки и фотографировал с разных мест и углов. Отовсюду это было неповторимо. Отражение в тихом озере удваивает ощущение красоты, если не делает эту красоту абсолютной.
Май мой любимый месяц. Не только потому что у меня день рождение в Мае. Природа в моей местности просыпается и показывает такие красоты, которых, возможно, и не увидеть в другую пору года. Создаётся впечатление, что весь мир сегодня идёт на важный приём. А на такие приёмы обычно надевают лучшее, что у тебя есть в гардеробе. Сейчас именно тот самый приём! И я на нём...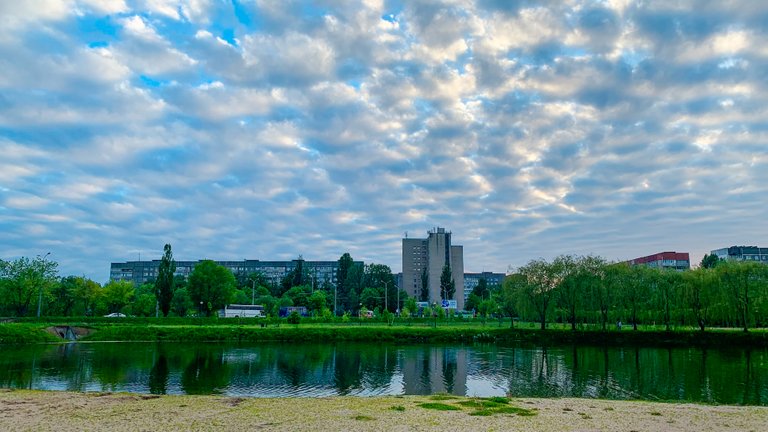 Hive savings report
I will continue to play the game in the numbers of my achievements on Hive. Below is a table of my daily accumulation of Hive, HP, and layer 2 tokens:
RU: Продолжу игру в числа моих достижений на Hive. Ниже таблица моих ежедневных накоплений Hive, HP и токенов второго уровня: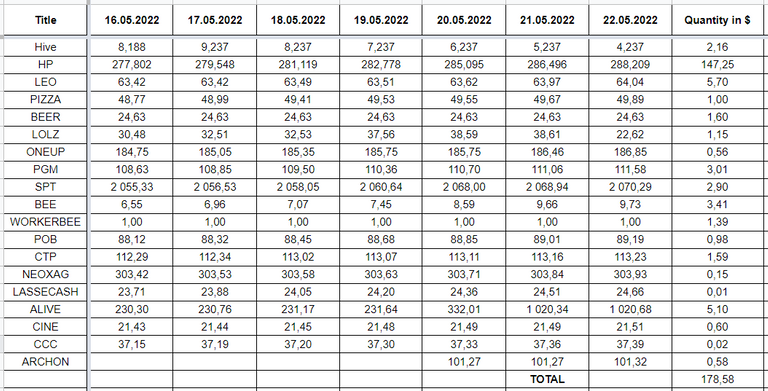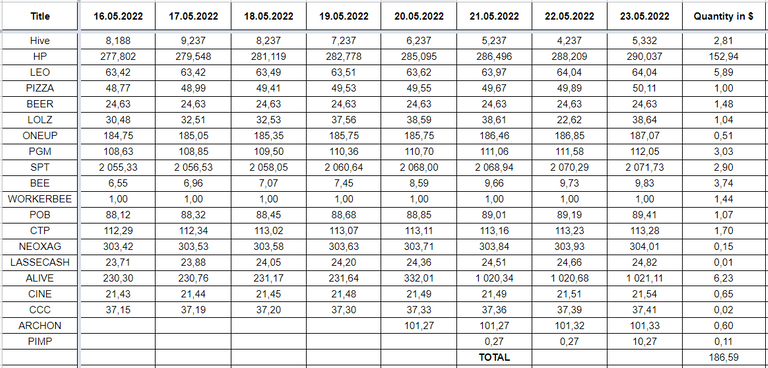 Today my order to buy 10 PIMP was approved, so I will also keep statistics on the profits of this asset. The market stopped bouncing the last couple of days and for the third day in a row my savings are showing growth. This is great! Also, starting tomorrow I am including VYB in my report, since it is the token brother of POB. Can't separate the family).
So today my savings went from $178 to $186, which is ~4.4%. Today's Hive Five!
RU: Сегодня одобрили мой ордер на покупку 10 PIMP, поэтому я также буду вести статистику по прибыли этого актива. Рынок перестал скакать последние пару дней и третий день в подряд мои сбережения показывают рост. Это радует! Также с завтрашнего дня я включаю в отчёт VYB, так как это токен брат POB. Нельзя разделять семью.)
Итак, сегодня мои сбережения выросли с 178$ до 186$, а это ~ 4.4%. Сегодня Hive Five!
That's all for now, the next reports will be more and more voluminous and interesting thoughts and plans, I'm already doing it).
RU: На этом пока всё, следующие отчёты будут всё объёмнее и интереснее по мыслям и планам, я уже это делаю.)

Photo: Belarus, Gomel, May 2022



This report was published via Actifit app (Android | iOS). Check out the original version here on actifit.io




23/05/2022

20154

---
---