CTP Talk weekly stats report
Welcome to the CTP weekly stats report. It is compiled for everyone interested in the development of CTP Talk and CTP token, so please continue to read for your weekly stats dosage.

Summary
I'll start with a summary of the market stats and key performance indicators on one slide for week 24. In the sections after, I will provide further details for each of these numbers.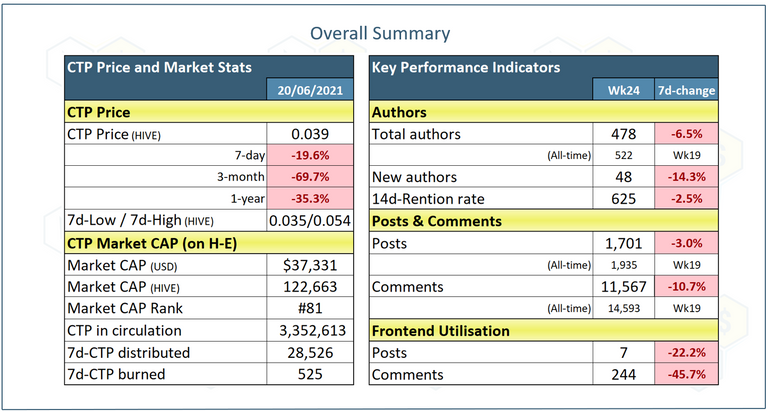 Overview
The report is divided in the following sections:
Daily posts, earnings and upvoters
Daily comments, earnings and upvotes
New, active and total number of authors
Frontend utilisation
CTP on Hive Engine
Staking and unstaking of CTP Tokens
Market capitalisation


Daily posts, earnings and upvoters
The first section contains the daily posts and earnings in week 24. During this week, 478 (-6.5%) unique authors published 1,701 (-3.0%) posts and generated 21,748 CTP in earnings. The first chart below presents the number of posts published per day.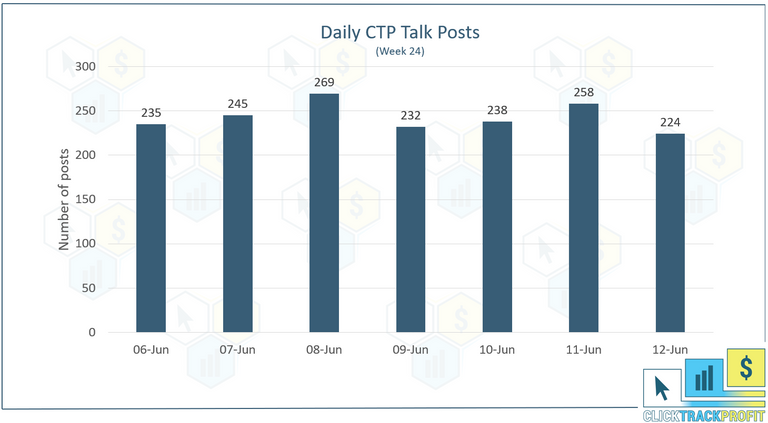 The second chart shows the earnings these posts have generated per day.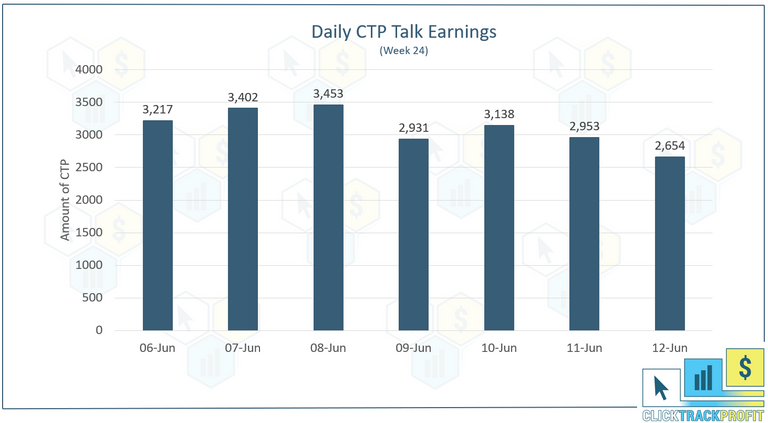 Since the end of last year, the number of unique authors has increased from 100 to 225 by mid of March after which it has remained flat with some daily variances.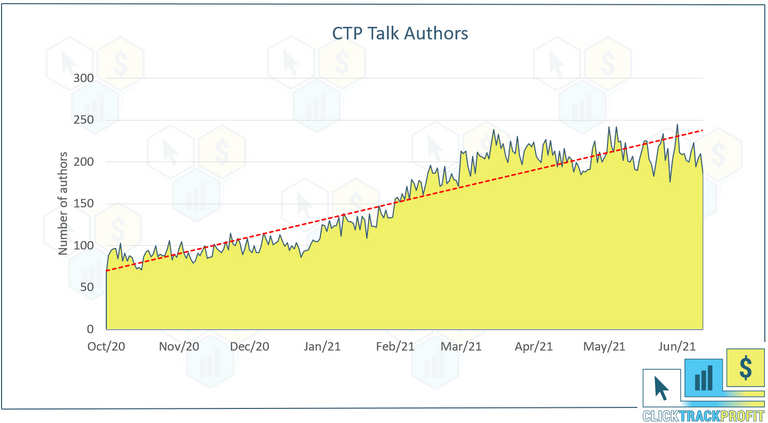 Also the number of daily posts increased to 300 by mid March, after which the number has declined slightly to around 250 posts daily but it remains on the highest level since CTP Talk started.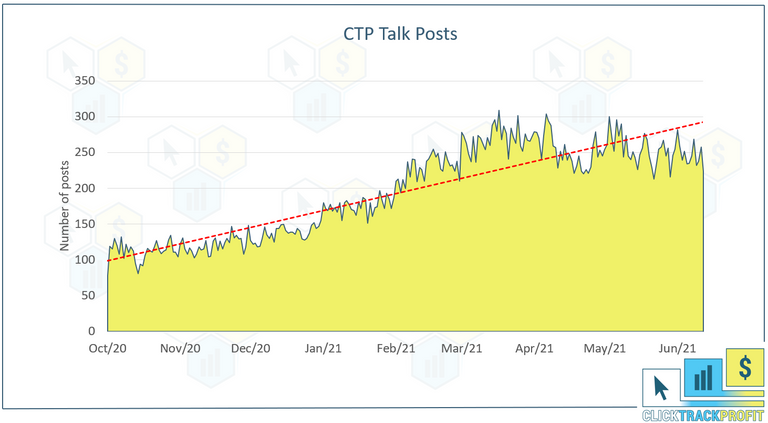 The next two charts present the top post authors and earners in week 24.
The TOP 3 CTP authors with the highest number of posts were @alokkumar121 (19), @guurrry123 (18), @cranium (17).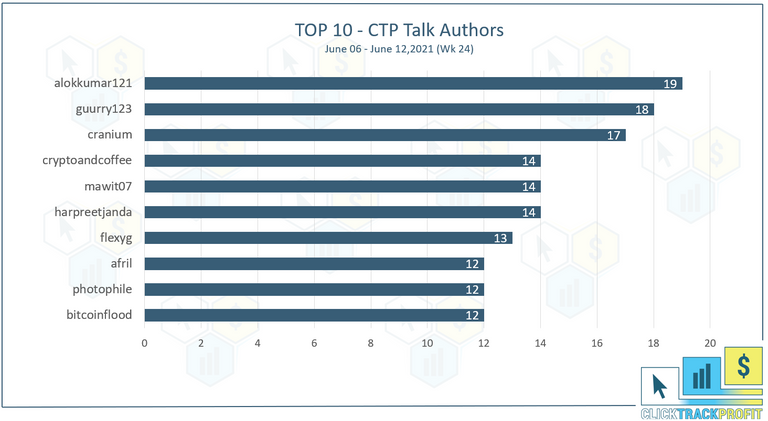 Furthermore, the TOP 3 CTP post earners were @jongolson (1,030 CTP), @pixiepost (760 CTP) and @liotes (684 CTP).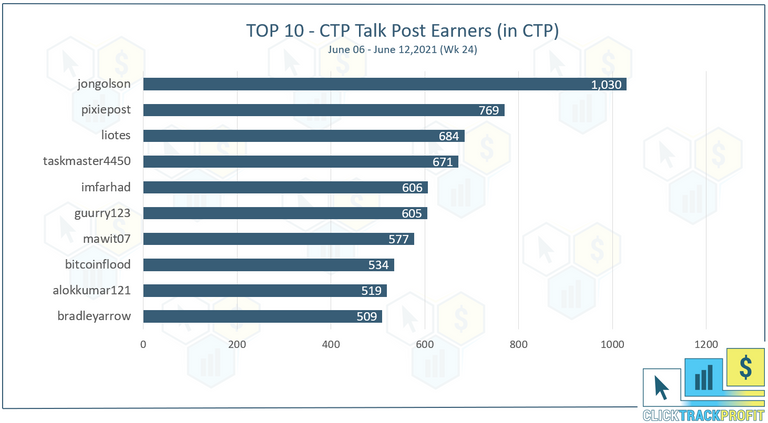 The earnings on posts have been realised by CTP Talk upvoters and the TOP 3 upvoters were @ctpsb (3,136 CTP), @blainjones (1,734 CTP) and @brofi (1,467 CTP).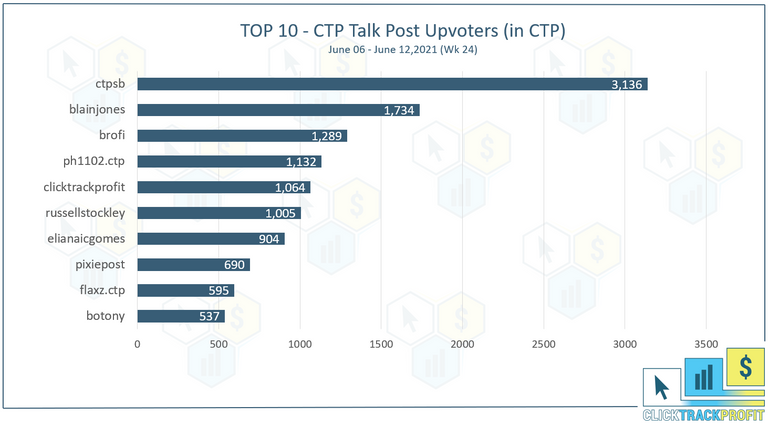 Daily comments, earnings and upvoters
This week we had in total 11,567 comments, which is 10.7% less than last week.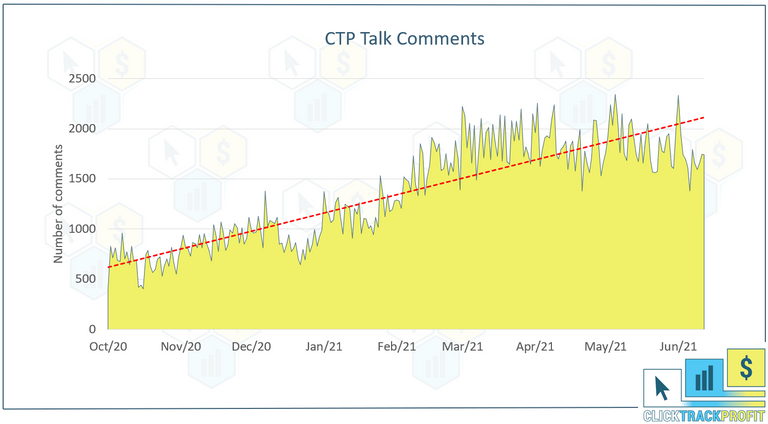 The total upvote value on all comments increased slightly to 2,436 CTP, maintaining the increased level of the last 6 weeks. An interesting development is the weekly upvote dips, which always happens on Sunday. In the coming weeks it will be interesting to monitor whether this is a standard pattern.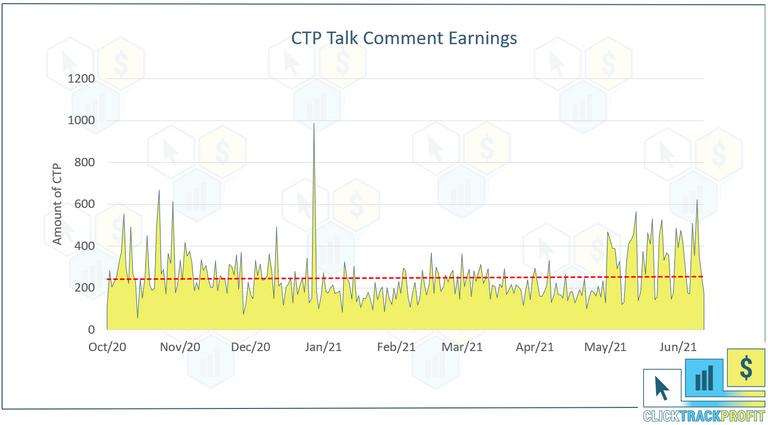 The earnings on comments have been realised by CTP Talk upvoters and the TOP 3 upvoters were @amr008.ctp (625 CTP), @elianaicgomes (405 CTP) and @ctpchat (230 CTP).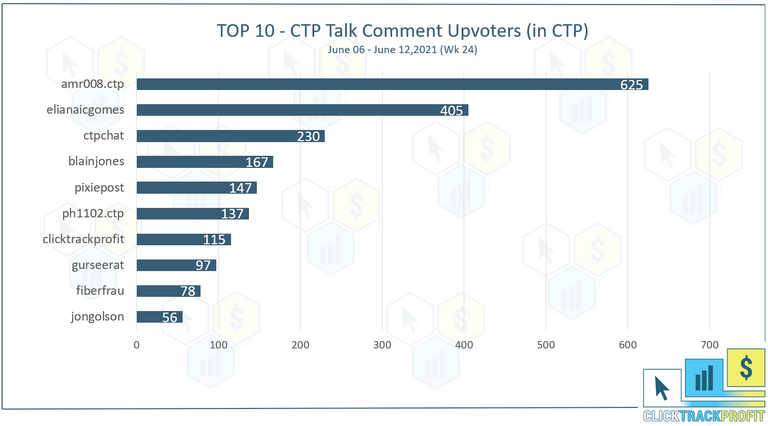 New, active and total number of authors
In week 24, we had 48 (-14.3%) new authors on CTP Talk.
I would like to welcome @victoriag, @bayu-word, @thewritingdr, @felipesherlock, @afril, @janettbrito76, @gigas, @captain.alive, @hernleon74, @legalizabrazil, @veronikavalen, @shiftrox, @cytatyevlyn, @al4n, @abimbola753, @barbyjr, @airdropbounties, @deniskj, @brunyson, @hivebeliever, @pung.senat, @elsimarwrite, @lovets, @wolfgangsport, @gehhsk8, @cormaba, @skyple, @cyek, @failingforward, @jehorapha, @sinistry, @proto26, @hunterfly, @coringa021330, @shaharyarbaig, @turkiye, @juanvegetarian, @arunava, @cryptonaire22, @victor123, @alqif and @mukund123 to the CTP tribe, having published their first post during this week.
Looking at the overall trend, the number of new authors is further increasing with 8 authors daily. As a result, the total number of CTP Talk authors has now reached 2,279.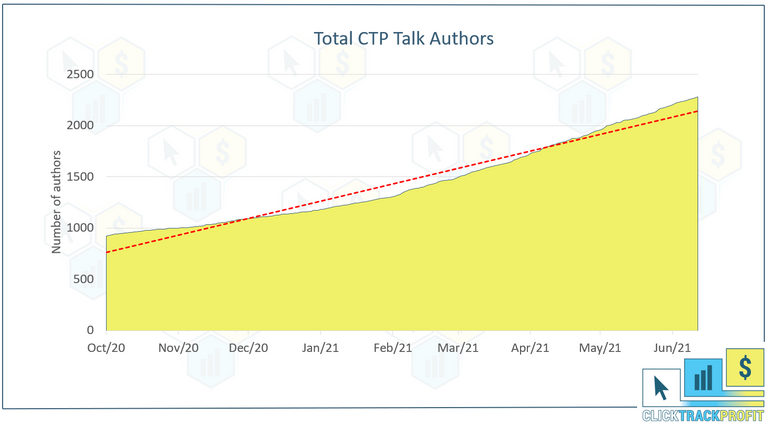 The 14-days retention rate (an indicator of CTP Swarm engagement, interest, and loyalty) has reached 625 authors, which is the highest level since CTP Talk started.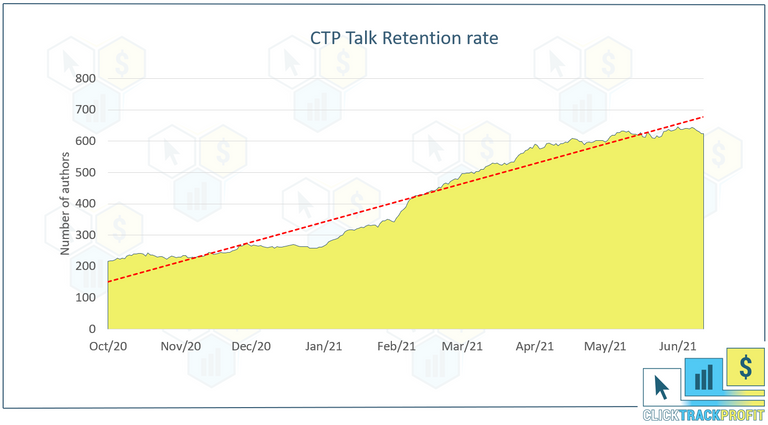 CTP Talk frontend utilisation
In the sections above I have included all posts and comments with the CTP tag. These have been published using various frontends.
When we specifically look at the CTP Talk frontend, 251 posts and comments have been published in week 24. This is 45% less as compared to the previous week and back to levels we saw in April.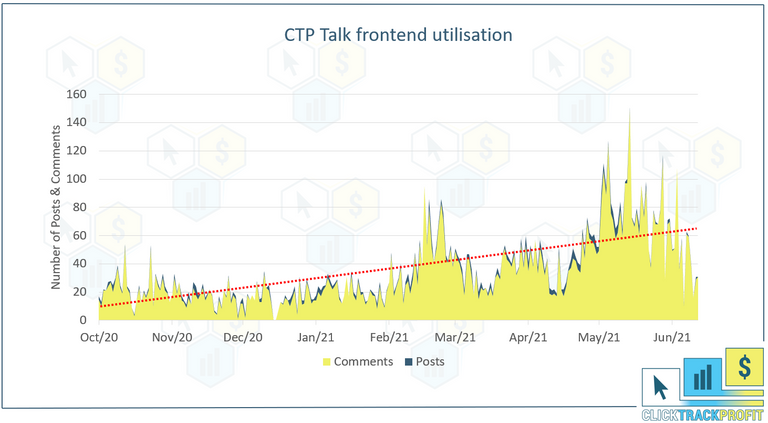 The Top 3 post authors were @alente (3), @ricestrela (1) and @darmst5339 (1).
The Top 3 comment posters were @alente (40), @darmst5339 (38) and @harpreetjanda (27).
The two graphs below present the TOP 10 post and comment authors.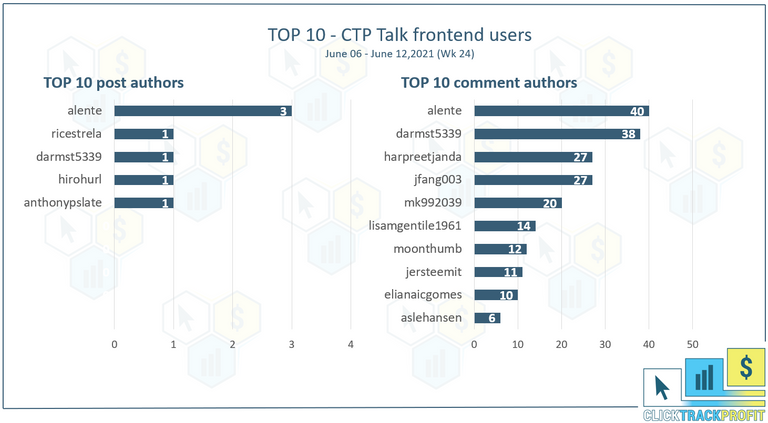 CTP on Hive-Engine
The following charts present the development of the CTP token on Hive-Engine.
The first chart provides an overview of the total CTP supply, the number of tokens staked, liquid and burned.
In week to 20 June, the total CTP supply increased with 28,526 CTP to 3,445,022 CTP. The number of tokens staked went up to 3,033,947 CTP or 90.5% of the total number in circulation. Finally, 525 CTP were burned.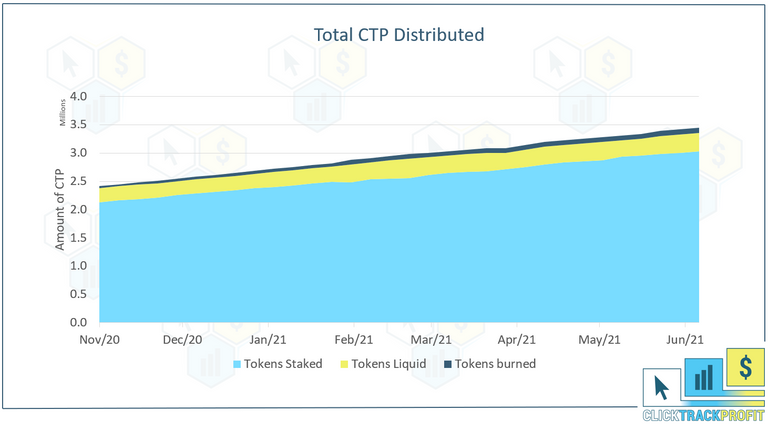 The total amount of CTP in circulation is held by 3,636 (+1.7%) account holders, which is steadily increasing.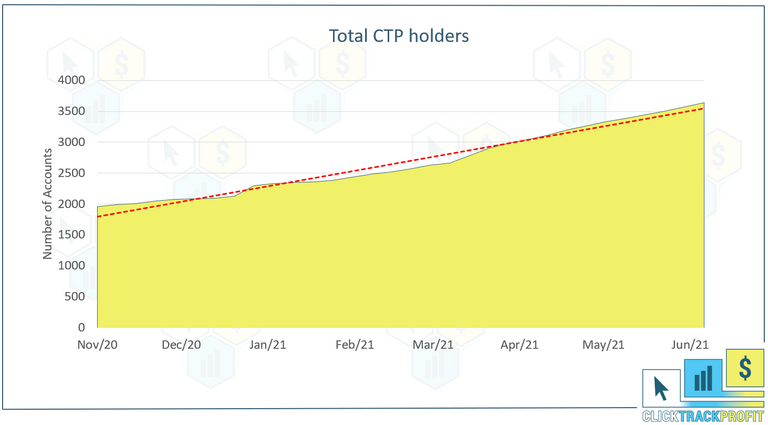 The next chart presents the Top 20 CTP holders. Last week @jongolson and @pixiepost changed of position. Furthermore @bradleyarrow, @hirohurl, @imfarhad and @globetrottergcc shuffled in their positions as well.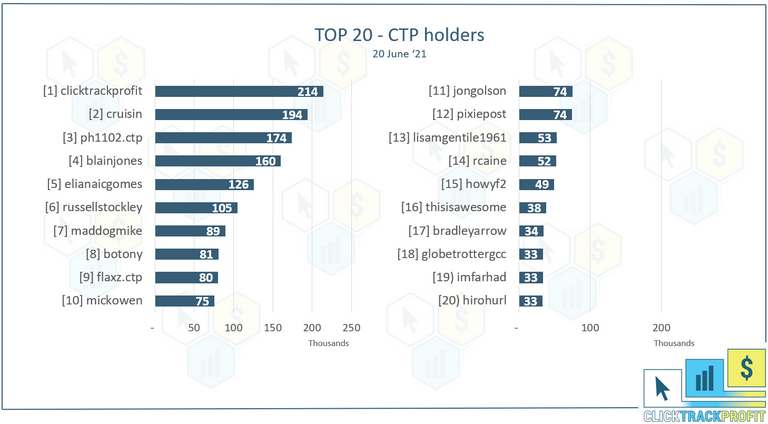 The following chart displays the CTP price development and trading volume on Hive-Engine in the last 2 months. In week 24, the total trading volume was 4,380 CTP, which is 63% of last week's volume.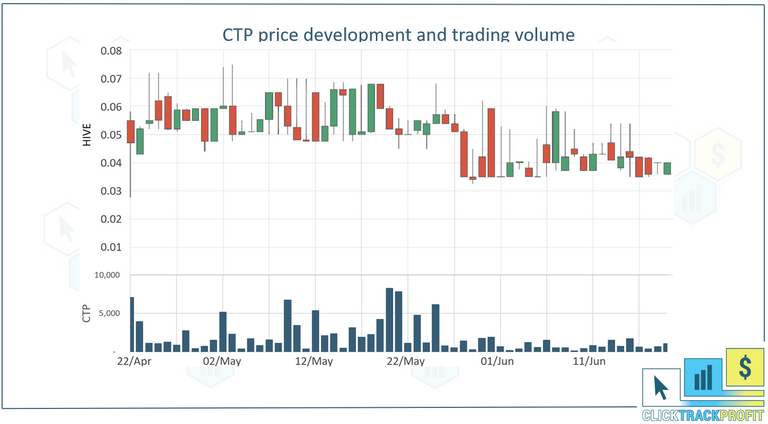 Staked and unstaked CTP Tokens
In the next chart you will find the daily number of staked and unstaked CTP tokens. When the bar is green (positive), more tokens have been staked than unstaked and vice versa when the bar is red, more tokens have been unstaked. In week 24, a total of 17,659 tokens net have been staked, which was 22% less than the previous week.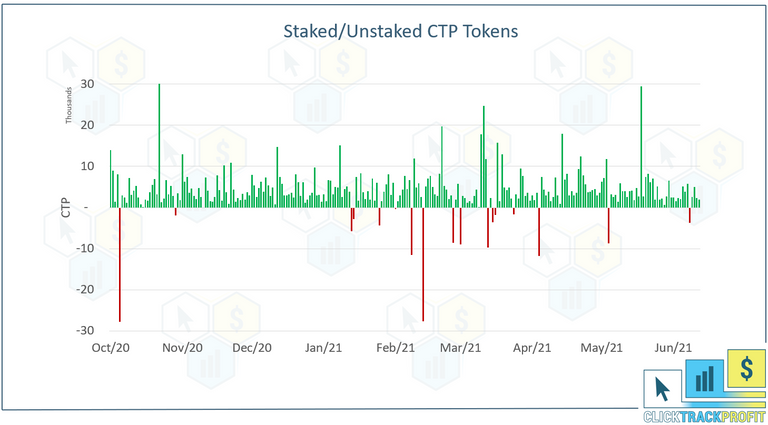 The TOP 3 accounts who staked the highest number of tokens in week 24 were @elainaicgomes (3,000 CTP), @whatsup (2,000 CTP) and @jimmy.adams (1,000 CTP).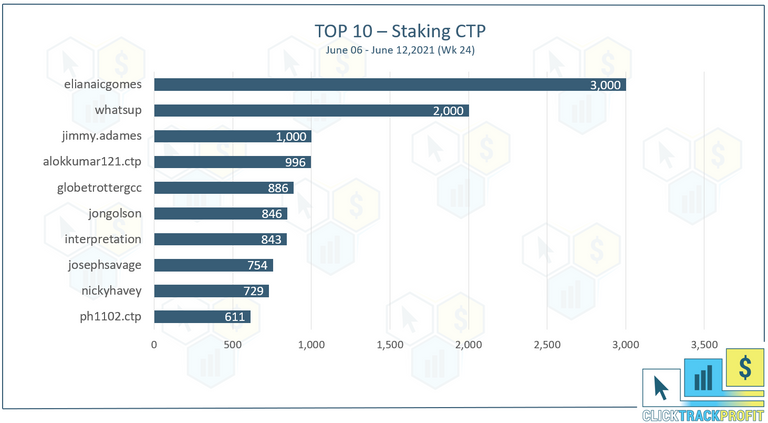 Market Capitalisation
The final chart of this report highlights the CTP market capitalisation development. On 20th of June the CTP market capitalisation was $37k. The decline was driven by a combination of Hive and CTP price declines.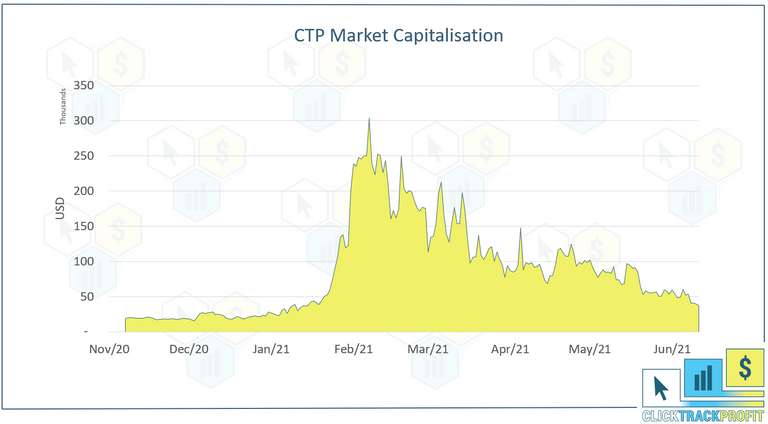 This concludes my weekly update, until the next time and stay safe! 😀
(Information source: Hive blockchain, CTP Talk frontend, Hive-Engine and Coingecko)
Posted Using LeoFinance Beta
---
---