500 FREE SPS TOKENS JUST FOR ENTERING! First Goalscorer + Correct Score Comp. No 316 : 7 June 2021 -WORLD CUP - AFC Qualification: 2nd round group G: UAE v Thailand - 6000 + 5000 SPS Tokens
Today we return to World Cup Qualifying and the incredibly complex and protracted Asian Qualifying competition that today involves my current national team, Thailand.
As for yesterdays game, it ended 0-1 in favour of Corinthians and we actually had one winner who thankfully for them, went against my advice! No one got the first goalscorer, however, and the pot rises up by another 500 tokens to give us a tidy 6000 token Jackpot.

Thailand need the win. Pure and simple. Currently in 3rd spot and having played one game more than both UAE and the very strong Vietnamese who sit above them, nothing other than a win will help them in their quest to advance to the next stage of the qualifying competition. The 2-2 draw, in which they gave away a two goal lead against the very poor Indonesians will come back to haunt them!

UAE have to be confident going into this game. Playing on their home turf, or more likely, sand, they stand on qual points with a game in hand and a better goal difference after thumping Malaysia 4-0 last week.
UAE have no injury concerns and named a strong squad to compete in the three qualifiers this month whereas Thailand are without 5 normally chosen players and so I have to rather sadly say, they are going to struggle this evening.
Prediction: UAE 3 : 1 Thailand - First Goalscorer: Ali Mabkhout
EARLIER THAN NORMAL KICK-OFF
Simply write the name of the FIRST GOALSCORER and the CORRECT SCORE as a comment. The competition closes 5 minutes before kick-off which is 17.45 BST.
The Small Print
In the first goalscorer competition, own goals do not count. In the correct score competition, it's the score after 90mins. Extra time and penalties do not count and the pot for each competition will roll over if there is no winner. If more than one person chooses the same first goalscorer or correct score, the prize is shared and everyone gets a little upvote! It seems I also need to add, one entry per person. Don't forget the new rule that only people with a rep of 45 or above are eligible to enter unless they have been approved. The bonus will be added to any winnings ONLY if Leeds United win and/or Man U lose and all payouts will never exceed 50% of post payout. Other bonuses paid out at my discretion.
The Winners were...
Well, it's a winning start to the game for new player @football-stats who was the only player to get the correct score and takes home 6000+500 tokens.
Appearance fees go out to @oswvin01, @johnsennimaat, @jfang003, @da-prince, @saachi, @ralph75, @jersteemit, @chrisparis, @pthker2010, @kbskl and @worktight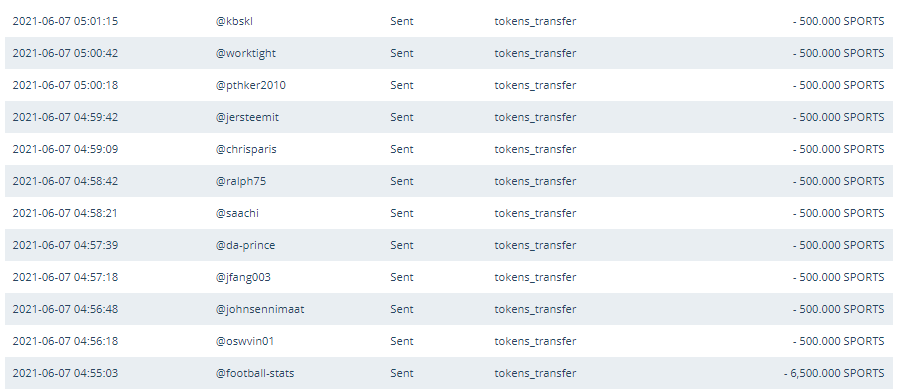 And that's it for today. The whole of Thailand will be sat in front of the TV tonight so let's hope they can pull it off and at least get to the last game still in the competition!
Marching On Together (with Thailand)
---
---