What if XEN do a 10000X in 444 days?

Can you calculate? Then my current investment would be $3200 X 10000 = $32.000.000 in only 444 days!!!
Can you live of that? Is it wife-changing wealth? Could it give me another child?
You tell me!
I tell you, my stats in less than a month: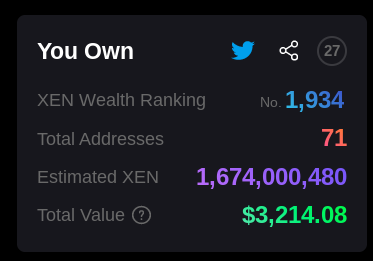 and I been really NOT liking Trevon James since like forever, but the video I watched last night by pass all the scamming and shit. This information could be a gold mine:
Basically XEN looks like a monster investment. The things Jack Levin is planning combined with FENIX, that is like an advanced HEX build on top of XEN. Burn 10000 XEN and get one FENIX. FENIX has no OA or all that shit.
https://github.com/atomizexyz/litepaper
Its open source money on steroids, just like it should be. I basically went from being a RH maxi til becoming a full blown XENian after watching Trevons video last night.
I am very optimistic about my own future now. You heard it here first!
/Lasse Ehlers
Posted using LasseCash
---
---