Is XEN in trend reversal?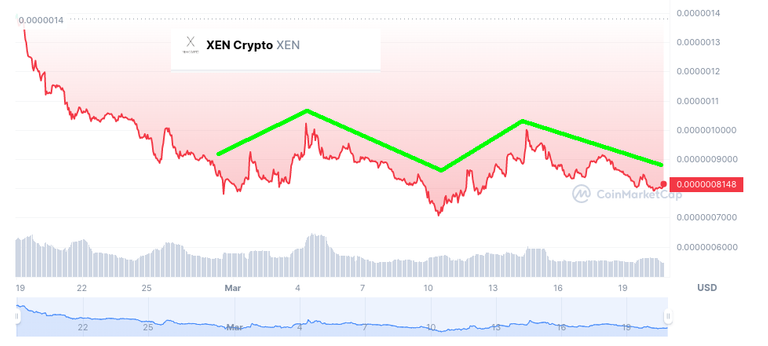 Inverse head and shoulders pattern suggest a trend reversal of XEN.
Futhermore it is argued that the price of $0.0000003 is where its equally profitable to mint or buy XEN, so it is believed that the price should not go below that point.
On top of this there is coming out several products that BURN XEN:
Tomorrow DBXEN is launched on ETH, which is a product that pay out DIVS for staking their token and to get the token? Only way is to Burn XEN.

X1 - the first layer of XEN, only way to get the coin? BURN XEN.

FENIX - is similar to HEX, but with 21 years max stake and no OA (Assumed to be controlled by RH, and it owns like 80-90% of the HEX). How to get FENIX TOKEN? ONly way is to BURN XEN.
I am so bullish on XEN, even there is so much fud... I see Jacks vision and I MINT AS MUCH AS I CAN!
/Lasse
Posted using LasseCash
---
---