92% or 2.7 million % APY, you decide?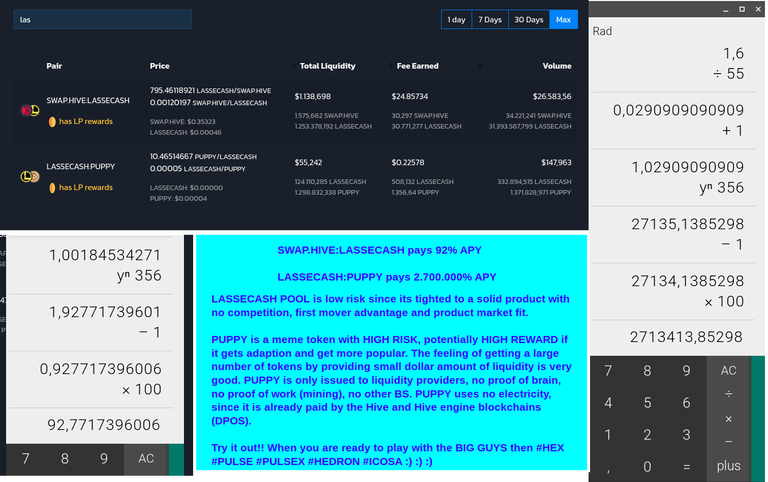 TRUTH and get rich in the next bull run
Its pretty nice to be the one that came up with the ideas for LasseCash and see that the price has been going up a bit, for the most part, in the strong bear market.
What distance LasseCash from the competition is that we reward truth content, I am still trying to attract bigger "truthers", if they where to come, it could be extremely bullish for LasseCash. Its easier said than done though.
I am happy that people are using LasseCash, even we are still very small, that is oppotunity.
Imagine that you bourght a big portion of LASSECASH and than we attracted big "truthers", that cuold mean 10, 100X or more for your investment.
On the other hand, LasseCash is a very small niche right now, I dont know if it will ever grow big? If you want something that can make you rich with 99% certainty, I recommend HEX and related tokens.
So 10% in LasseCash and 90% in HEX is what I recommend.
Meme token PUPPY
PUPPY is much better than Doge, since it uses no electricity. ITs only ever issued to liquidity providers, nothing was given to me at launch.
If PUPPY just get a little traction, providing liquidity now can pay off big time. Its high risk, high reward.
The feeling of getting a big amount of tokens every day is very good and that is what PUPPY offers right now. Inflation is huge now, but will go down over time, as the circulating supply gets bigger in relation to the daily payout.
Provide liquidity to the pool now to get your share of this brand new meme token.
/Lasse Ehlers
Posted using LasseCash
---
---