Commemorative Coins. What anniversaries are commemorated?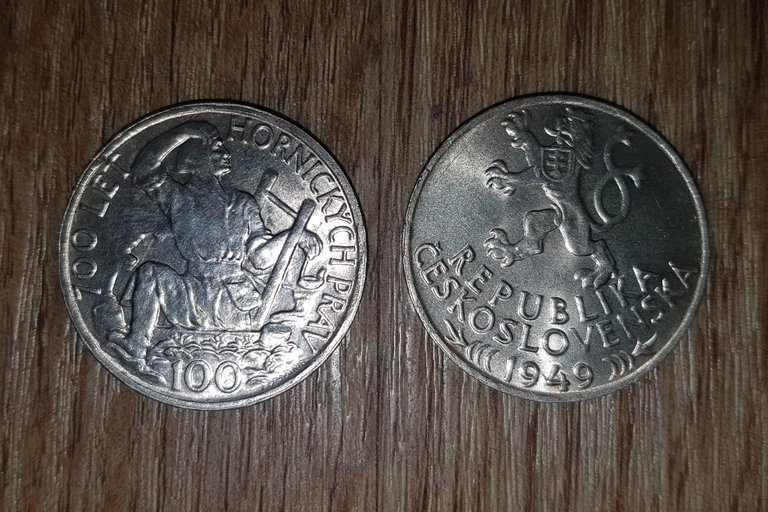 Introducing the 1949 "700 Years of Miners' Rights" coin. 100,- Kčs. 1 million pieces were minted, weight 14 g, fineness 500/1000.
In 1249, the one-eyed King Václav I issued a kind of law. The law was partially nonsensical and not even enforced.
This coin tells us more about 1949. The year before that there was a communist coup in my country. The new rulers looked to the past for so-called "revolutionary traditions". They looked at how the state had regulated working conditions in the past.
This coin is an example of such behavior.


Dnes chci ukázat minci "700 let hornických práv" z roku 1949. 100,- Kčs, 1 milion vyražených mincí, váha 14 g, ryzost 500/1000.
Mince připomíná docela bezvýznamné výročí královského výnosu, který byl celkem nesmyslný a ani nebyl příliš dodržován.
Než o roce 1249, řekne nám mince víc o roce 1949. Rok po komunistickém převratu... Noví vládci se snažili hledat tzv. revoluční tradice, všechny možné zásahy státu do vztahů mezi zaměstnavateli a zaměstnanci.
Tahle mince je dokladem doby, ve které vznikla. Dnes, kdy žijeme zaplať Pánbu, v politické svobodě, by tohle výročí prošlo bez povšimnutí. Jsem si prakticky jist, že v roce 2049 pamětní mince "800 let hornických práv" ražena nebude.
Mimochodem, digitální mince nemohou být pamětní, vydané k nějakému výročí... Nebo se mýlím?
---
---