Time module / Časový modul DCF77
I recently discovered an old damaged radio-controlled wristwatch at home.
However, their digital machine works without problems.
After connecting the 3V power supply from the button battery, the long-wave signal receiver synchronizes the internal clock and it then runs exactly.
Synchronization takes place once a day according to the signal of the long-wave transmitter of the accurate time signal DCF-77 from the transmitter in Frankfurt am Main, Germany.
The accuracy of the signal is maintained by a cesium atomic clock with a deviation of 1 second per million years :-)
The real accuracy is, of course, much lower. Anyway, it's enough for my purposes :-)
I connected the machine to two AAA alkaline batteries, with which the average consumption of several microamperes will last for about 10 years.
I put the whole into a box and get a small, accurate and completely maintenance-free clock on the desk.
The module has no controls.
Unfortunately, I can't show it to you in real time, because the tin hall of our plant lacks a quality signal from the DCF77 transmitter.
They tune in better at home.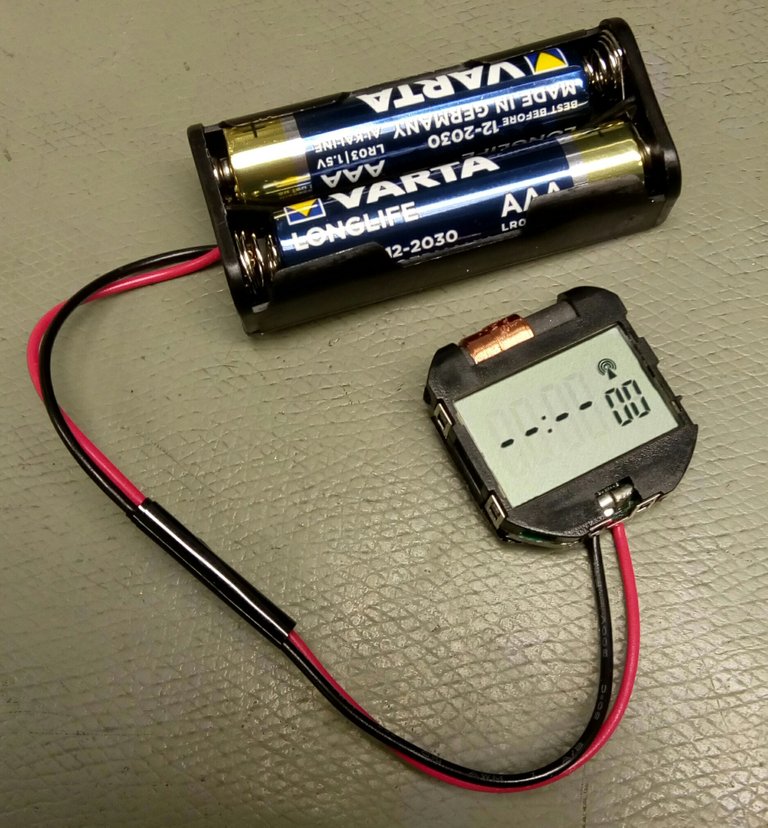 Nedávno jsem doma objevil staré poškozené náramkové hodinky řízené rádiem.
Jejich digitální strojek však funguje bez problémů.
Po připojení napájení 3V z knoflíkové baterie přijímač dlouhovlnného signálu synchronizuje vnitřní hodiny a ty pak přesně běží.
Synchronizace probíhá jednou denně podle signálu dlouhovlnného vysílače přesného časového signálu DCF-77 z vysílače u německého Frankfurtu nad Mohanem.
Přesnost signálu je udržována cesiovými atomovými hodinami s odchylkou 1 sekunda za milión let :-)
Reálná přesnost je samozřejmě mnohem nižší. Každopádně pro mé účely zcela postačuje :-)
Strojek jsem připojil na dvě alkalické baterie typu AAA, se kterými s průměrou spotřebou několika mikroampér vydrží fungovat cca 10 let.
Celek vestavím do krabičky a získám tak malé, přesné a zcela bezúdržbové hodiny na psací stůl.
Modul nemá žádné ovládací prvky.
Bohužel vám nemohu jej ukázat s reálným časem, neboť v plechové hale našeho závodu chybí kvalitní signál vysílače DCF77.
Doma se naladí lépe.

---
---