Aktywne wakacje / Active vacations / My Actifit Report Card: June 25 2022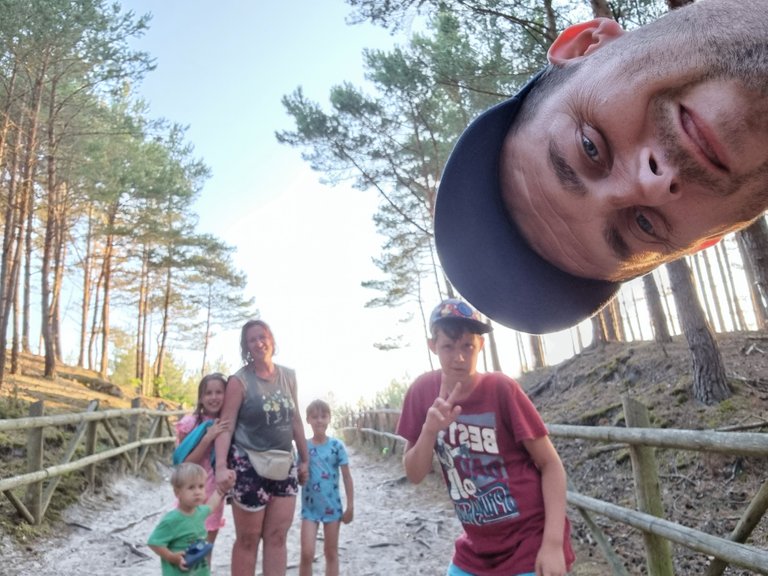 Rozpoczynamy dzień hasłem aktywne wakacje. Ja i moja ekipa, z rana wciągnęliśmy pyszne, śniadanko przygotowane, przez żonkę.
We start the day with the motto of active vacation. Me and my team, in the morning we took in a delicious breakfast prepared by my wife.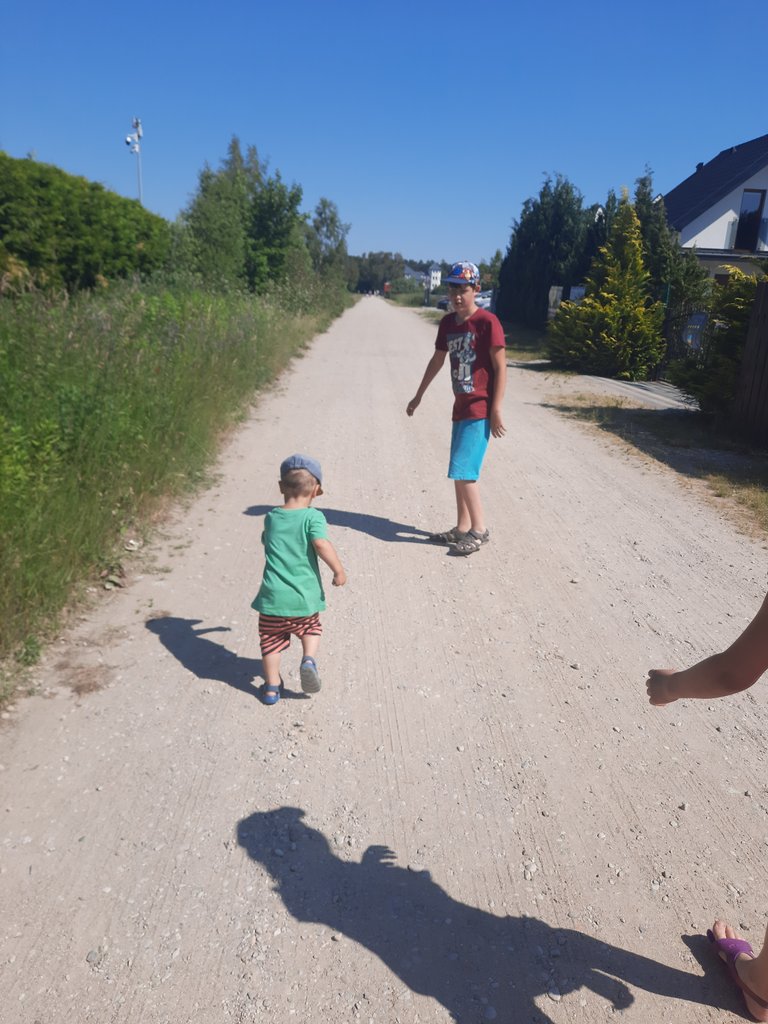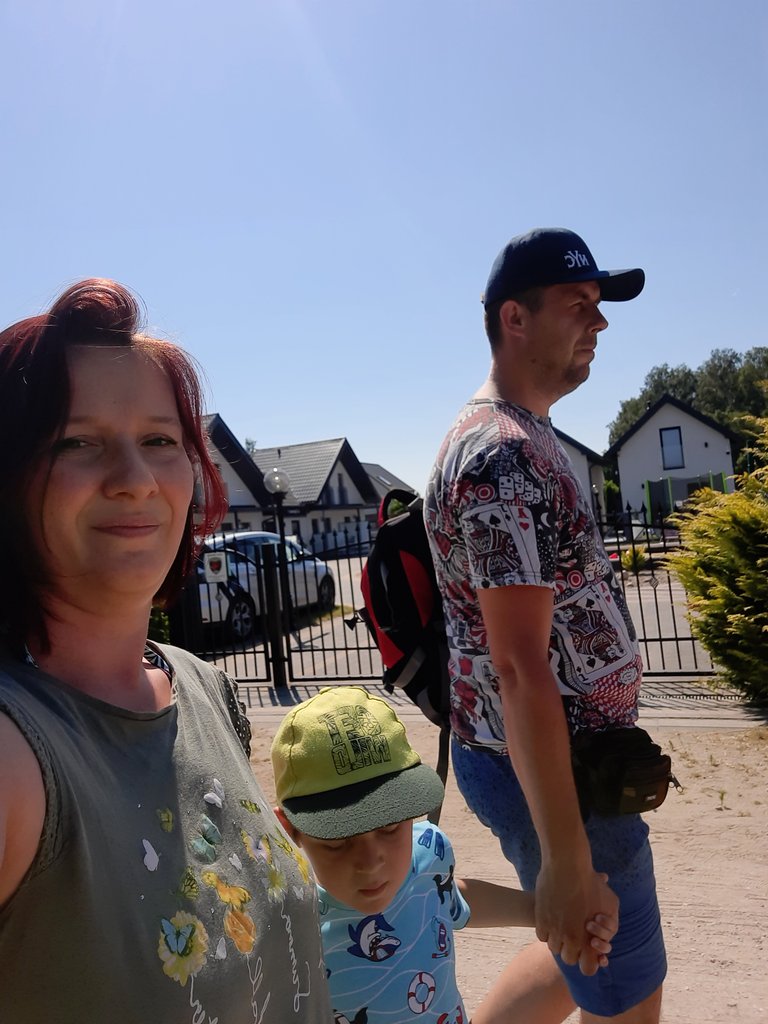 My zjedliśmy z malcem jajecznicę na masełku z kiełbasą i szczypiorkiem, a starsza trójca skonsumowała płatki z mlekiem. Potem zgodnie z ustalonym planem, wyruszyliśmy na gokarty, gdy dotarliśmy na miejsce okazało się, że gokartów nie ma, więc poszliśmy na spacer aż pod park linowy w Dębkach, później zawróciliśmy w drugą stronę i dotarliśmy za latarnię, obejrzeliśmy wesołe miasteczko i zawróciliśmy do głównego deptaka którym wróciliśmy do domku pi sprzęt plażowy , w drodze powrotnej, Wiktor zaczął wykazywać symptomy zmęczenie, i intensywny 2.5 godzinny spacer zrobił swoje.
My baby and I ate scrambled eggs with sausage and chives, and the older trinity consumed the flakes with milk. Then, according to the agreed plan, we set off for go-karts, when we got there, it turned out that there were no go-karts, so we went for a walk to the rope park in Dębki, then we turned back the other way and got behind the lighthouse, saw the amusement park and turned back to the main the pedestrian zone where we came back to the cabin and beach equipment, on the way back Wiktor started showing symptoms of fatigue, and the intense 2.5 hour walk did his job.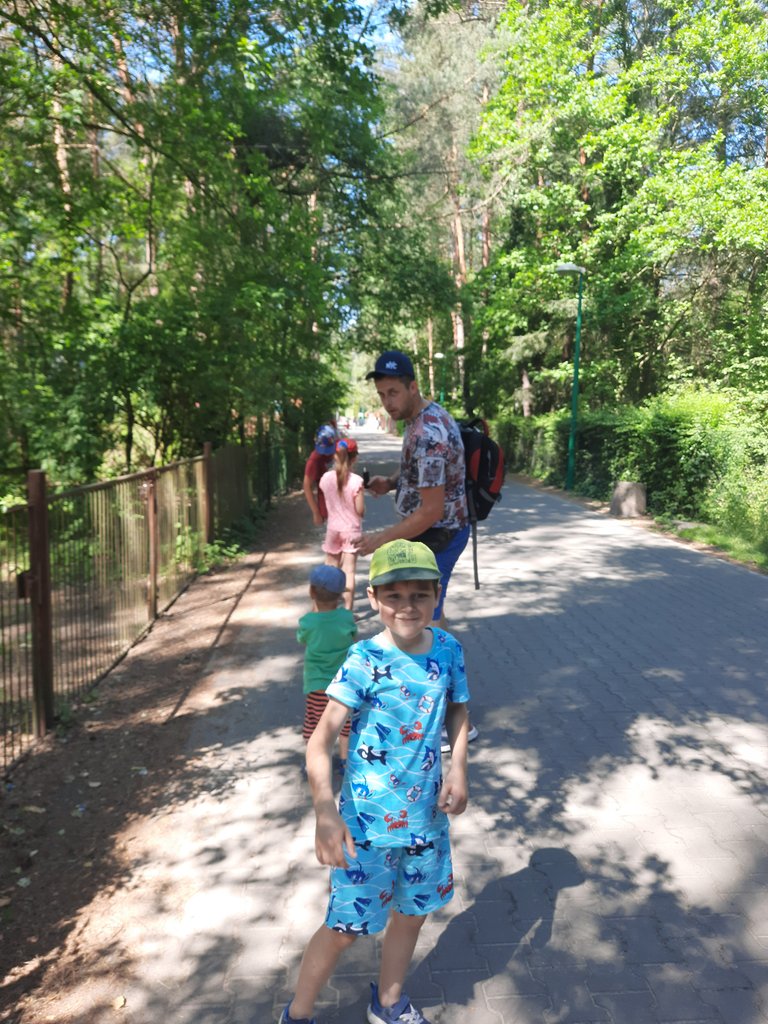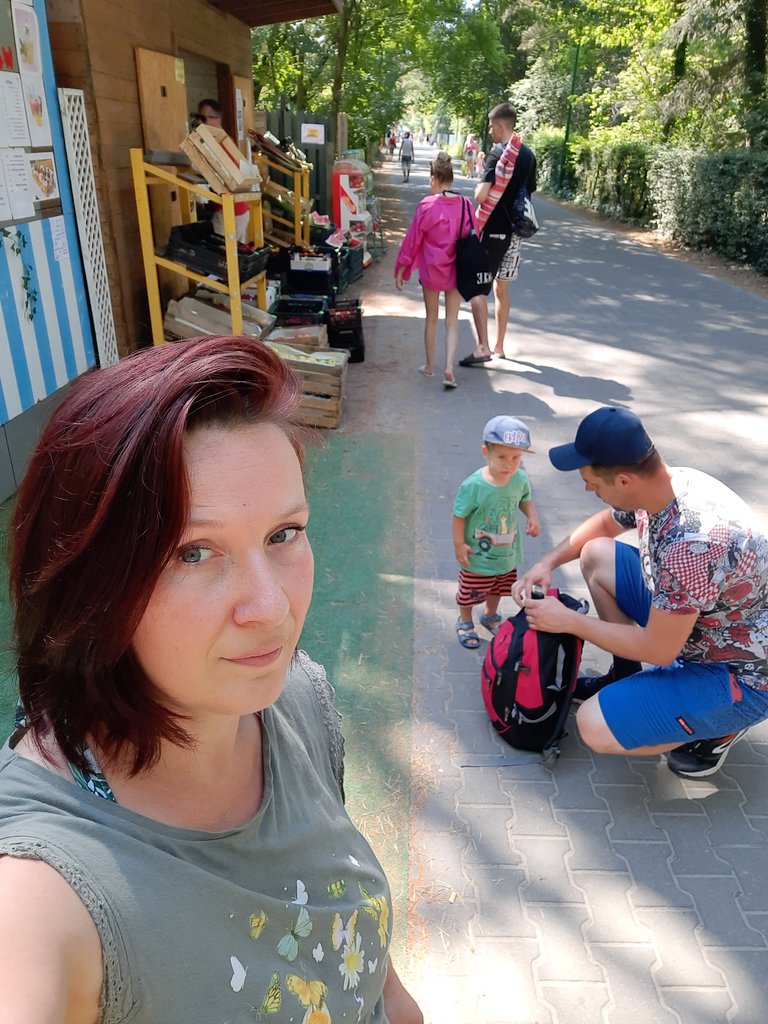 Postanowiliśmy chwilę, odpocząć w domku, widząc, iż mały zaczyna przysypiać postanowiliśmy położyć go do spania, szkoda nam było, żeby starsze dzieci siedziały w domku gdy piękna pogoda za oknem i morze aż się prosi o harce, jako że mnie też dopadło letnie rozluźnienie i zmęczenie zostałem z Witorem w domku, a żonka i reszta moich skarbów wyruszyliśmy na plażę i lody.
We decided to rest in the house for a while, seeing that the little one is starting to fall asleep, we decided to put him to sleep, it was a pity for the older children to sit in the house when the beautiful weather outside and the sea was asking for fun, as I too I felt the summer relaxation and exhaustion, I stayed with Witor at the cottage, and my wife and the rest of my treasures went to the beach and ice cream.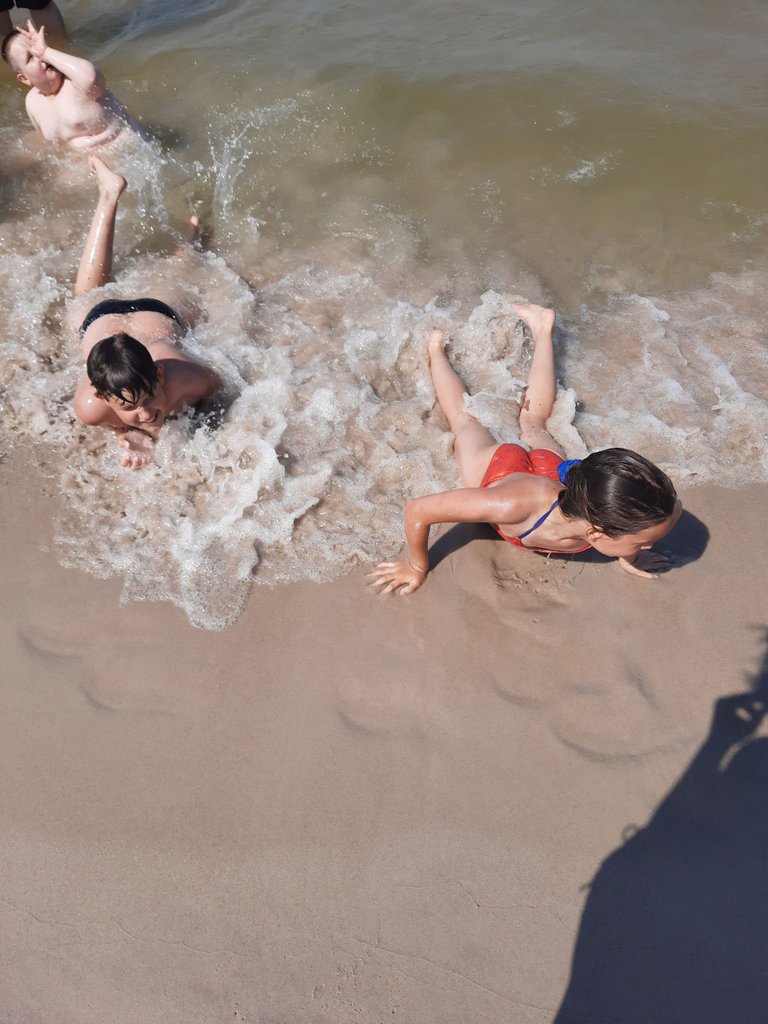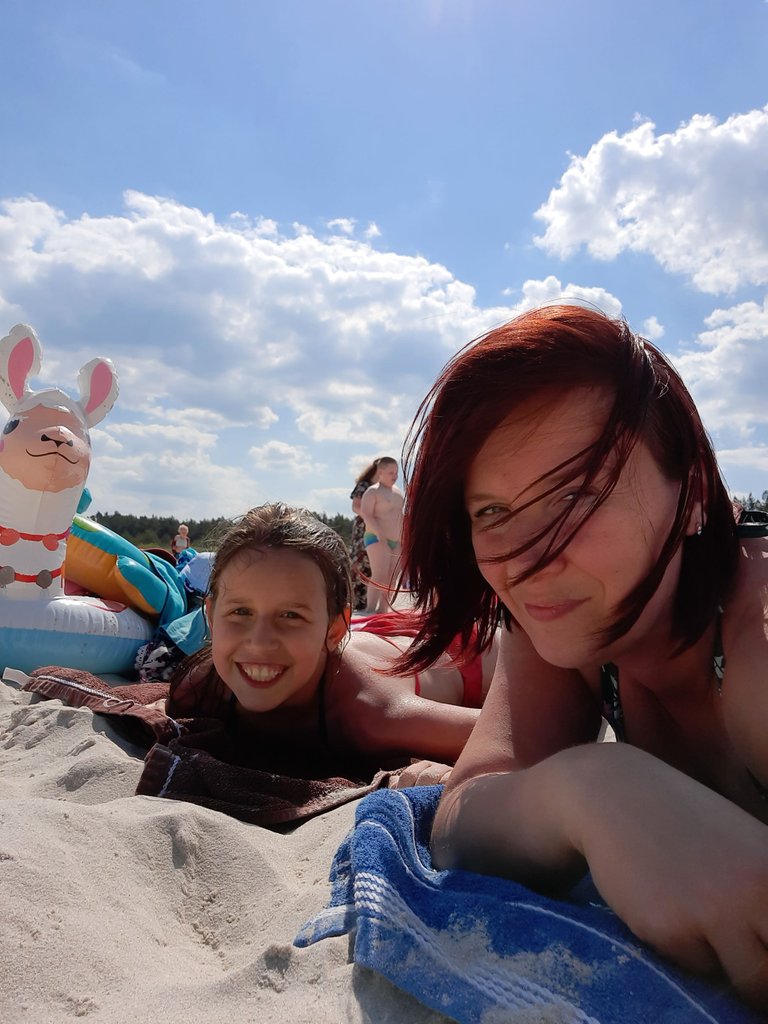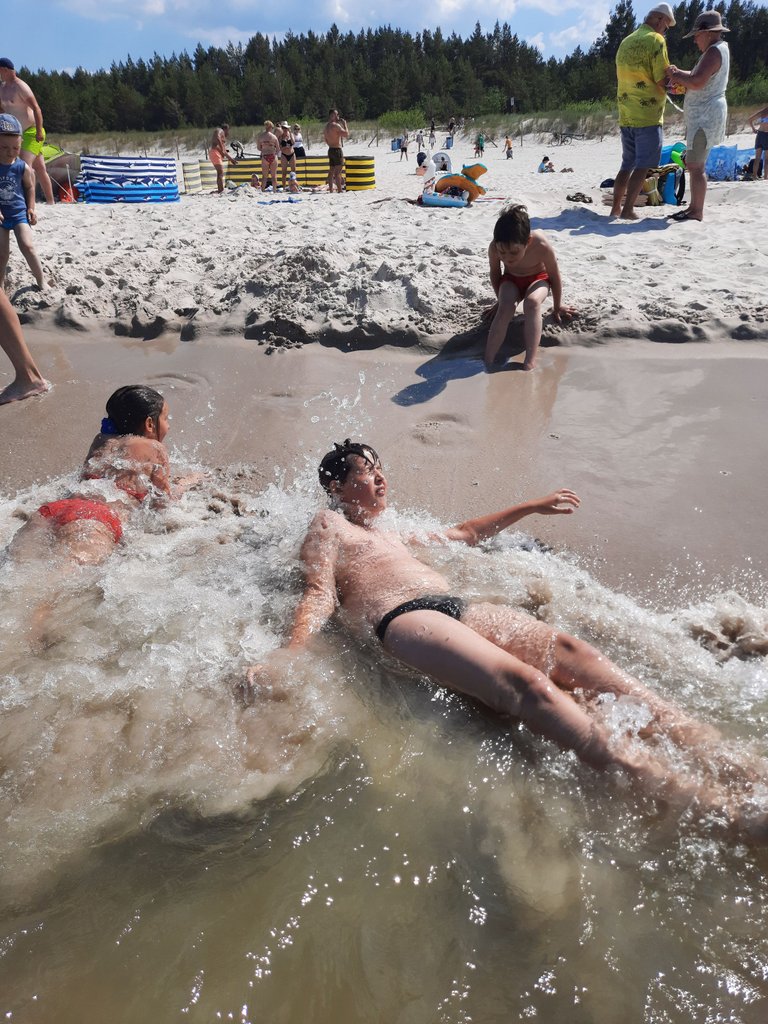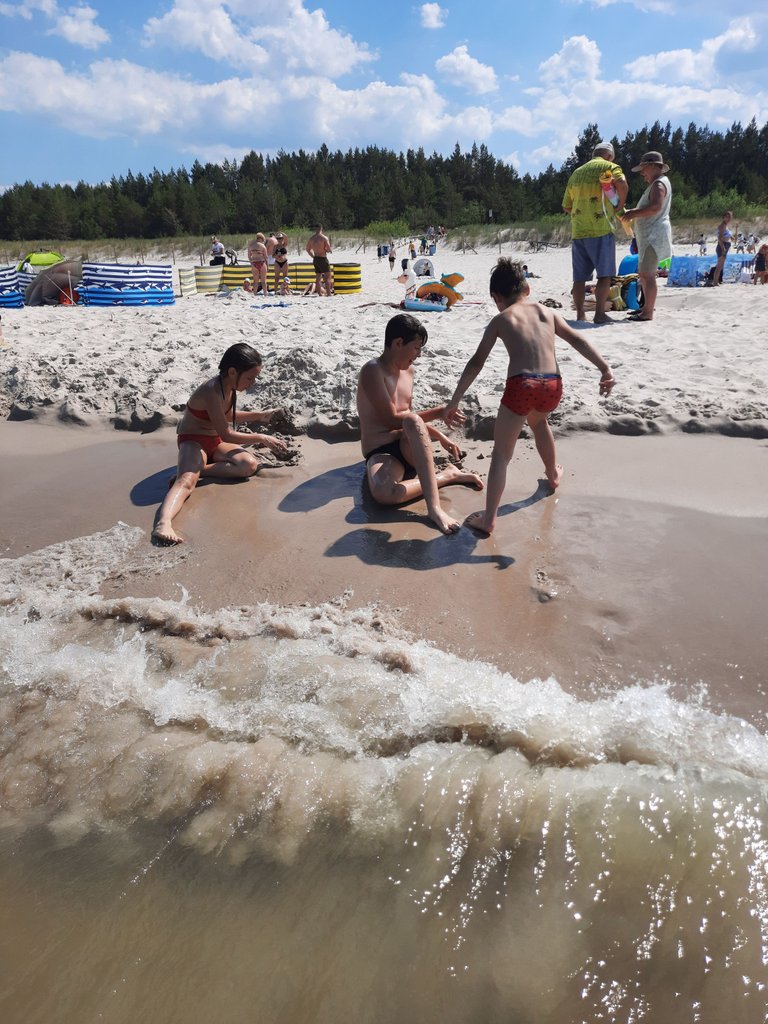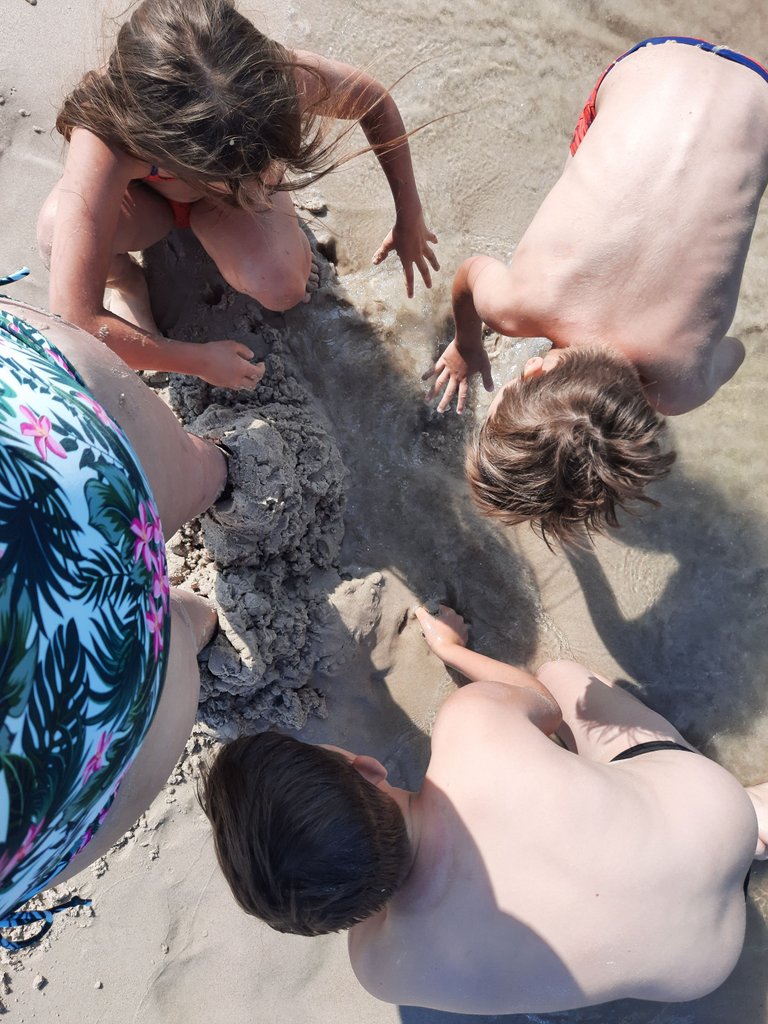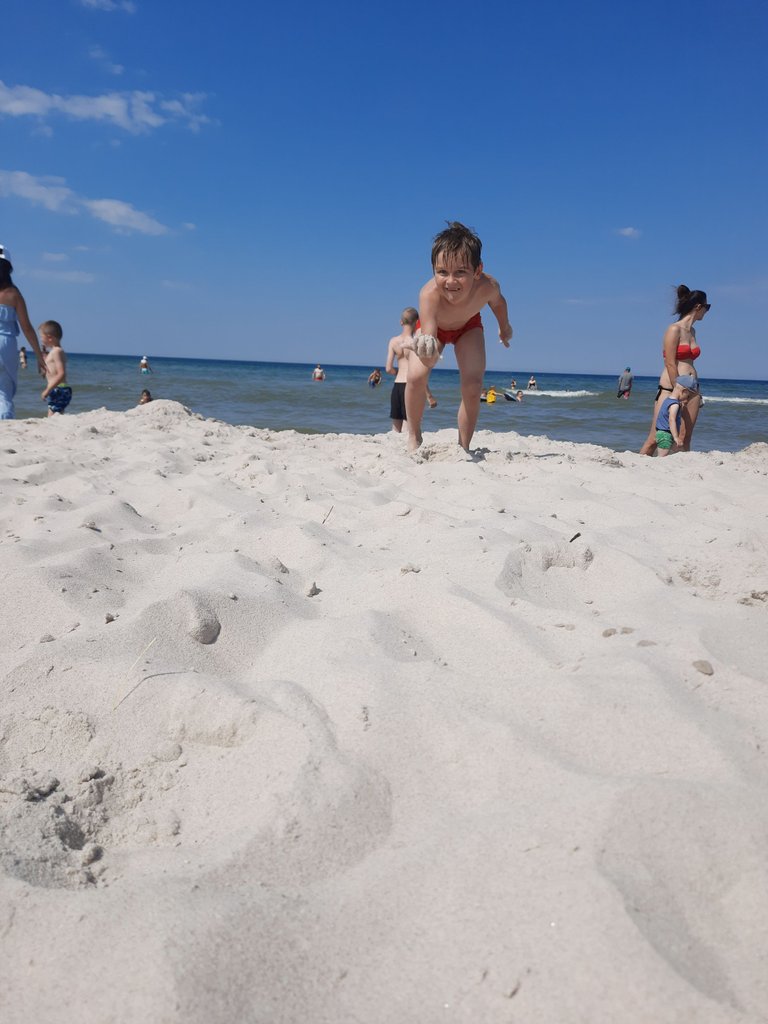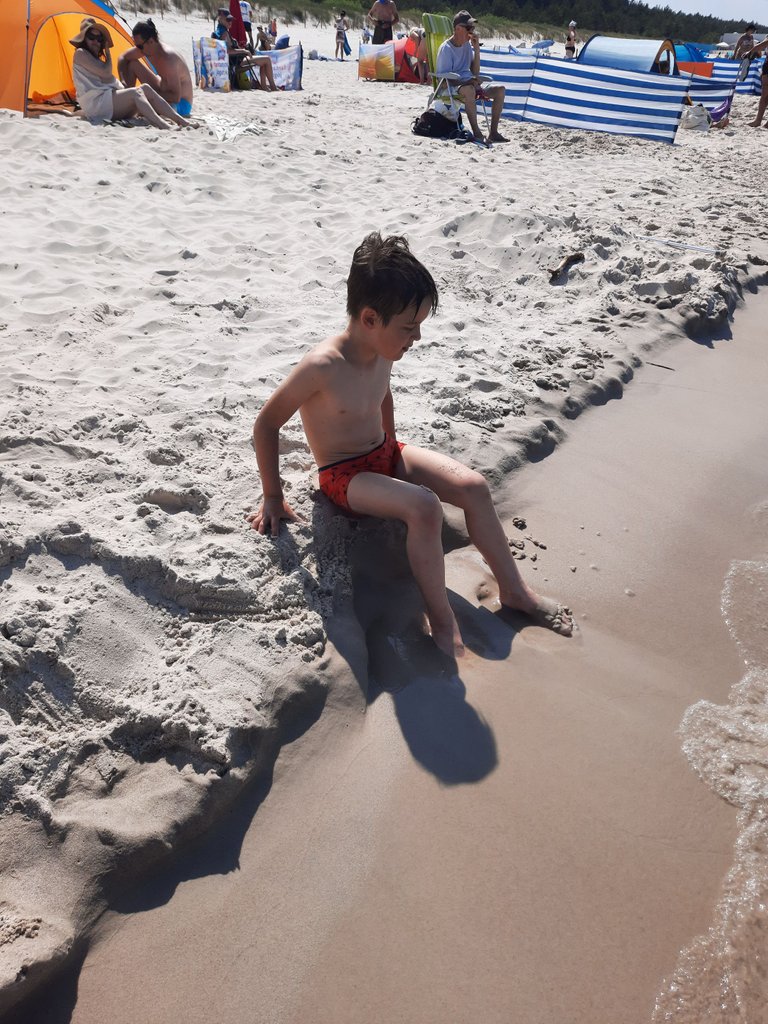 Po drzemce, która okazała się trwać ponda 3.5 godziny, żonka i starszaki zgłodniał, wie co spotkaliśmy się w połowie drogi od domku do morza, a że żona zaplanowała obiad w bistro przy drodze prowadzącej do naszych domków musieliśmy się trochę cofnąć.
After a nap, which turned out to last 3.5 hours, my wife and older children were hungry, she knows what we met halfway from the house to the sea, and since my wife planned a dinner in a bistro on the road leading to our houses, we had to step back a bit.
Dziś na obiad była rybka ( dorsz) z frytkami ( część wybrała ziemniaki z wody z masełkiem i koperkiem, bo ile można jeść frytki), jedynie Sara zdecydowała się na fileta z kurczaka zamiast ryby.
Today for dinner there was fish (cod) with chips (some chose water potatoes with butter and dill, because how many fries can be eaten), only Sara decided to have chicken fillet instead of fish.
Powiem wam, że za dzisiejszy obiad który, był pyszny zarówno ryba, surówki i frytki czy ziemniaczki i do tego każdy miał napój (porcje też były sycące ) zapłaciliśmy 190 zł ( 6 porcji obiadowych) , natomiast za obiad dzień wcześniej, który był średni ( bo w bukiecie surówek na 4 rodzaje tylko marchewka była jadalną), ryba nie powalała ( filety miały sporo ości, smak był ok ale dziś ryba byka naprawdę pyszna) wydaliśmy 290 zł.
Let me tell you that for today's dinner, which was delicious, both fish, salads and fries or potatoes, and everyone had a drink (the portions were also filling), we paid 190 zlotys (6 lunch portions), while for dinner the day before, which was average (because in a bouquet of 4 types of salads only carrots were edible), the fish was not knocking down (the fillets had a lot of bones, the taste was ok, but today the bull fish is really delicious), we spent PLN 290.
Po obiadku poszliśmy odłożyć rzeczy do domku i ponownie podjąć próbę wynajęcia gokartów ( gdyż widzieliśmy, że wypożyczalnia otworzyła się w trakcie gdy moje skarby były na plaży.
After lunch, we went to put things back in the cabin and try to rent the karts again (as we saw the rental shop opened while my treasures were on the beach.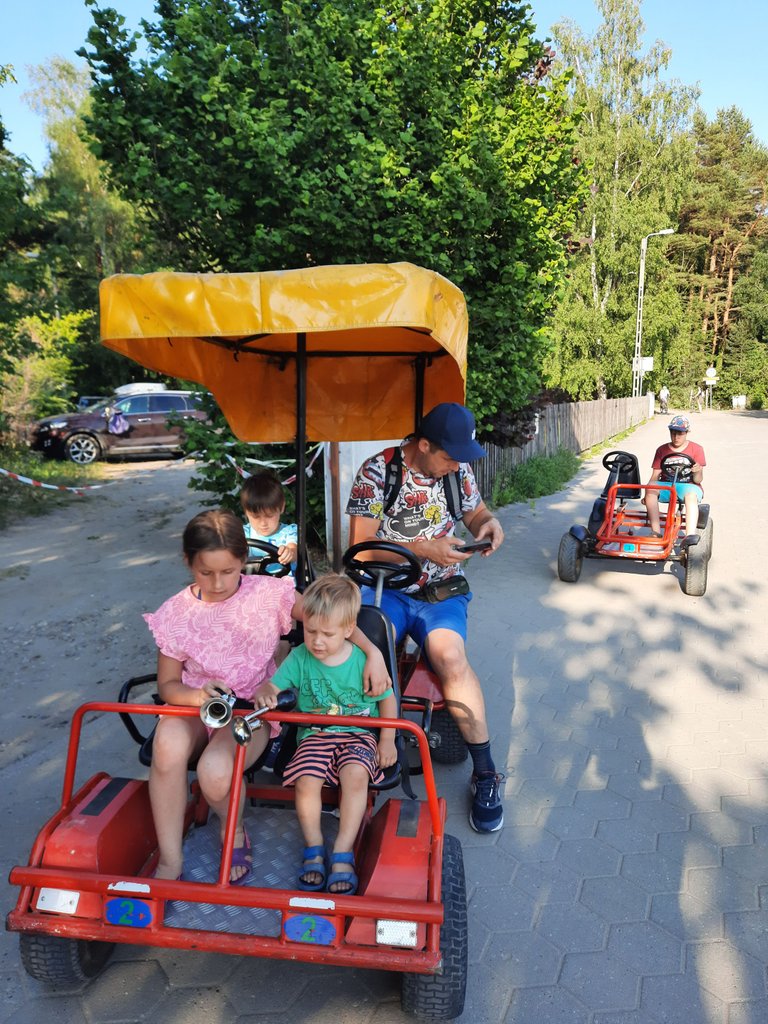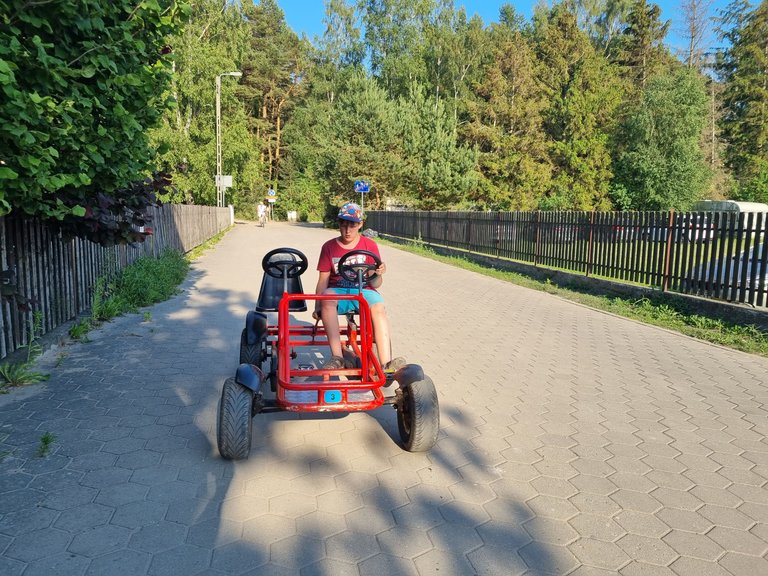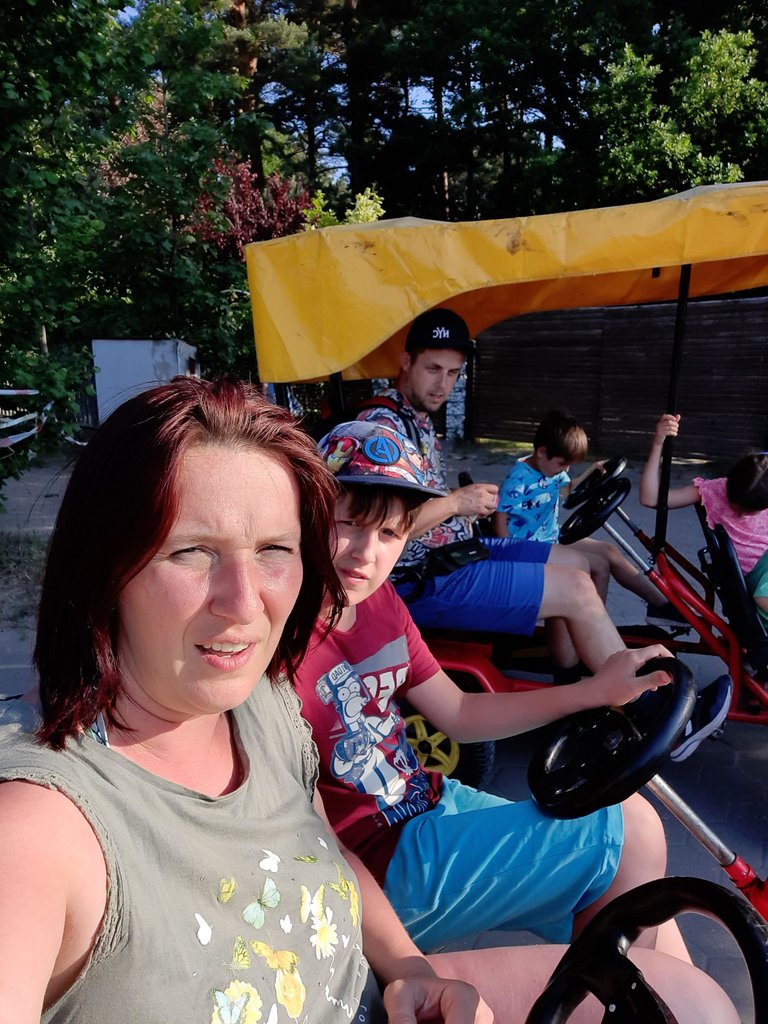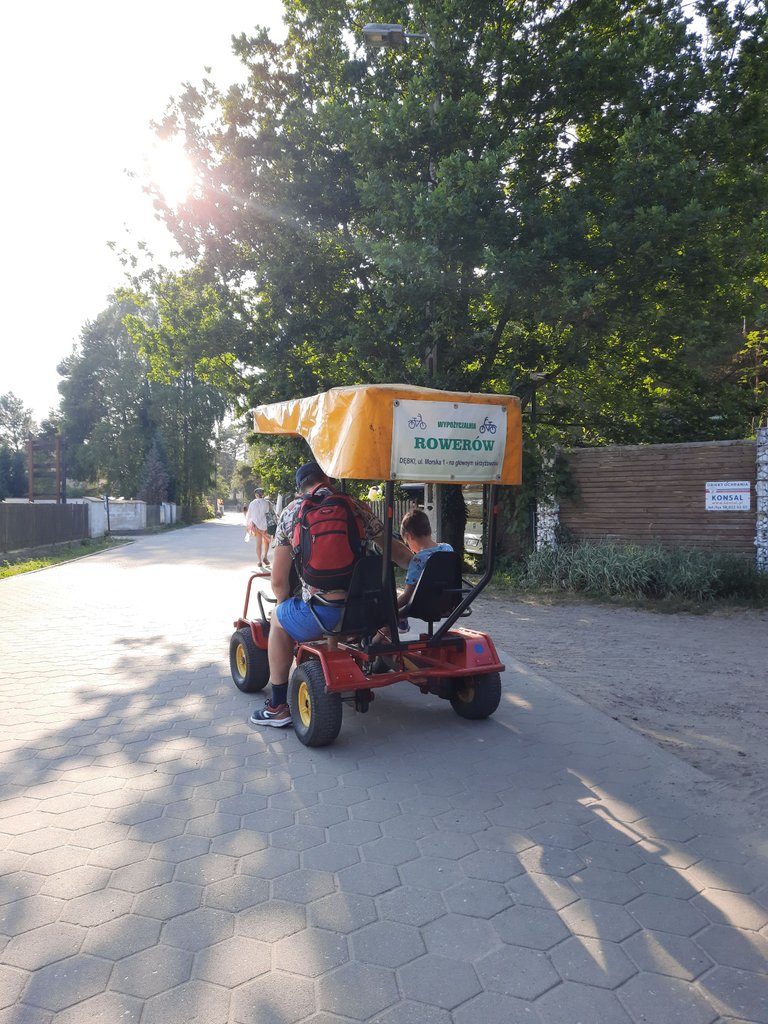 Gdy dotarliśmy do gokartów wynajęliśmy jeden 4 osobowy i drugi 2 osobowy, podróż zaczęliśmy w składzie ja, Wiktor, Sara i Alex na czwórce, żonka i Oskar na dwójce, już po przejechaniu części trasy nastąpiła wymiana ekip, ja z Alexem pojechaliśmy dwójką a żonka z Oskarem przesiedli się do Sary i Wiktorka.
When we got to the go-karts, we rented one for 4 people and the other for 2 people, we started the journey with me, Wiktor, Sara and Alex on four, my wife and Oskar on two, after completing part of the route the teams were changed, I and Alex went two, and his wife and Oskar moved to Sara and Wiktor.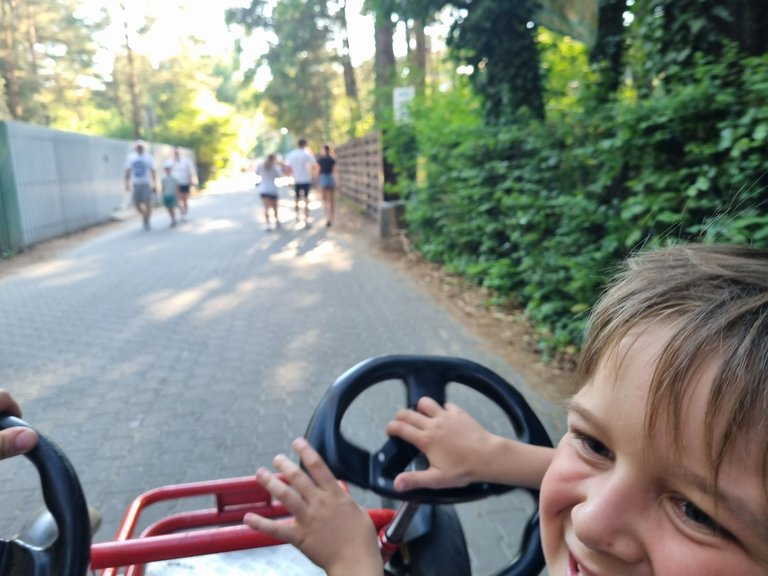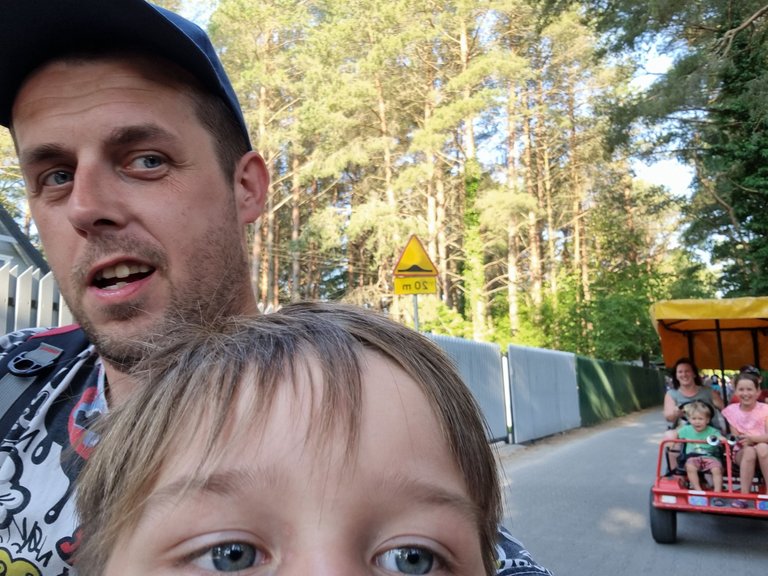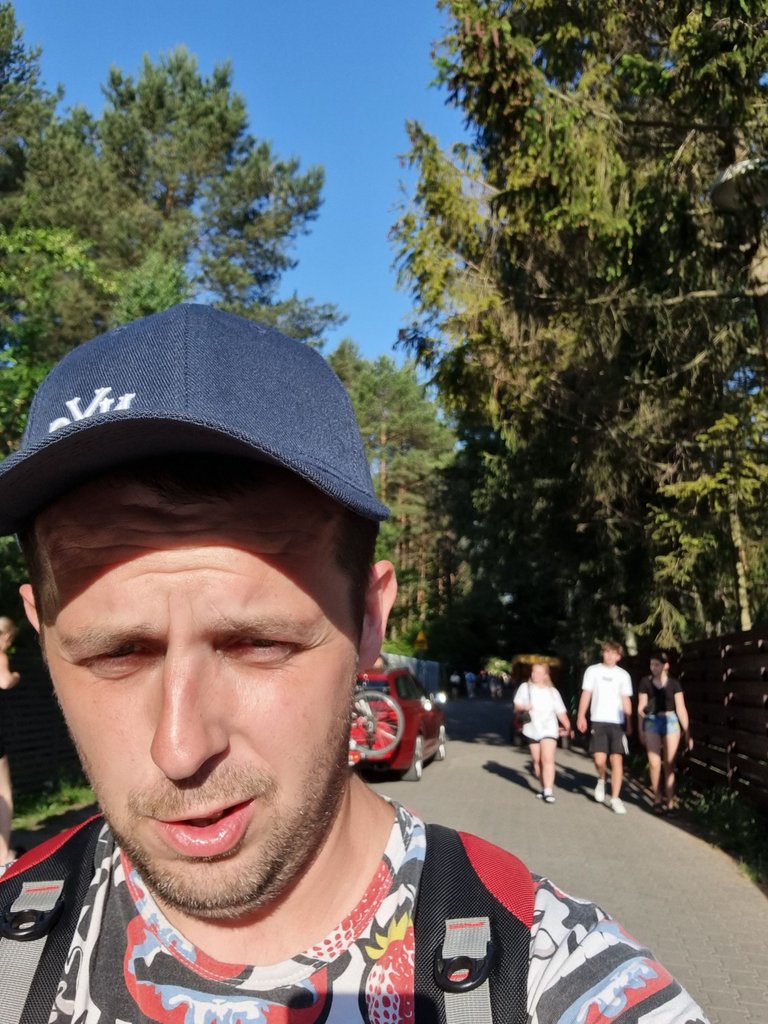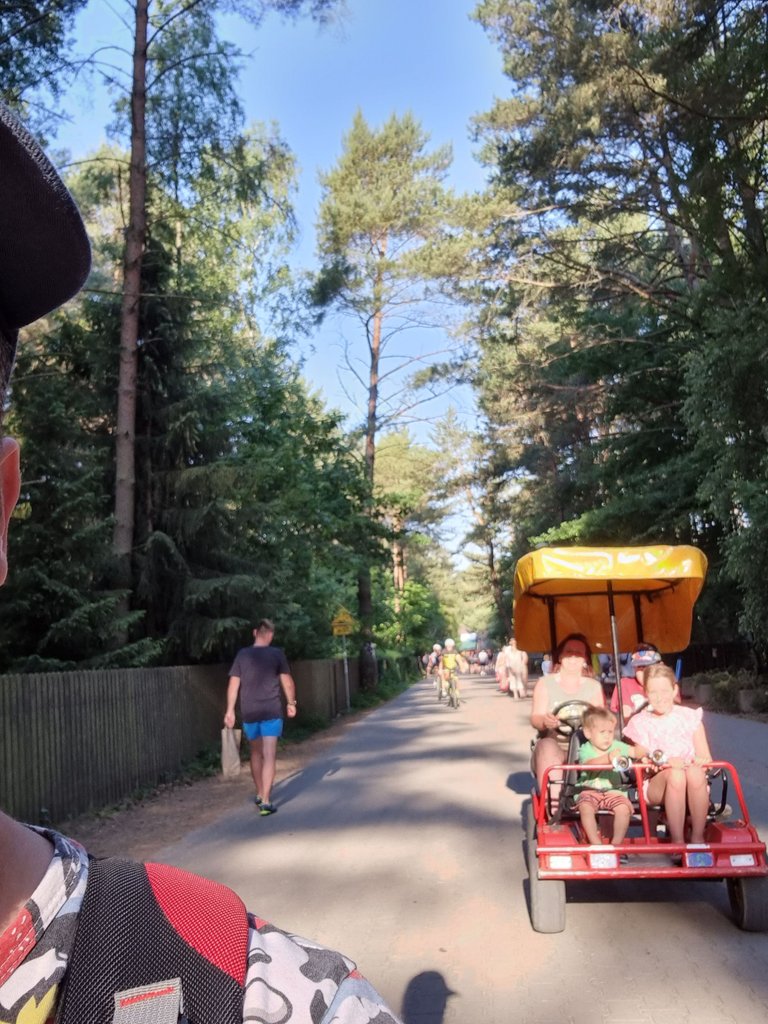 Przejażdżka trwała godzinkę, zrobiliśmy spore kółko, przez całe Dębki.
The ride lasted an hour, we did quite a circle, all the way through Dębki.
Moja niezmordowana ekipa po gokartach zaciągnęła mnie do ośrodka po sprzęt plażowy, po drodze kupiliśmy zabawki do piasku i wyruszyliśmy na plażę, która była już znacznie pustsza bo miłośnica skwarków zdążyli już z niej zejść ( w końcu słońce już po 17 tak nie smali).
My tireless go-kart team dragged me to the resort for beach equipment, on the way we bought sand toys and went to the beach, which was already much deserted because the lover of cracklings had already left it (after all, the sun was already after 5 p.m. yes no smali).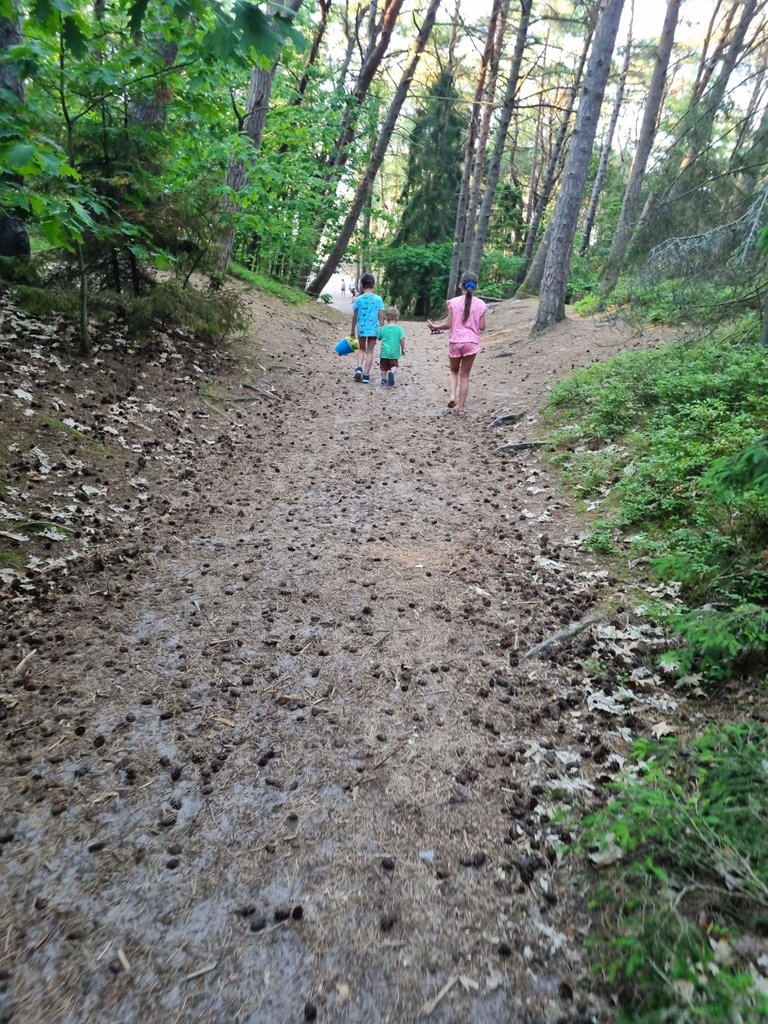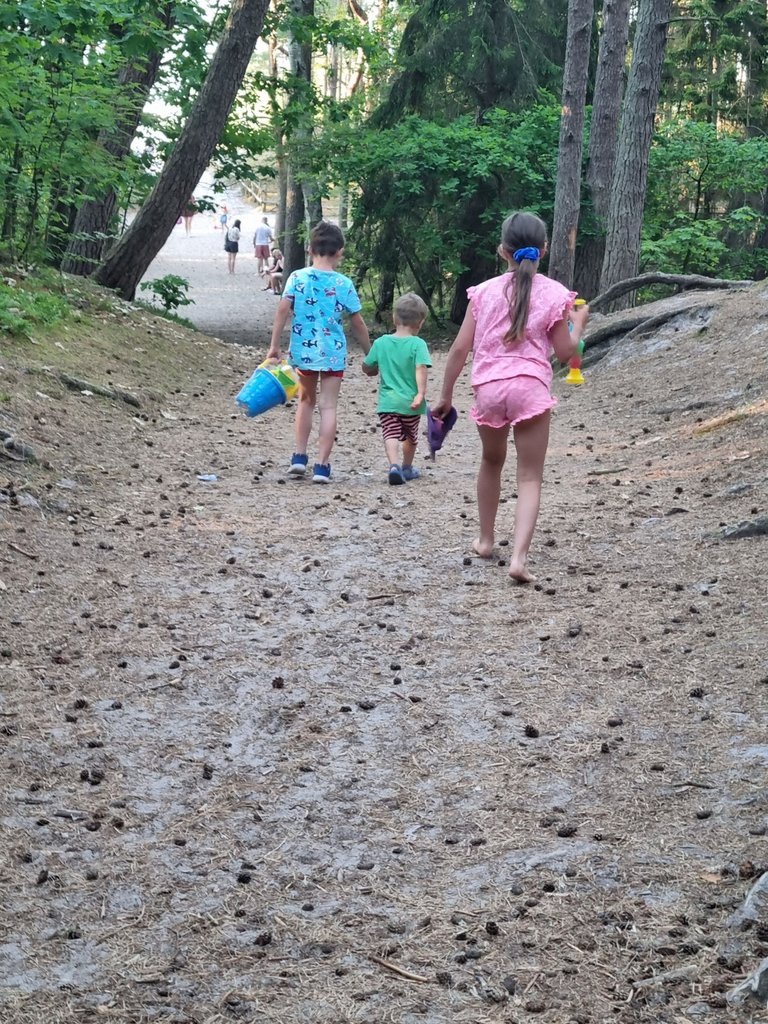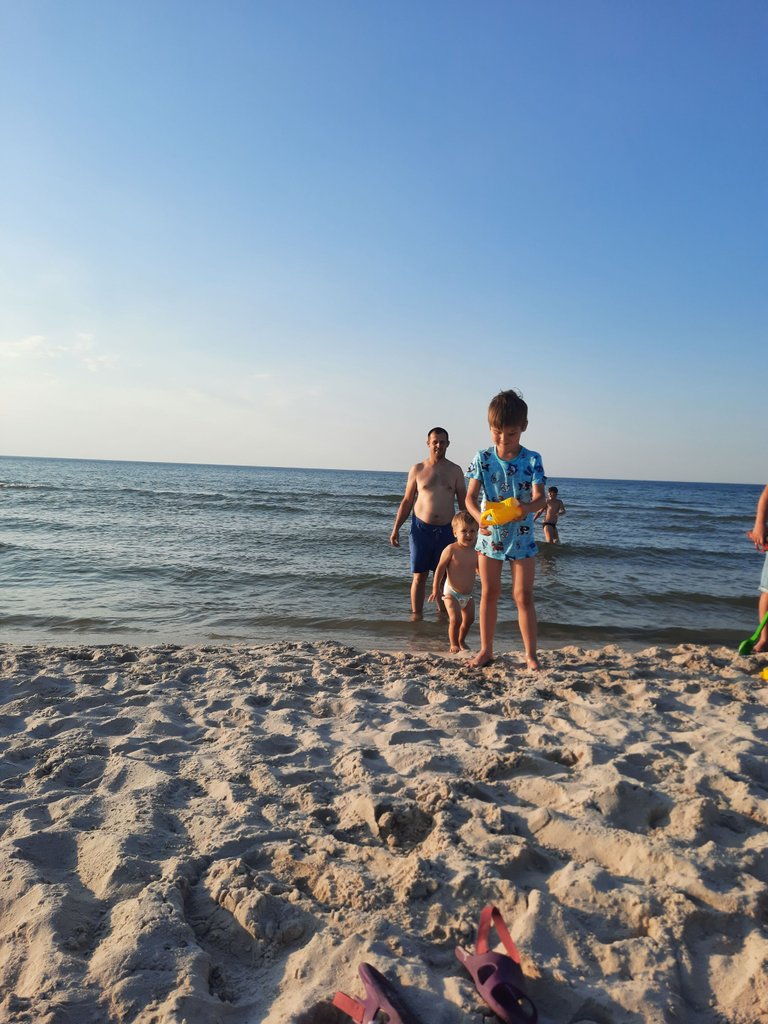 Na plaży żoneczka trochę odpoczęła po całym dniu intensywnych zabaw, a ja przejąłem pałeczkę o powygłupiałem się z dziećmi w morzy.
On the beach, my little wife rested a little after a day of intense play, and I took the lead and went crazy with the children in the sea.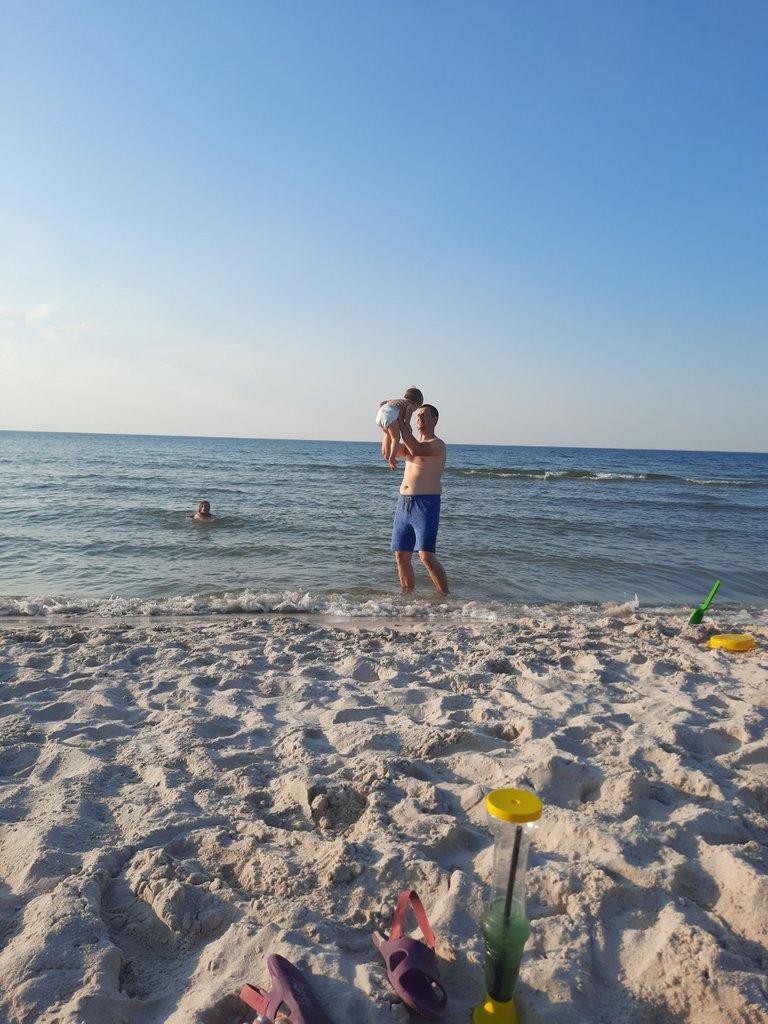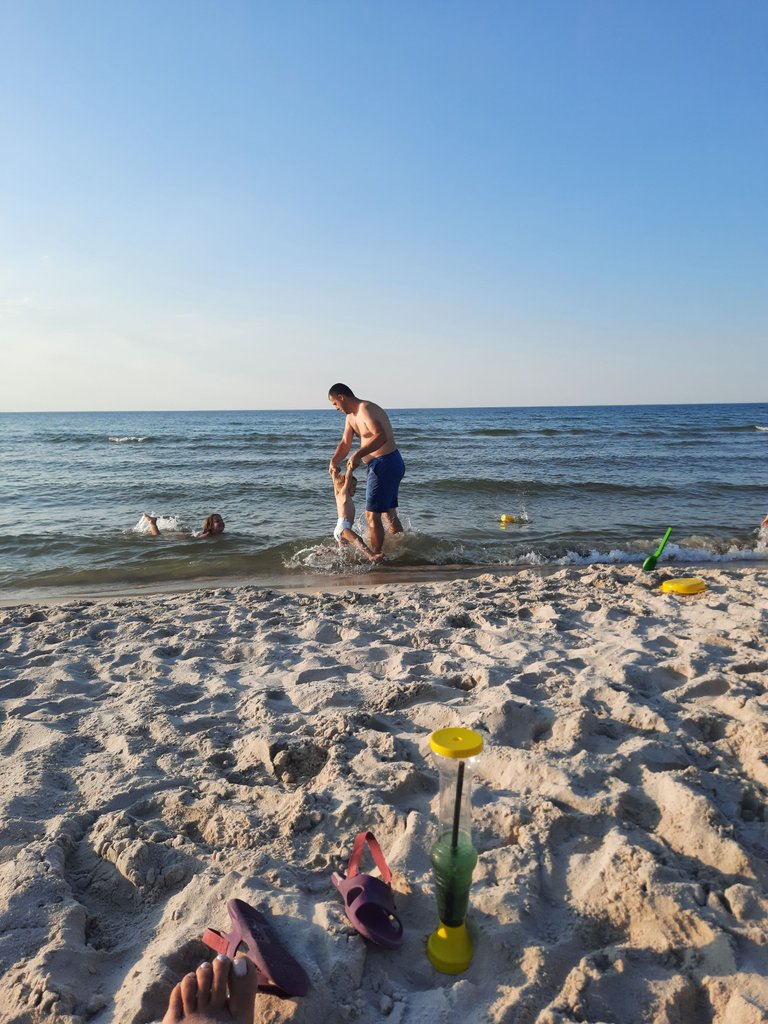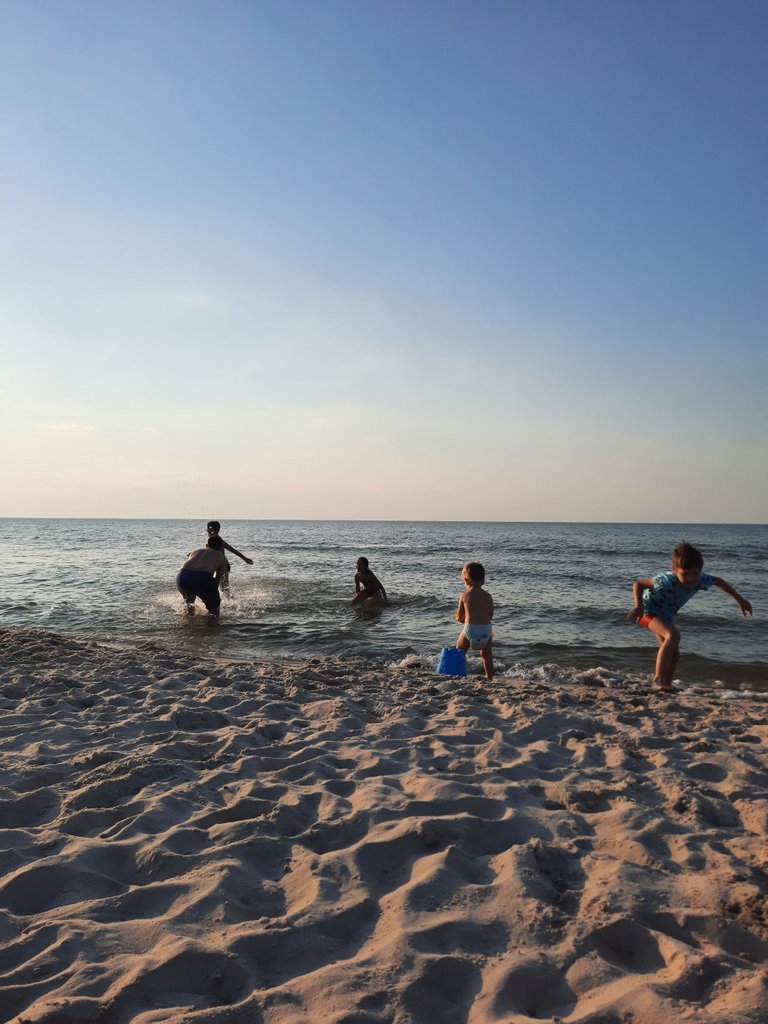 Potem dołączyła do nas jeszcze żonka, wykąpała się z nami i powygłupiała gdy wszyscy zaczęli opadać z sił, zaczęliśmy się zbierać i szykować do powrotu, bo wszyscy mieliśmy już piasek wszędzie, w drodze powrotnej Wiktor i Alex opadli z sił więc trzeba ich było donieść do ośrodka, żona wzięła na barana Wiktora a ja Alexa , więc na konie dnia zaliczyliśmy trening funkcjonalny z obciążeniem 😉 .
Then our wife joined us, she bathed with us and she went foolish when everyone started to lose their strength, we started to gather and get ready to return, because we all had sand everywhere, on the way back Wiktor and Alex lost their strength so we have to They had to be reported to the center, my wife piggybacked Wiktor and I had Alex, so for the horses of the day we had functional training with a load 😉.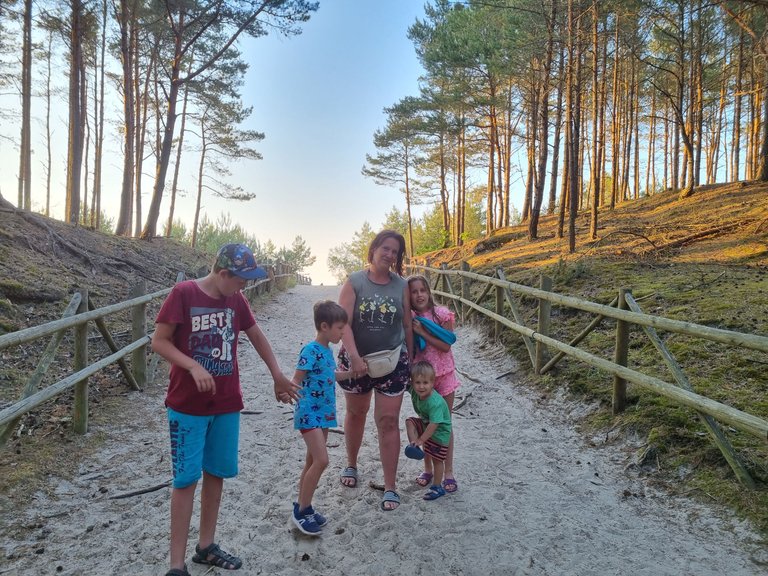 Upał dał nam w kość ale dzień zaliczamy do udanych, sporo ruchu, dużo śmiech i dobrej zabawy, pozdrawiam z nad Bałtyku licznik kroków wskazał pozytywny wynik :D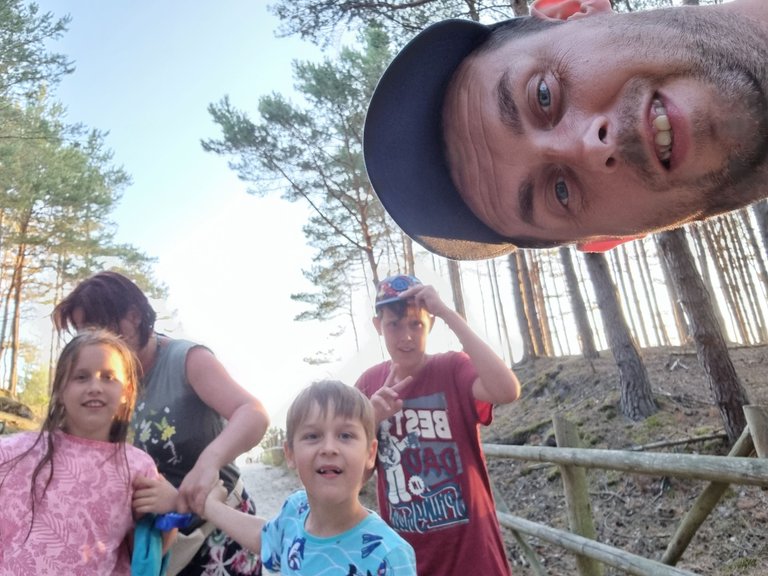 The heat gave us a hard time, but the day was successful, a lot of exercise, a lot of laughter and fun, greetings from the Baltic Sea, the step counter showed a positive result: D

This report was published via Actifit app (Android | iOS). Check out the original version here on actifit.io




25/06/2022

26468

Daily Activity, Photowalking, Play with kids/grand kids, Running, Swimming, Walking
---
---