Email Marketing Strategies For Entrepreneurs
Have you ever wondered how to build up your email list so as to scale up your business, and make more sales but you don't know how to go about it? Worry not again. These proven strategies will guide you through.
Email marketing is an highly effective way of reaching out to potential buyers and customers because email users are growing on a daily basis and research show that over 293billion emails are been sent on a daily basis.
credits
How then can you as an entrepreneur make your business to stand out among your competitors and get bigger sales with a higher open and click through rates?
Email marketing helps you connect with your audience to promote your brand and increase sales. You can do a lot of things with emails, like sell products, share some news, improve your cart abandonment rate or tell a story.
Let's quickly have the proven and working email strategy. '
Personalize your emails.
What does this mean? You might be wondering what has email personalization got to do with making more sales via email.
In personalizing your emails, you are not to send individual emails to your subscribers rather, use your customer data to create a personalized message. For example, you don't begin your email with Dear Customer rather; use Dear Sam [First name of your subscriber].
This will create a kind of personal relationship with your subscribers. Personalizing your emails will make you stand out among your competitors because email personalization delivers faster [in terms of making sales].
Follow up Inactive Customers
You will continue to loose quite a number of your subscribers day in day out if you fail to re-engage inactive customers with relevant information.
Then, how can your re-engage your email subscribers? You can simply send to them the 'We miss you mail' or discounts on your products or offers. Better still, you can give them promo-codes that they can make use of to claim your offers and you can make use of the two.
Getting back inactive email subscriber is more cost effective when carried out appropriately than acquiring new ones.
Send emails that are mobile friendly
Do you know that most email marketing mails are opened on mobile devices reason being that most people tend to open their mobile phones first once they are awake and most of us do this on a daily basis.
Which means that if you don't want your subscribers to delete your mail or unsubscribe, you have to make it mobile friendly and not just desktop-centric mode alone.
If you want to make your email mobile friendly, you have to follow the below 3 most essential steps:
-Make use of Responsive Email Design [RED]
-Keep the pre-header and subject line as short as possible and
-Make the Call To Action test or button big and obvious.
Timing [Pick The Right Time For Sending Your Emails]
As an entrepreneur, you have to be so discreet in timing if you desire to see an improved open and click-through rate for your email campaigns. Sending creative contents will also help but you need to have it in mind that time is an element you need to focus on before sending out your emails.
Here's a table of the email survey carried out by sendiblue email marketing platform that will help you find the perfect timing depending on your type of business.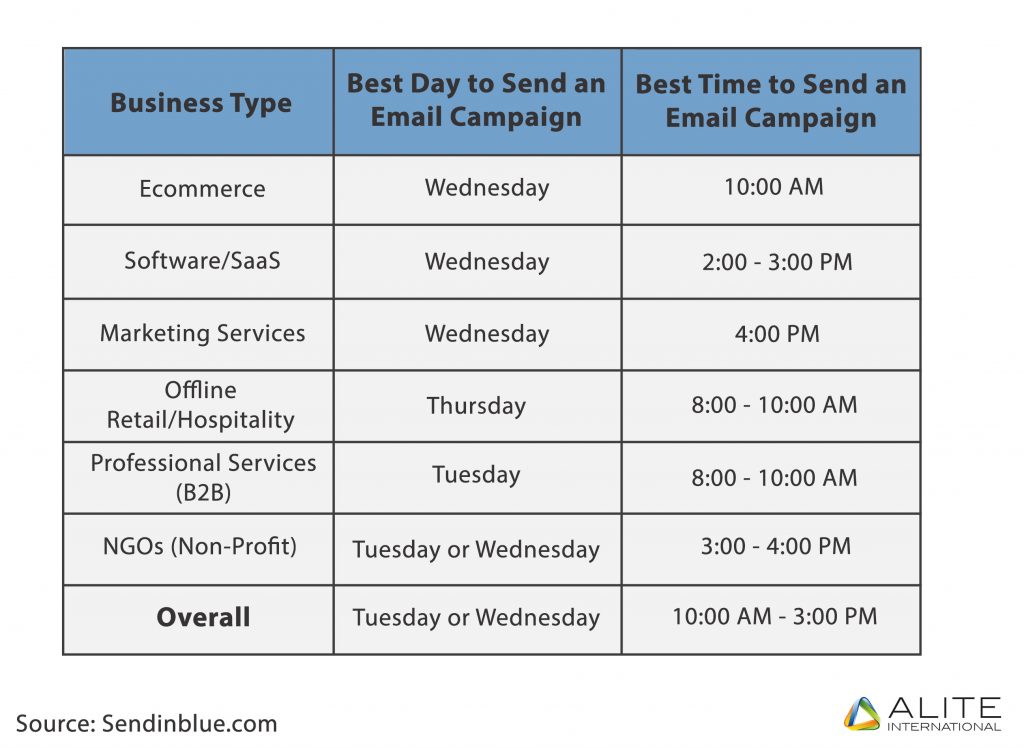 Source
Make use of promotional giveaways
Giving out freebies as well as promotional giveaways will give you a significant increase in the open and click through rate.
People likes free things and most are giving out there emails just because of the giveaway.
When you give out valuable contents as free gifts to your subscribers, you are simply preparing them for the future sales in your business.
You have other strategy aside the above listed ones, kindly state them in the comment section. I awaits your comments.
Thanks for reading through!
You can also checkout my most recommended email marketing tool here.
---
---