Poprawności w "Puciu" / Correctness in "Pucio"
Wczoraj zrobiłam małe odkrycie odnośnie książeczek o Puciu. Pożyczyłam jedną z biblioteki, i jako że przypadły nam do gustu, zamówiłam na Vinted używany zestaw 4 książeczek (w stanie idealnym). Zestaw ten jest jednak pierwszym wydaniem, a biblioteczna książka - drugim, poprawionym.
I co poprawiono?
Yesterday I made a little discovery about books about Pucio. I borrowed one from the library, and as we liked it, I ordered a used set of 4 books on Vinted (in perfect condition). This set is, however, the first edition, and the library book - the second, revised.
And what was changed?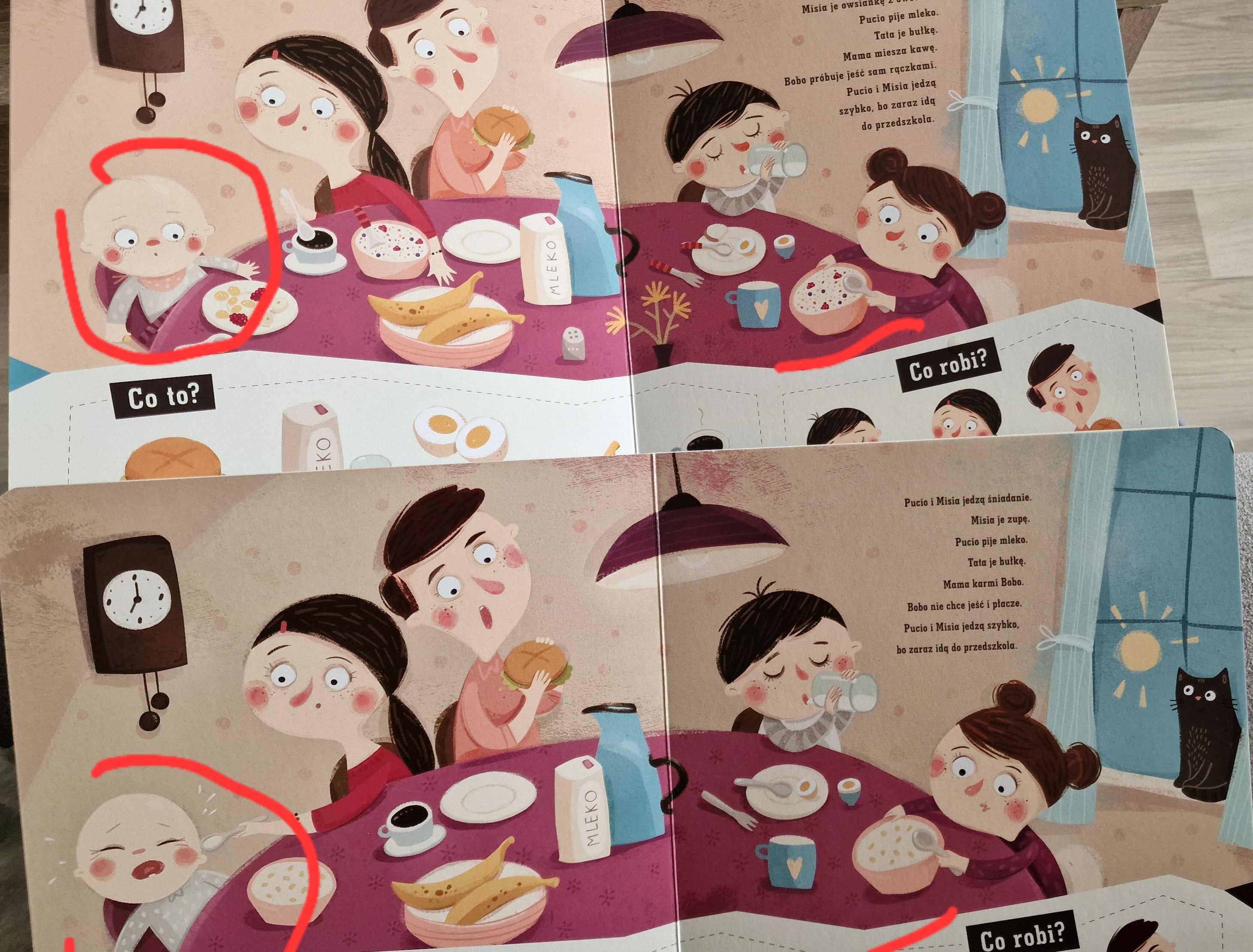 Pierwszą zmianą, jaką zauważyłam, był Bobo podczas śniadania. W nowej wersji zgodnie z nowymi wytycznymi żywienia je własnymi rączkami owoce. Mama miesza sobie kawę.
W starej wersji jednakże Bobo jest przez mamę karmiony łyżeczką i płacze. Opis nie pozostawia wątpliwości: "Bobo nie chce jeść i płacze".
Jest to bardzo ważna zmiana, przede wszystkim nie zmuszamy dzieci do jedzenia. Po drugie warto zachęcać do jedzenia samodzielnego. Jest to element na który zawsze zwracałam Bomblowi uwagę: Zobacz, Bobo sam je owocki!
Druga zmiana, to zupa Misi. Obecny trend żywienia to owsianki owocowe, a nie zupy mleczne, zwłaszcza z wątpliwej jakości płatkami. I tu też zawsze mówiłam Bomblowi: Zobacz, Misia je owsiankę na śniadanie, jak Ty!
The first change I noticed was Bobo at breakfast. In the new version, according to the new feeding guidelines, he eats fruit with his own hands. Mom is mixing her coffee.
In the old version, however, Bobo is spoon-fed by his mother and cries. The description leaves no doubt: "Bobo does not want to eat and is crying".
This is a very important change, first of all, we do not force children to eat. Secondly, it is worth encouraging children to eat by themselves. This is an element that I have always pointed out to the Baby: Look, Bobo eats fruit himself!
The second change is Misia's soup. The current nutrition trend is fruit porridge, not milk soups, especially with dubious quality flakes. And here, too, I always said to the Baby: Look, Misia eats porridge for breakfast like you!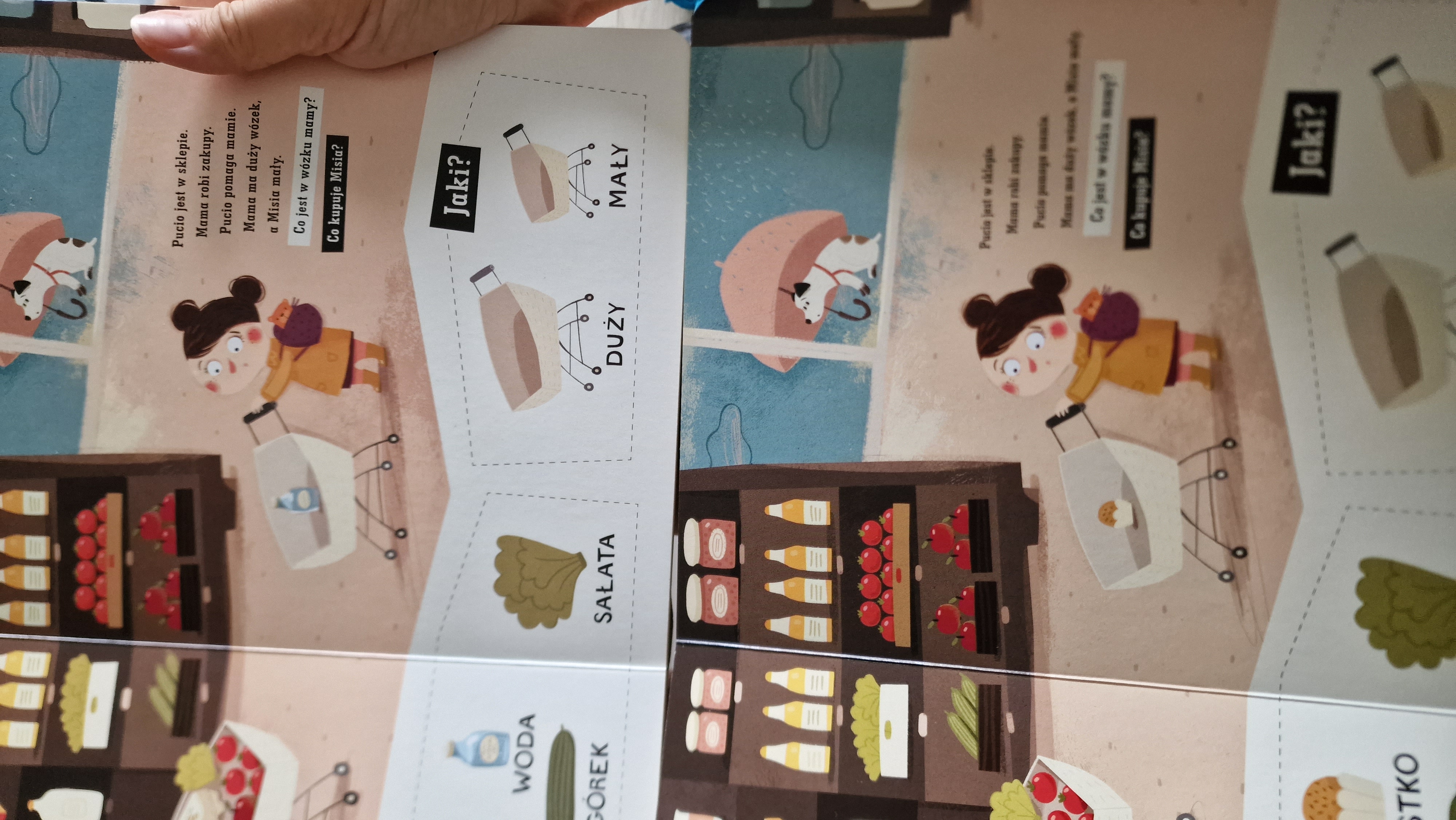 Kolejna zmiana to zakupy. W starej wersji Misia kupiła ciastko, w nowej a jakże - butelkę wody.
Another change is shopping. In the old version, Misia bought a cookie, in the new version - a bottle of water.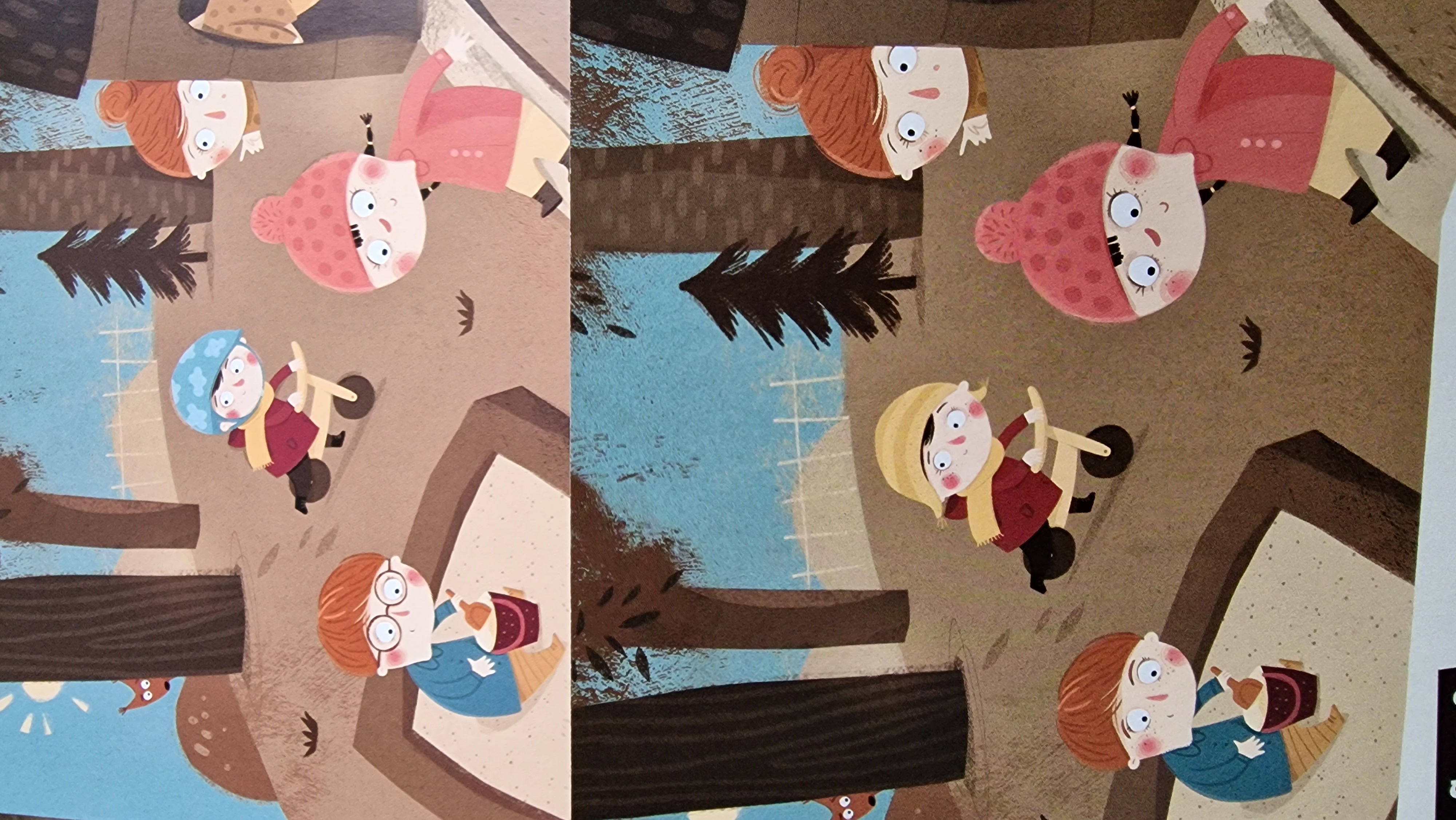 I wreszcie ostatnia ważna zmiana na placu zabaw. W nowej wersji Pucio jedzie na rowerku w kasku, na co też za każdym razem zwracaliśmy uwagę, bo kask jest przecież bardzo ważny. W starej nie było kasku - tylko czapka.
Poza tym chłopiec w piaskownicy w nowej wersji zyskał okulary, ale to już zmiana mniej istotna.
And finally, one last important change to the playground. In the new version, Pucio rides a bicycle in a helmet, which we also paid attention to every time, because the bike helmet is very important. There was no helmet in the old one - just a hat.
In addition, the sandbox boy in the new version gained glasses, but this is a less important change.
Oprócz tego w nowej wersji czcionka jest większa. Ogólnie, szkoda, że nie wiedziałam, że są takie zmiany, gdybym wiedziała, to kupiłabym raczej nowy zestaw.
In addition, the font is larger in the new version. Overall, it is a pity that I did not know there were such changes, if I did, I would rather buy a new set.
_This report was published via Actifit app ([Android](
https://bit.ly/actifit-app
) | [iOS](
https://bit.ly/actifit-ios
)). Check out the original version [here on actifit.io](
https://actifit.io/@asia-pl/actifit-asia-pl-20220727t112224323z
)_


26/07/2022

5003

---
---