A Letter From the United States Treasury Mint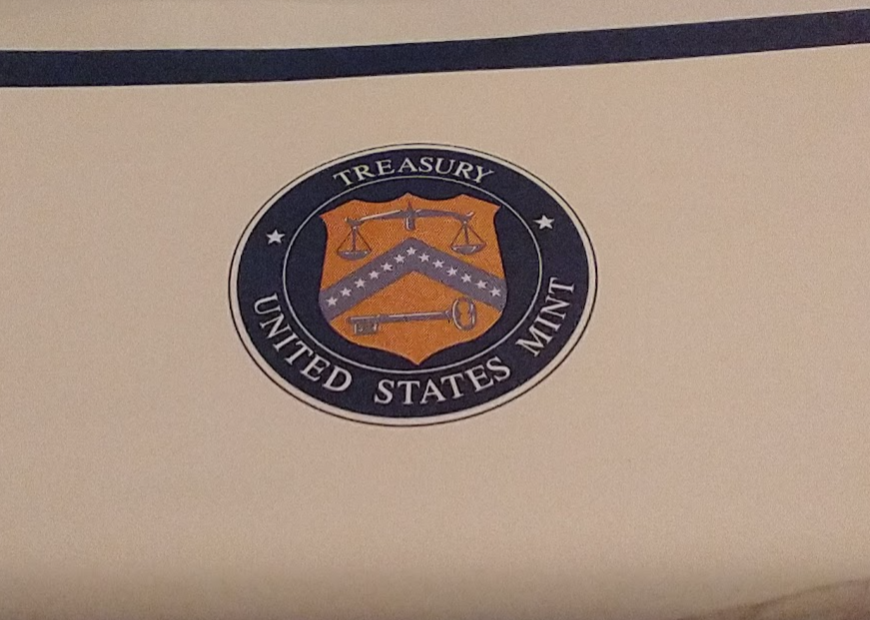 Offical Government Letter
When checking my mail today, I was surprised to see a letter from the US Mint. Written by Director Ventris Gibson, she explains some of the issues that the mint has had over the last few years.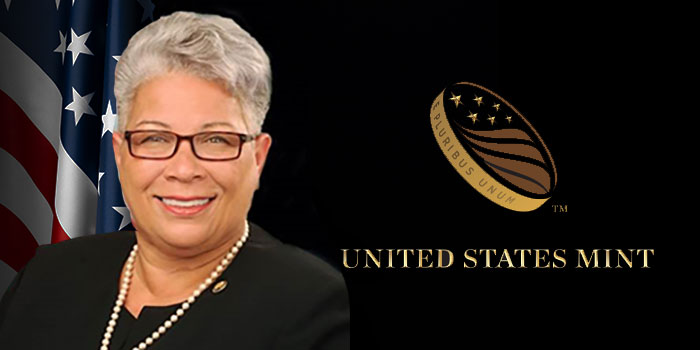 Content of the Letter
Dear Valued Customer: At the United States Mint, we take pride in the focus we apply to customer satisfaction-- and we continually strive to improve your experience with us! We have listened to what you've told us about how to improve our customer service delivery, and we've made significant improvements. For example, we have recently enhanced and stabilized our website to provide a more satisfying ecommerce experience during peak sales times for our most popular products.
Now that they've patted themselves on the back, how they "listen" and "improve" and "enhance", let's get to the point. What is this letter about?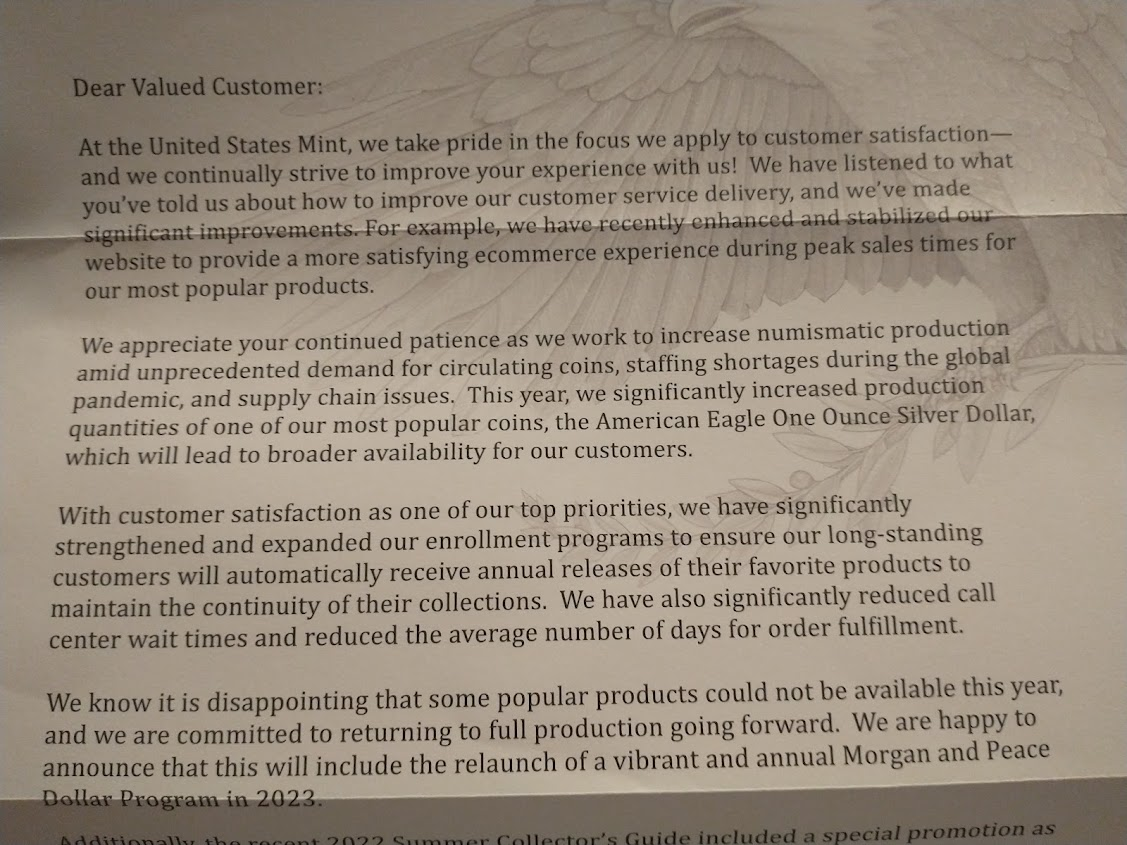 We appreciate your continued patience as we work to increase numismatic production amid unprecedented demand for circulating coins, staffing shortages during the global pandemic, and supply chain issues. This year, we significantly increased production quantities of one of our most popular coins, the American Eagle One Ounce Silver Dollar, which will lead to broader availability for our customers.
I find it interesting that they do not ask for patience... they appreciate the patience they feel they are due, for the listed reasons. And back to congradulating themsleves for "broader availablity".
With customer satisfaction as one of our top priorities, we have significantly strengthened and expanded our enrollment programs to ensure our long-standing customers will automatically receive annual releases of their favorite products to maintain the continuity of their collections. We have also significantly reduced call center wait times and reduced the average number of days for ordre fulfillment.
Ah, finally. They are listing actual significant improvements. An assurance that people can get in line for first dibs on what they want.
We know it's dissappointing that some popular products could not be available this year, and we are committed to returning to full production going forward. We are happy to announce that this will include the relaunch of a vibrant and annual Morgan and Peace Dollar Program in 2023.
In the core of the letter - an acknowledgement that people are dissappointed at the availability of certain products. How assuredly will these products be available next year? I guess we'll have to wait and see.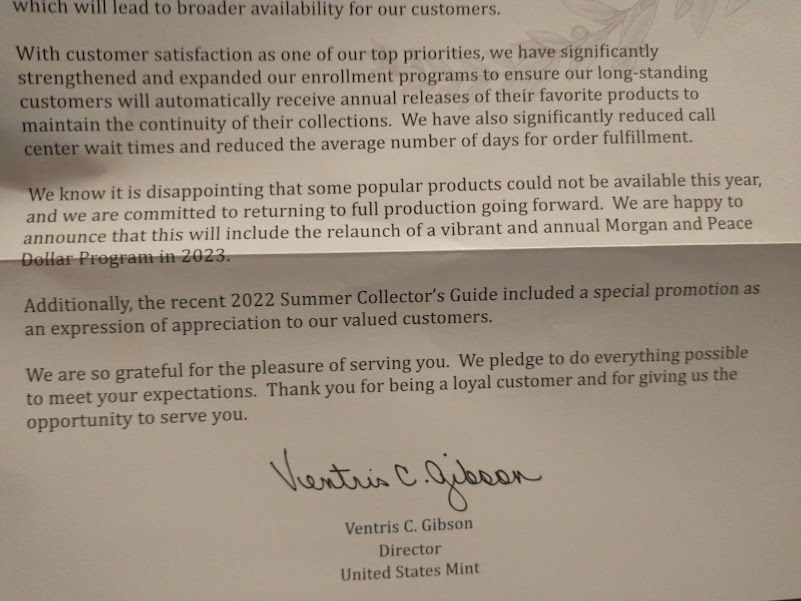 Additionally, the recent 2022 Summer Collector's Guided included a special promotion as an expression of appreciation to our valued customers.
I wonder what that "special promotion" is, I'll have to look into this!
We are so grateful for the pleasure of serving you. We pledge to do everything possible to meet your expectations. Thank you for being a loyal customer and for giving us the opportunity to serve you.
Reading Between the Boasting
Am I just being cynical, but for an apology letter and "here's how we're improving" letter, there's a lot of patting themselves on the back. Looking at the statements in each paragraph:
"take pride in the focus WE apply",
"continued patience as WE work",
"We have significantly expanded",
Then... "we know it's disappointing"
"We are committed to returning full production"
"We are so grateful for the pleasure of serving you"
"We pledge to do everything possible to meet your expections"
I Think It's A Nice Gesture
To be fair, it's a nice gesture to compose this letter and acknowledge the dissapointment and dissatisfaction people have had lately with the US Mint not meeting demand. And it's fair to acknowledge that things are messed up right now and it's not surprising the US Mint is one of the first to show signs of distress.
As interesting as it is to disect this letter, there is some significance in the depths of it: they are acknowledging issues and addressing them.
I actually appreciate this letter, it was a surprise. It's not like I'm extremely dissatisfied or disgruntled with the US Mint - but I've heard of a lot of unhappiness with the US Mint as of late.
What do you think?
Is this letter a good gesture? Is it boasting too much? Is it sincere? Is it humble? Is it only to pacify?
I'm curious your take on this letter.
---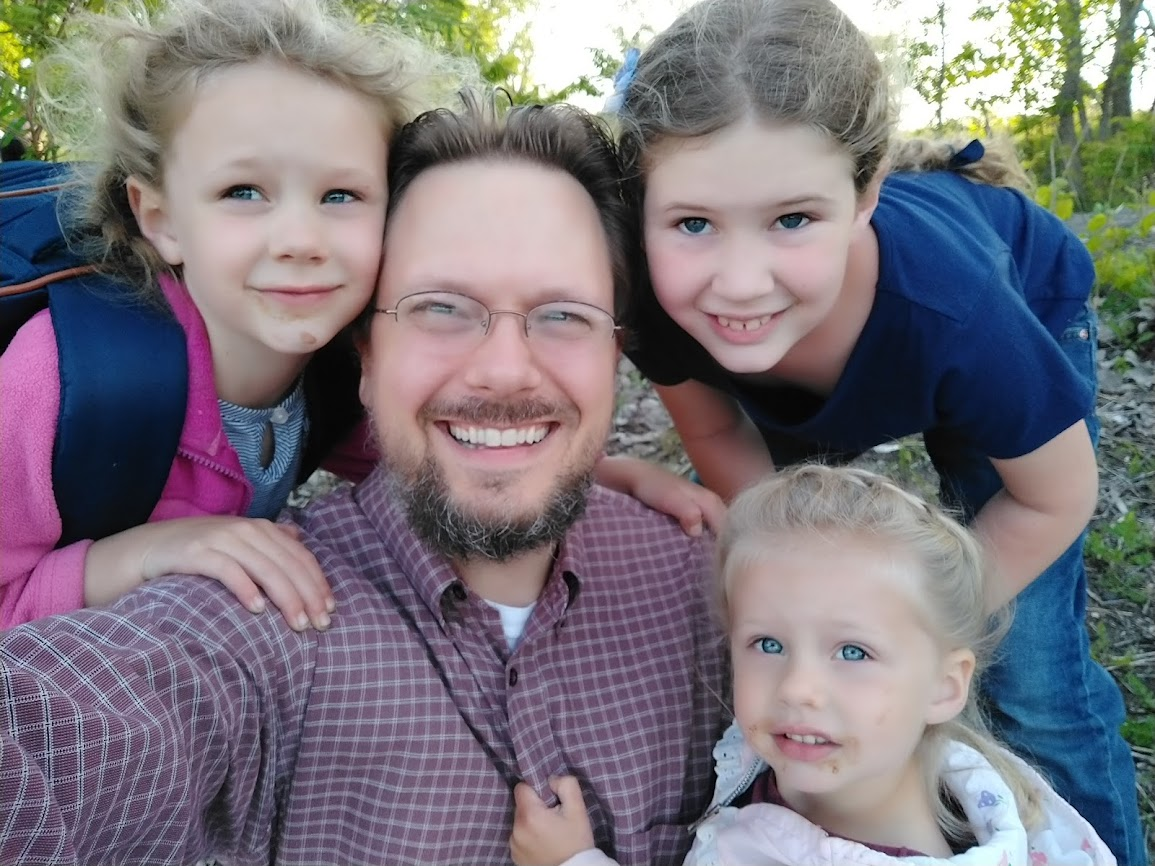 Benjamin Turner: God fearer. Rooted in Messiah. Husband of @lturner. Father of six wonderful children. The guy behind the camera. Blockchain enthusiast.
Bless the Most High!

Do You Like Discovering New Content?
ListNerds is a content discovery platform. Members promote content, various products and interesting links. Every click rewards you with MAIL credits to promote whatever content you want to share! If you'd like to learn more, visit Listnerds.com

Posted using LasseCash
---
---