Hive Tour Update - Advanced posting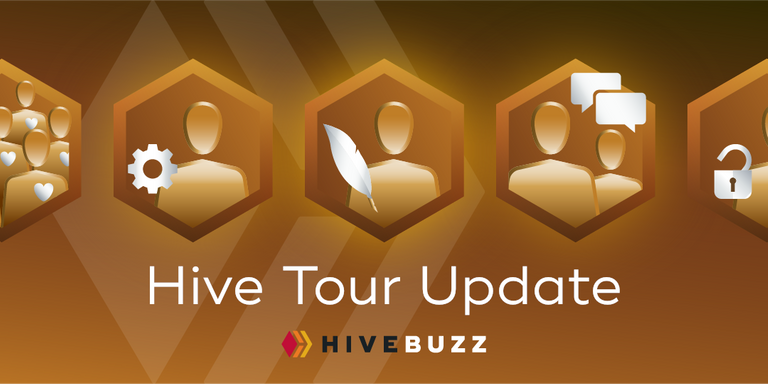 Last week, we introduced you to the brand new Hive Tour that we had concocted for you.
If you missed it, here is the introduction post.
We are delighted with the positive reception it received and the fact that this has encouraged many of you to participate more actively in the social part of the Hive life.
A small detour to Valentine's Day
For a few days, we got distracted by the Valentine's Day.
It was for us a good opportunity to remind people that we are a community above all and how strong the ties that unite us are.
At the time of writing, more than 330 people have spread the love on the Hive blockchain with their testimony to those they appreciate. Hurry up, it's still time to offer your Valentine's Day badge to someone!
Introducing advanced posting stages
Now, let's go back to the tour with the new additions:

These new stages and steps will allow you to familiarize yourself with features that are sometimes less used when you publish your posts, but which can be very useful when you work in a team.
1. Beneficiaries
Hive allows you to define other beneficiaries for the payout of your posts or comments.
This is useful when you want to share the remuneration of your publication with your collaborators or when you simply want to pass it on to someone to thank them.
2. Payout mode
Hive offers several payment methods for your publications.
The most common is the 50/50 mode which gives you 50% of your payout in Hive Power and the other 50% in HBD (or liquid HIVE if HBDs are no longer printed).
But there are many other alternatives that we suggest you discover.
More to come
We are at the very beginning of our journey on the Hive Tour. We are putting the finishing touches on the next stages and steps which will be revealed to you in the coming days.
Let's tease you a bit: we currently have around 140 of them (with more being added regularly as we come up with new ideas) and we only implemented and released 35. As you can see there will be lots of fun!
The HiveBuzz Team
---
HiveBuzz is a project created by @arcange
---
---