Hive Power Up Month - Feedback from Day 18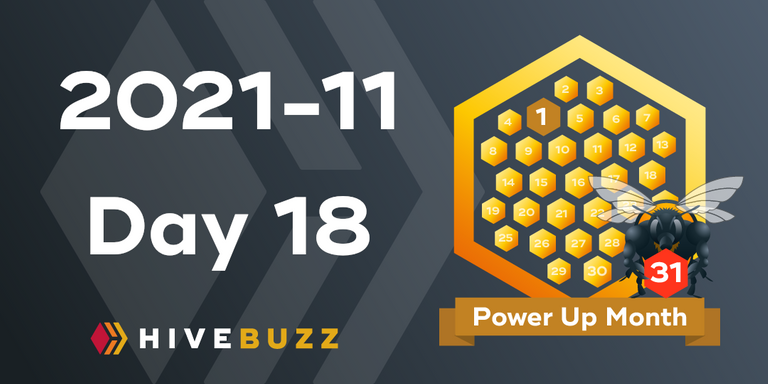 The Hive Power Up Month has now been running for 18 days and we are close to two-thirds of the way. We have been a bit lazy lately in not providing regular feedback on the progress of this challenge. It must be said that HiveFest took up a lot of our time at the beginning of the month and that a short break was welcome.
For those who missed it, you can read the challenge announcement here.
How has it been so far?
As always, we have seen a strong start, mainly due to the growing participation in the Power Up Day.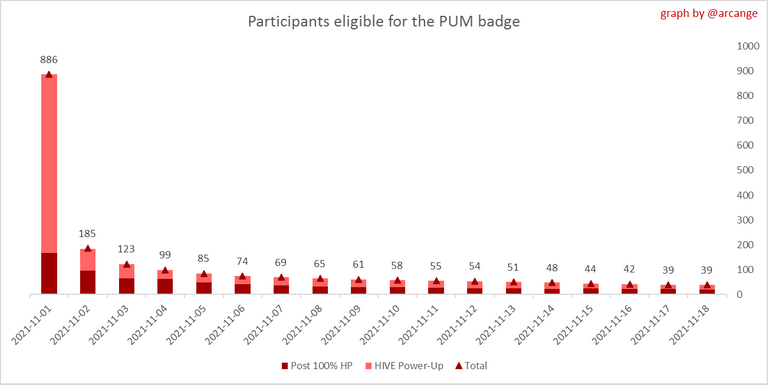 But subsequently, we get figures quite similar to the previous edition with currently 39 users eligible for the Power Up Month badge. This still makes it 5 more than in the previous edition.
List of eligible ones
Here is the exhaustive list of those who can still claim to receive the PUM badge at the end of the month:
Congratulations to @awah, @arcange, @ayleenr, @bashadow, @beeber, @cezary-io, @coquicoin, @davidbright, @deepresearch, @definethedollar, @drugelis, @emeka4, @felt.buzz, @fermionico, @forykw, @gecata, @hasan1981, @justclickindiva, @kolbjorn, @manuvert, @mmckinneyphoto13, @nikolina, @ricestrela, @rishi556, @sagesigma, @sammie, @savvyplayer, @sebbi87, @shinyobjects, @sunset.curator, @tawadak24, @tdctunes, @thecouncil, @tibaire, @traciyork, @ultratrain, @vanje, @wrestlingdesires and @ynwa.andree.
Congratulations to them because we all now know how much the PUM challenge requires endurance. Try not to fail over the next days.
Good luck to everyone who is still in the race!
---
HiveBuzz is a project created by @arcange
---
---