Small steps to big goals. Giveaway layer 2 tokens. Hive savings. Thoughts. My Actifit Report Card: May 16 2022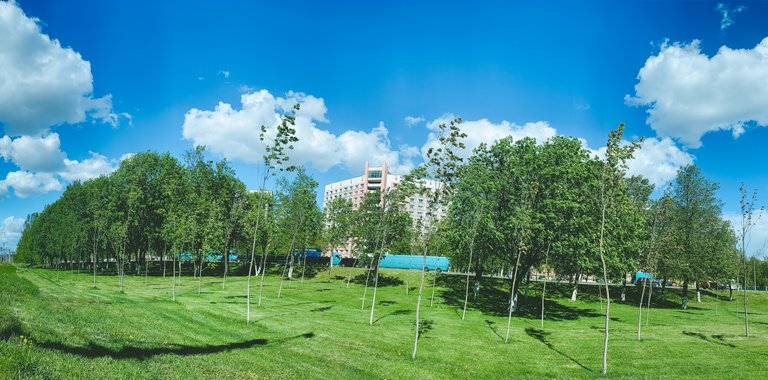 The future square by the house

Hi there!
On sunny days like this, for some reason I always go back to my childhood. There was a lot of sunshine, energy, and a lot of "serious business. Things that demanded my attention, because only I could see what others could not. That's what I thought back then. 🤣 A lot has changed over time. I got to know a lot of people, I realized a lot of things. One of them is that we are really very different and everyone has their own superpowers. There is no one person with the entire set of superpowers. So you should never underestimate anyone you meet along the way. Maybe he has exactly the superpower that will turn your life upside down and open those very doors to which you're looking for the keys now! Life is a very interesting game that the Almighty is playing. I don't think he's bored for a second. So let us also not be bored when we meet new people on our way!
RU: В такие солнечные дни я почему-то всегда возвращаюсь в детство. Тогда было много солнца, энергии и куча "серьёзных дел". Дел, которые требовали моего внимания, ведь только я мог увидеть то, чего не могут другие. Так думал я тогда. 🤣 Многое изменилось со временем. Я узнал много людей, понял много вещей. Одна из них - мы действительное очень разные и у каждого своя суперспособность. Нет ни одного человека со всем набором суперспособностей. Поэтому никогда не стоит недооценивать любого из тех, кто встречается на твоём пути. Возможно у него именно та суперспособность, которая перевернёт твою жизнь с ног на голову и откроет именно те двери, к которым ты ищешь сейчас ключи! Жизнь очень интересная игра, в которую играет всевышний. Думаю ему не скучно ни на секунду. Так пусть и нам не будет скучно, когда мы встречаем новых людей на своём пути!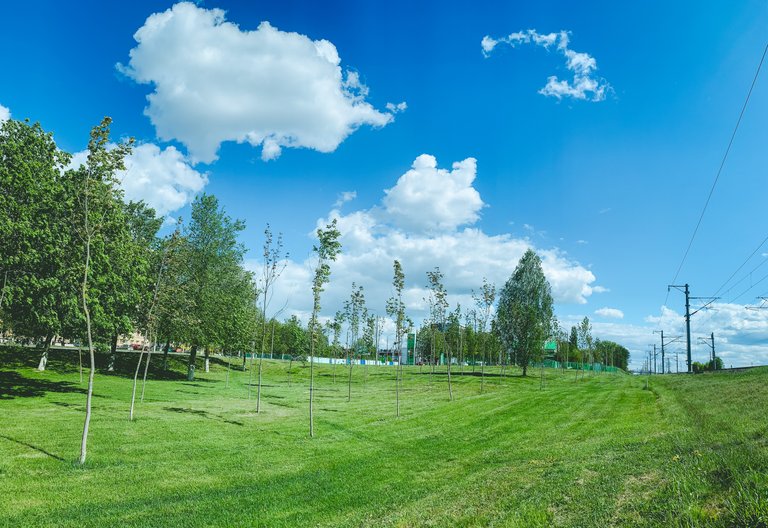 Hive savings report
I will continue to play the game in the numbers of my achievements on Hive. Below is a table of my daily accumulation of Hive, HP, and Level 2 tokens:
RU: Продолжу игру в числа моих достижений на Hive. Ниже таблица моих ежедневных накоплений Hive, HP и токенов второго уровня: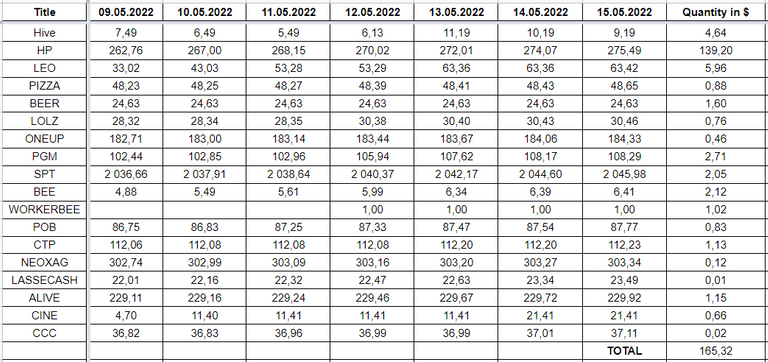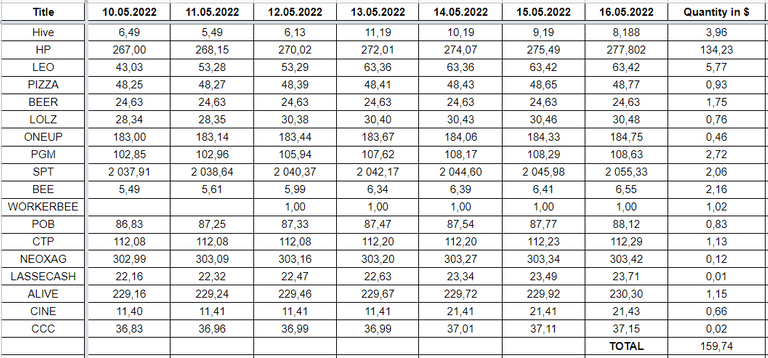 I'll start with the giveaway. Yesterday I mentioned that I would do a series of posts about second-level tokens. I roughly came up with the concept and chose which token the first post would be about. I invite you to guess which token you're talking about. All I will say is that it is on my Hive savings list! Whoever guesses will get that same token in quantities of 5 or more, my upvote, as well as the entire set of gift tokens I have. I'm referring to the ones distributed here by the "! The rest of you will also get my support and the rest of the gift tokens I have left over. Good luck everyone!
In the meantime, my Hive savings are down again due to Hive's drawdown from $165 to $159, which was -3.7%. But I'm here for the long haul, and I'm playing for the long haul, so I'll be buying again!
RU: Начну с giveaway. Вчера я упомянул, что сделаю серию постов о токенах второго уровня. Я примерно придумал концепцию и выбрал токен о котором будет первый пост. Предлагаю угадать о каком токене идёт речь. Скажу лишь то, что он есть в моём списке сбережений Hive! Тот кто угадает, получит этот самый токен в количестве от 5 штук, мой апвот, а также весь комплект подарочных токенов, которые у меня есть. Я имею в виду те, которые распространяются здесь командой "!..." Остальные также получат мою поддержку и остатки подарочных токенов, которые у меня останутся. Всем удачи!
А тем временем мои сбережения Hive снова уменьшились из-за просадки Hive c 165$ до 159$, что составило -3.7%. Но я же тут надолго и играю в долгую, поэтому буду закупаться снова!
That's all for now, the next reports will be more and more voluminous and interesting thoughts and plans, I'm already doing it).
RU: На этом пока всё, следующие отчёты будут всё объёмнее и интереснее по мыслям и планам, я уже это делаю.)

Photo: Belarus, Gomel, May 2022



This report was published via Actifit app (Android | iOS). Check out the original version here on actifit.io




16/05/2022

12611

---
---