NEWSPAPER BROFUND | ISSUE 4 | 2023

NEWSPAPER BROFUND | ISSUE 4 | 2023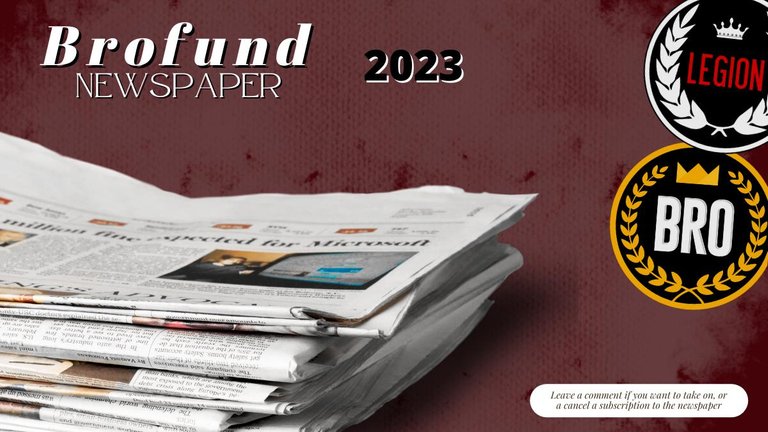 Image created with Canva Pro


BRO & LEGION NEWS
Djeez man, another week has passed and it's time to throw a new newspaper online again. Sometimes I wonder if we can ever work hard enough in a week to actually bring news every week. But there is also a bit of news to bring this week.
And that is that a new project will be released soon with which Brofund has officially entered into a partnership. I can't say much about this at the moment, although I have been whispered that the team of Hivebuilder and SPInvest are also involved in this.
In the words of @raymondspeaks, "It's perfect for Legion". So keep your eyes peeled and be prepared for an announcement soon!


HIVE RELATED NEWS
And now, of course, you expect me to write about the new project that's coming up? Unfortunately... I have to disappoint you now. Rest assured, it will come soon enough. But in order to write about a project ... that project will have to be launched first. Logical right?
So what do we have for news in relation to hive?
We all know that @good-karma is always busy developing @ecency. And that he does a good job with it, that is clear. Ecency is easy to use, Ecency does everything, has a clear interface ... and now also a new market that is inspired by Binance's layout. Oh la la, trading Hive and HBD has never been easier!
If you are also interested in this, please take the opportunity to test this! There is a link in the blog post where you can do this, but don't forget to leave your comments on the blog!


HIVE FUN QUESTION
Ready to move on to the next part of our short newspaper this week? First we're going to check our Hive Fun Question from last week.
What do you want to achieve and what are your dreams? And what do you need to achieve that?
We had an excellent answer on our question to this question! The answer that wins the 20 Hive came this week from none other than @successchar. Congrats!
We had more great answers and we appreciate everyone for taking part in our little fun hive question! Hopefully this week will be just as great. Are you ready for the new question?
The question I'm asking you this week is as follows:


What does wealth consist of for you?
Since you guys seem more interested in financial related questions, I keep it at that for now, it's up to you if that will be changed again. If you're reading this for the first time, by just answering the question in the comments below you have a chance to win 20 Hive. If you're reading this every week ... well, you know the drill!
The answer that attracts us most wins the 20 Hive.
Go get'm!
GOSSIP
CRYPTO NEWS
Of course there is a lot more news regarding the crypto world. Every week I will highlight some interesting news for you.
I hope you enjoyed this issue of the Brofund Newspaper.
Don't forget that you can subscribe by simply letting us know in a comment. If you want to cancel the subscription, you can do so in the same simple way.
If you feel there's something in this newspaper you'd like to chat about with us?
You can find us here;
Make sure to also give our TWITTER a follow
As always I wish everyone a great week and see you again next week.
---
---