The Backwoods Brawl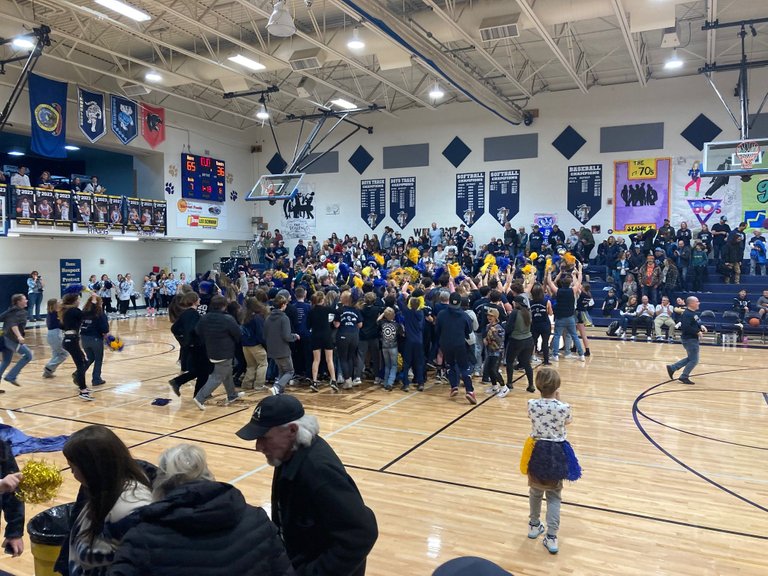 ---
For the past two decades our rural high school has been participating in an event that I frequented most years, The Battle Of The Buck.
On a midwinter's Friday or Saturday each year, our school and another battled it out to see which school reigned supreme in the school spirit department. The event always encompasses a varsity boys and girls basketball game, a battle of the school bands, a cheerleading competition, and a lip-sync.
And the kids themselves, the student body, square off in the spirit department. (I usually have partial hearing loss after the event).
Well, change being a part of life and all, our little school outgrew the other school with regards to size, so they dropped out of our league and we had no Battle Of The Buck to look forward to after two decades of community fun.
Well, our school administration are a bunch of fun-loving souls. Yes, a lot of people like to rag on public school (and they are not without merit in doing so, there's ick in that realm like any other), but our little school district is pretty dang awesome. They are community focused, and they got together with another school in our league and Backwoods Brawl was born.

Last night I went to the inaugural Backwoods Brawl, and yep, partial hearing loss is present this morning.
Like I would miss the event though, my daughter was in the lip-sync, she helped organize and choreograph it too. I for sure wasn't going to miss that!
Okay, and after being a librarian in our town for almost a decade and part of the community, let's just say I know most of the kids that participated too. Small town life is fun in that way.
I also made the event even more fun by inviting my brother to go with me. My bro is a time capsule from another era. A big burly heavy equipment operator type, he has absolutely no filter. His presence makes public events more glorious, you never know what's going to come out of his mouth.

The hubs had to miss the first half of the festivities as he runs his NRA small bore shooting program on Friday nights for the kiddos, so bro and I made our entrance into the brawl nice and early so we could get a dang seat.
Have I mentioned that our town has grown? Yep, that means our gym is a bit on the small side in regards to holding our community.
In fact, they had to pre-sell wristbands for the Brawl. And my brother, in fine family form, started off the day by calling the event The Badger Bashing (our opponents were the Bonners Ferry Badgers). Giggles ensued.
The doors opened at 4:30, and even though we were there early, seats filled up fast. Bro and I had just sat down when another burly man plopped down behind my brother, slapped him on the back, and said, "Hey how are ya, we are gonna be family before this is over!"
My brother lost it, and the tone of the event was set.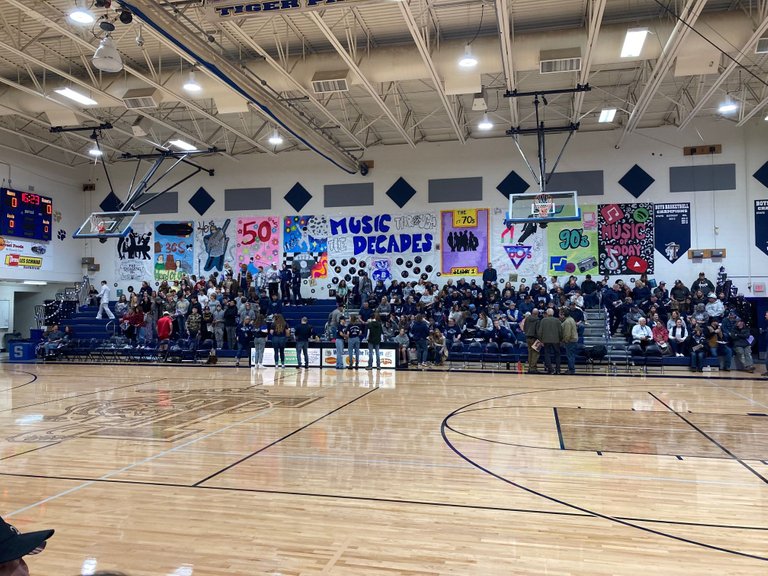 As it was Bonners Ferry's first year competing in such an event, I wasn't sure how they were going to do. Right off the bat I appreciated their decorations. Their side of the gym was slathered in gigantic posters depicting the history of music from the twenties until now. It looked pretty awesome!
Their side of the gym was filling up pretty nicely too. Bonners is an hour and half drive from our school, so I was hoping that didn't keep folk away (It didn't).
Before the game, bro and I bs'd with all manner of locals, talking about everything from abandoned mining claims in the Silver Valley, to mud-bogging, to illness and overcrowding. You know, your standard, rural small town small talk.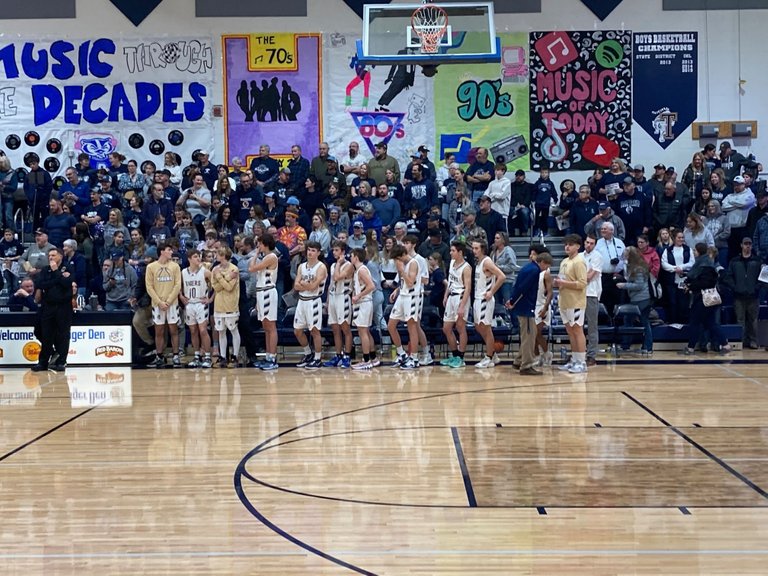 Then the boys got to playing. Our boys put up one heck of fight, but the Bonners Ferry boys are number two in the state in basketball, so I wasn't too surprised when they pulled out the win. What was nice is they only beat our guys by a small margin.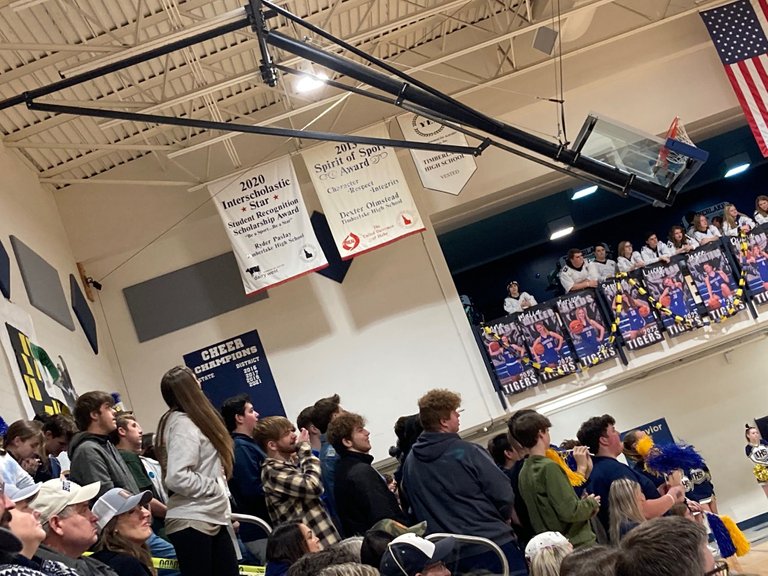 But holy noise, the student body showed up. Half the bleachers on our side was filled with pom pom clutching kids who screamed, cheered, sang, and danced through the game. Student leadership prowled the floor with a toilet seat lid, and when they opened the lid a cacophony erupted that probably registered on the Richter scale. The rest of us got involved too, doing the way when the school flag was ran by us, screaming We love Bonners with the kids, and so on.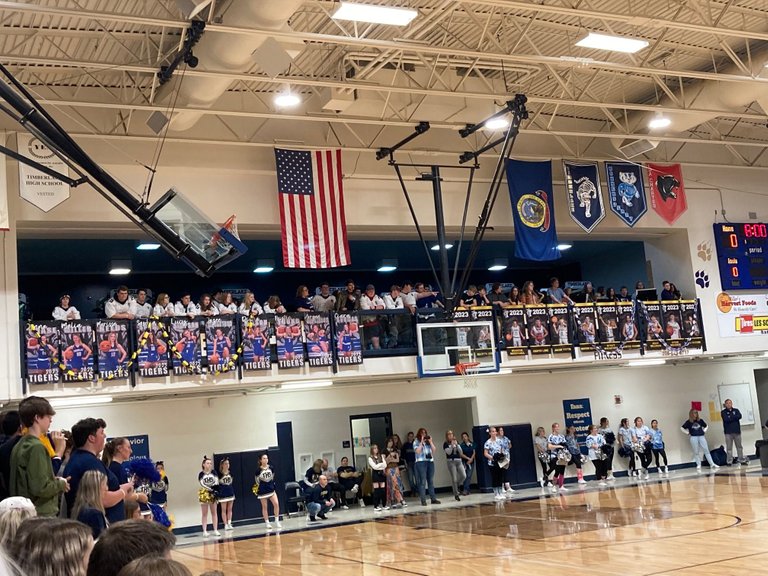 Because that is biggest factor to this competition, something that I hoped Bonners got from how things went down, is it's a spirit competition that's supposed to be about good sportsmanship, and I'm so freaking proud of our whole school, everyone was awesome. And they had reason to get upset in the boys game, there were some shenanigans with one of the referees, but everyone remembered why we were there.
You see, the Backwoods Brawl, like Battle of the Buck, is judged.
A panel of judges from outside the area is brought in to judge everything.
And our kiddos remembered that and brought it. Bonners brought it too. Some of their student body flipped off our kids when they didn't like things, there were some not so nice commentary and behavior exhibited. But you know what? It didn't detract from the fun at all because the kids in the student section just kept on doing what they were supposed to do, showing spirit and being good sports.
They cheered our band, Bonners band, the rooted on both teams cheerleaders, they screamed their little souls out when our girls absolutely destroyed the other team, and they gave their all during the lip-sync. The lip-sync made my night and not just because my daughter was in it.
Our high school's theme was New York, and they put on a five minutes display of New York themed awesomeness, including some really fine dancing. I died laughing multiple times.
Almost as much as I did when every time one of our girls got fouled in the game then entire student body would screech, "Hey! I walking here!"

In the end, after the girls game was over, the leadership of both schools took the floor to announce the winner of The Backwoods Brawl.
Seconds later, when our kids stormed the gym floor to host the blue and gold painted boxing gloves trophy they had just won, the hubs and I made a break for it to exit before the post game flood. My face was full of smiles, I was so proud.
Proud of Bonners for agreeing to engage in the event with us and doing a bang up job for their first time. Next year will be interesting because they know what to expect.
Proud of all our student athletes for playing their hearts out. And proud of the student body and our community for coming out and supporting our community and the visiting one. You can have fun and not be a reprehensible sphincter. It's not only possible, it's just plain awesome.
---

---
And as most of the time, all of the images in this post were taken on the author's not at all ill-spirited but rather mischievous on occasion iPhone.
---
---
---