Splinterlands: Meet VRUZ...The Loot Goblin!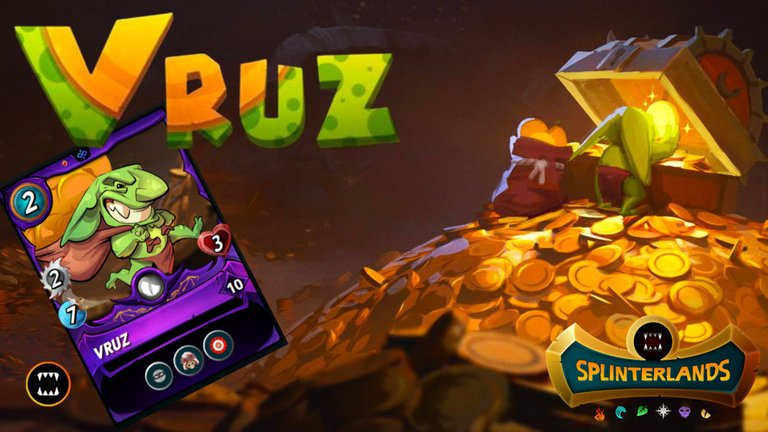 Hello Splinternerds
So by now most of you must have heard of the new up coming Staked SPS Promo Card; VRUZ. So VRUZ came into being as the result of a proposal by @genepoolchlrn8r to mint and sell a new promo card based upon SPS staked by the individual account.
Ever wondered about that goblin running away with SPS loot in his back pack on SPS management page. So here we go meet VRUZ, the loot goblin!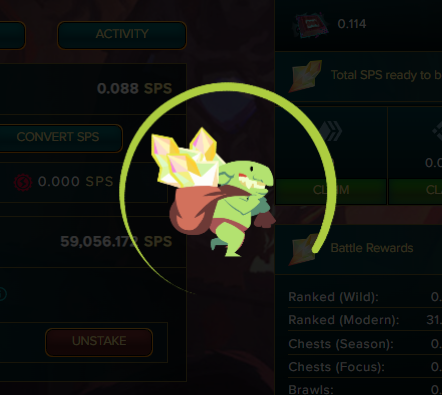 VRUZ, the loot goblin!
VRUZ, the loot goblin! will be the first card of its kind, that will be available exclusively for SPS stakers. In future there will be more Staked SPS Promo Cards. And they will are serve the basic goal of pushing community to stake more and more SPS and also serve as a new Vouchers sink.


Stats
VRUZ will be a common Dragon splinter melee attack promo, in fact it will be the 5th common dragon monster. Ever wondered, why Dragon commons are so few🤔.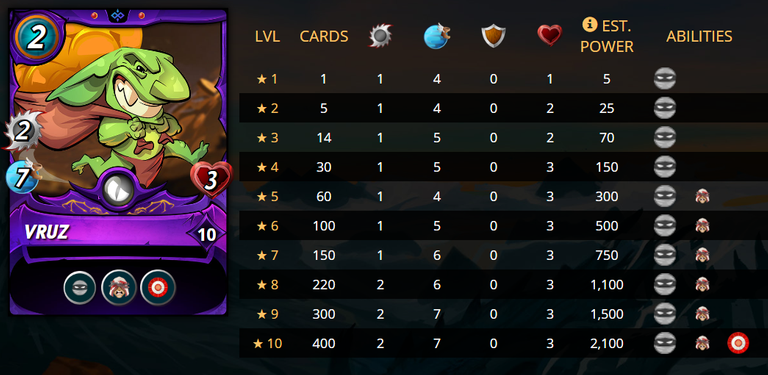 Looking at the stats one can say that these sneaky goblins do pack a punch. Costing just 2 mana, having a maxed attack of 2 along with the peak speed of 7 and health of 3, VRUZ is indeed impressive. Now as far abilities are concerned, Sneak is there right from the start, at level 6 Martyr comes and final at maxed level True Strike appears. I am a bit surprised about VRUZ's True Strike ability, as if at that speed this guy needs that ability.

Sale/Mint Details and My Plans
VRUZ start after the Tuesday, March 21st, 2023 maintenance window. During the maintenance break a snap shot of individual staked SPS will be taken. For every 1000 SPS staked players will have option to mint one VRUZ by paying one voucher. Out of every 25 VRUZ bought in a single transaction one is guaranteed to be a gold foil(4% chances like always). The sale will last for 7 days and after that no more VRUZ will never by printed again. Boom!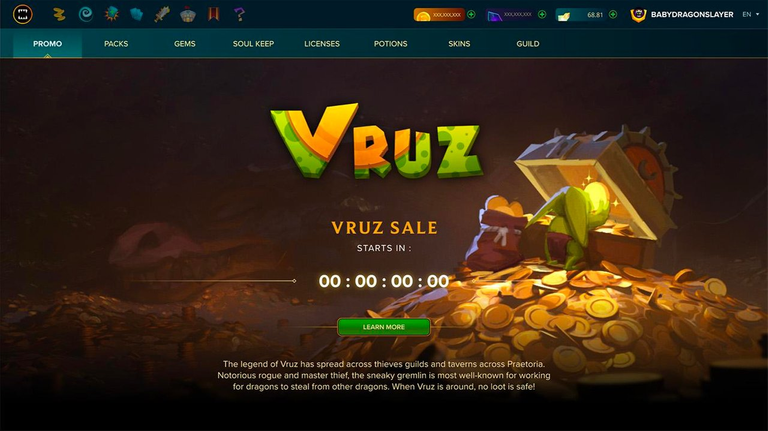 I have around 86K SPS staked so I am for sure will be using it all to get 86 BCX VRUZ. And the rest of the 314 bcx, I am gonna have to buy from market. Lets see what will be the market price. I hope fomo doesn't spoil it all.
I am also hoping to get more Gold Foils than my allocation as selling them will allow me to buy into more normal foil VRUZ.

SPS and Vouchers Price
Ever since VRUZ was unveiled, both SPS and Vouchers prices have decently pumped. Increasing %age to total SPS circulating supply have been staked and has already pumped from $0.026 at $0.030 in just a day.
Same goes for Vouchers also. They have also pumped to a price $0.13 a piece. This time the Vouchers pump is not too much since they are not the only thing required to be able to participate in the sale.

Short Review
VRUZ is going to be a must have monster for low mana battles. It would be extremely hard to take out using normal opportunity or sneak monsters. Meaning the True Stoke monsters will be a sure bet against it. Also well placed Thorns monsters will also come in handy to take out VRUZ, but then Martyr ability will come in play.
Killing VRUZ will be a two fold problem; first you have to kill it which is not going to be easy and second if you do succeed in killing it get ready to bear its Martyr load.

That will be all for today!

What do you think about VRUZ?
Let me know in comments below👇
👋Adios👋



---
---