10k (almost) afternoon run... in daylight!
I just finished a 9.949km running that lasted about 0hh:45mm:11ss !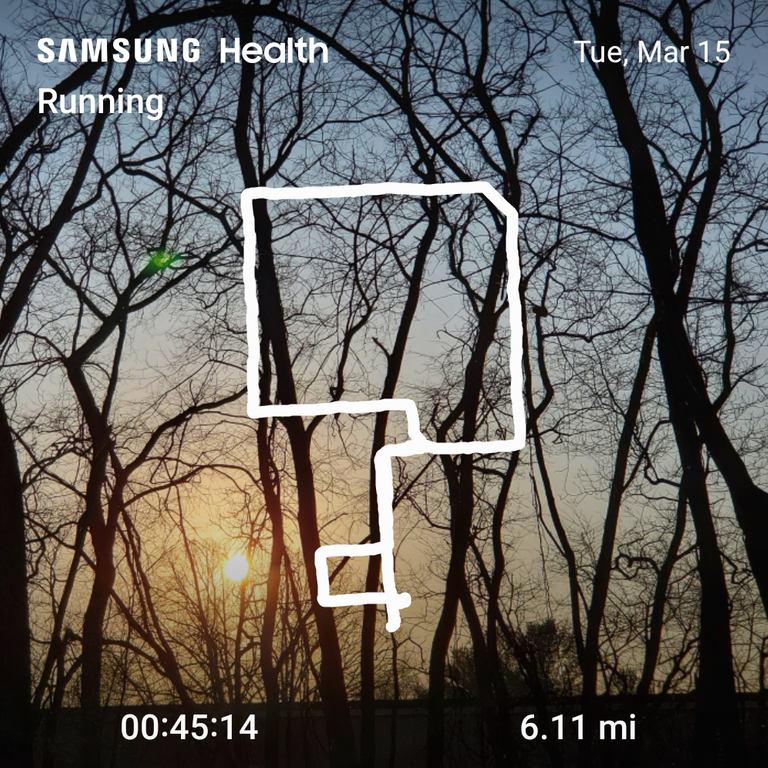 It's rare enough that it needed to be mentioned, this run was entirely in daylight! I even snapped the cover photo after my run to prove the sun was still high in the sky. For once I was able to shuffle around my day, so that I could run late afternoon and still have enough daylight to catch part of the sunset during a cool down walk with the dogs. I'm sure this will not be the norm yet, but I will try and do that more often. Like I already mentioned, compared to night running, this makes many more routes possible.
As for the run itself, it was pretty good considering my current form. Apparently, I needed about 50 more meters to make it a full 10k. With a little over 45 minutes final time, and 7:18 min/mile average pace, this is kinda promising for my race in about 3 weeks. As usual, I started a bit too fast, but I quickly tried to settle on a pace I thought I could sustain. And it wasn't too bad, with fairly consistent miles splits. Does it finally look like progress? Not sure but I'll keep at it. Cadence was terrible though, 0% in target range. But I could feel it, even though the time was decent, it was really hard work and I felt heavy on my steps. And that's usually when my cadence suffers.
Probably rest today, and hopefully another run on Thursday. But with rain in the forecast later in the week, I might change the plans to avoid it and still get more miles in.
Keep on running!
PS: I guess I'll go back to Exhaust for my running posts, as it seems to be the preferred community.
---
---