Rising Star Packs Opening in video

Packs openings
This time I decided to record the pack opening and to make some arangement to hear the lucky draws :-) Each YAY is one of them, there are 3 in this video.
Festivals
London and Ireland is mine. I decided to make 4 wristbands per Festival, so, even when I burn those for regions cards, I will still have the wristbands as unique cards in my deck.
I sell some of my starbits for the starpro and also do some music promotion.
NFT
I stopped buying NFT at the moment, even if I think I have most of them, until they post nez ones of course. And, to be honest, with the 12 packs and festivals fees, I am a bit short to buy more nfts at this moment.
Career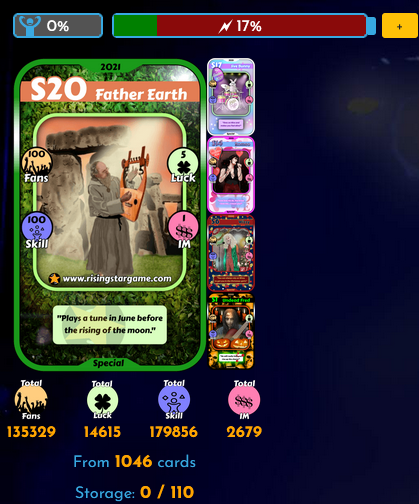 33th on top ladder... Grr .. Let's hope this pack opening will boost this a bit :)
---
A bientôt,
≋𝕴𝖙𝖍𝖆𝖗𝖆 𝕲𝖆ï𝖆𝖓≋
@itharagaian
≋≋≋≋≋≋≋≋≋≋≋≋≋≋≋≋≋≋≋≋≋≋≋≋≋≋≋≋≋≋≋≋≋≋≋≋≋≋≋≋
Helping my projects / Tipping :-) ???
Helping the author : https://www.paypal.me/Lordolivier
We of course accept cryptos:
All the ones on Hive-engine
Steem / SBD /Hive / HBD
BTC : bc1qxtaam3mq62kpa0vlafjlpdfluqt6anh22qyu3k
DASH: Xuetc3zEDQfx7WGHpJUtPdrgB4tQJEQbat
DOGE: DD5MZYCeEA68D4FLNmqt51VUEg8mG3yeHR
LTC : ltc1q32fq9ae55l0zmrqjc5h763s8x0y2dv7pwk699c
ETH : 0x710c5Ea59F8ae07b7C005C516B7865CDd94Fa52a
All donations are appreciated and welcomed,
thank you.
≋≋≋≋≋≋≋≋≋≋≋≋≋≋≋≋≋≋≋≋≋≋≋≋≋≋≋≋≋≋≋≋≋≋≋≋≋≋≋≋
---
---