My Strategy for $SPS - Build & HODL - Is that enough?
Hey All,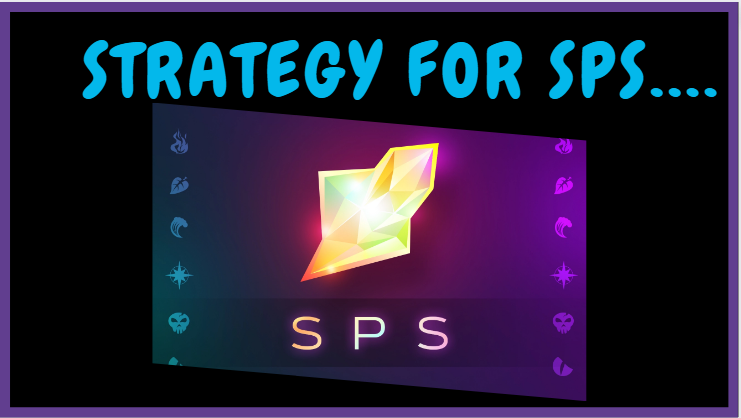 I have this craving for Splintershards (SPS) which is the governance token of the game Splinterlands. Its like an never ending process for me to keep on accumulating $SPS. At first, I had a goal to accumulate 200K+ $SPS and after having achieving it. I went on to set myself a new GOAL for $SPS and currently its like to have 300K+ SPS staked. Here is my current state of over $SPS staked...
Current $SPS Staked...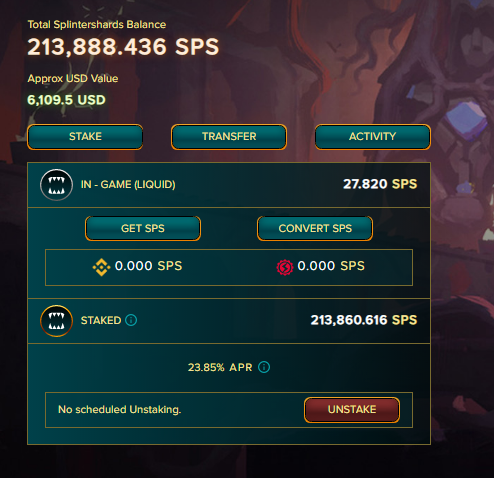 As you can see from the above image, I have close to 213K+ $SPS staked. All the daily staking rewards are being redirected to the staking pool; which at the moment is giving out 23+% APR. The more $SPS tokens I accumulate the craving to accumulate $SPS increases further and therefore I need to put a stop somewhere and ask this question to myself - How much $SPS will be good enough to HODL? But before I answer this question, lets look at my $SPS target for 2023 where I am targeting 300K+ $SPS by then end of this year.
How much $SPS will be good enough to HODL?
There is no bullet proof answer to this question of how much $SPS one should accumulate. As this should depend on person to person and their financial situations along with their financial goals. Speaking of myself then I want to keep accumulating $SPS until its being traded a very low level i.e. less than $0.10 cents. So what I mean by this is that until $SPS trades below the range of $0.10 cents, I'll keep accumulating $SPS by all means may it be staking, LP or Splinterlands game assets.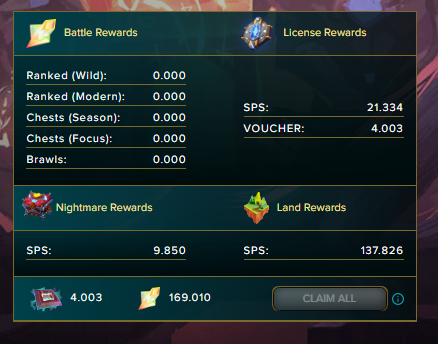 At the moment, I am getting close to 170+ SPS via the Splinterlands assets HOLDing. All these tokens gets automatically staked when they are claimed once in a day. So ideally these tokens along with 150+ $SPS via the staking rewards gets staked too. I am in no rush to fill my $SPS bag with pumping in extra fiat. The plan is to accumulate $SPS with all the current investment made. It hurts to see $SPS trading at its all times low and best one could do is HOLD and BUILD from here.

There is no point selling at these low levels as one could only lose if the price of $SPS starts to making an upward move. The chances of moving upward are higher as opposed to going more downward. Therefore, in my case I have no intentions of selling $SPS at the moment and will just continue to focus on staking back the $SPS rewards to the staking pool. Also, I recently entered another LP pool which is SPS - DEC; where I am leveraging the daily $DEC rental rewards as well. I started with this pool recently and in no time I have reached the $130+ mark and the best part is this pool is being build with the passive income streams.
Finally, I'm bullish on $SPS and all this investment is for long term not looking at immediate profits/gains at the moment. With community now able to submit their very own proposals that can ultimately make the game, that's an added advantage for $SPS and how to best make use of the funds in SPS dao. Along with Lands dynamics coming into the game in early Q1-2023 we would see more use cases associated with $SPS, therefore without a doubt we would see some price action for $SPS hopefully; I am optimistic about it; not too high but at least we could see $SPS in the range bound of $0.20 cents to $0.30. Can we get $SPS traded even higher would nice to see $SPS Moon... cheers :-)
Have Your SAY on $SPS....
What is your $SPS strategy looking like? Did you buy $SPS at the low levels? Staked your $SPS? Are you selling VOUCHERs? OR planning to buy more packs? Did you open your CHAOS LEGION Packs? Got Lucky - with Gold or legendary card? How is your $SPS GOAL looking like?
#sps #strategy #splinterlands #SPS #Stake #rewards #liquidity
My Strategy for $SPS - Build & HODL...

Best Regards
Image Credits:: splinterlands,
Posted Using LeoFinance Beta
---
---