My latest NFT artwork – "Saraswati Goddess of Learning" – minted on Hive blockchain
I have just minted my latest NFT (non-fungible token) at www.nftshowroom.com to add to my growing collection of original handmade collage artworks. This one depicts the goddess Saraswati who, in Hindu or Vedic tradition, is described as the goddess of learning. The Hive blockchain is one of the best in the world. One of the many facilities available is the NFT art gallery, where artists using Hive are minting their art works and selling them for Hive tokens.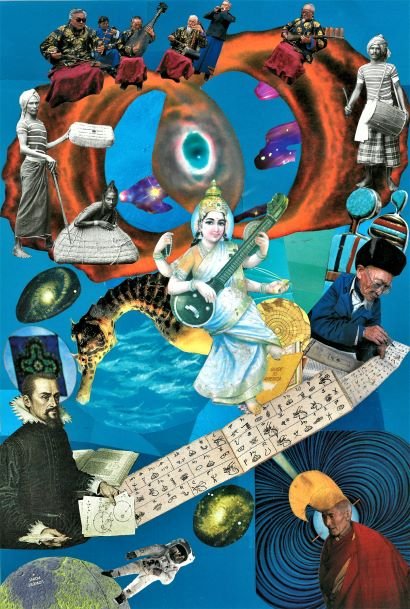 This is my 17th collage artwork to be minted. Fifteen are at the nftshowroom here on Hive and two are on OpenSea gallery using the Matic/Polygon second layer for the Ethereum blockchain. After minting most of my artworks on Hive, I was keen to launch some on the Ethereum platform since it's much more utilized and I'm hoping to fetch a decent price and have more potential buyers there.
However, for some reason I'm more at home using Hive so have returned to the NFTshowroom site once more with this latest drop. The other two artworks can stay on the Matic-Ethereum platform, for what it's worth. It's not like I have many sales, so it's fine just to mint the NFTs together here on Hive, which is where I spend more time and investment.
Minting non-fungible cryptocurrency tokens out of artworks is a fascinating concept both technically and artistically. It's a revolutionary concept and may just be too advanced for the mainstream. Those of us already involved with cryptocurrency and NFTs may find it all too familiar but we are a very small niche in society. The mainstream are far behind in this regard.
So the industry still has to go viral. We are ahead of the curve. On Hive I'm happy to ask a moderate price for my minted artworks. Today's piece is available in two editions, with a third minted for my own personal gallery collection. I have priced the one at a mere 64 Hive tokens, and the second one at 108 Hive tokens. Whomever comes first will get the discounted NFT.
All of my artworks in my collection for sale at the showroom are hand made in the sense that I cut out pictures with a pair of scissors and glue them onto a hard page, all manually, without the usual digital format of today's artists. I am old school in other words. My collages are paper physical creations. Then the finished artwork is scanned and uploaded to the gallery to mint as an NFT. I still have the original artwork at home with me, which I frame to hang on my wall.
So I am using a combination of original old handmade art which is then also digitalized as an NFT, thus modernizing it completely. It's a cross between the old and new. If you look at the subject matter of the actual art work, you will see the goddess Saraswati as the central focal subject, here riding a seahorse, which is my artistic liberty of course.
Then she is surrounded by musicians above and scribes or scholars below. The concept of Saraswati in mythology is that she is the source of skill and inspiration for musicians and scholars. At the bottom we can see a leading Buddhist monk, based on his noble head gear. Yet even he is receiving blessings from the lotus feet of the goddess, which are just above his head.
The overall backdrop is basically pure blue or turquoise, to symbolize learning, writing and speaking, and there is a lot of so-called "negative space" surrounding the items or people depicted in the scene. I also added a cosmic or space theme, since space exploration is the cutting edge of learning today. The idea was to make it appear "spaced out" or cosmic, alluding to the idea of the goddess being celestial. I wanted the image to fit in with my usual theme of a surrealist or mythic scene, with esoteric innuendoes.
In fact this artwork of Saraswati is the sister piece to an earlier NFT artwork in a similar vein depicting Kali, another Vedic or Hindu goddess. In that collage (also available at www.nftshowroom.com/julianhorack) the goddess is also depicted with a space or galactic backdrop. So there are recurring themes of space, astronauts and the galactic imagery there too. Also Indian characters appear in both of them around the central goddess.
I have a lot of fun making these artworks. They are a lifelong hobby of mine which is improving with the years and now emerges in the NFT format this year for the first time. I plan to continue and I have more collage art pieces in the pipeline. Even if I don't make many sales, and no collectors of fine art find my works, I will still continue making them, simply because I enjoy it and it's a hobby of mine. So this is art for art's sake.
Please feel inspired to visit my gallery at Hive's NFT showroom through the link above and check out all my original collage pieces, as well as the numerous artworks by all the other artists minting their NFT art on the Hive blockchain. I personally think mine are unique and original because no one else is actually making physical paper art collages quite like mine. There are many digital artworks from today's modern artists, but few physical paper art pieces, especially this kind of collage, which is minted as an NFT.
Personally I believe it is a true investment for a collector of fine art. The NFTs are investments that can be stored in your digital gallery or actually mounted on your physical wall or added to your NFT collection as rare limited edition art pieces. Let me know what you think of the art style and content. I always appreciate any feedback. It might not be everyone's cup of NFT, but you never know...it takes one genius to recognize another.
---
---