My acrylic painting: Field of flowers
Today I took the time to make a painting, a field of flowers, after a while I took the brushes to paint something other than my face.
Hoy me tomé el tiempo para hacer una pintura, un campo de flores, después de un rato tomé los pinceles para pintar algo más que mi cara.
---
I tell you that what was born from makeup for me comes from painting because I have always liked looking at art, I was just a spectator dreaming one day of being brave enough to try it.
I remember that in those days I did not have many resources to buy paints, brushes and paper, and art classes were expensive so I always saw it in the distance.
Art has taught me a lesson, I think that from looking so much as a spectator, I had become tiny and after so many years it no longer crossed my mind to buy materials to try it, the poverty of my mentality had eaten me up inside. One day I was standing in front of a store where they only sell art supplies because I had this habit of stopping in those stores to yearn for something that in my mind said that I could not do, I myself had taken away hope, well, that day a friend looked at me and said, girl, only buy the things you want and in my mind I was thinking: do I have money right now? Yes I have. Any essential expenses for these last few weeks? No. Aaaahhhhhh, I will, I will. And I did it. And I am very happy and every time I paint the happiness that I have, no one can take it away from me, so art made me break that barrier that I had created in my poor mind, and it even makes me feel that I can achieve many things.
So today I woke up saying that I deserve to paint and I knew that I was going to share my final result with my friends and on my blog because it fills me with joy, so I also decided to take pictures of the process.
Les cuento que lo que nació del maquillaje para mí proviene de la pintura porque siempre me ha gustado mirar arte, solo era una espectadora soñando algún día tener el valor suficiente de intentarlo.
Recuerdo que en aquellos tiempos tampoco tenía muchos recursos para comprar pinturas, pinceles y papel, y las clases de arte eran costosas por eso siempre lo veía en la distancia.
El arte me ha enseñado una lección, creo que de tanto mirar como espectador, me había quedado pequeñita y después de tantos años ya no se me cruzaba por la cabeza comprar materiales para intentarlo, la pobreza de mi mentalidad me había comido por dentro. Un día estaba parada de frente a una tienda donde solo venden materiales de arte porque tenía esa costumbre de detenerme en esas tiendas a anhelar algo que en mi mente decía que no podía hacer, yo misma me había arrebatado la esperanza, bueno, ese día un amigo me miró y me dijo, chica, sólo compra las cosas que quieras y en mi mente me quedé pensando: ¿Tengo dinero ahora mismo? Sí, tengo. ¿Algún gasto indispensable para estas últimas semanas? No. Aaaahhhhhh, lo haré, lo haré. Y lo hice. Y me alegra mucho y cada vez que pinto la felicidad que tengo nadie me la puede arrebatar, entonces el arte me hizo romper esa barrera que había creado en mi pobre mente, e incluso me hace sentir que puedo lograr muchas cosas.
Entonces hoy me desperté diciendo que merezco pintar y sabía que mi resultado final lo iba a compartir con mis amistades y en mi blog porque me llena de alegría, así que también decidí tomar fotografías del proceso.
---
First I made a trace to determine the sky and the field, I started by painting the sky, sometimes I am a little impatient waiting for the paint to dry and I resort to using a hair dryer.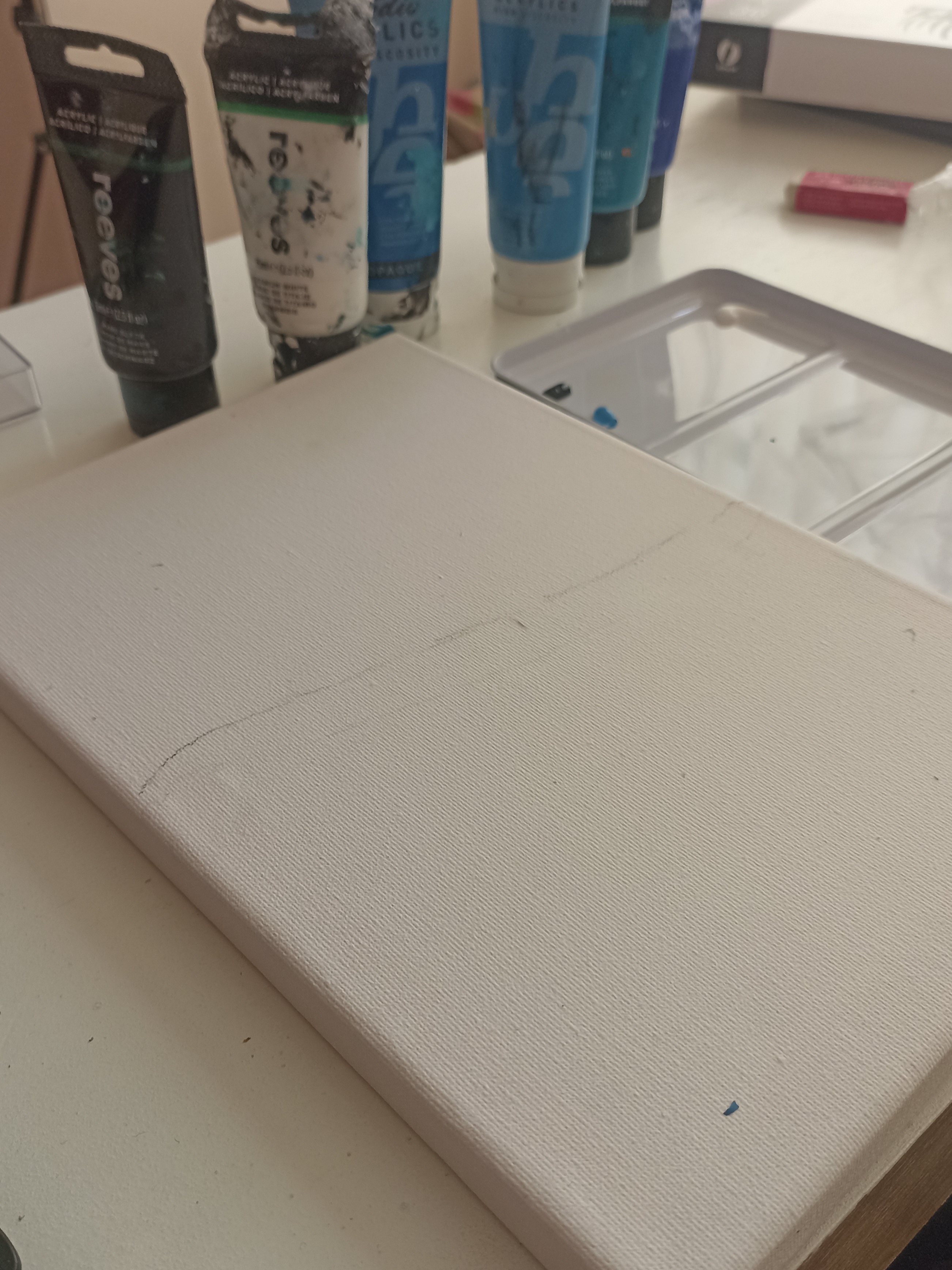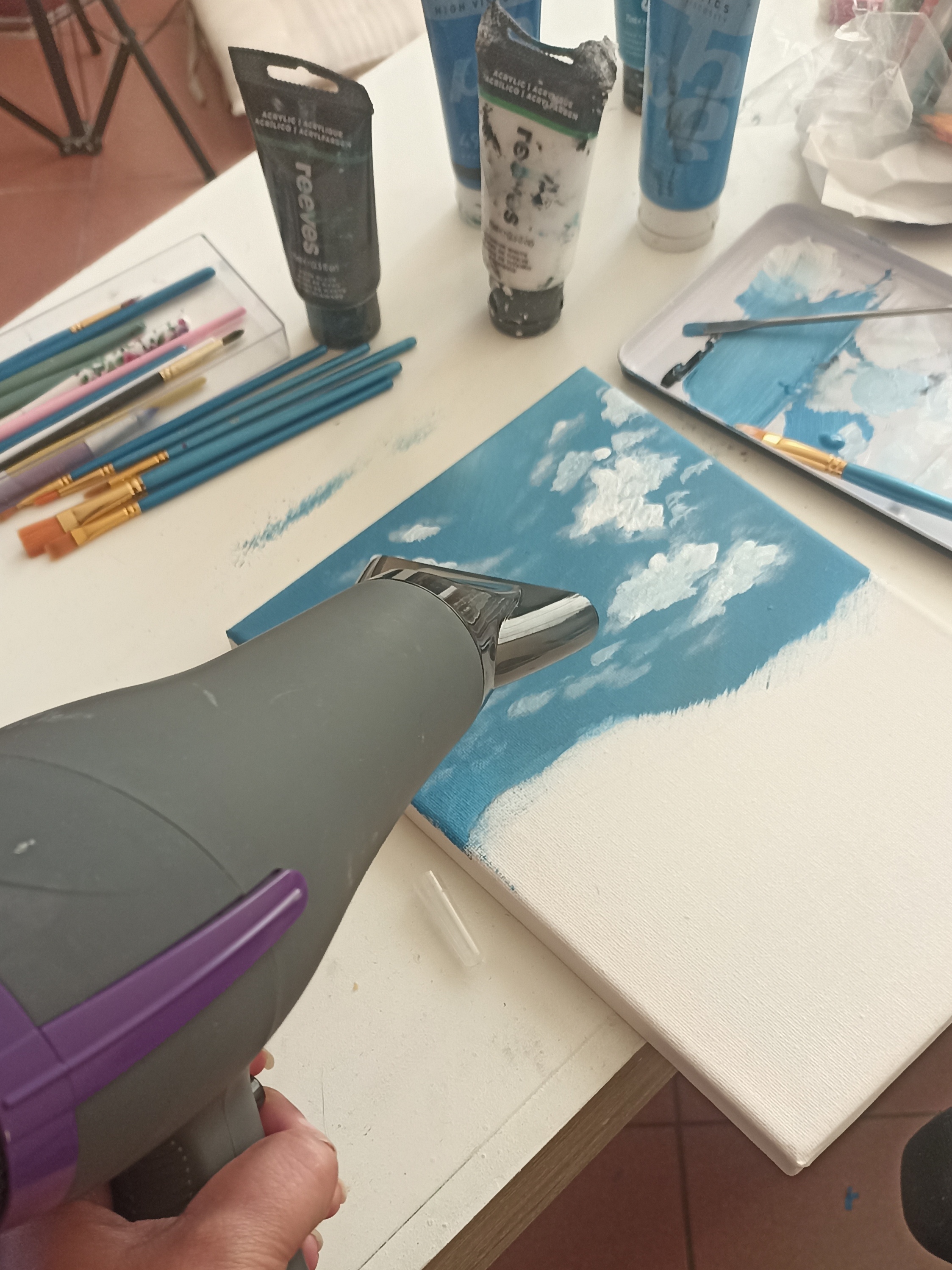 Primero hice un trazo para determinar el cielo y el campo, comencé por pintar el cielo, a veces soy un poco impaciente esperando que seque la pintura y recurro a usar un secador.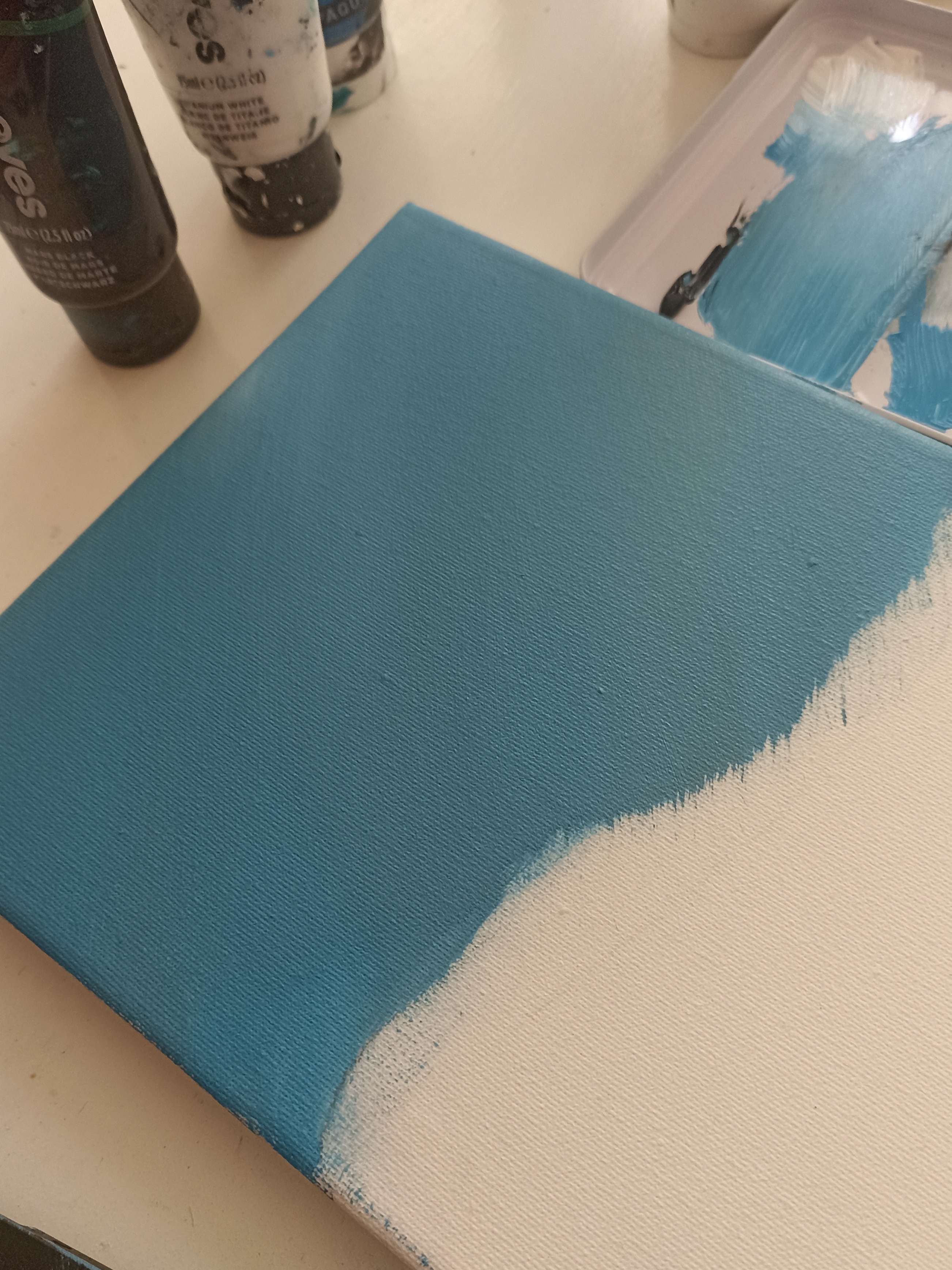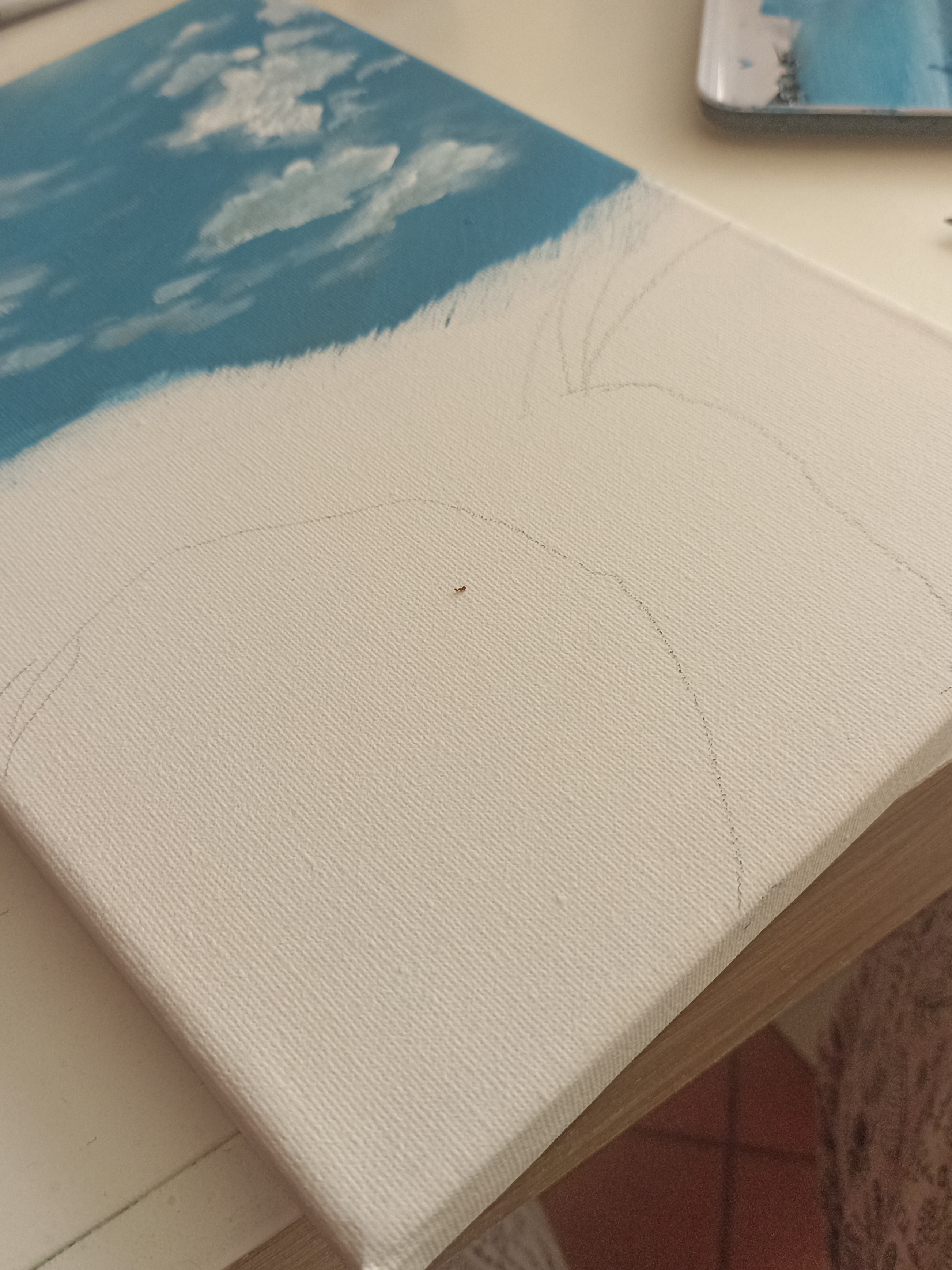 ---
Then it is to paint the field, then add flowers and finish with some details.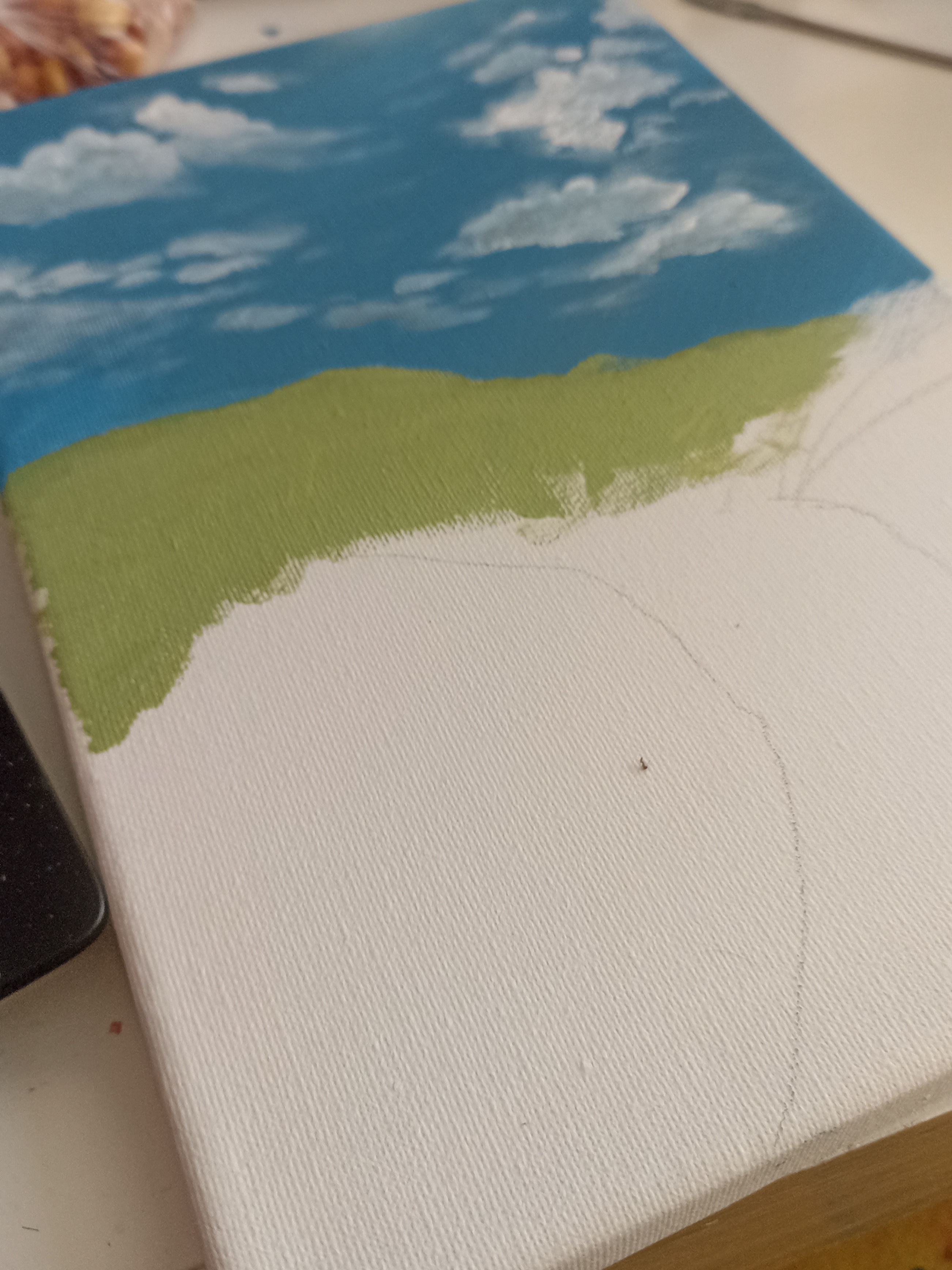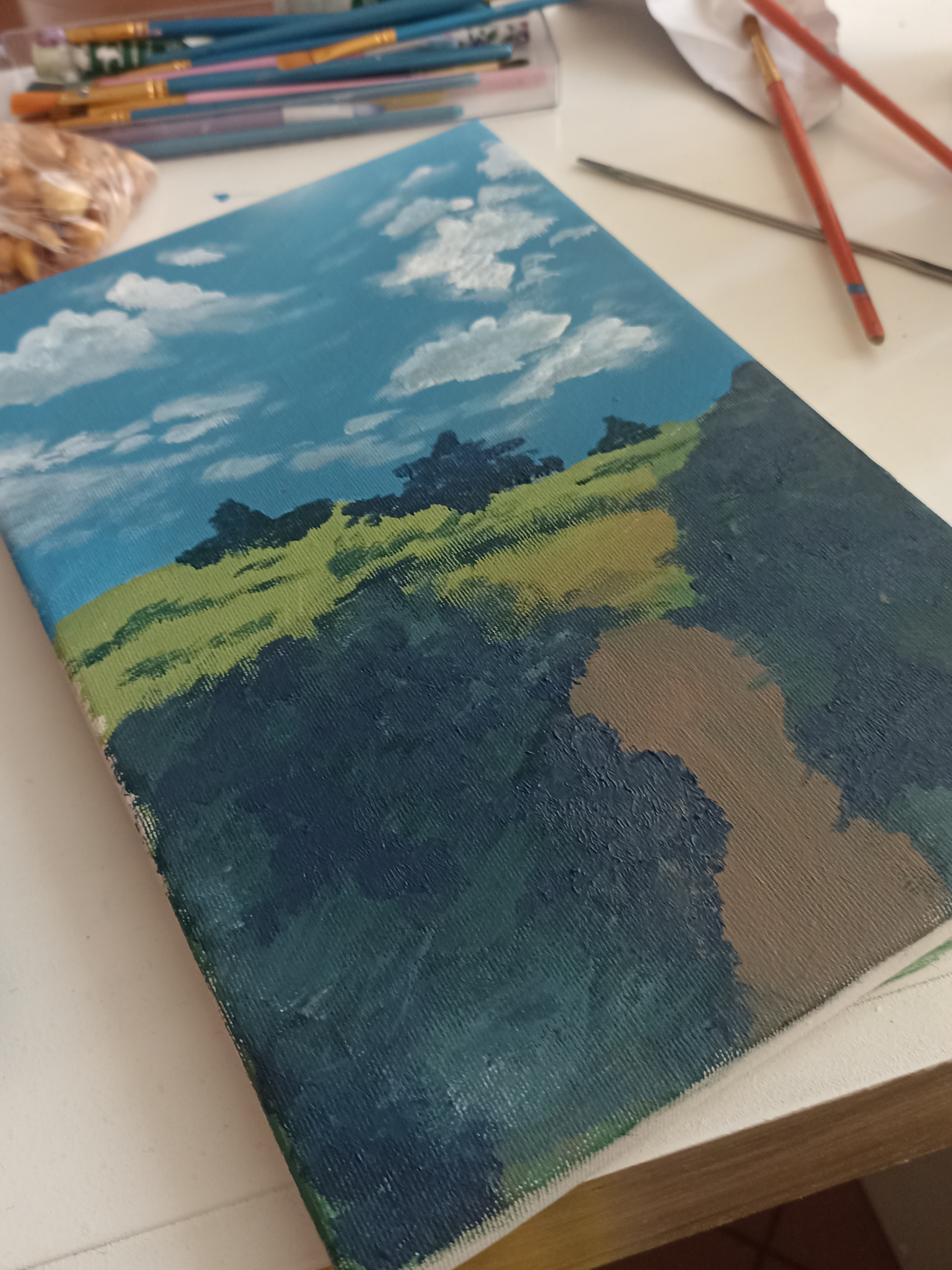 Después es pintar el campo, luego añadir flores y culminar con algunos detalles.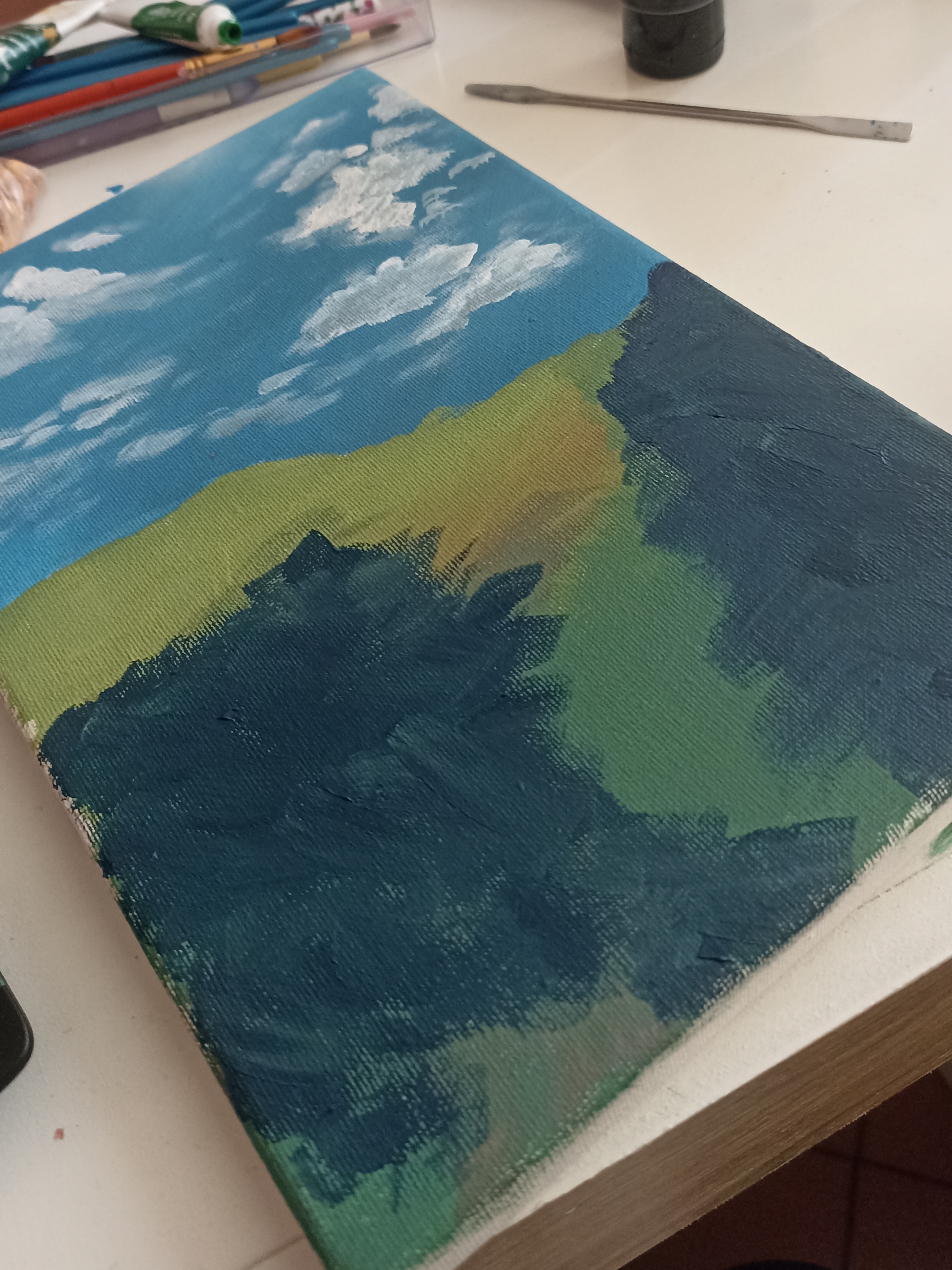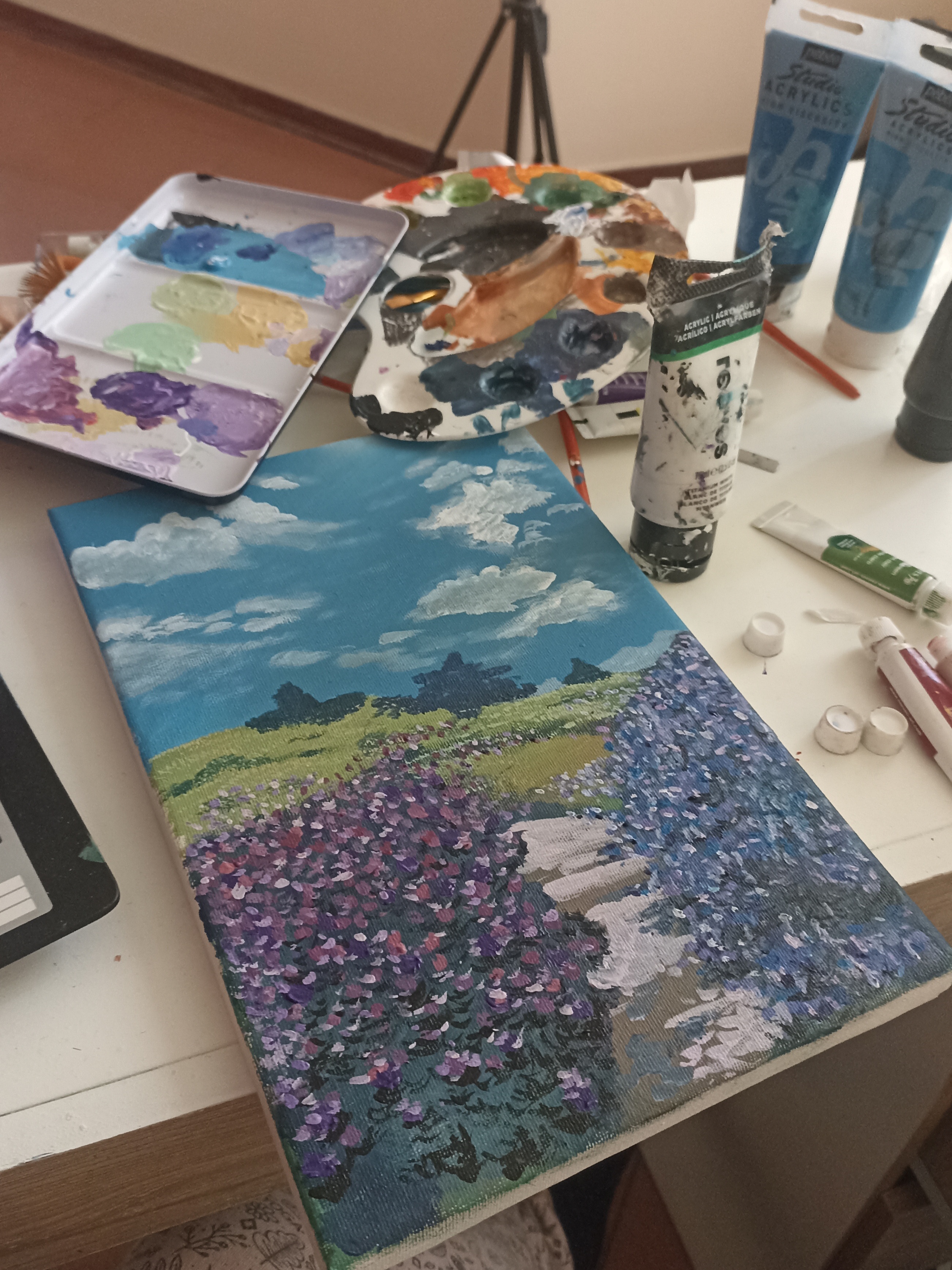 ---
It is not a painting with defined drawings, I would say that they are stains that take shape because if you look closely at the painting, you realize that they are not flowers, they are just paint stains, but when you see the whole painting and all the information, everything fits in your mind, and it will seem simple but this whole process takes at least an hour on a small canvas, sometimes I think I am going to paint something and it will take me 15 minutes, yes of course... 15 minutes dreaming about it, hahaha.
No es una pintura con dibujos definidos, yo diría que son manchas que toman forma porque si miras de cerca la pintura, te das cuenta de que no son flores, solo son manchones de pintura pero cuando ves todo el cuadro y toda la información, todo encaja en tu mente, y parecerá algo sencillo pero todo este proceso toma al menos una hora en un lienzo pequeño, a veces pienso que voy a pintar algo y me voy a demorar 15 minutos, si claro... 15 minutos soñando tal vez, jajaja.
---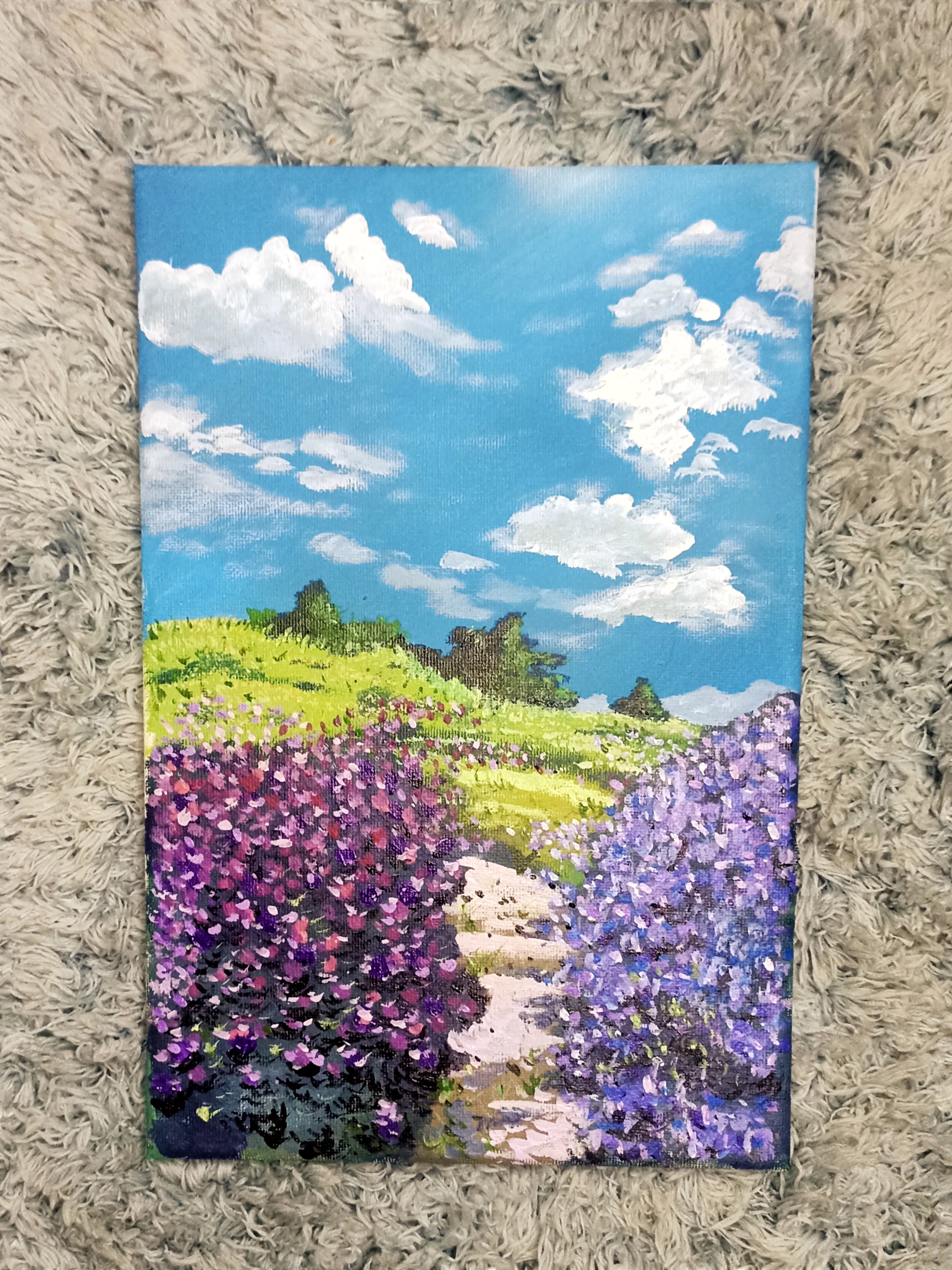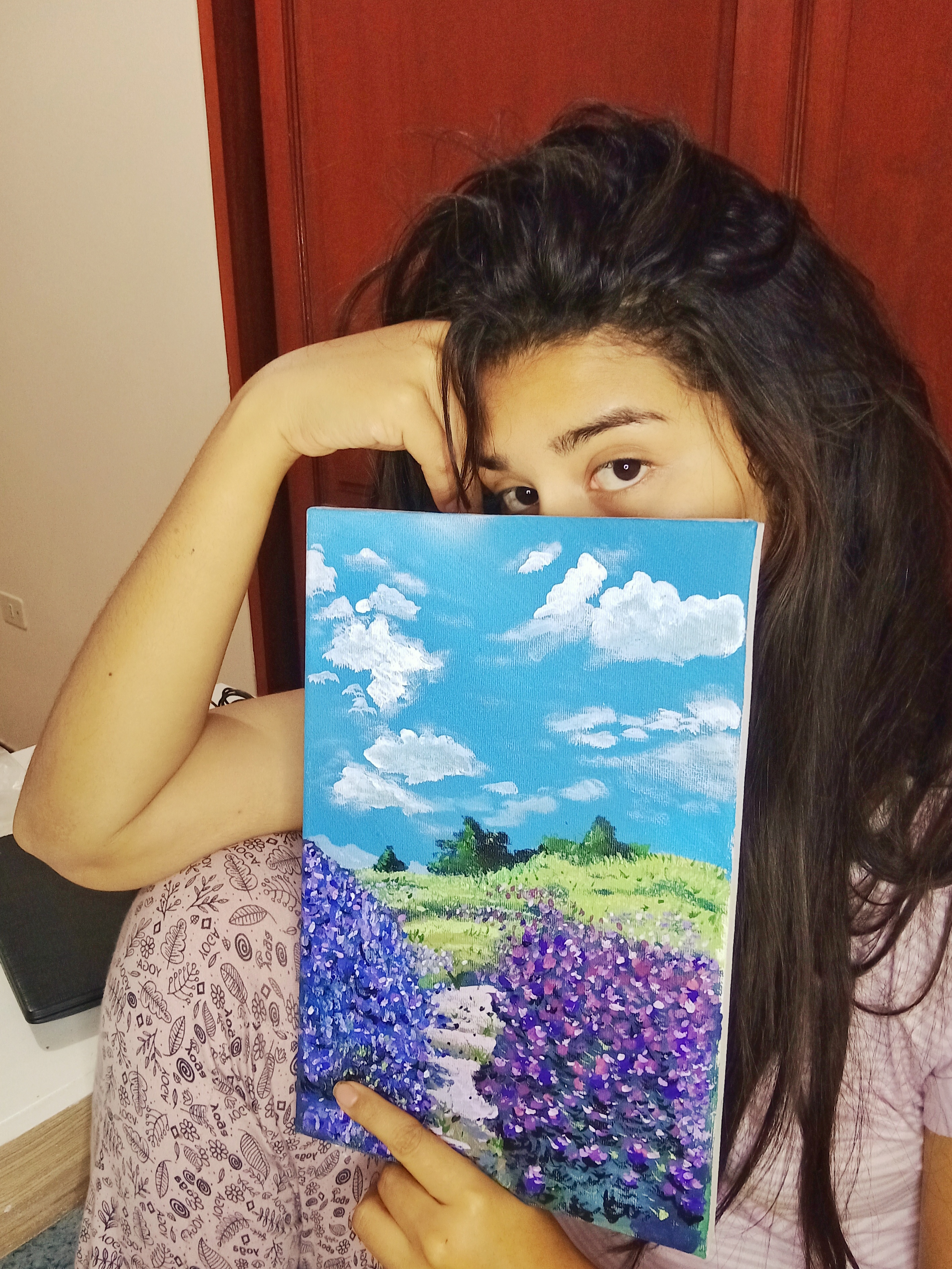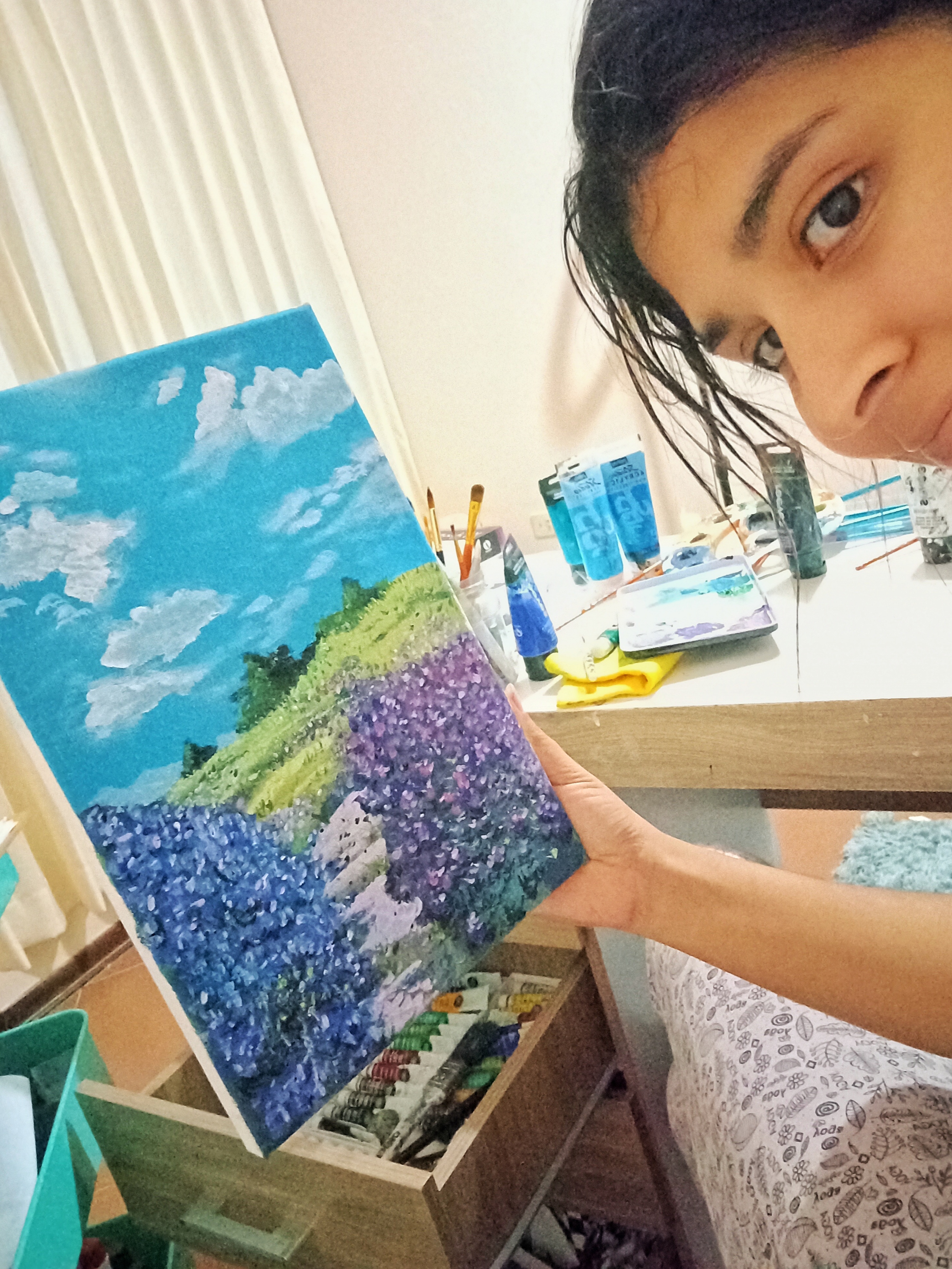 ---
---