The Roar of Arkemis the bear 🔥☠️✨🐲🌊🌿Splinterlands card analysis
Hello Splinterlands friends, today is a great day to talk a little bit about some promo edition cards that in the past as well as Halfving Alquemist was given in promotion we have now Arkemis the bear that until recently was in promotion through the purchase of Chaos Legion packs.
The promo edition cards are only special because they have certain peculiarities of cards from other editions and also share a unique ability, since this new card also has it.
Halving was this not so long ago a unique ability of both Promo cards and Brawl cards is no longer so knowing the exclusivity it brings to the Splinterlands universe.
Hola amigos de Splinterlands, hoy es un excelente día para un poco sobre unas cartas de edición promo que en su momento ya pasado así como Halfving Alquemist fue dada en promoción tenemos ahora a Arkemis the bear que hasta hace nada estaba en promoción a través de la compra de paquetes Chaos Legion.
Las cartas de edición promo digamos que solo especial del especial a que estas tienen ciertas peculiaridades fresas de cartas de otras ediciones además comparte una habilidad única ya que esta nueva carta también la posee.
Halving era esta no hace nada una habilidad única tanto de cartas Promo como de cartas Brawl ya no lo sea conocer la exclusividad que está aporta en lo que se refiere al universo de Splinterlands.
The bear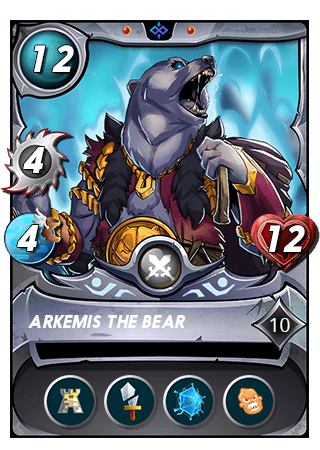 Splinterlands brings us a card of excellent expectations that also leads us to a very interesting possibility in reference to a high power card.
Splinterlands nos trae una carta de excelentes expectativas que además nos lleva a una posibilidad bastante interesante en referencia a una carta de alto poder
This card takes us to know a little further about this universe and its remarkable power, because we have to remember that it does not lead to a melee battle with excellent attack potential, this could be described as a mid-range, as it does not have to be a tank in my opinion as it leads us to a certain strength against high mana monsters.
Esta carta nos lleva a conocer un poco más allá acerca de este universo y su notable poderío, pues tenemos que recordar que no lleva a una batalla de cuerpo a cuerpo con un excelente potencial de ataque, esta se podría describir como una de medio rango, pues no cuenta con ser un tanque a mi parecer ya que nos lleva a de cierta manera fortaleza en contra de monstruos de alto mana.
If it receives high attacks it can withstand thanks to Forcefield, but we must take into account that this also increases its power and gives two shield points to the team with Protect, giving a good shield and also giving a better use in third or fourth position in battle.
Si recibe alto ataques este puede aguantar gracias a Forcefield, pero debemos tomar en cuenta que este aumenta también su poder y da dos puntos de escudo al equipo con Protect, dando un buen escudo y además otorgando un uso mejor en tercera o cuarta posición en batalla.
Arkemis the Bear is one of those cards that should be studied with strategy, as they seek to be as favorable as possible in terms of their use.
Arkemis the Bear es de esas cartas que se deben estudiar con estrategia, pues buscan ser lo más favorables posible en cuanto a su empleo.
A fantastic combination of this is its two abilities Halving and Enrage that add more power of this against monsters that receive or attack this card and in turn it is essential to hit the target thanks to these two combined, we have a decrease of the attack of the enemy and at the same time if we receive it this increases us thanks to that fury, and the percentage of life gives us a little more advantage thanks to this good combination.
Una fantástica combinación de este es sus dos habilidades Halving y Enrage que sumas más poder de esta contra monstruos que reciban o ataquen a esta carta y a su vez es indispensable dar con el objetivo gracias a estas dos combinadas, tenemos una disminución del ataque del enemigo y la vez si lo recibimos este nos aumenta gracias a esa furia, y el porcentaje de vida nos da un poco más de ventaja gracias a esta buena combinación.
This card has a lot to give in the game, I think it is very powerful because it has some combinations out of the ordinary with a pretty incredible drawing style that
We have a bear that is able to protect his team in part regardless of the element, we must also take into account that it is a neutral card and include that it is a common promo edition.
Esta carta tiene mucho por dar en el juego, me parece muy poderosa porque tiene unas combinaciones fuera de lo común con un estilo de dibujo bastante increíble que
ligado en batalla se observa en como se va a desarrollar, tenemos a un oso que es capaz de proteger en parte a su equipo sin importar el elemento, debemos también tomar en cuenta que es una carta neutral e incluir que es de edición promo común.
Promo cards are slowly coming out, this one in my opinion is a good use in the arena, it has an excellent balance in reference to the levels of evolution and we know that it can be one of the best in terms of strategy in battle, at level 4 with Halving is a good option to protect and divide the attack, now it remains to go to battle and play with this interesting card in the presence of powerful players.
Las cartas Promo poco a poco están saliendo, está a mi parecer es un de buen uso en la arena, tiene un excelente equilibrio en referencia a los niveles de evolución y sabemos que puede ser de las mejores en cuanto a estrategia en batalla se refiere, en nivel 4 con Halving es buena opción para proteger y dividir el ataque, ahora queda ir a la batalla y jugar con esta interesante carta en presencia de poderosos jugadores.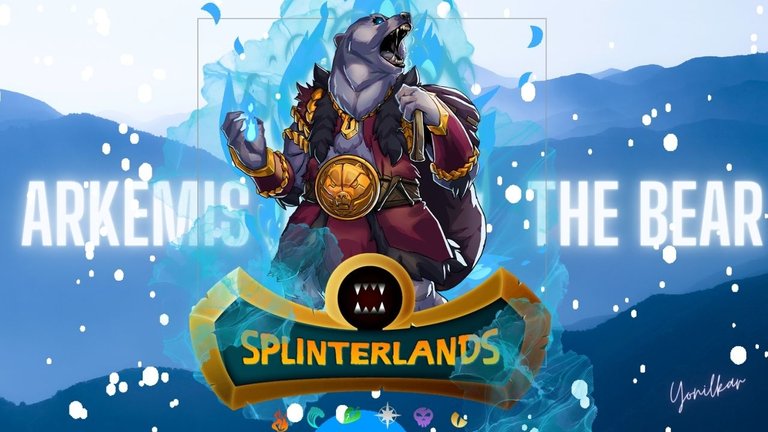 Splinterlands. Collect, trade, battle.
https://splinterlands.com?ref=yonilkar
https://twitter.com/Yonilkar777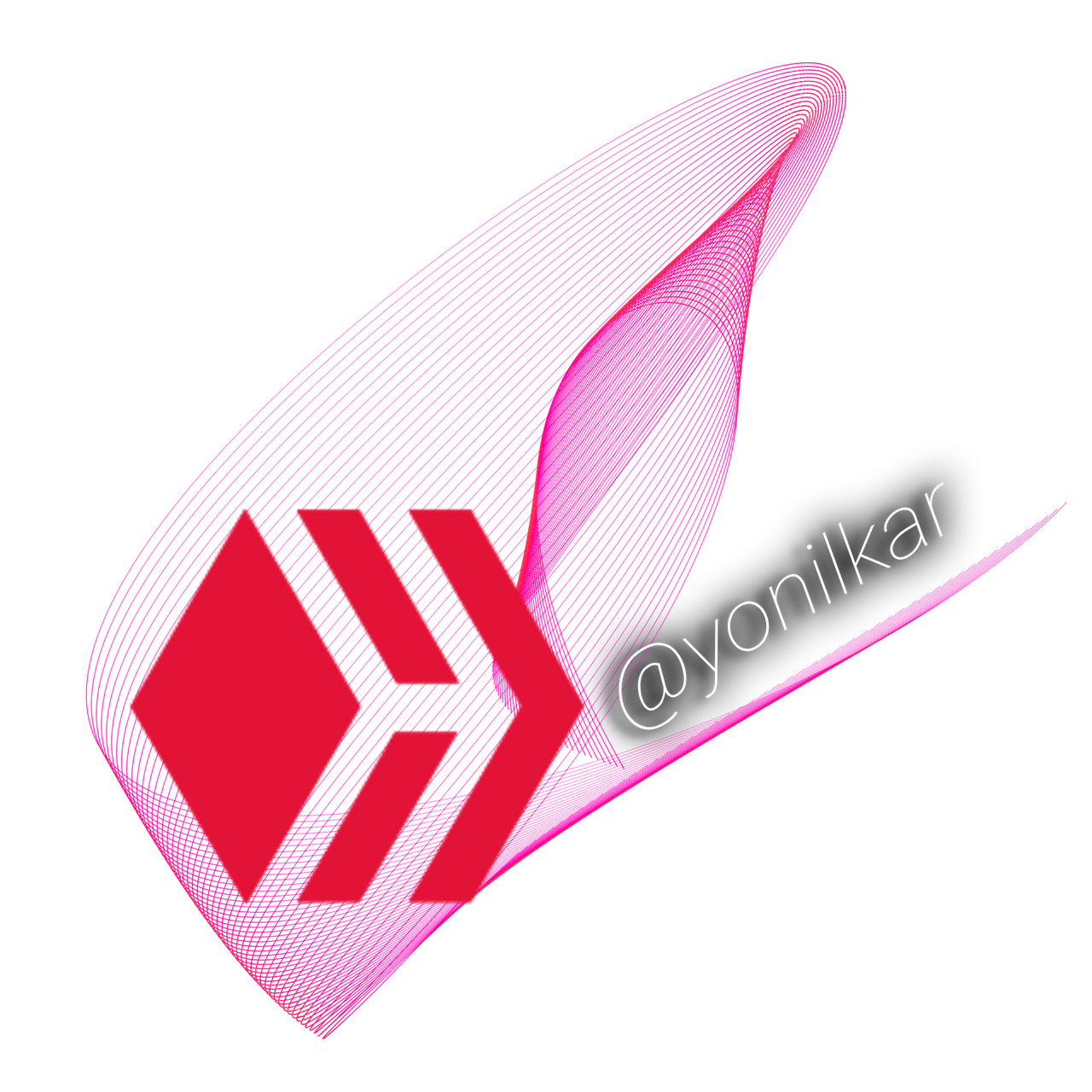 ---
---