What Are You Most Grateful For? | EcoTrain QOTW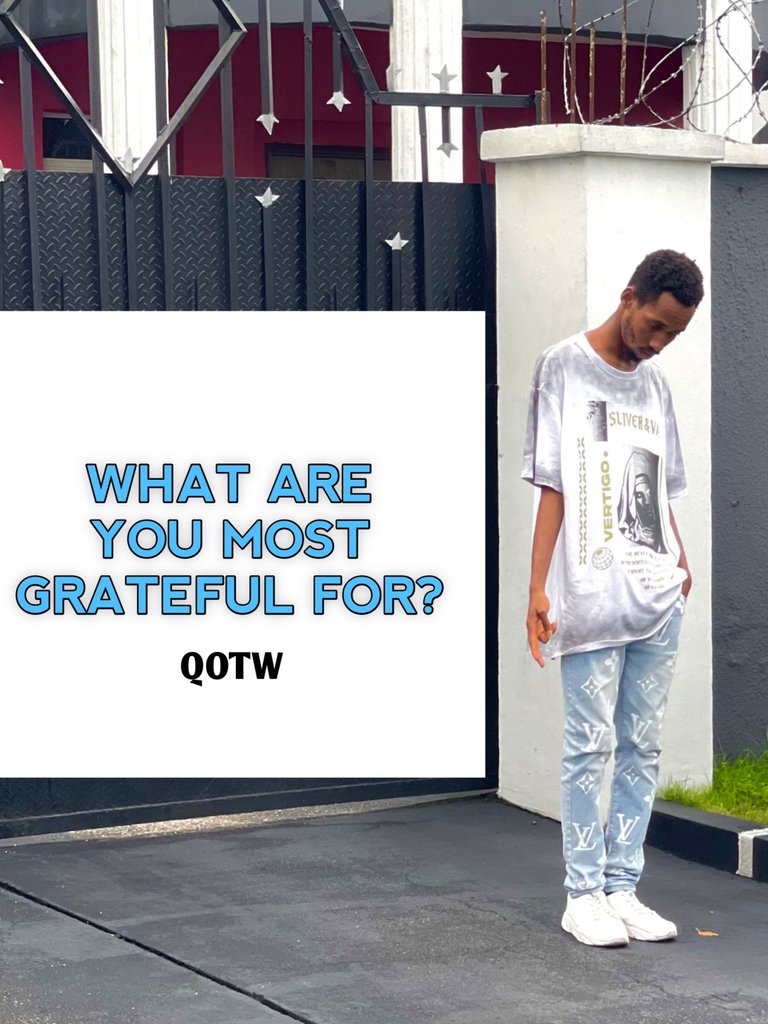 Everyday we go about living our lives any way we want to, sometimes there's no stress and other times they're a lot of challenges weighing us down, but we still stand tall and wear amazing smiles on our faces.
I could remember seeing a lot of smiling faces yesterday after our first exam for the semester ended. It just felt like a lot of people did so good in that paper, and for me it was a welcome development. But then I noticed that some of the smiles were fake and most people didn't want others to know that they were so scared about what the outcome of the paper was going to be.
That's life for you, they're a lot of people genuinely enjoying it and they're still others who pretend to.
There was this day, when I was going home from school, I think it was sometime between August or September. It was around 5:30/6pm, I boarded a tricycle that'll take me straight home, sat at the back sullen, I was tired and exhausted so I didn't even have interest for anything. A young guy sat at the front of the vehicle and two others at the back with me.
Then, the guy at the front got to his stop, he got out of the vehicle, paid his fair and as he looked by his side, he saw a girl he knew and it seemed they were actually going the same direction. So he held her hand and they made to cross the road. They had almost made it to the other side when I heard a loud sound (I can't best describe it), but in a split second I saw the guy lying lifeless on the floor with blood flowing from God knows where.
It so happened that as they were crossing, a fast moving tricycle swerved from the road and hit him. It was really bad, and I'm sure with the poor health facilities and ignorance of the people that the guy died on the spot. I felt really sad, I couldn't even stay to watch the whole thing unfold for too long so I left.
Fear engulfed me that day, it made me remember one time that I was traveling from Lagos to Uyo, on the way we saw a couple of lifeless motorcycle drivers, some had their hands cut of, others their legs. It was a horrific scene. That was the kind of fear I felt after seeing that guy.
To add salt to the whole injury, that same week, as I was going to buy ground nut from a nearby shop, a fast moving tricycle came towards me and just missed me by an inch only to go crash into a wall. I think the driver was either drunk or he lost control.
After that ordeal I called my mom and spoke to her about what I had seen firsthand and I can remember what she told me.
*"What are you afraid of?
Instead of being scared you should be thankful for life. For every breath you take you should be grateful.
I must say her words gave me courage because from that day on, the fear left and I started to live my life like there's nothing that could shake me.
I can also remember @samsmith1971 also sharing her experiences here, she'd been through so many accidents and yet still she's still alive to tell the story!!
Another testimony that really moved me was that of @dreemsteem, she'd contacted the Covid Delta strain and still lived to tell the story!!..It's quite amazing don't you think.
So each time I look back at how far I've come, I see enough reason to be grateful for life, and not for any life but a fulfilled one. Each day I get to meet amazing people, some here on the Hive and some here in real life, and each time I'm most grateful for being able to live to actually experience things and also touch people's lives.
Life is beautiful, even though most people would disagree with me. I'm happy to be Alive, I'm happy most of the people I care about are alive too.
I'm happy for the grace to meet the right set of people in my lives. Without them I don't think I'll be who I am or I'll be able to live my life well.
I'm grateful for being part of Hive Community, it really is a thing to be thankful for. They're a lot of amazing people here. I tend to use the word amazing each time I about Hive. It's beautiful to be here, to be able to share a lot of experiences with different people from different parts of the world. The love is genuine, it is straight from mars,lol. But surely, I hope we'll be here together to enjoy more happy moments.
So, no matter what you're going through, I just want you to:
S T A Y H A P P Y ❤️ ❤️ ❤️
And,
B E G R A T E F U L L !!
I'm really looking forward to reading more posts from more authors on the pob-wotw happy.
It is a very interesting word and I'm hoping a lot of people will share their stories with us.
What are you most grateful for?
I'll love you to share with us, we'll be glad to hear your story!!..
Thanks for reading this post ❤️❤️😏
---
---