Hive Power Up Month challenge - Feedback from February day 3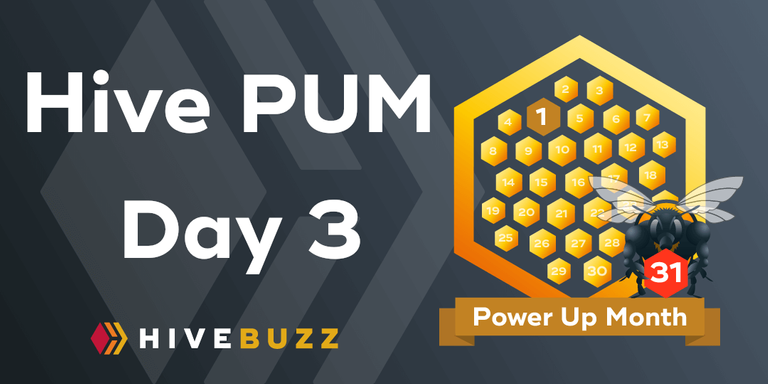 The new Hive Power Up Month has now been running for a bit more than 3 days. Let's see how things have been going so far.
For those who missed it, you can read the challenge announcement here.
Substantial start and slow decline
As usual, the Power Up Month started with a bang thanks to its Power Up Day counterpart. Indeed, no less than 789 users took part on this first day of the challenge, making all participants equally eligible for the PUM. That's 17.6% more than the previous edition!
And as usual, we have seen a major decline on the following days, but not as hard as the previous edition as we still left 134 eligible participants.
Let's see this with a graph: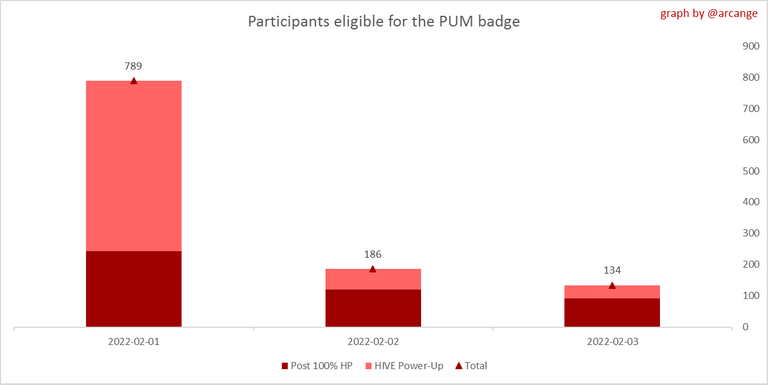 If we take day 2 as a baseline of users who have signed up to PUM, we see that we have already lost 52 users in a single day.
All in all, all numbers are better than the previous edition. Let's see if it will last till the end of the challenge.
List of eligible ones
We do not like to tag a long list of users, but many participants of the previous PUM challenges requested us to do so to stay updated, so here they are:
@aay.life, @ackza, @actifitmayer, @alexa-macro, @alexvan, @amaari, @andrastia, @andy-plays, @ansoe, @antikus369, @antonireviewer, @arcange, @artefacus, @awah, @axel-mccornstack, @bashadow, @bdvoter.cur, @blitzzzz, @borjan, @bradleyarrow, @brianoflondon, @btcsam, @buzzgoblin, @cezary-io, @chaodietas, @charlie80, @charsdesign, @clixmoney, @coccodema, @coquicoin, @crespino, @cryptokungfu, @cursephantom, @darrenfj, @daveks, @davidthompson57, @debbie-ese, @definethedollar, @dizzyapple, @drugelis, @eddwood, @efectivida, @emeka4, @estherscott, @fairyberry, @fastchrisuk, @feanorgu, @felt.buzz, @femcy-willcy, @forykw, @fotostef, @fullcoverbetting, @gdog0, @geneeverett, @gone-hive, @harveyword, @herbacianymag, @hive-117778, @hive-153476, @hivebuzz, @holovision.play, @ifarmgirl, @jacobtothe, @jang, @jbtc19warrior, @jomancub, @jomarbym, @jychbetter, @keco, @kephler, @kittycrafter, @kolbjorn, @ksteem, @kwilley, @littlebee4, @malomi, @manuvert, @mein-senf-dazu, @mengao, @methodofmad, @michelmake, @mightpossibly, @mmckinneyphoto13, @music1sound, @namelessnameless, @news-bot, @nicklewis, @orionvk, @otuyanancy, @photosnap, @pogier, @poterritory, @ppics, @python13, @ricestrela, @sagesigma, @savvyplayer, @schiba, @schibasport, @servelle, @shadowalker21, @shiftrox, @silviq93, @skylinebuds, @steem82868, @steemmillionaire, @synrg, @taskmaster4450, @tawadak24, @tdctunes, @technocrypton, @temmylade, @tengolotodo, @tferris, @thijsvermeer, @thomasthewolf, @timehacker, @traciyork, @trezzahn, @trippymane, @tsunsica, @tydynrain, @ultratrain, @urri2020, @valerianis, @vanje, @venan, @vickoly, @w74, @walkinverse, @xels, @ylich, @ynwa.andree and @yoginiofoz.
Good luck to everyone who is still in the race!
---
HiveBuzz is a project created by @arcange
---
---