雖然 DeFi 的熱潮好像因為幣市大跌和大量空氣幣捲錢走佬而減退,但 DeFi 始終是一個新型經濟,或可以說是我們未來在大數據和超級電腦之間金融行業的發展雛型。
大浪淘沙,正如股神巴菲特的名言 - <當潮退時,誰在裸泳便無所遁形>。經過一番洗牌,留下在 DeFi 上仍有不少項目,但是有許多項目如 YFI, CREAM, UNI 等的 LP 池早已被大戶佔領,加上現時 ETH Gas Fee 高低不定,令新來者難以加入。
YFValue: Bringing True Value to Yield Farming
以下是我節錄低的重點:
A lot of them are small players, and some only have a few hundreds of stable-coins; it's nearly impossible for them to join in the fun of Yield Farming.
And that is how YFValue is born.
The project aims to bring the true value of yield farming finance accessible to all users, regardless of whether you are a big whale or small minnow
YFV.Finance is a DeFi yield aggregator
YFV has a stable-coins pool which allows even small players to join the DeFi Yield Farming. The number of users will then be 100x or more compared to other DeFi Yield Farming Protocol.
Last but not least, the separated Elastic Supply Stable-coins vUSD and vETH are great add-on benefits for the farmers and the whole ecosystem later on along the road map.
YFV大部分是98/2的比例,這比例比起許多50/50的IL損失較少風險,當然不會完全沒風險, 最差的情況是當 YFV 歸零,那麼你整個投資也都空多吉少了
現時 YFV 的價格受到大市影響維持在 $7 - $8 之間,曾最高見 $83。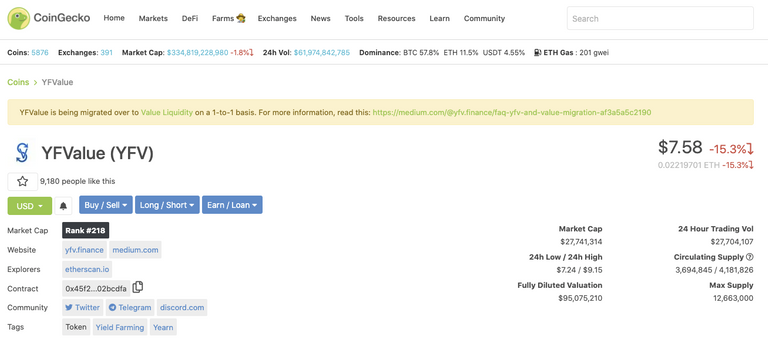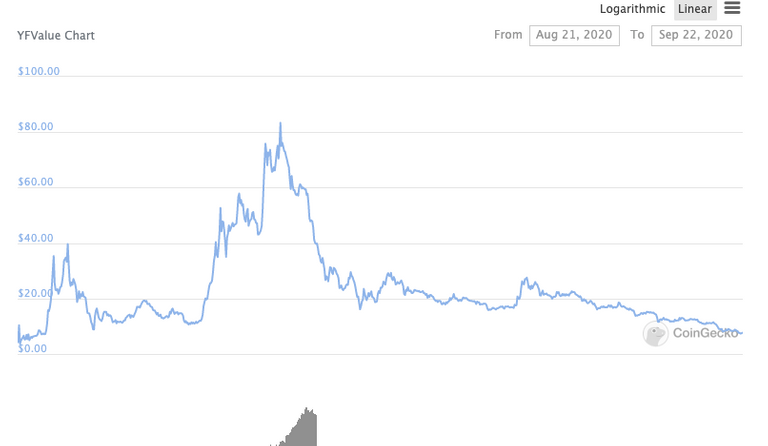 近日項目方公佈未來會進行更新,為 yfv 帶來更多功能。也準備慢慢 migrate 到 新 token Value Liquidity 去。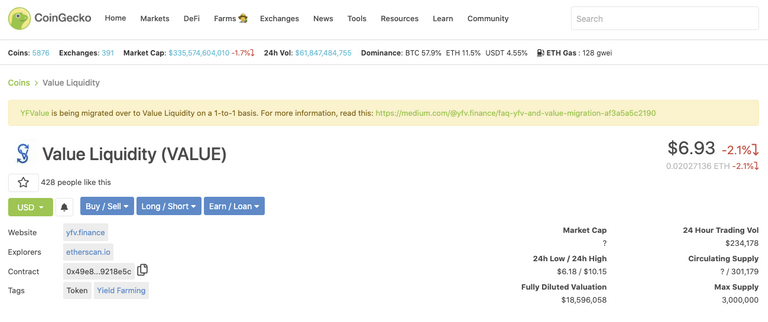 ---
另外項目方找來了 Pessimistic 來 audit 合約的安全性。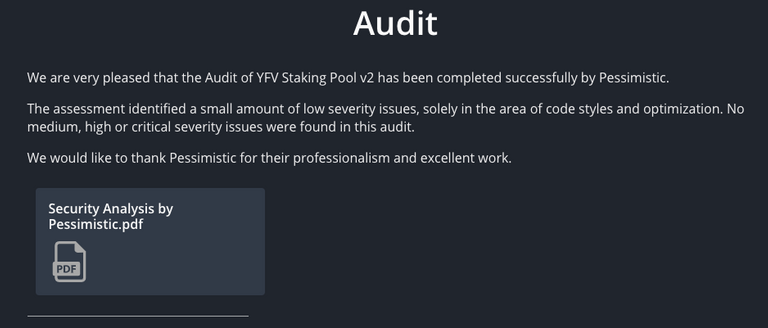 ---
全部的池都是一些排名較前的大幣,我自己有加入到 WETH 和 COMP 的池。現時 APY 雖然下跌不少,但仍有近 100 - 200% APY。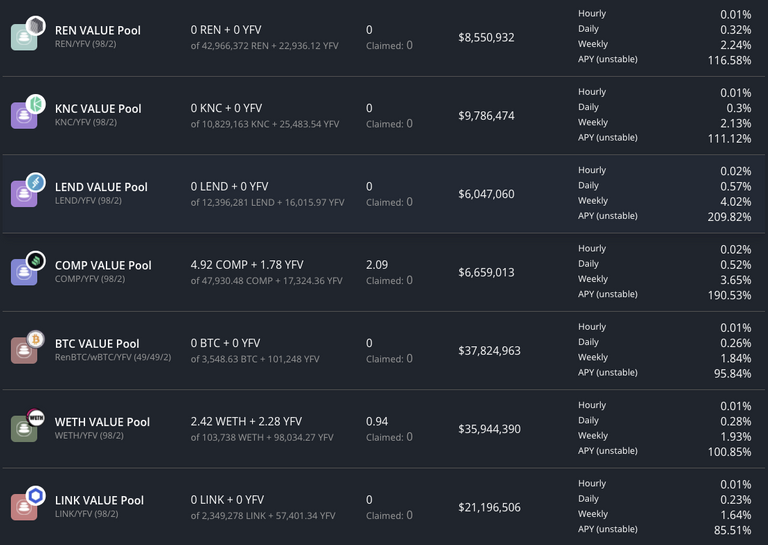 ---
總結:
項目有 audit, 團隊自 8 月以來一直更新進度,有詳細 Medium 文章交代情況。成功進行 migration(高技術表現)。

加上現時 TVL 有 $276M 。看來團隊還是有點人氣呢。
有興趣的朋友,若是想試試,
可以用用我的 Ref link: https://yfv.finance/a=3aWAiKDZX49oej9Nm4ETCU1MNUu9
合約會在你的收益之外(即項目方自己出錢)配對 2% 給我作為推薦項目的 incentive
---
Cheers!