Tales of a Place Untold - Oakville-Trafalgar General Hospital
Heritage Ontario
---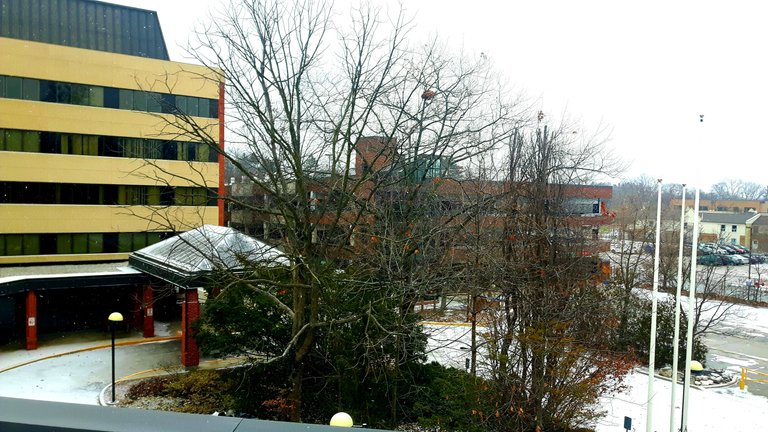 Oakville-Trafalgar Memorial Hospital
---
7 years ago, while biking around aimlessly as I still do, I came across something of interest. It caught my eye, was silver, had things to climb and was on the side of a boarded up shed. Otherwise known as a, um, well, ladder.
I threw together a quick history of the hospital itself! You can find it below the posting, but anyway, onward!
The ladder brought me up to higher and higher points until eventually I realized; I wasn't just standing some tiny structure, this was a huge building! I climbed down, locked the bike up, and ran back for pictures!
first picture I took is the thumbnail
below, behind on a large roof platform facing the window-side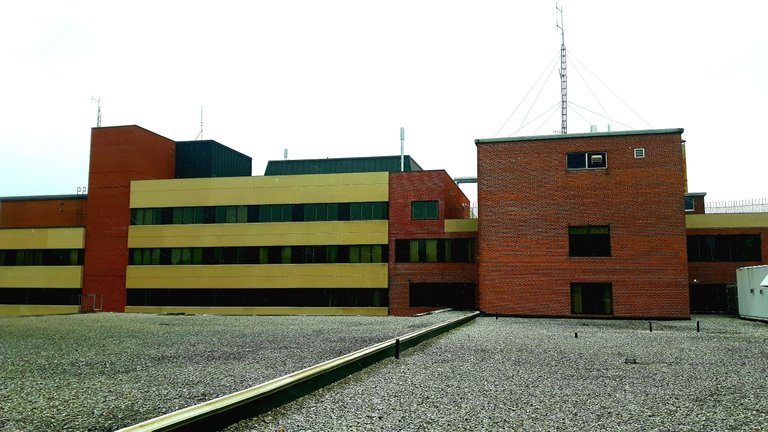 But then I realized something...a door. A sliding door. There was still power...uhhhh, maybe a quick look see? Hint; one of the best adventures of my life.
I entered.
---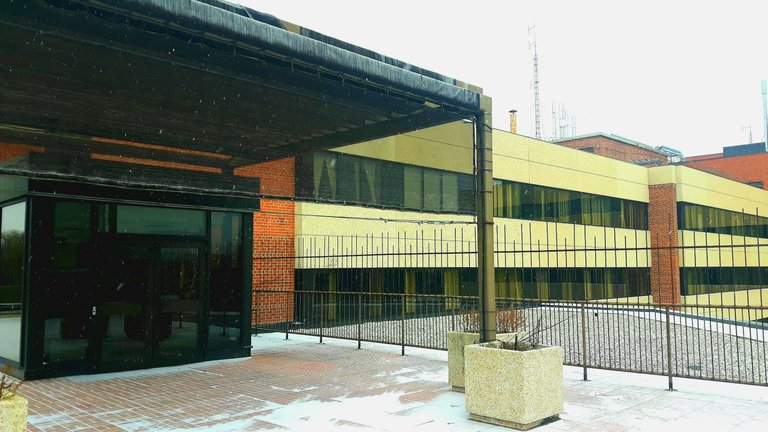 ---
The top floor entrance led me to the mental health ward, seen below, the public kitchen for inpatients;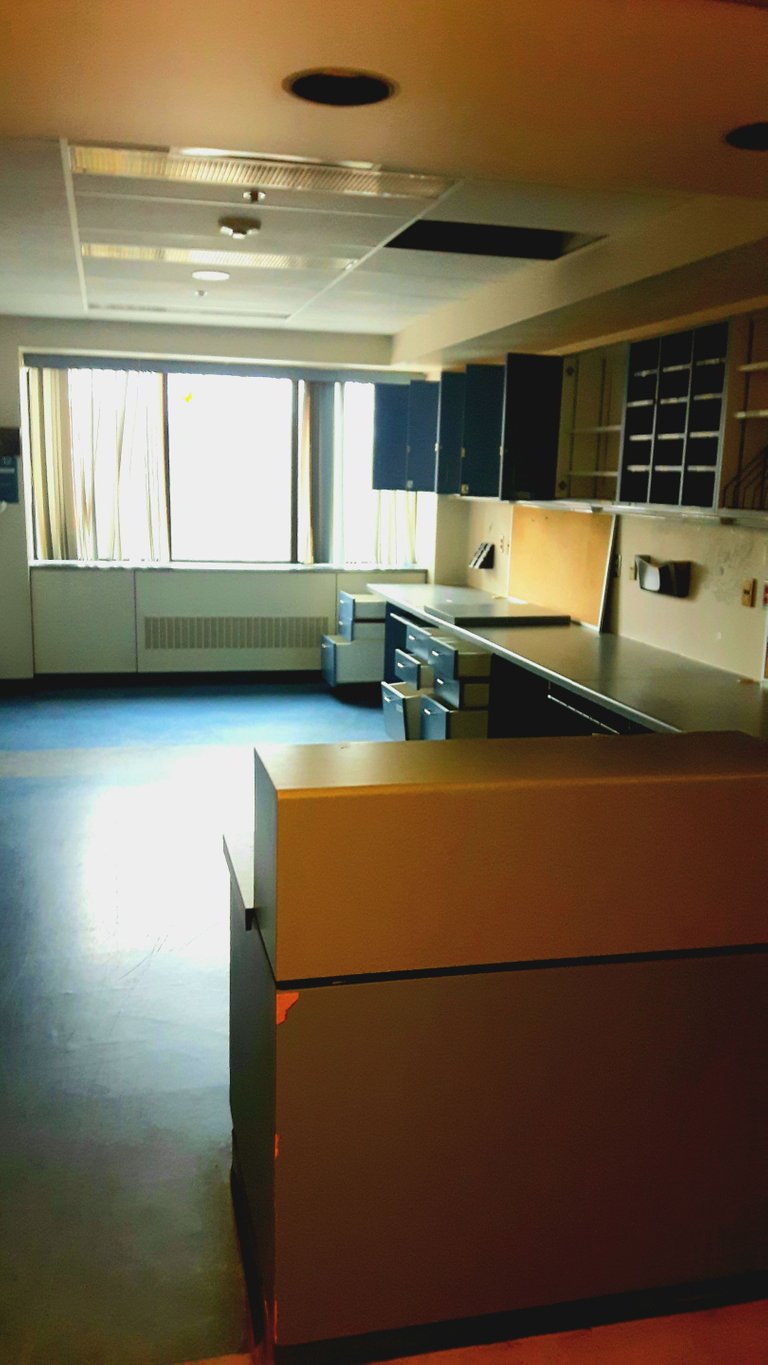 I continued out of this room, leading to a main corridor,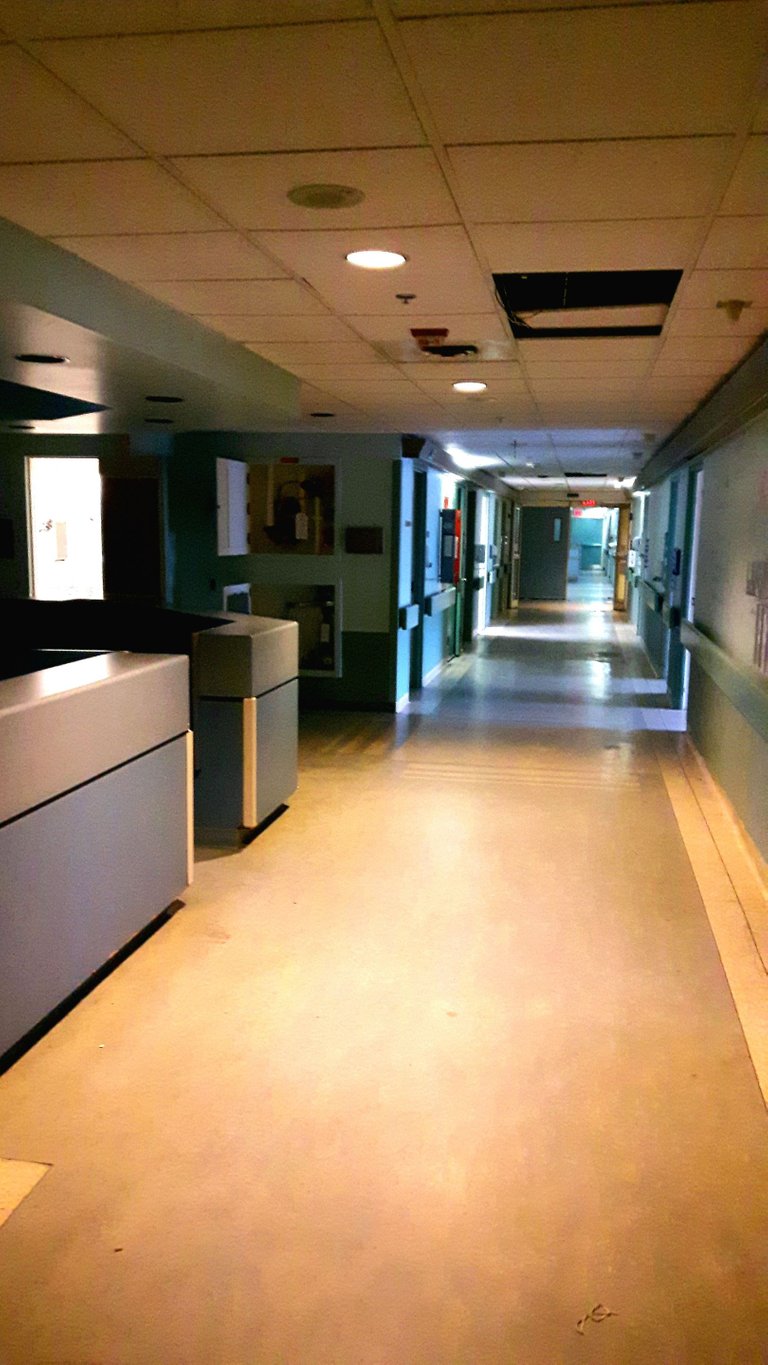 And the reception of the ward;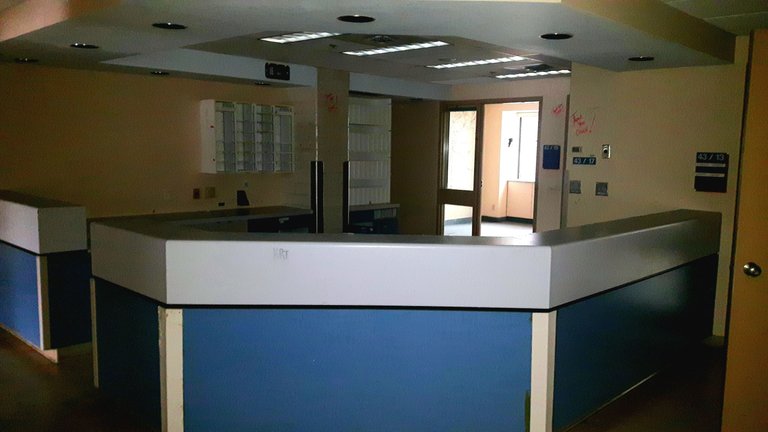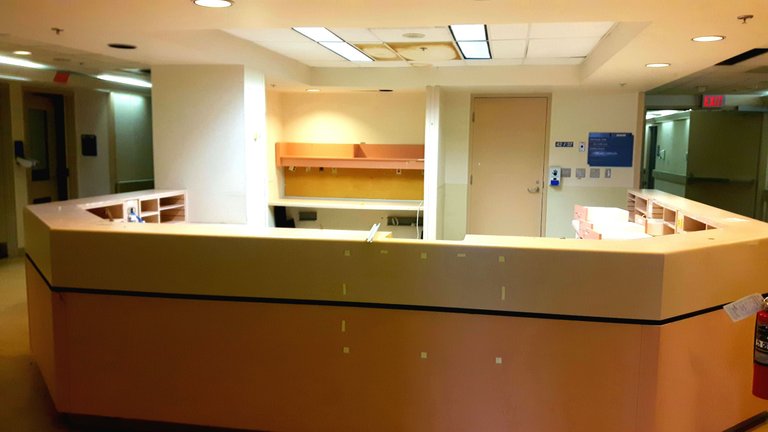 I continued forward,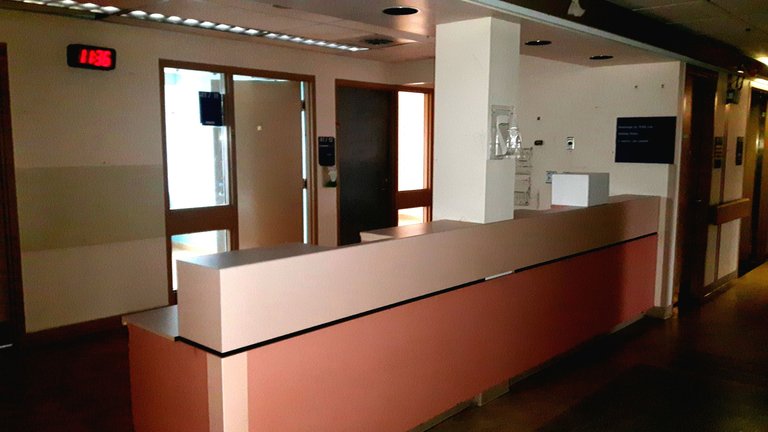 Finding these final markings on a whiteboard: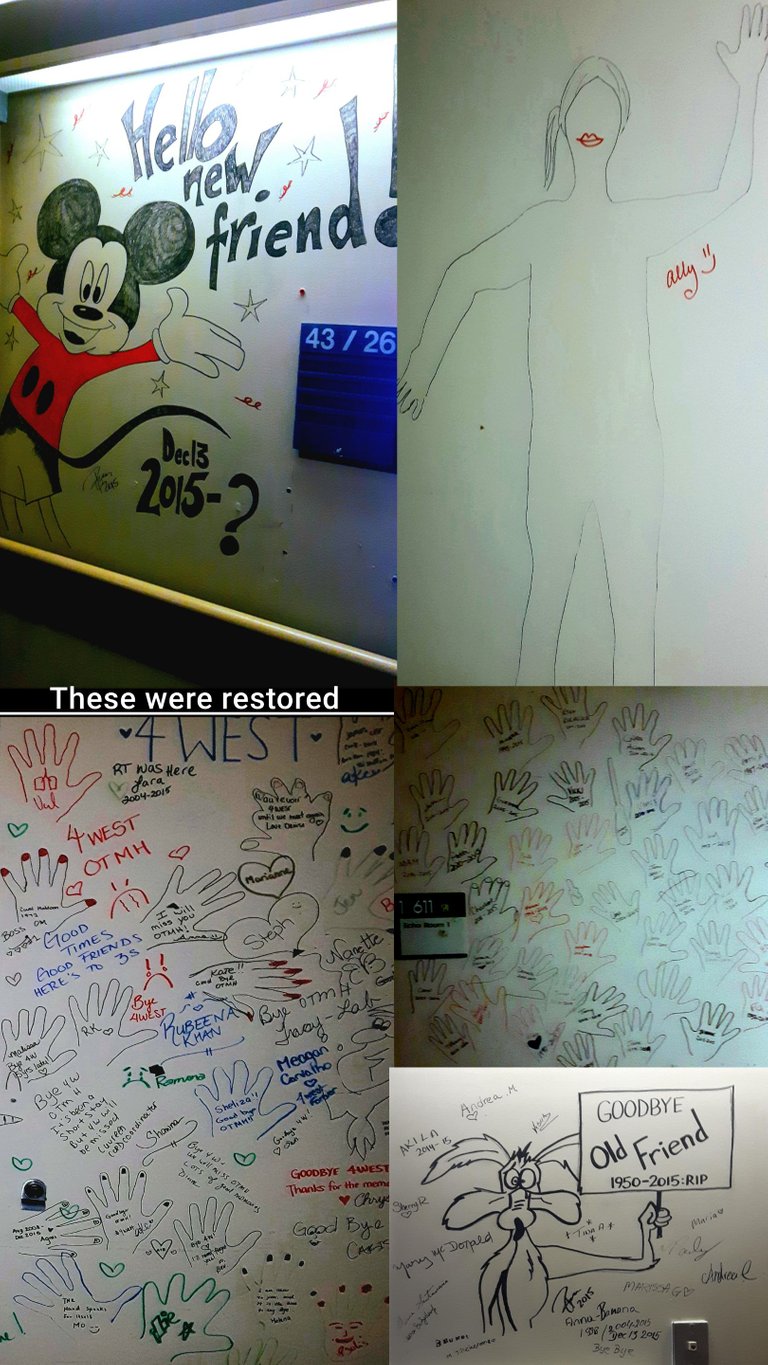 Looking at these were almost sad; just to see all those memories of days gone by. I continued down the final corridor on the other side of the unit;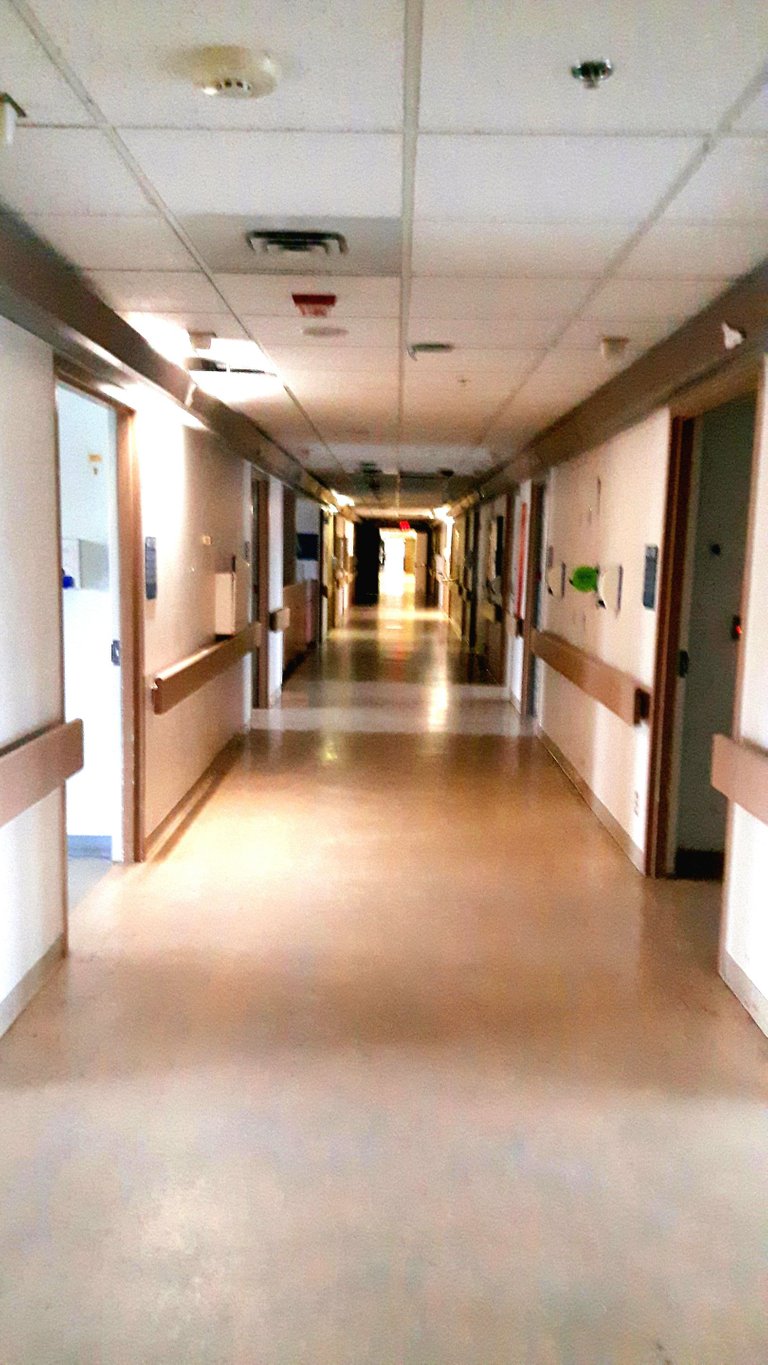 Heading back to the reception, I exited the doors and opened up to this;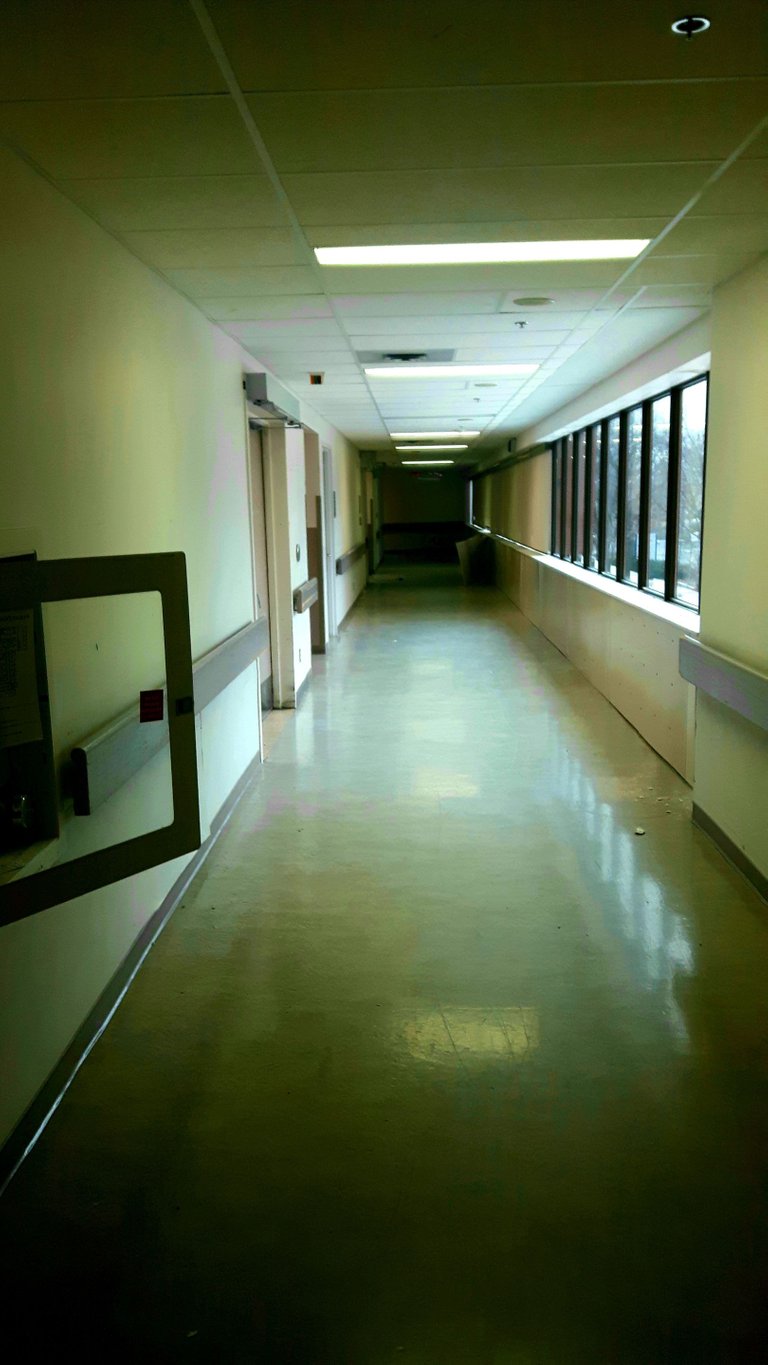 I tuened at the end of this corridor to a hallway as all these rooms were empty,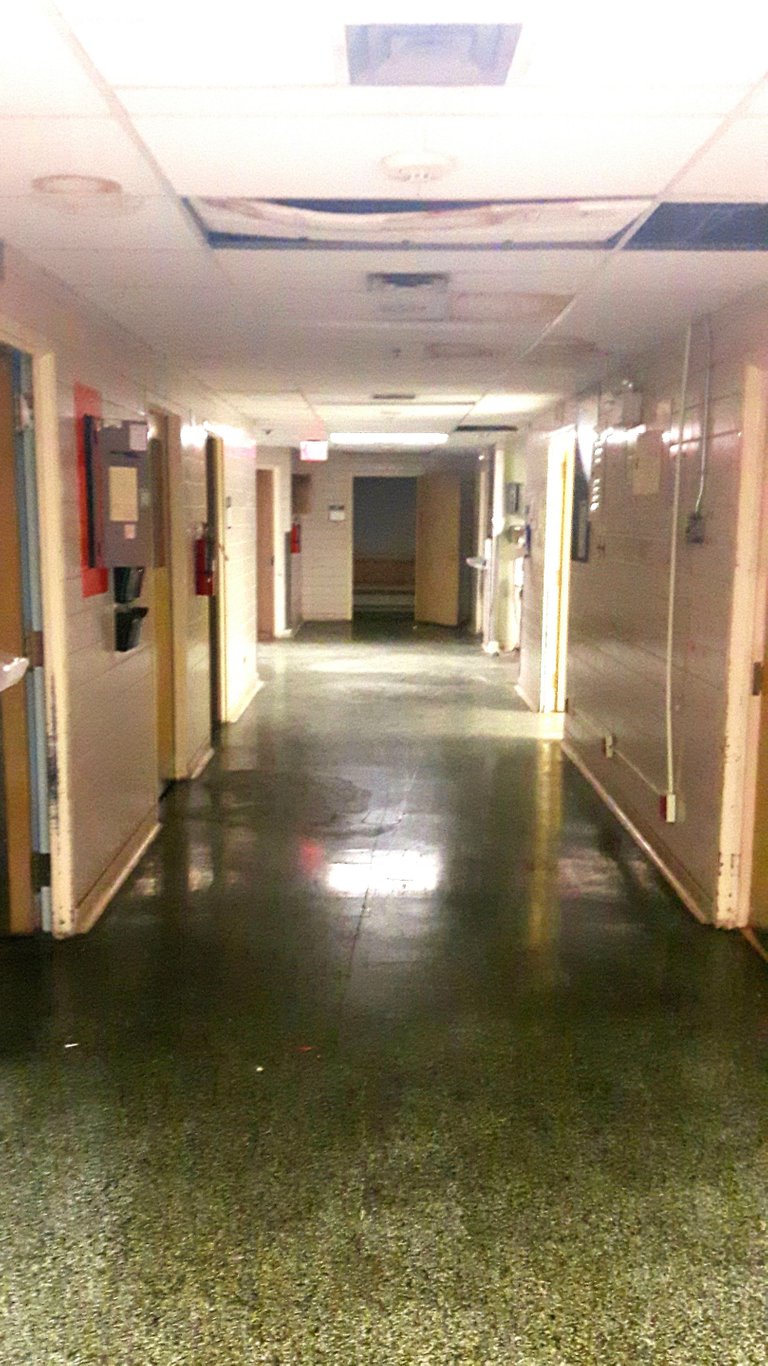 Eventually leading to eye care, optics, neurology, and other major areas of the hospital!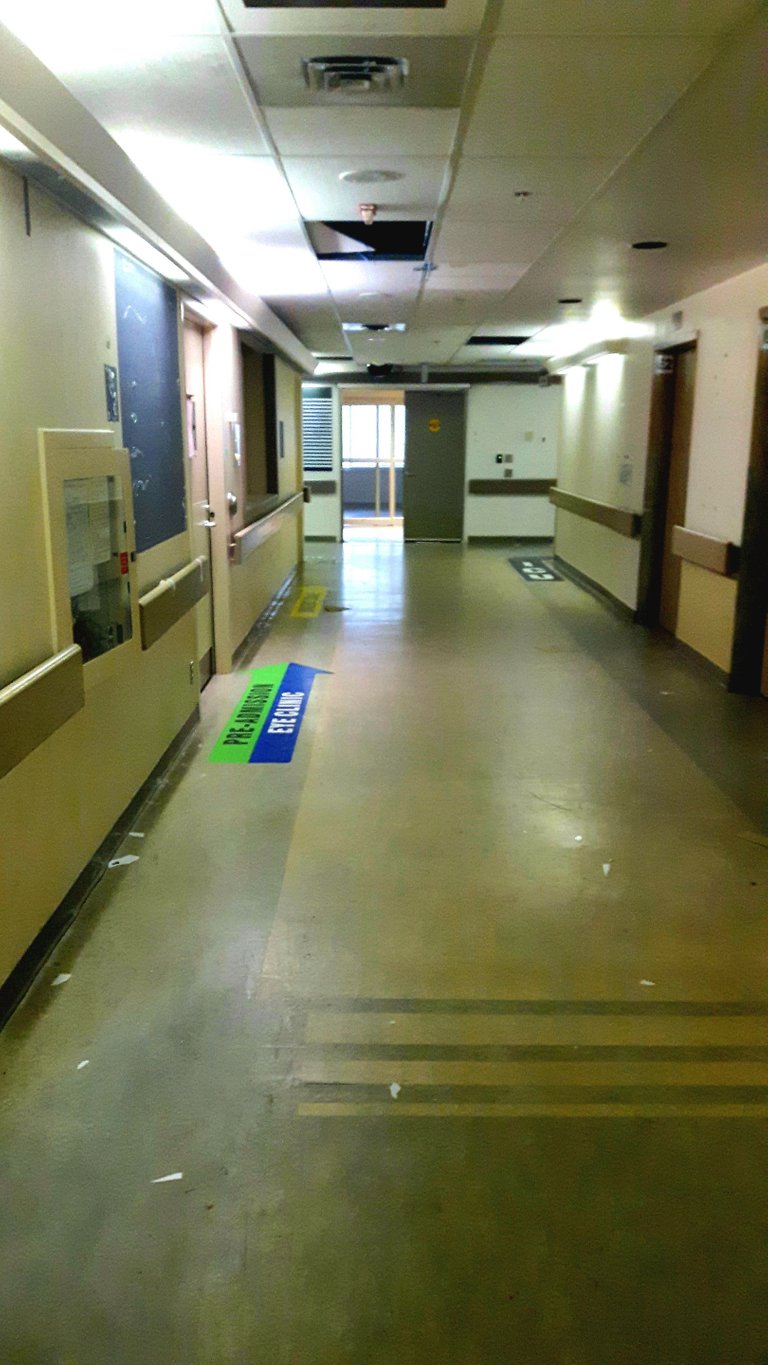 Following the corners, there were hallways upon hallways,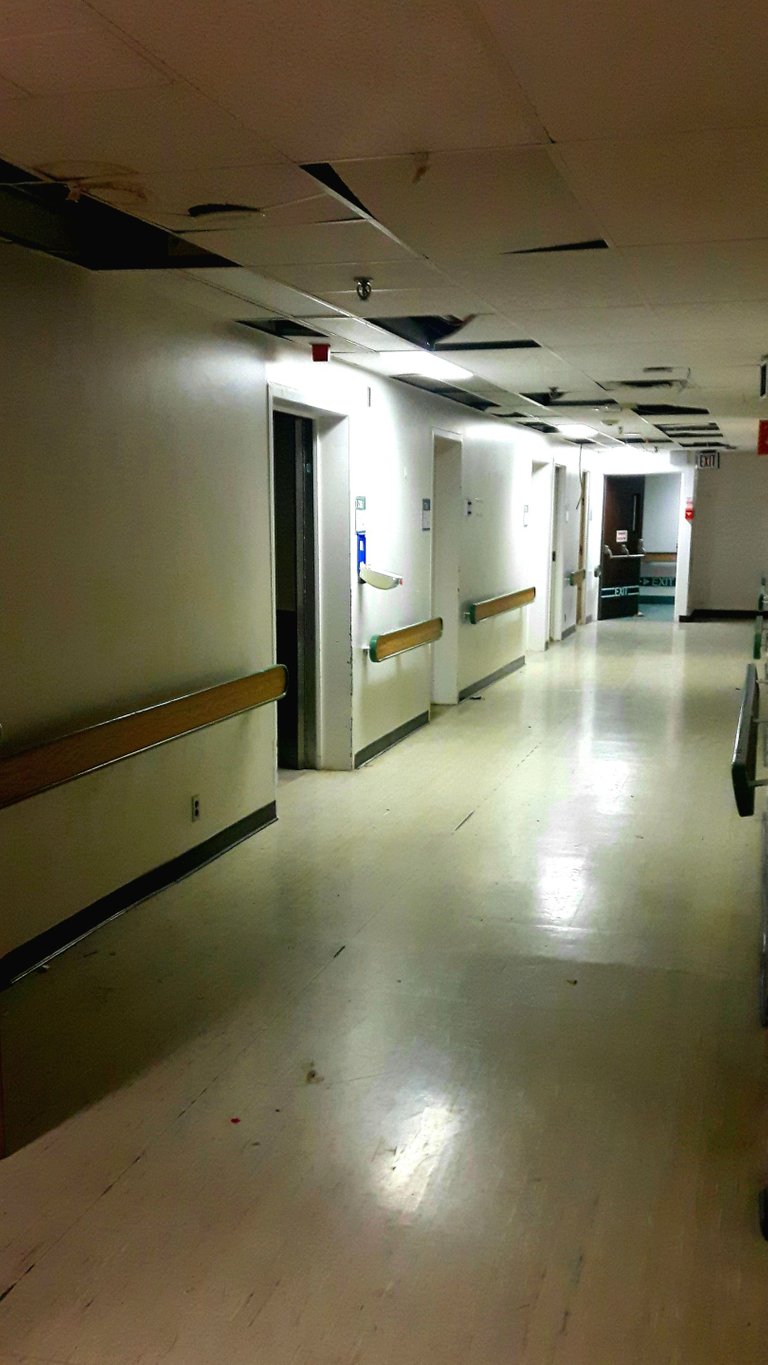 Turning one more corner and following the arrows, I found an interesting area,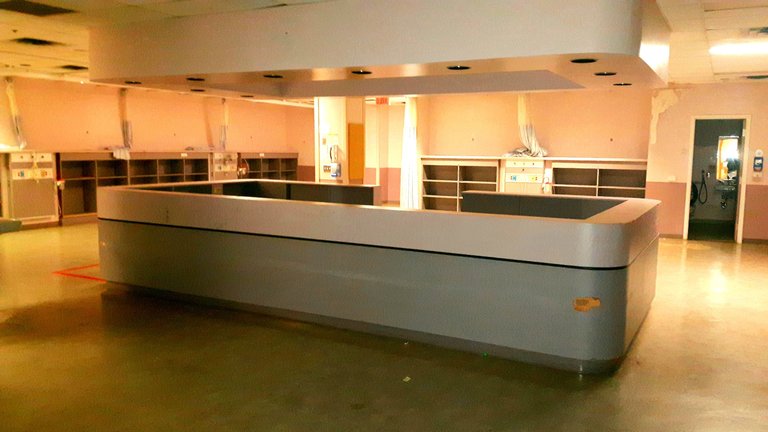 The clinic! I explored and walked through the rooms;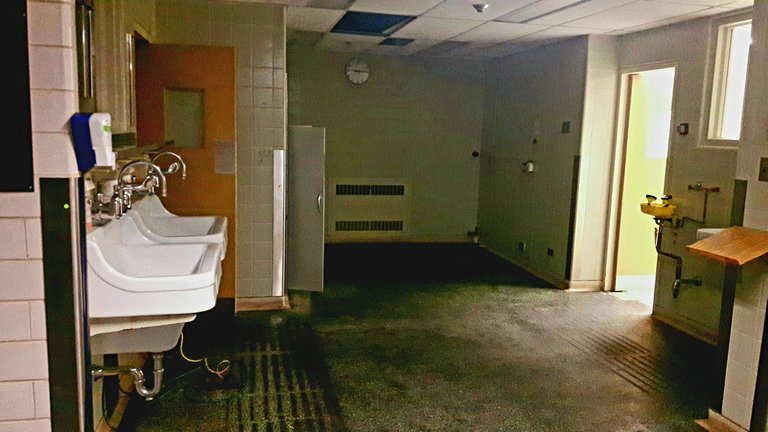 Sanitization above and what looks like stock and storage area below,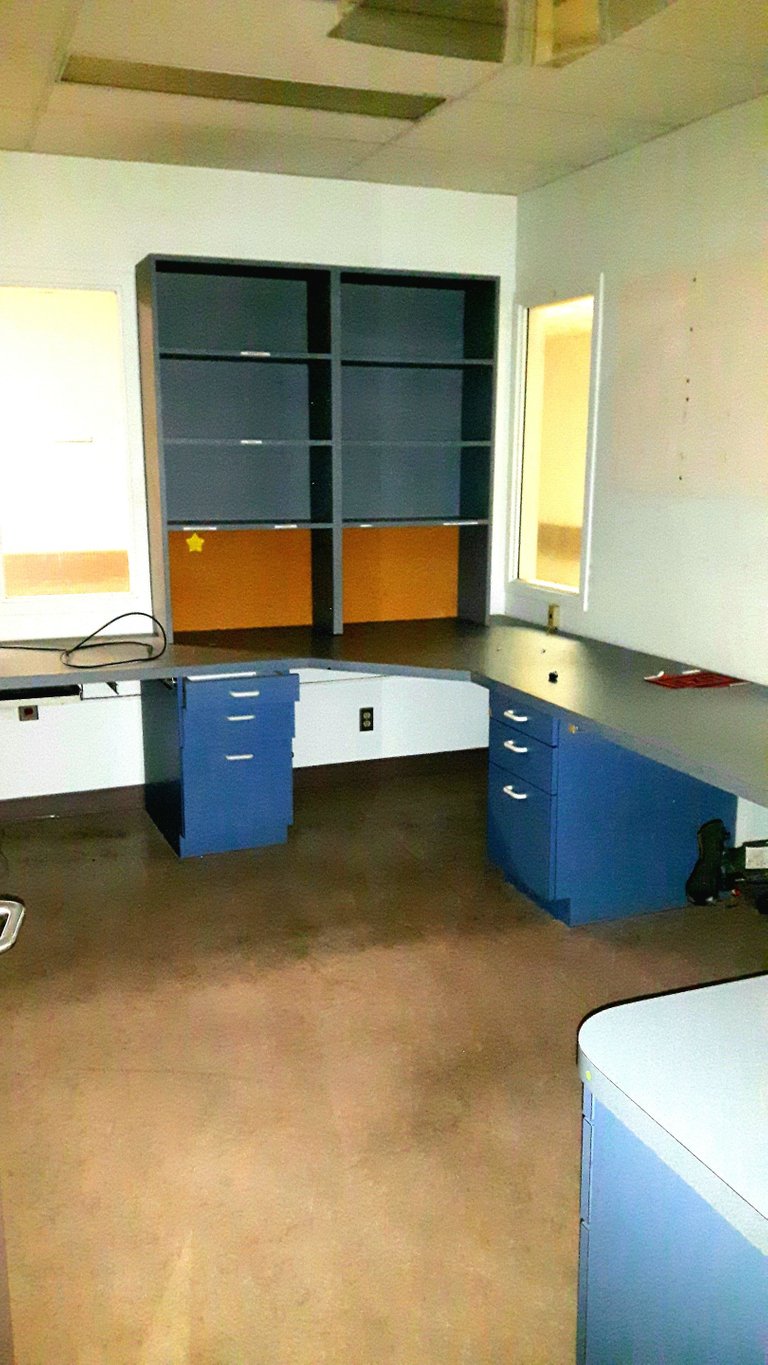 I walked into the next room,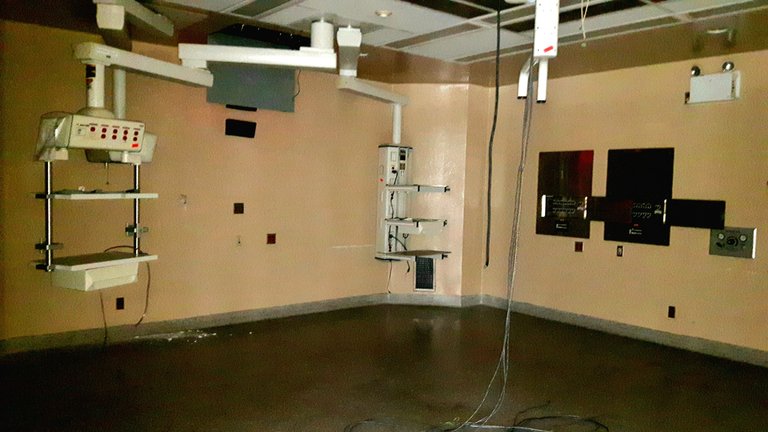 I can't believe this was still here!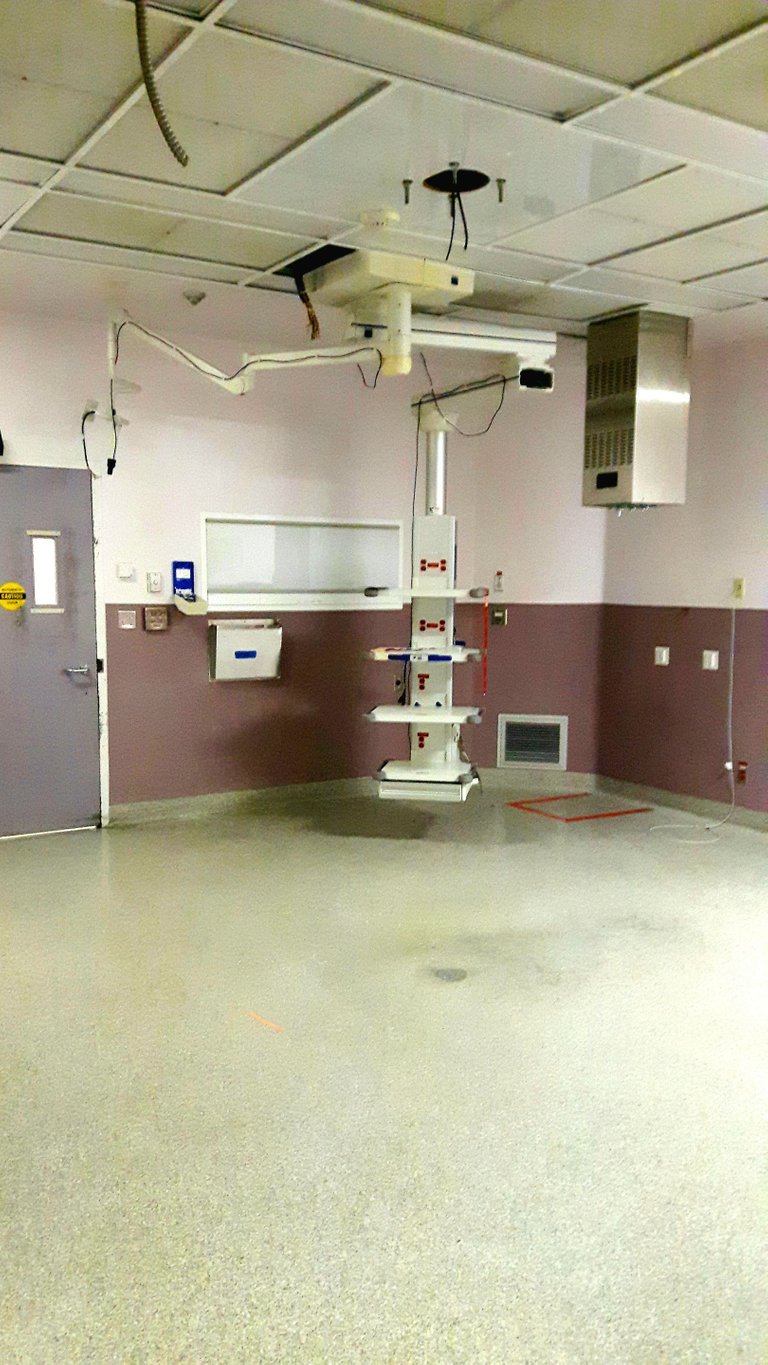 And this! Woah!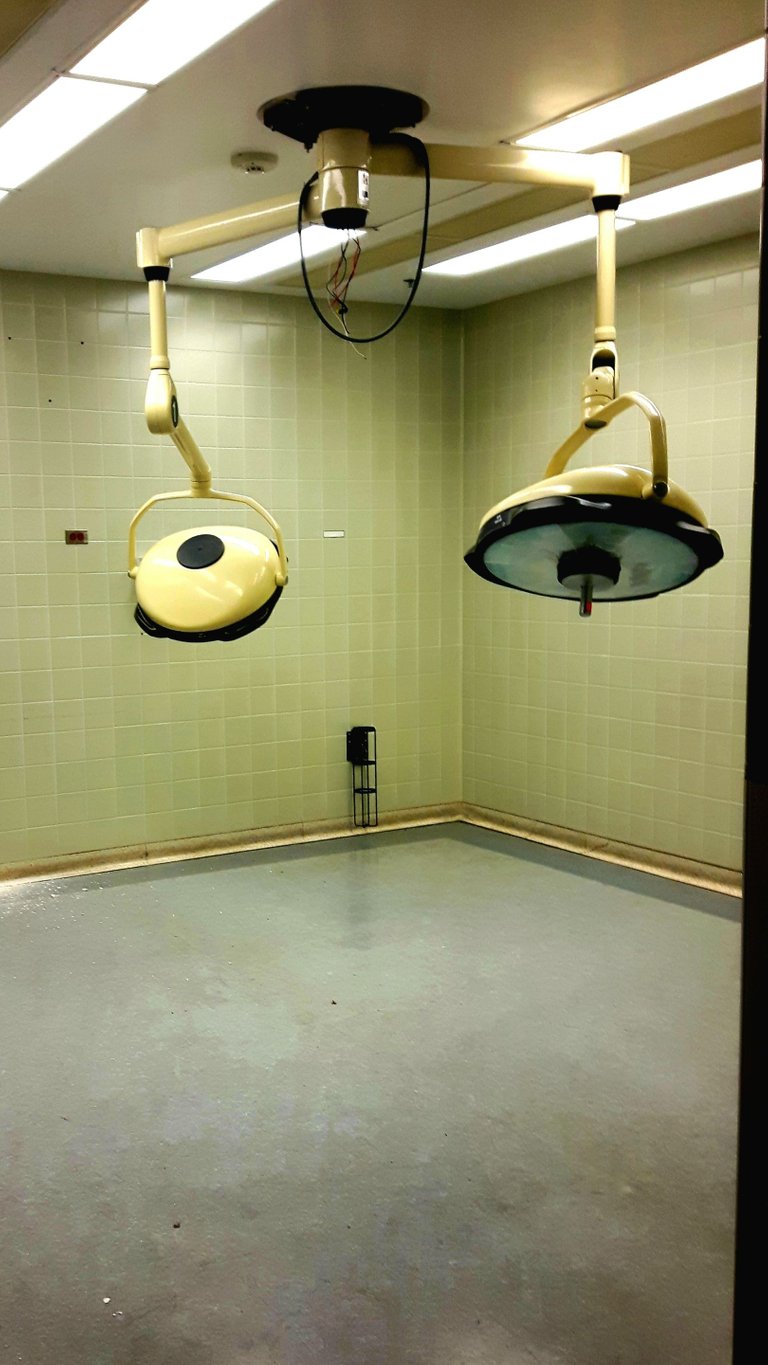 Moving past this room,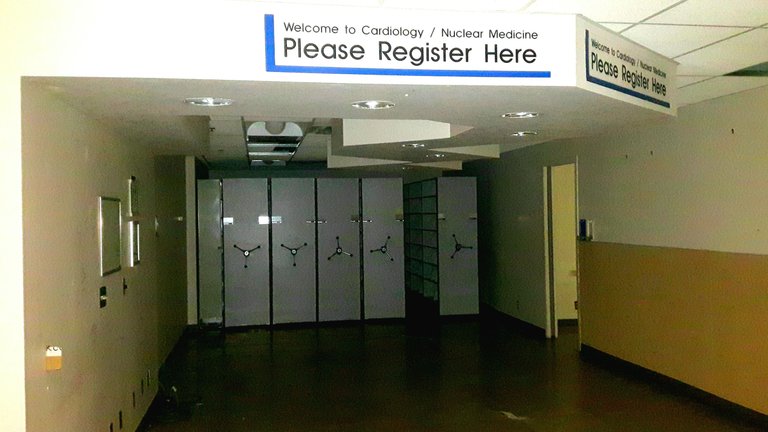 I entered the registration for cardiology,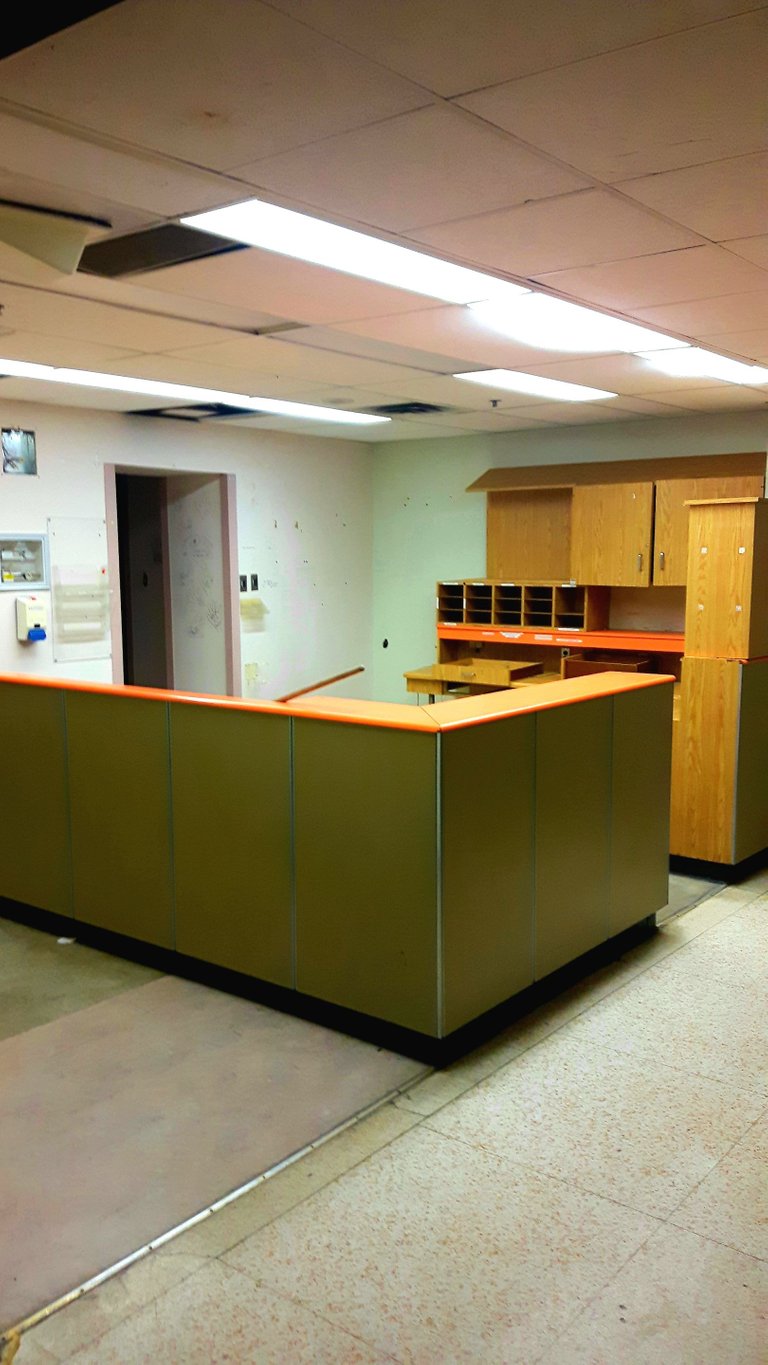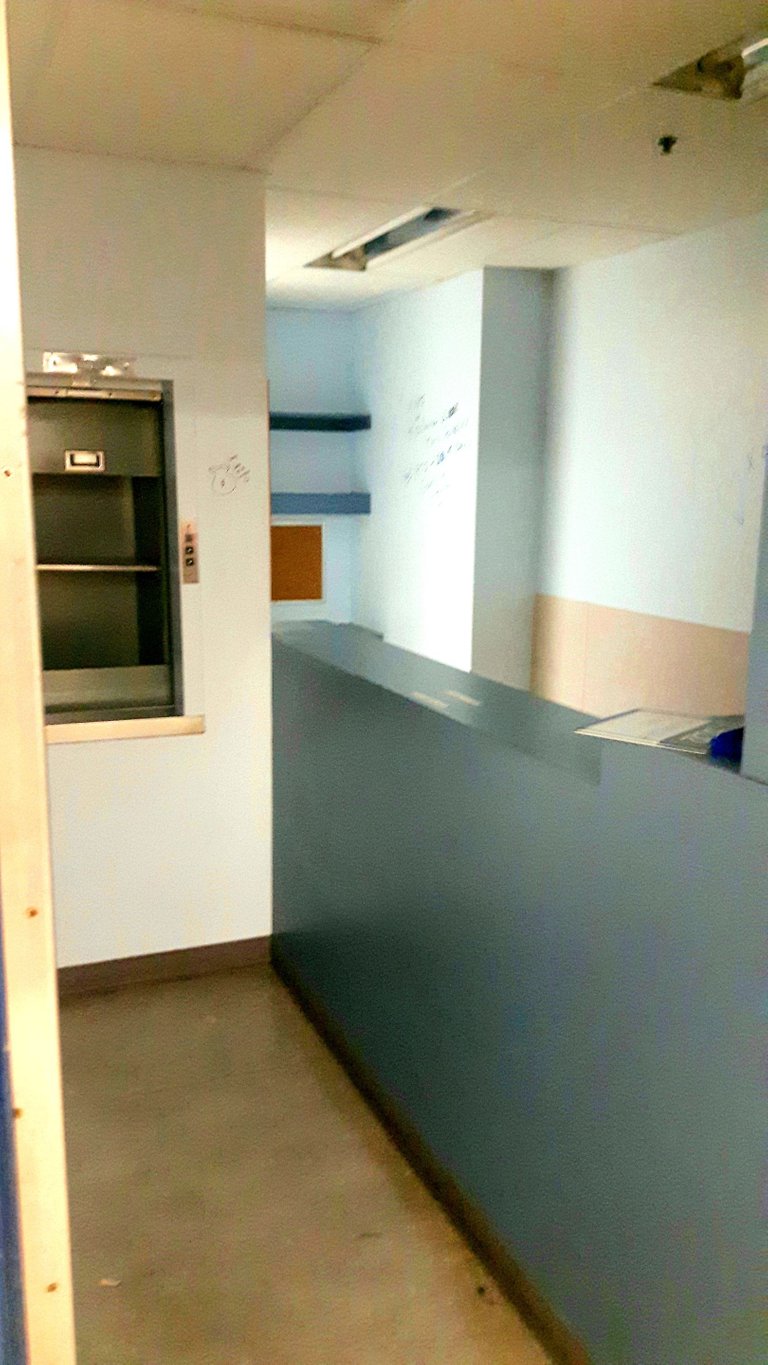 Heading back to an earlier exit that I saw, I found the stairs down and continued on my adventure!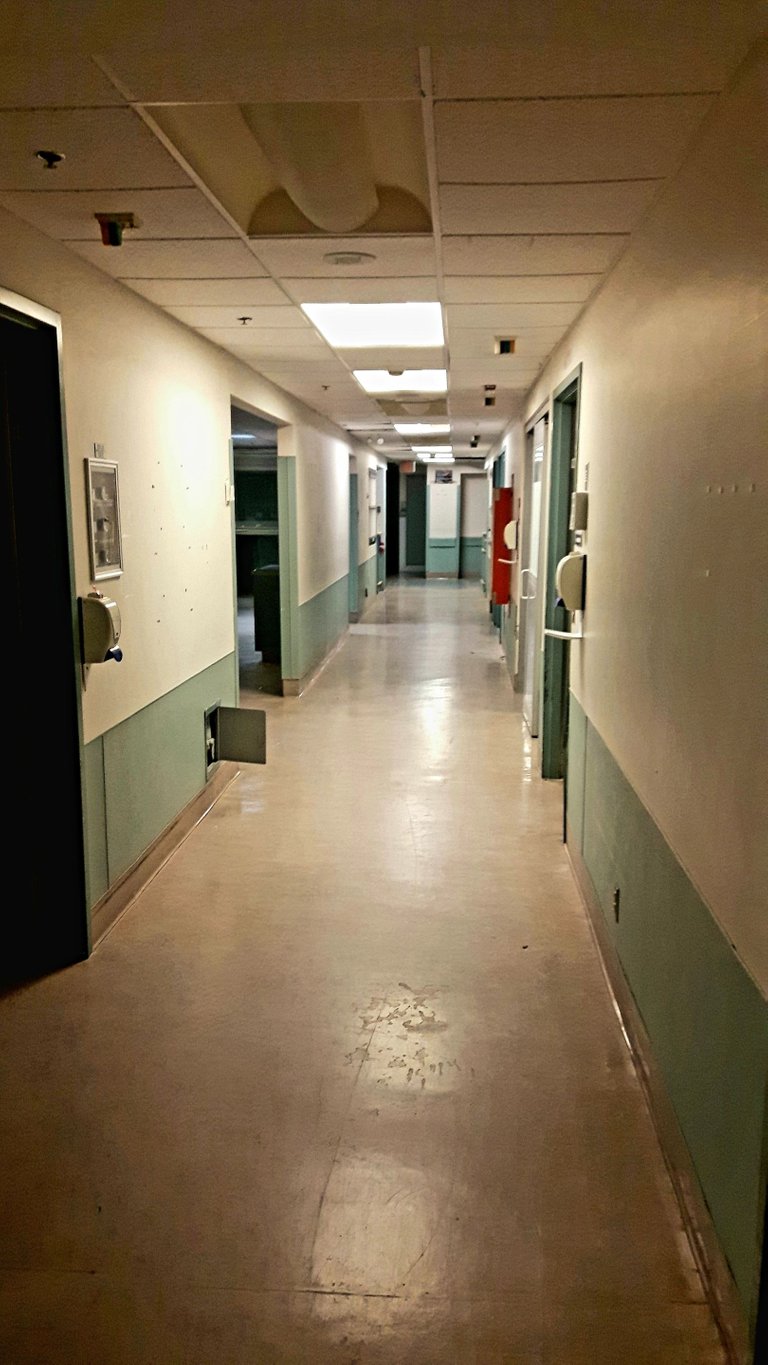 Eventually leading me to this entry corridor;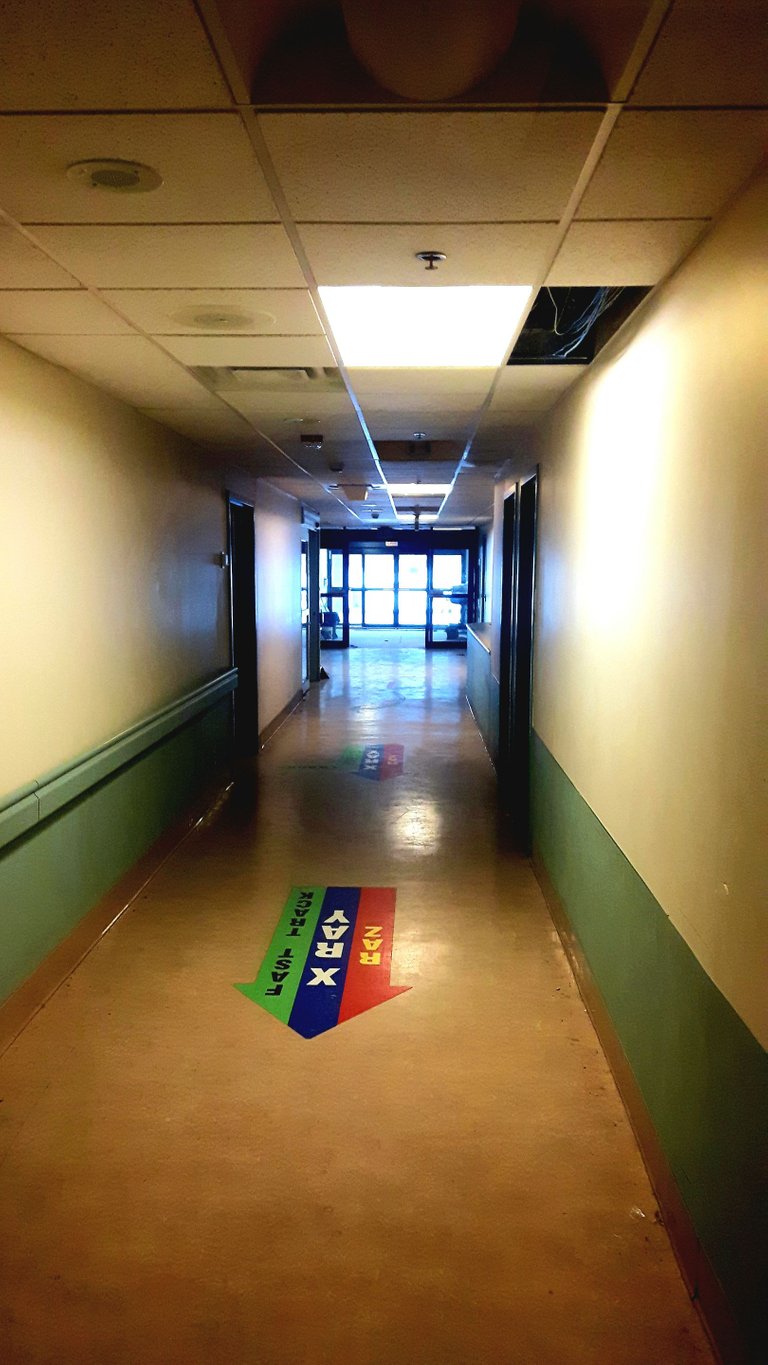 And opening up to the main atrium!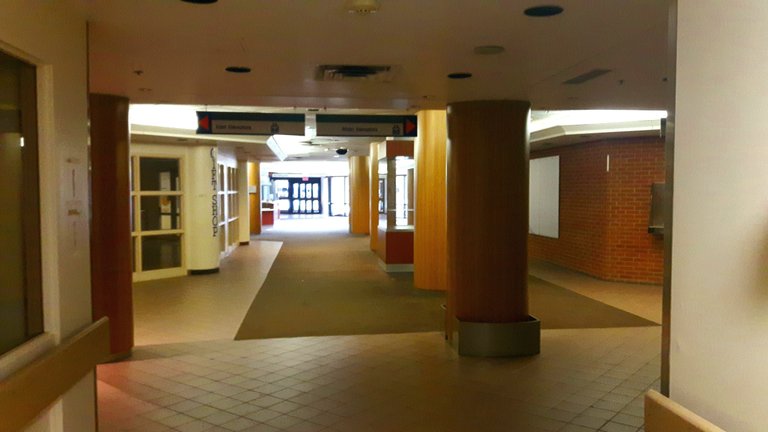 With elevators to the left,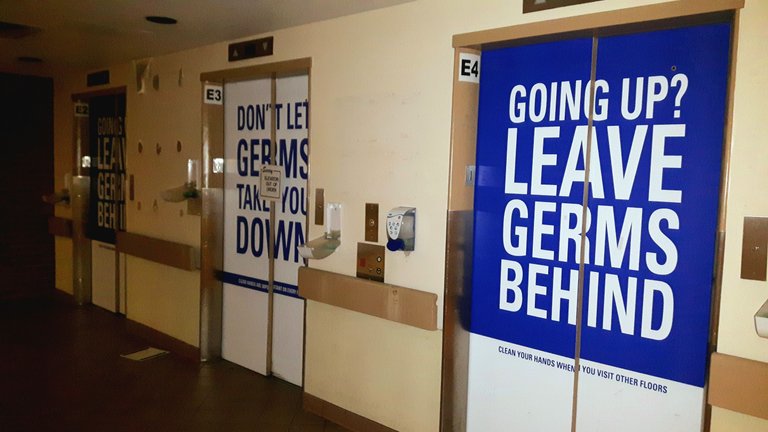 The view behind the front entrance registration desks,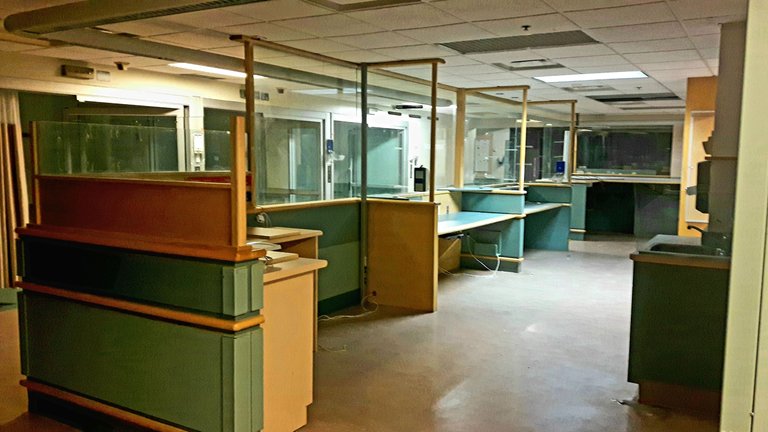 And a view from afront,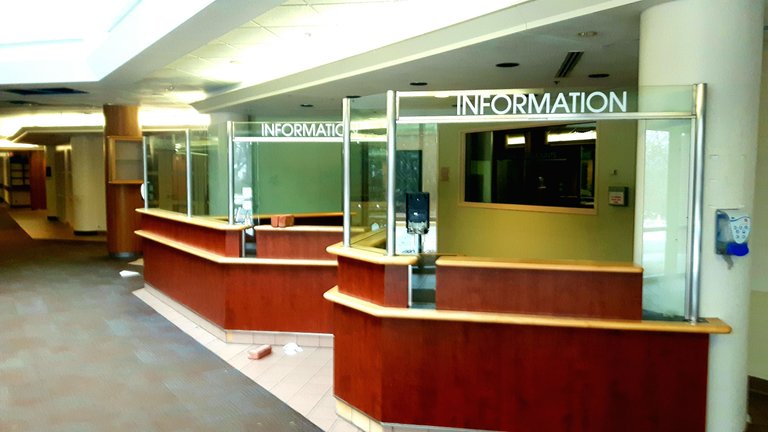 Facing the front door.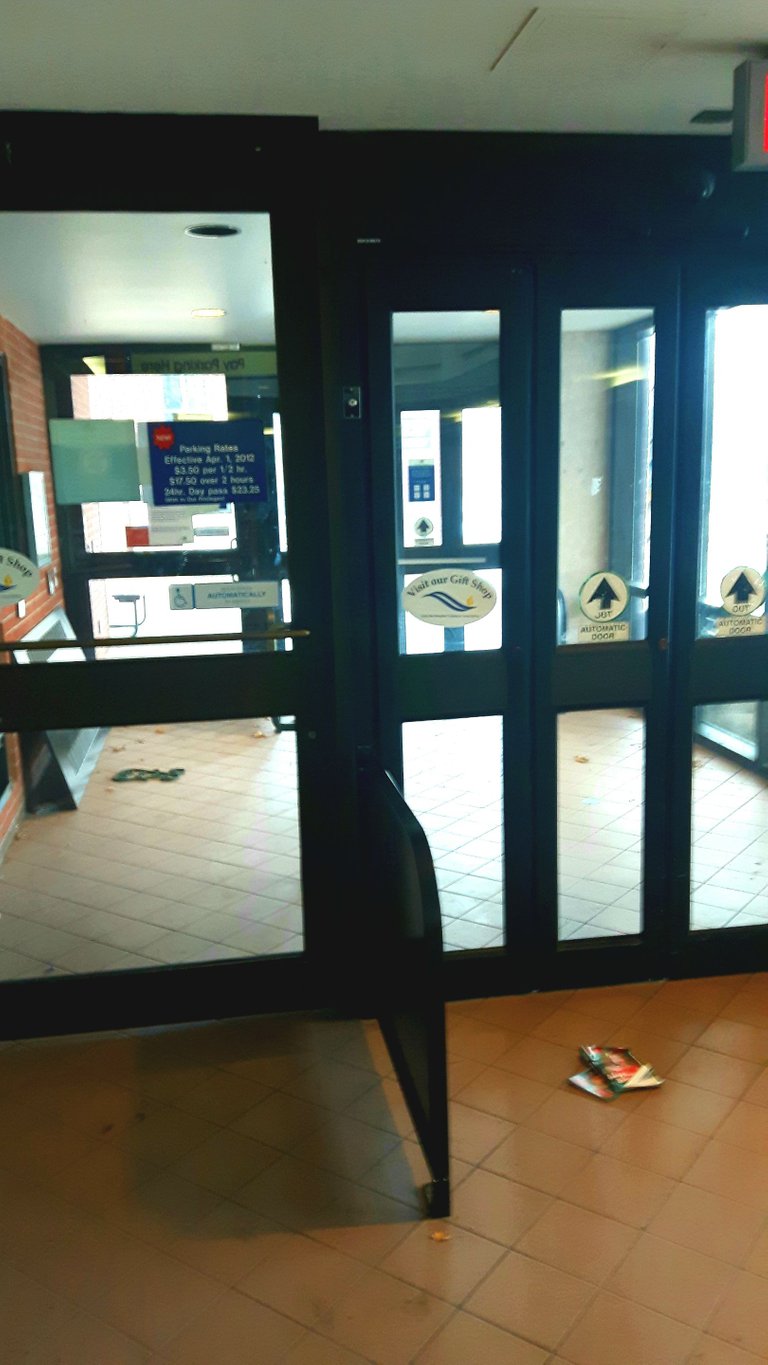 Turning left there was the PharmaCare centre and the entrance office;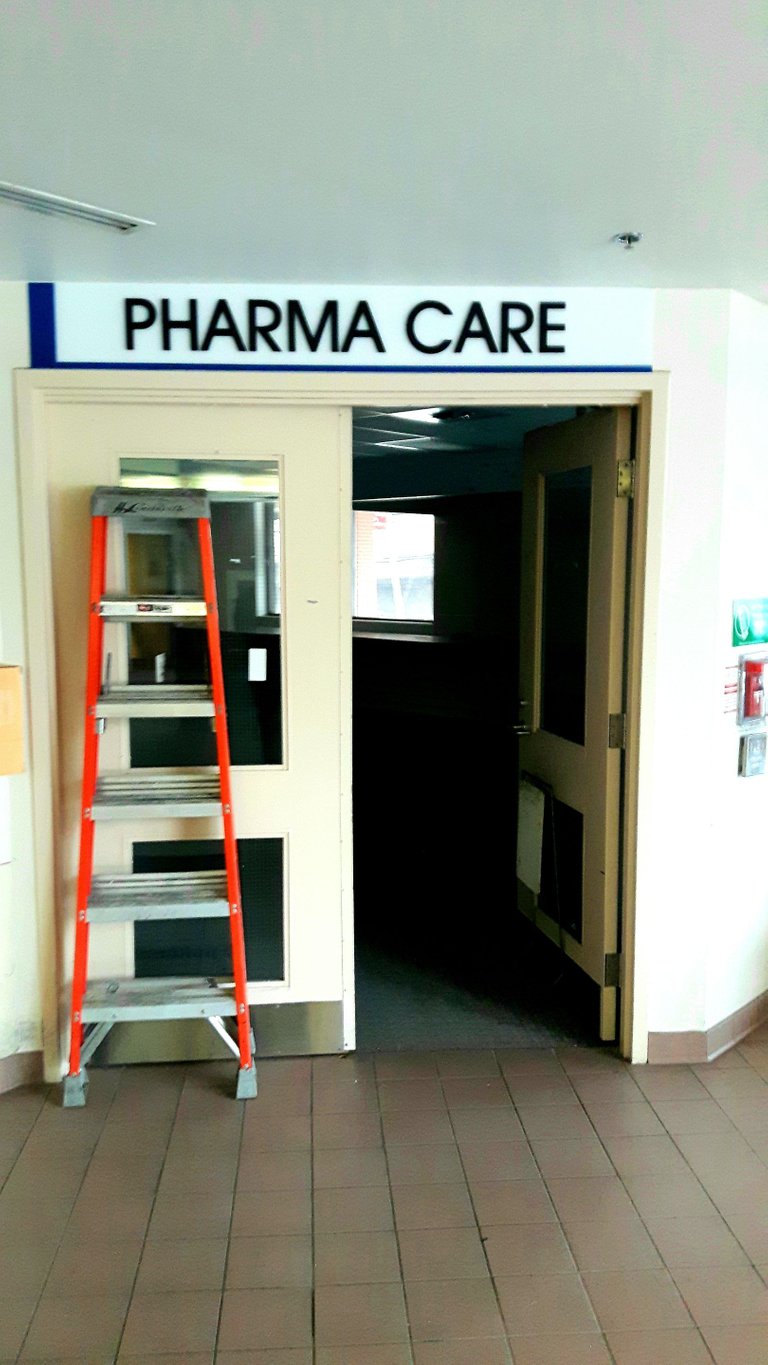 The office was still furnished though;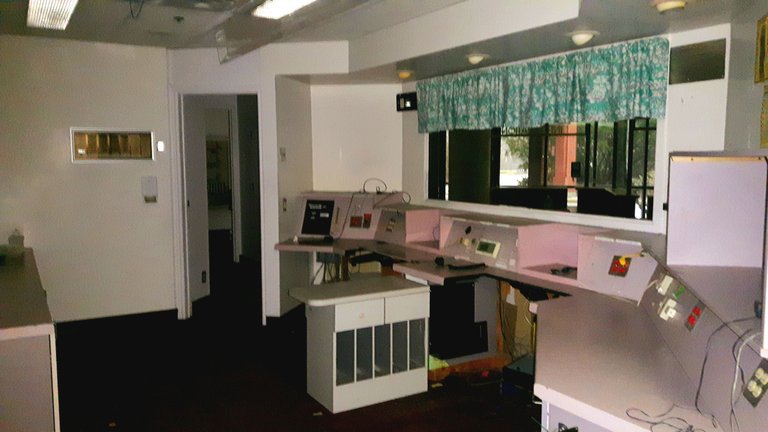 Kinda freaked me out a bit, hah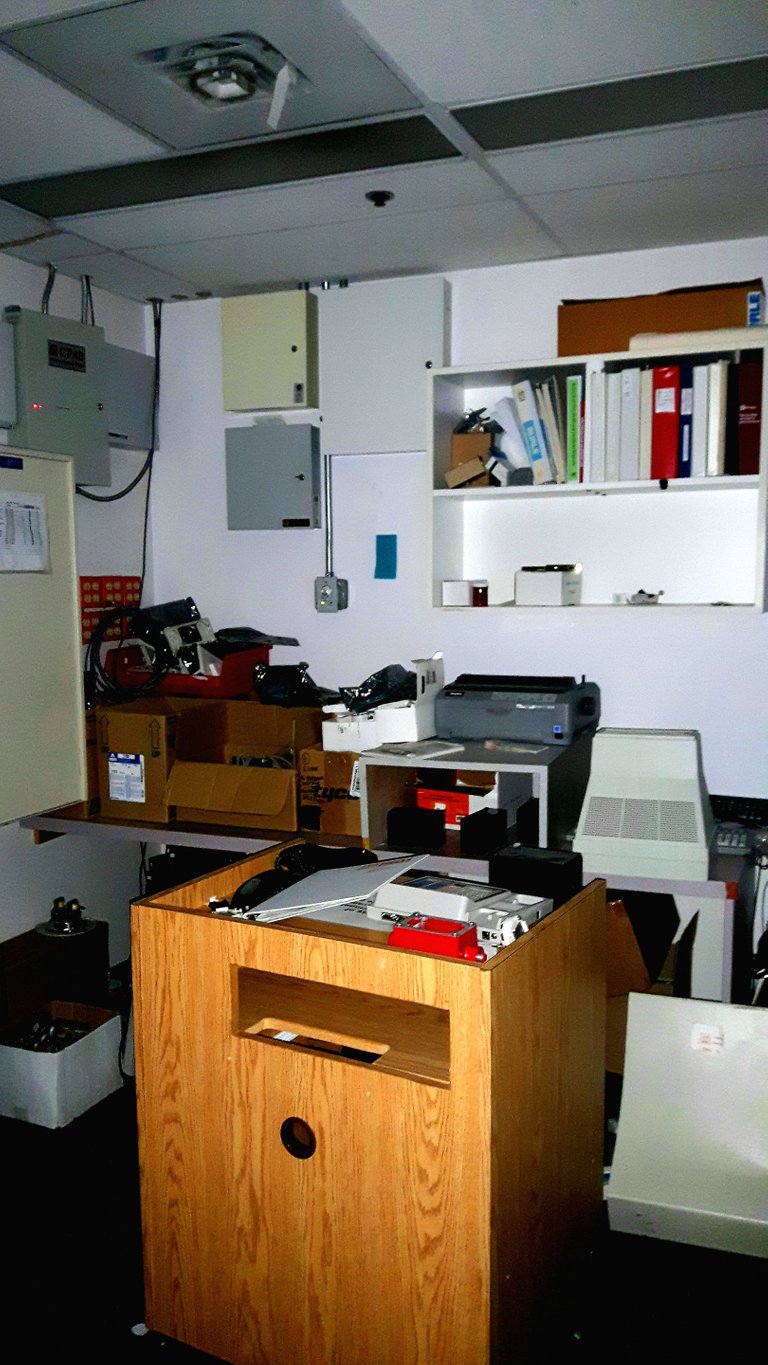 Perhaps security was utilizing this for some time?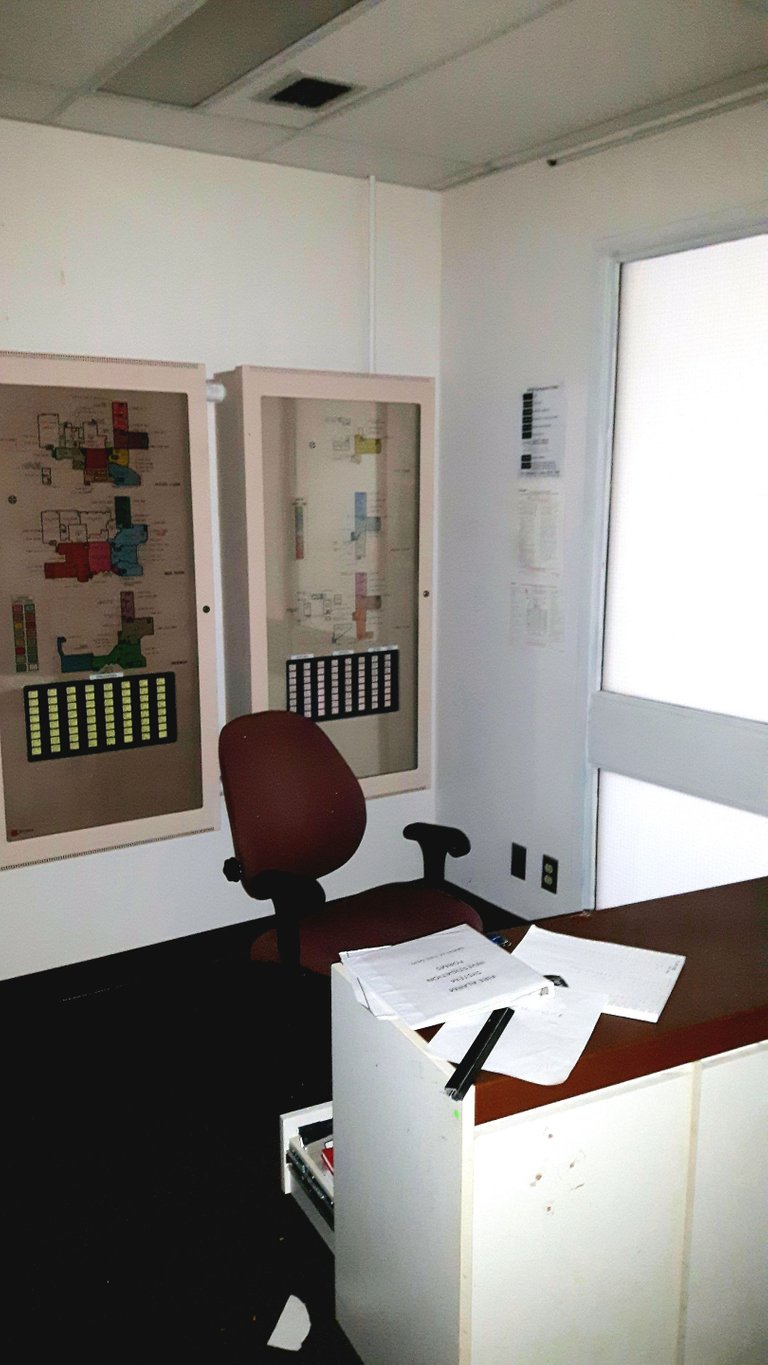 Lots of keys!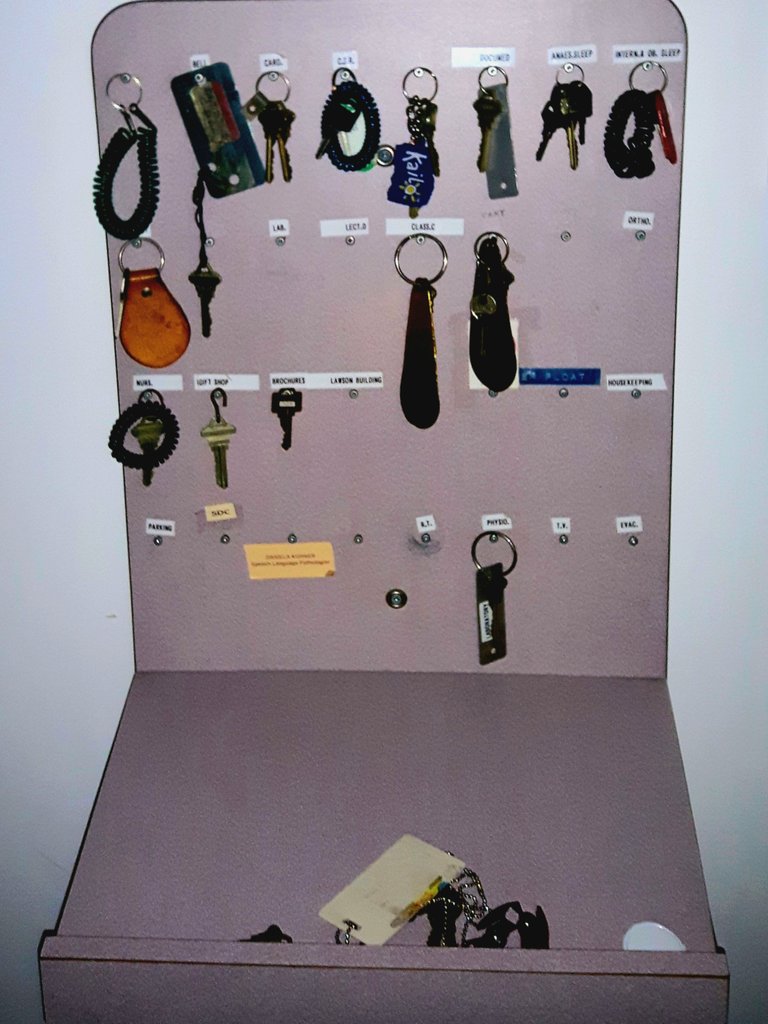 Continuing out,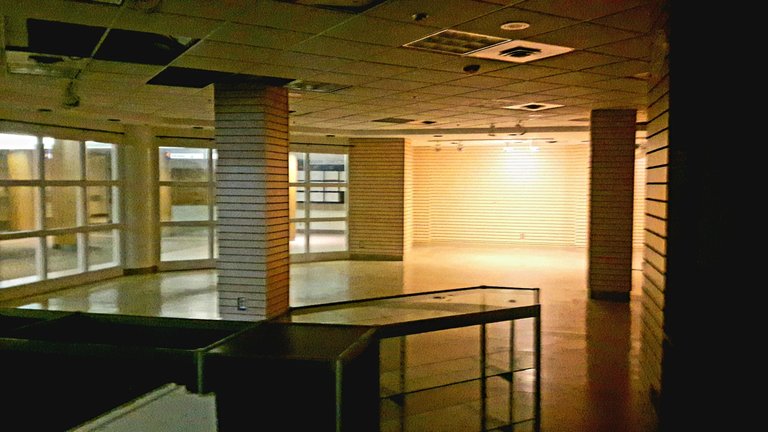 I turned behind and continued my trek!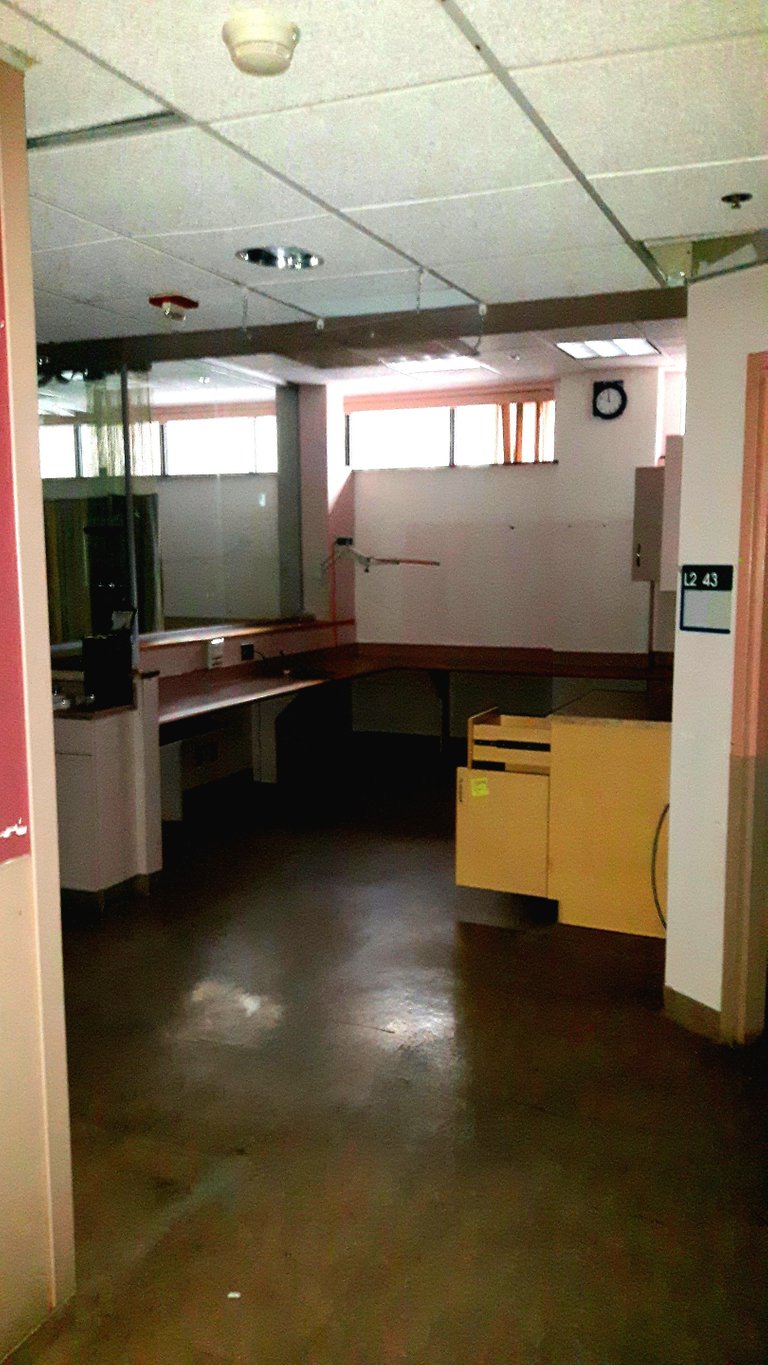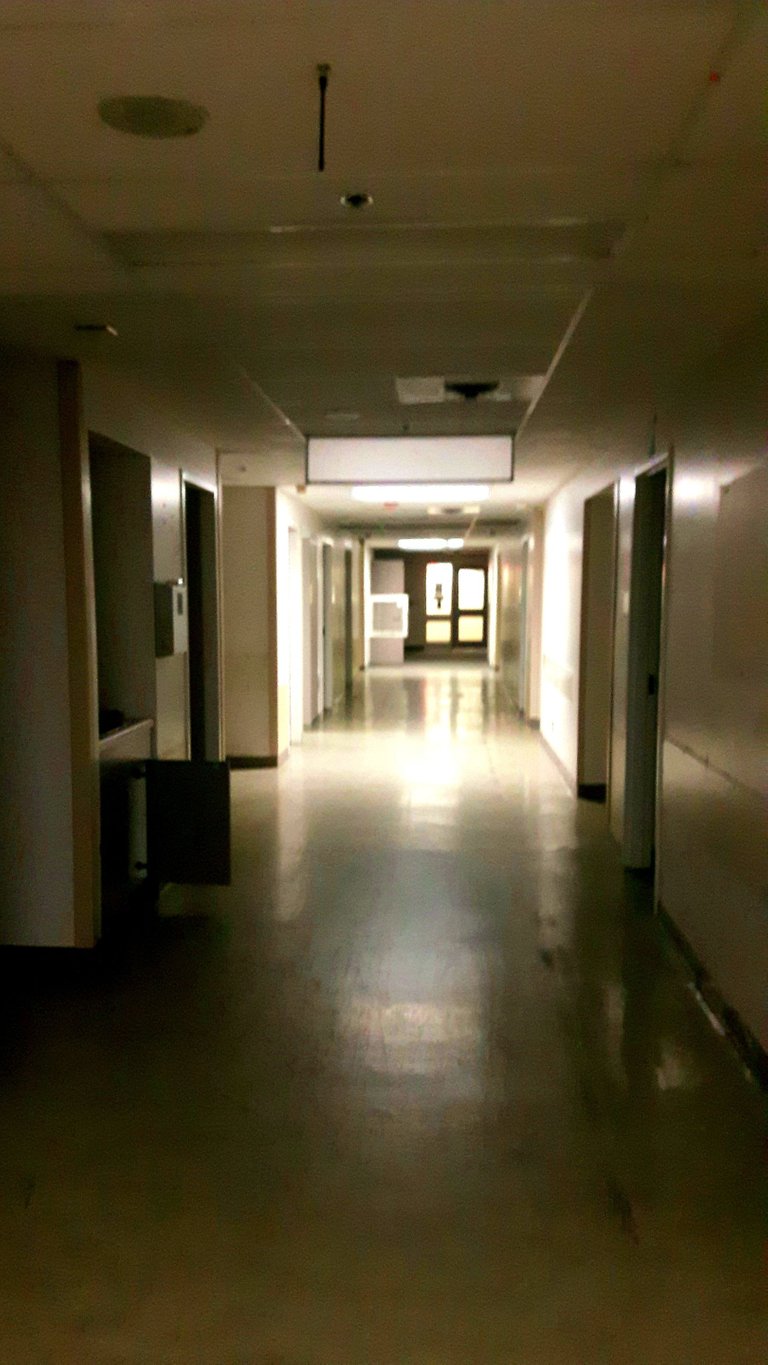 Hallway,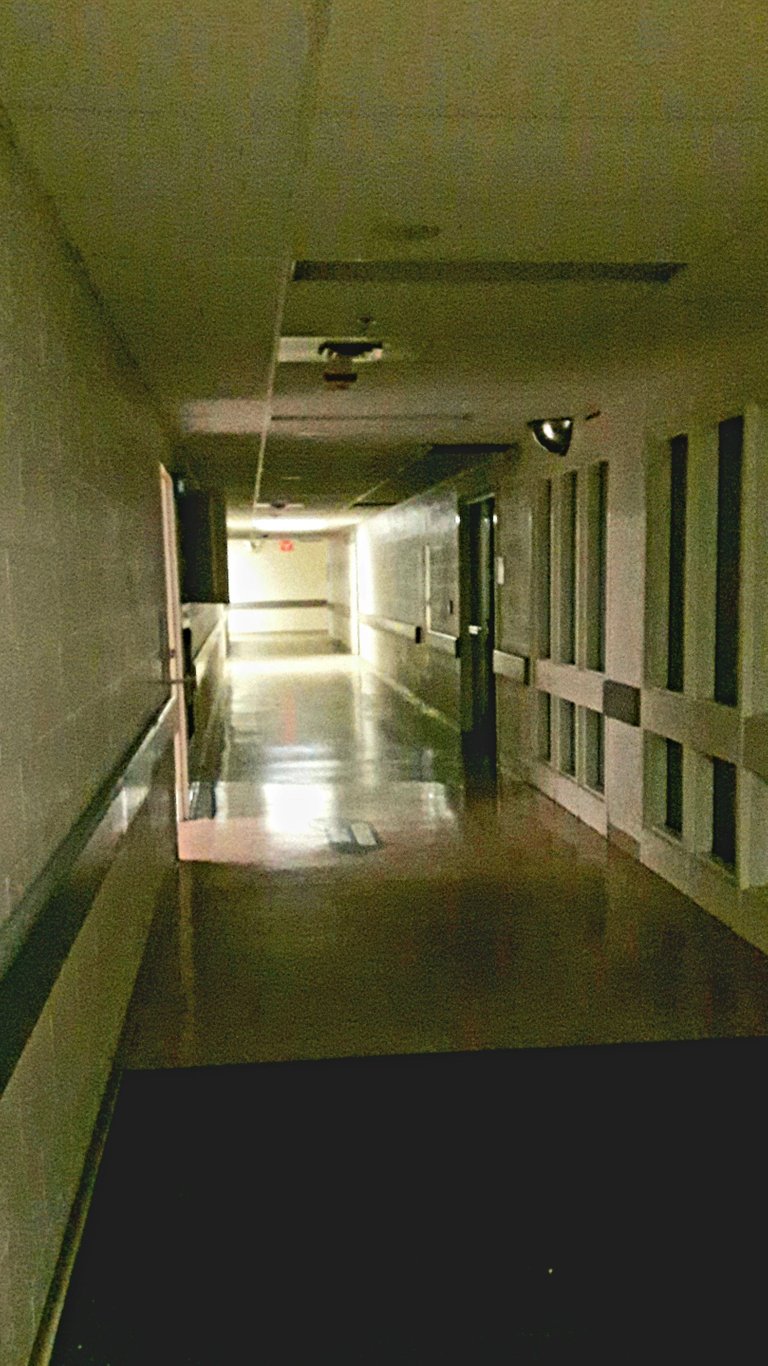 Through hallway; looking back,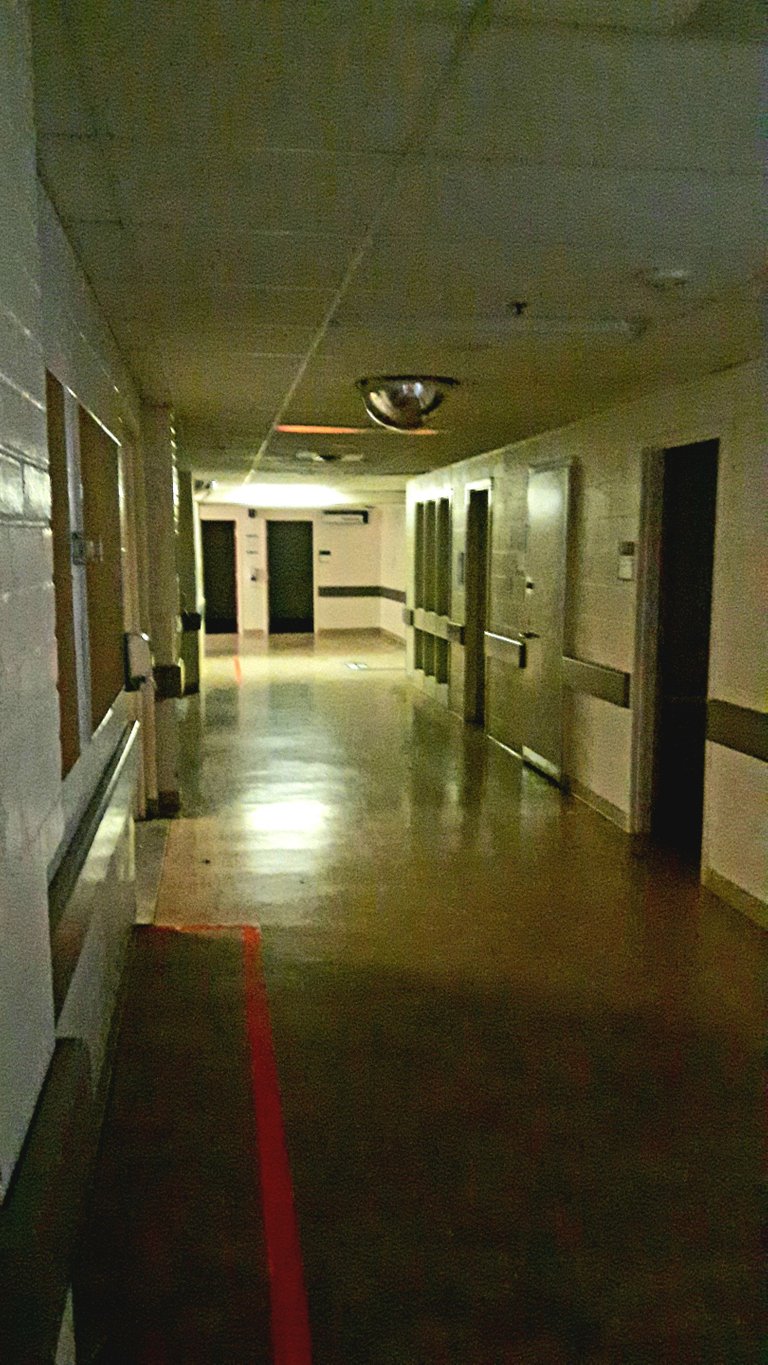 I was heading deeper and deeper past ICU, emerg, and eventually to mechanical and the basement.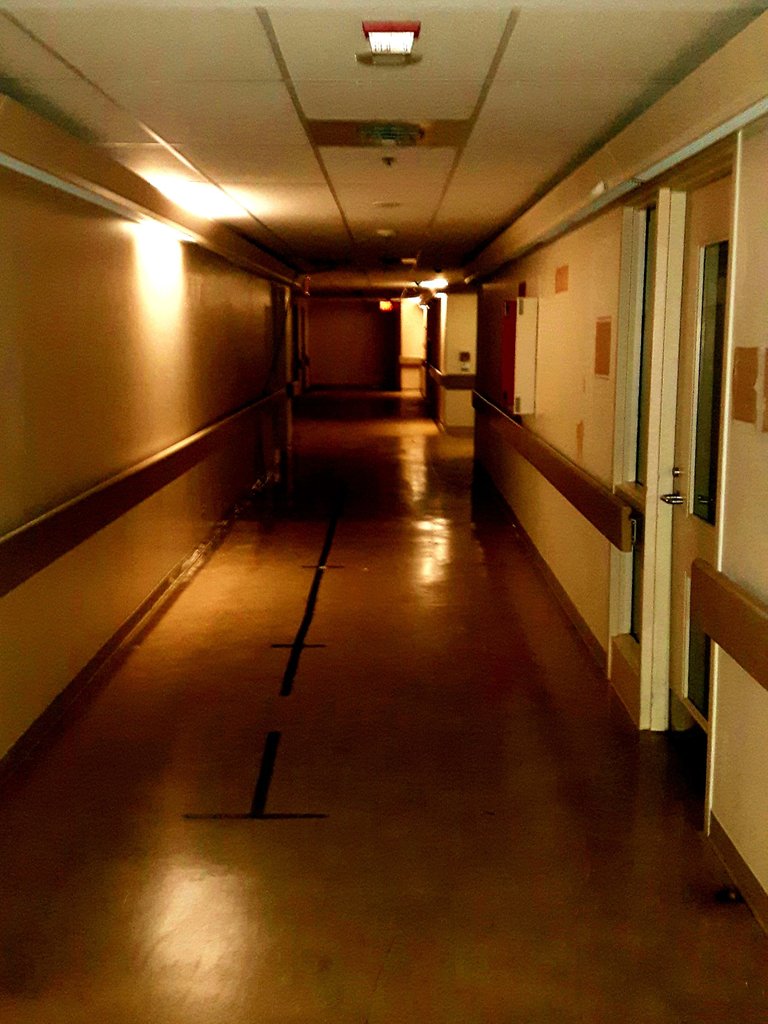 I walked around the basement level first before exploring the inner workings of the facility;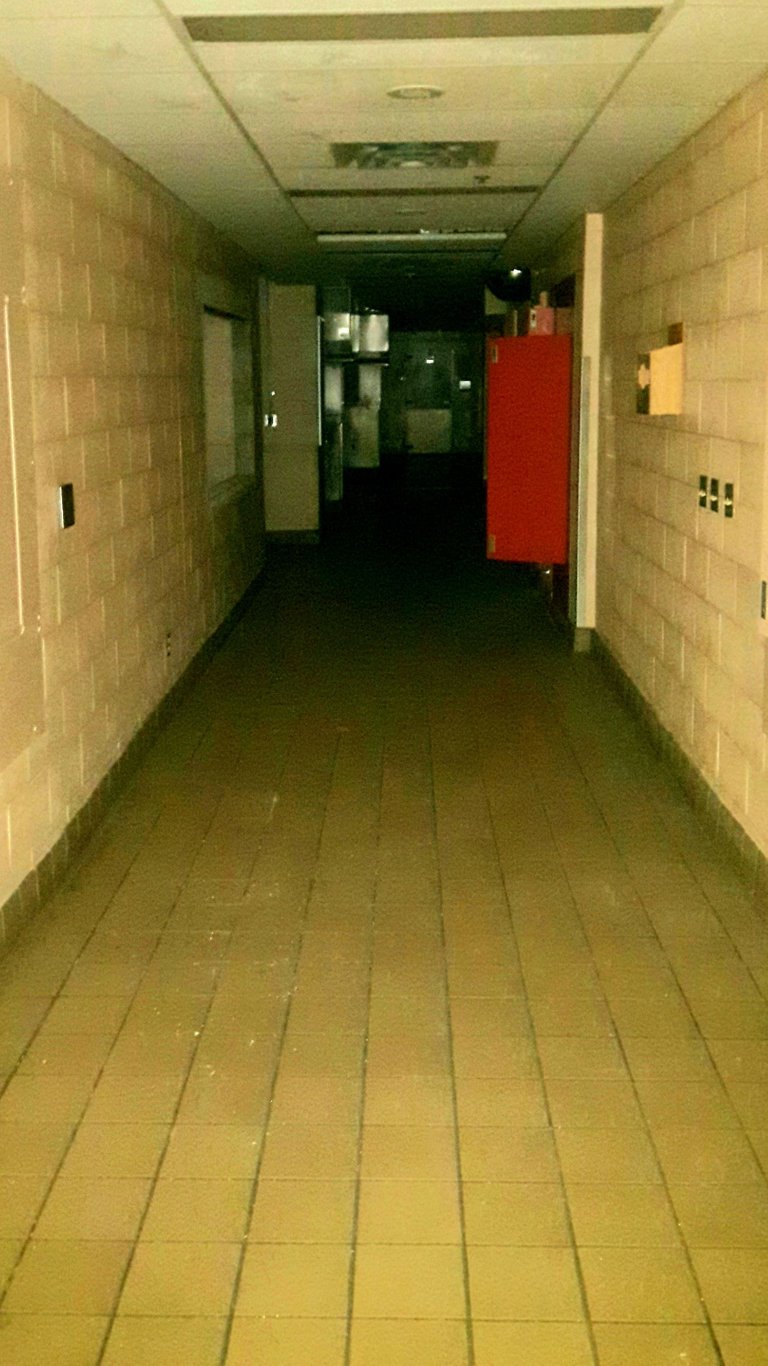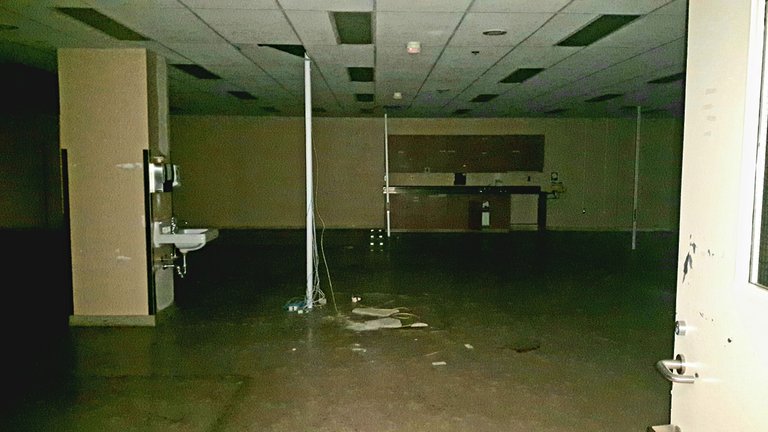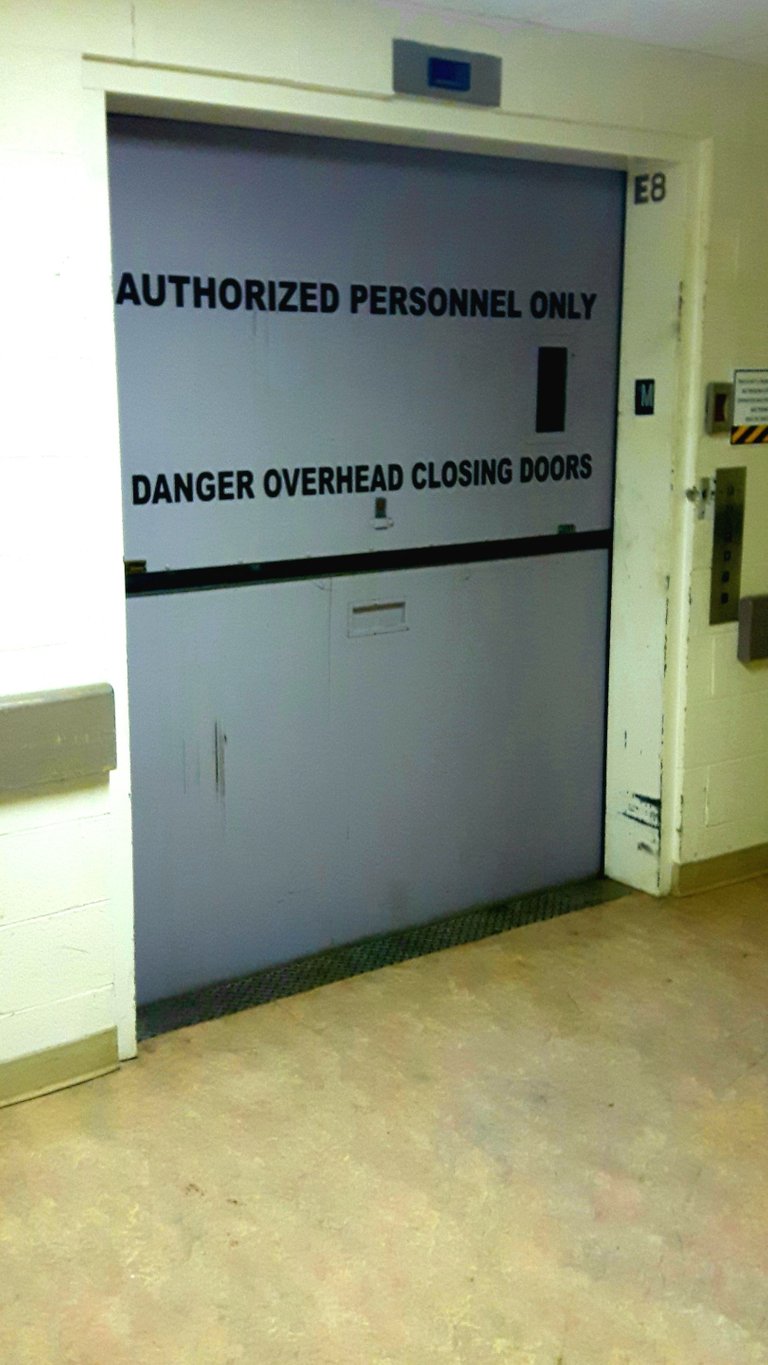 The hallway just kept getting darker and darker as I went further along...
Until I evengually came across,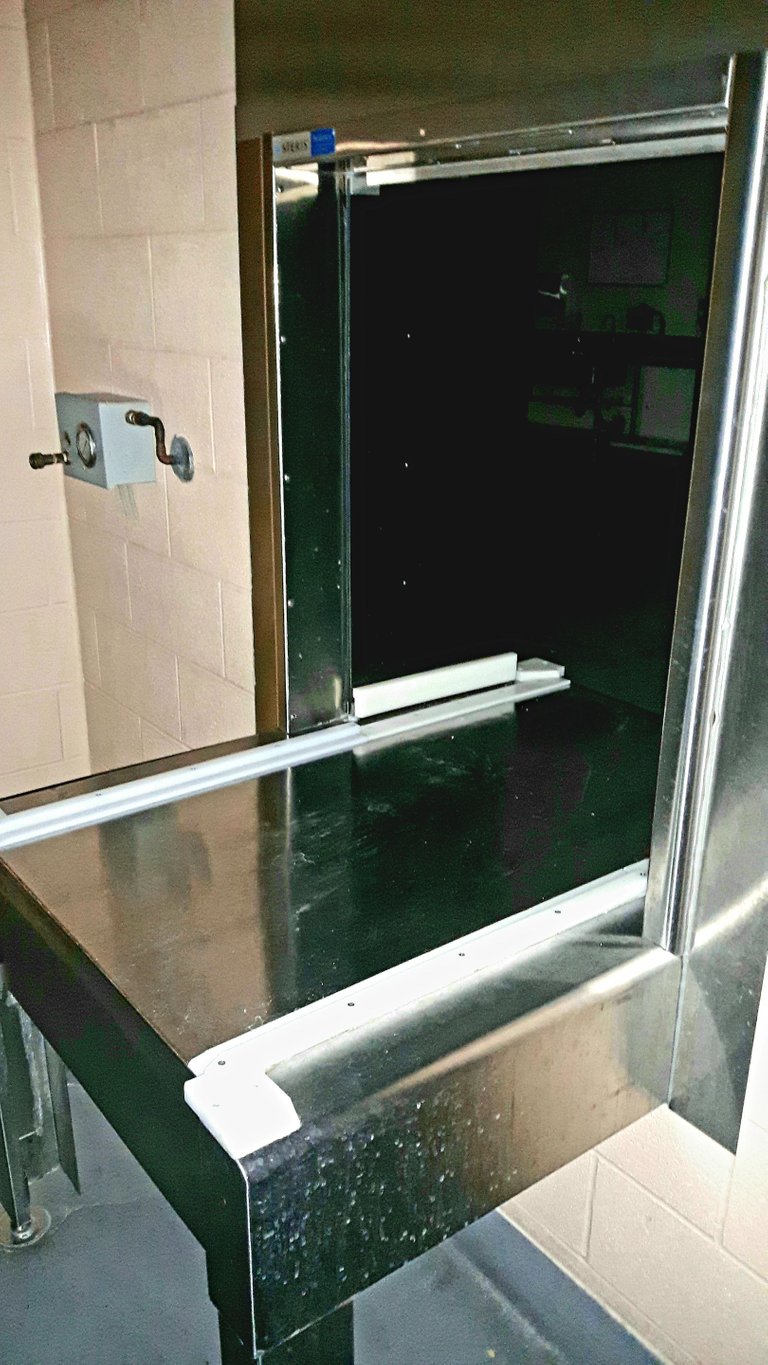 The morgue; woah!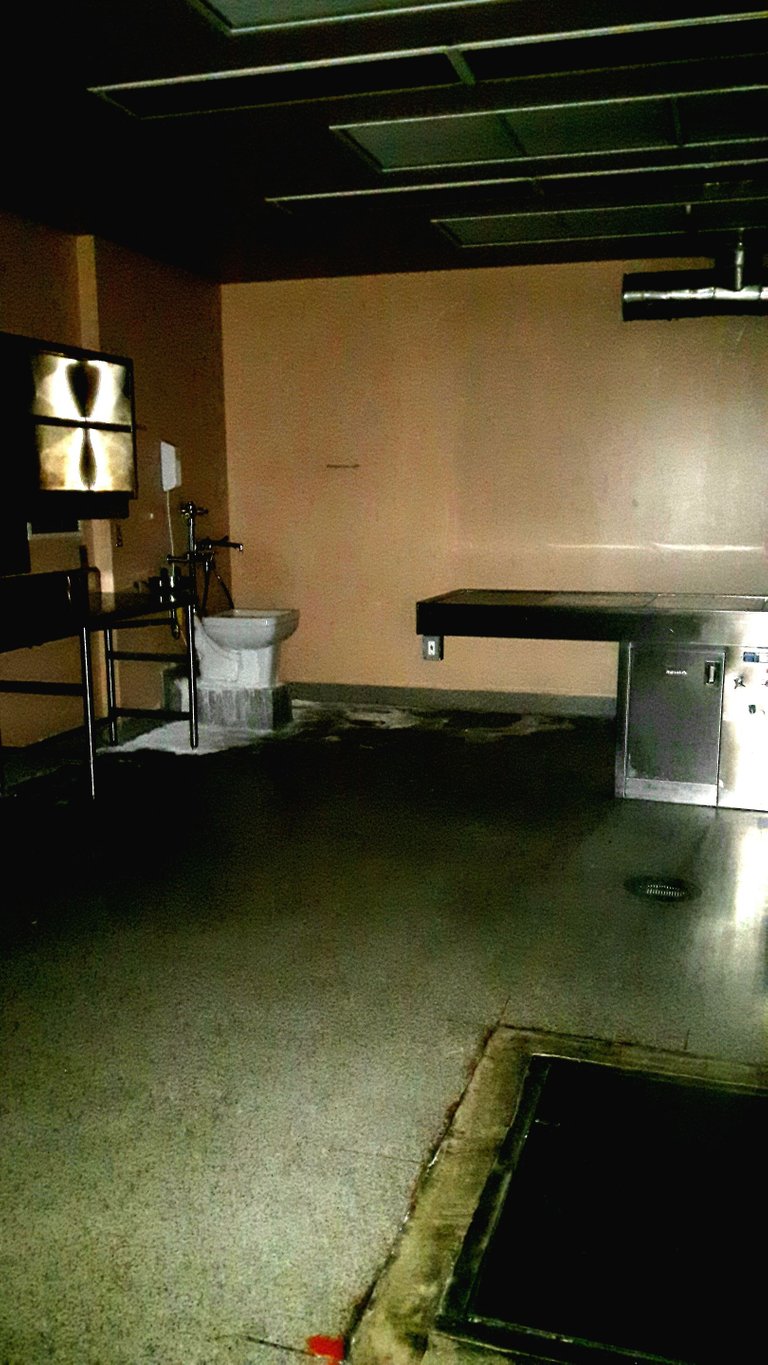 Creeping me out, I headed back down these deep dark hallways until I came across this interesting room.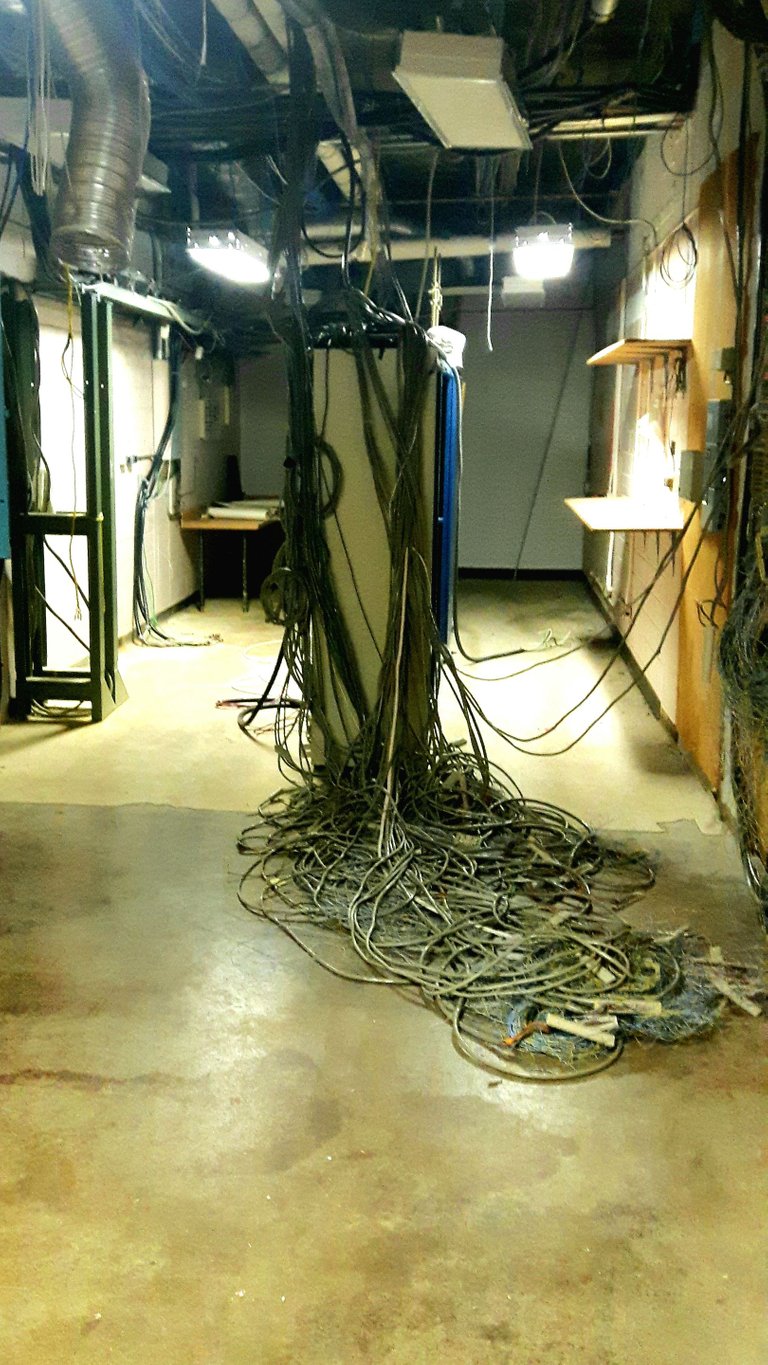 I knew I was getting close to mechanical room at this point!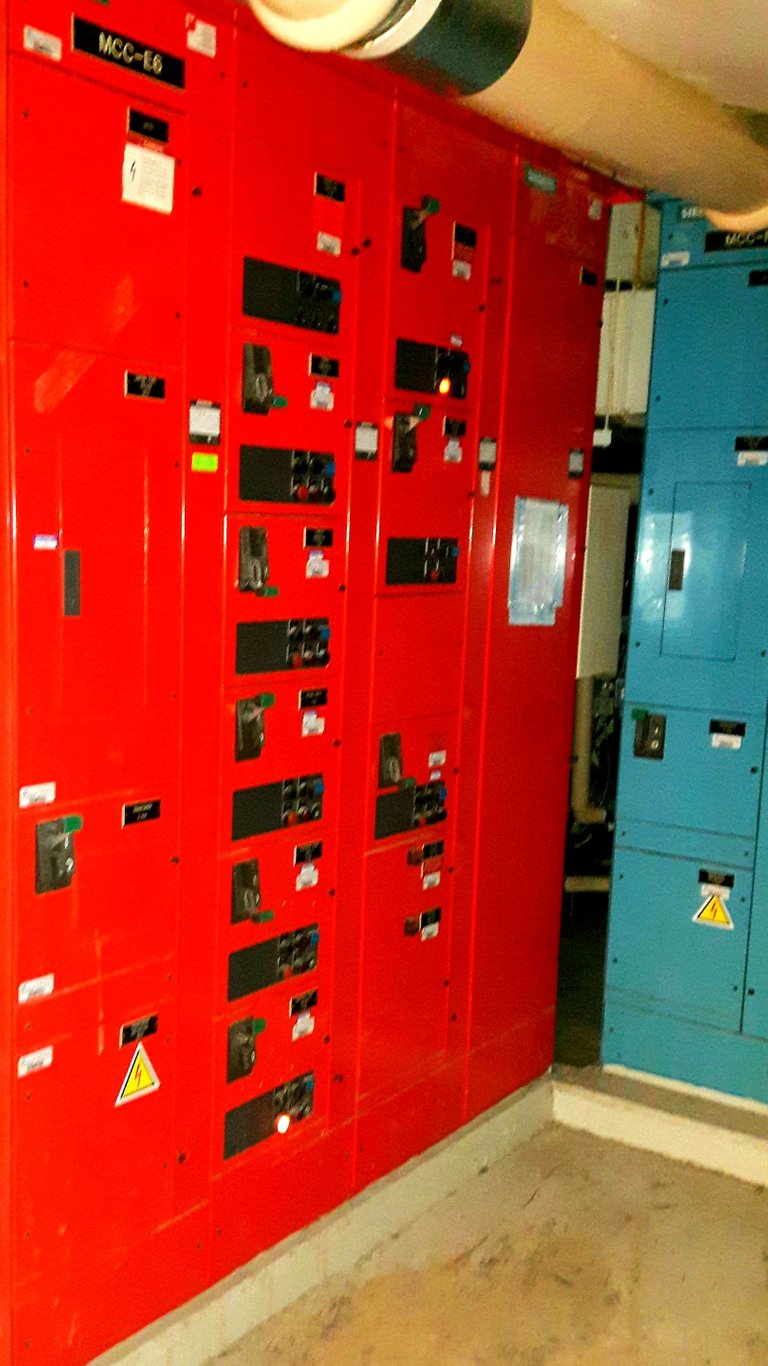 And not even one door over,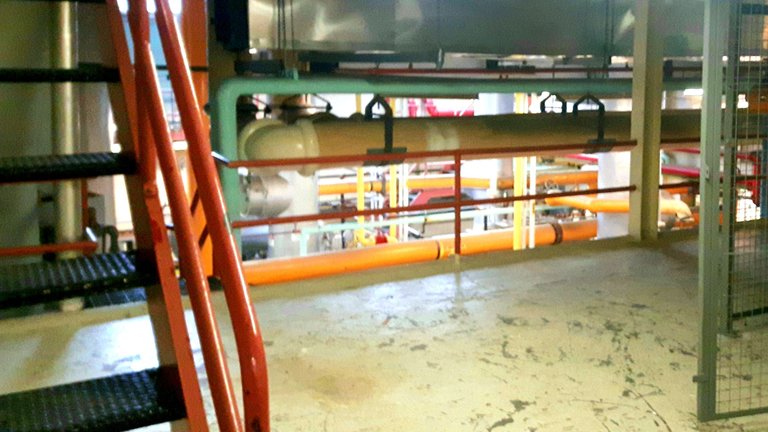 The engine and genny room!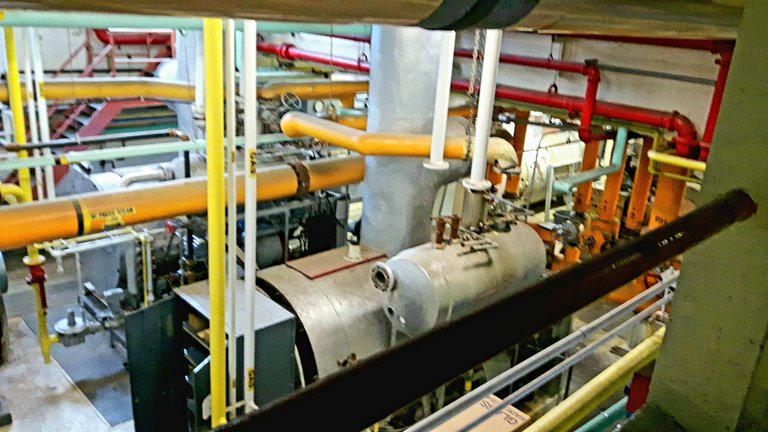 This area took the longest to explore and I WISH I had taken pictures but I was too busy with videos at the time.
Anywho, knowing my time here was nearing en, I went up to the main floor and found an Open garage inwas able to squeak out of from this room.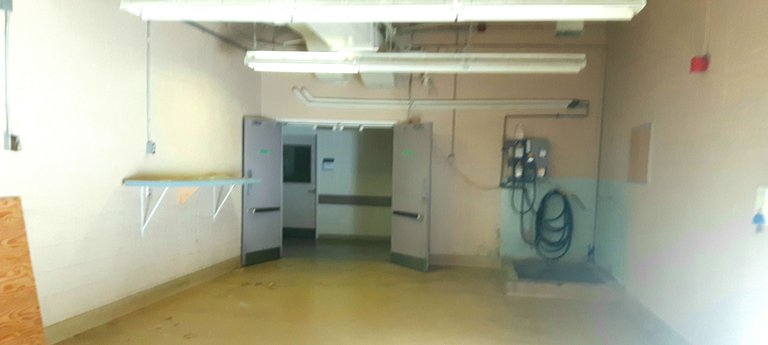 Taking one last look at the hospital, I snagged a shot of the old smokestack. Man that thing was awesome looking. It's a shame this place is gone now. It truly was a great explore. But memories are all I have now and these photos to show it. Though, I suppose that's more than most can ask for.
10/10 explore. Gonna miss this place.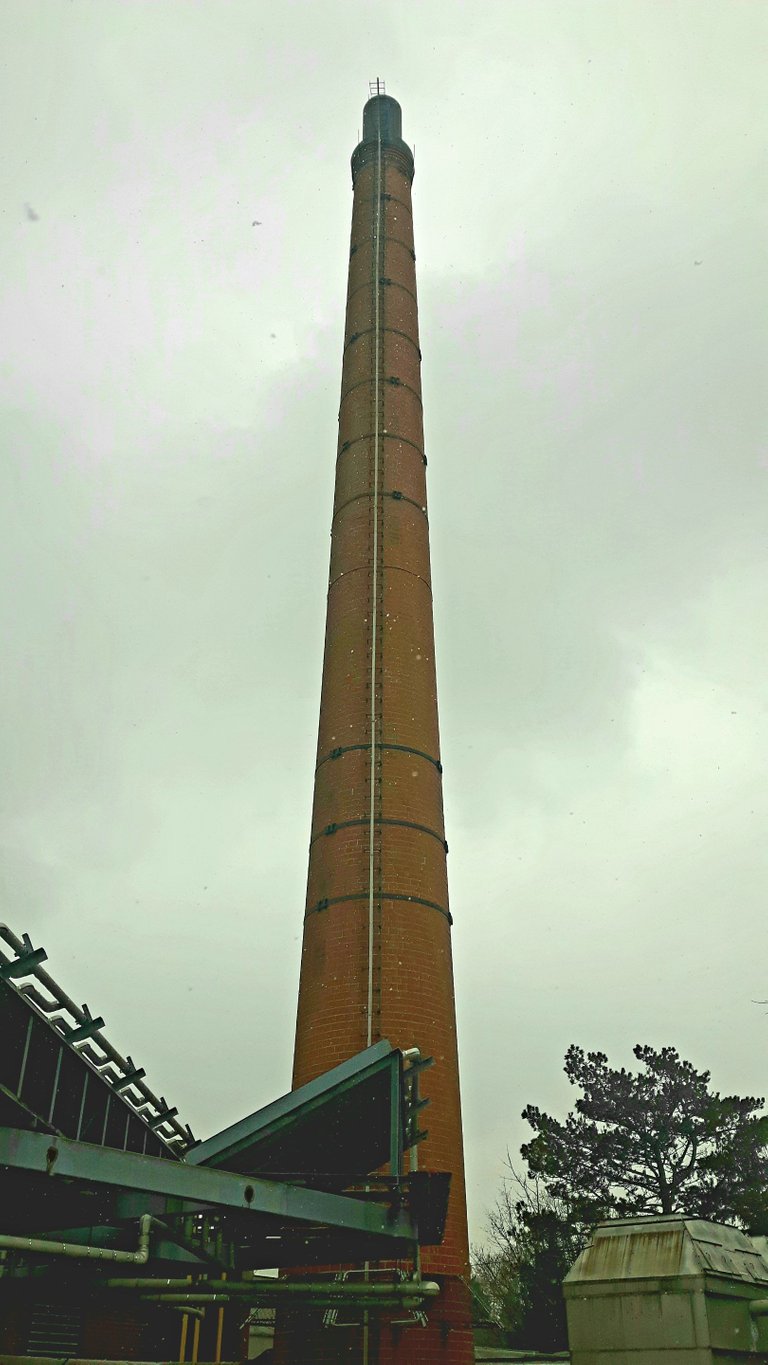 ---
The History: 1937 - 2015
In 1937, a small hospice consisting of four beds and two wards at Eighth Line and MacDonald Rd is created, and the Oakville-Trafalgar Memorial Hospital Association, formed just seven years later, in 1944. 100,000$ was raised in support of construction of a new hospital, but those plans of which were put on hold until after the second World War. Temporarily, fourteen beds and a new treatment centre is established at First St with the help of the supportive Lion's Club. Within four years, 125,000$ more is raised, a 100-member auxiliary personnel established, and a hospital constructed in 1949, opening officially as a fully functioning, fifty bed, thirteen of each staff and nurse doctored hospital with plans of a 120-bed addition. Constructed at 327 Reynolds St, this was later moved to 3001 Hospital Gate in 2015.
Throughout the 1950's, multiple additions were added to the hospital, including a four-storey addition holding a powerhouse, maintenance shop, laundry, and physiotherapy. Staff numbers now were around 250+ at this time with an over one-hundred bed increase to approximately 170 beds.
As the 1960's approached, it was clear that the population of Oakville was not slowing down, and the hospital needed further expansion. In 1963, an operating and recovery room, a chapel, obstetrical and x-ray departments, and an improved ICU with an almost doubling of the beds to now over 300 proved to relieve some propulsive stress. One year later, in 1964, the Helen Lawson Nurses' building opens, and led the hospital to its' early master plan development.
This master plan, approved by the Ontario Ministry of Health, was adapted in three stages. First, in 1979, new Emergency, Radiology, Outpatient, Admitting, Laboratory, Obstetrical and Physical Plant departments were constructed. Funding however for the next two phases were never completed due to funding issues.
In early 1986, a CAT Scanning unit is air-lifted in, and a Suite is built around. 5 years later, in 1991, the OTMH Charitable Foundation is formed and in 1993, the organization makes a one-million-dollar pledge for new equipment at the hospital. A gift shop was opened the following year. In 1992, a $49 million dollar pledge is made as part of a three-year redevelopment plant, and in 1995, the redevelopment and expansion programs were finally complete. Following this, 34 beds in a rehabilitation unit were opened.
Following a merge of the Oakville-Trafalgar Memorial Hospital with the Milton District Hospital, as advised by the Health Services Restructuring Commission, the Halton Healthcare Services Corporation was formed for the Regional Municipality of Halton.
The 2000's proved to be an interesting decade for the hospital; extending and expanding the Ambulatory and Emergency Care Units in 2001, and including new areas for ConnectCare (Pharmacy), a Diabetes Centre, an Eye Clinic, and a temporary Mental Health Crisis Unit out-patient ("Psychiatric Partial Hospitalization Program". Small minor services, including renal, were expanded in 2004-2005.
Announcing on September 19th, 2005 that the hospital would be closing its' doors in the coming years, new beds were still added to the ICU come early 2007 increasing the total number to 18.
This original hospital, at time of closure, saw upwards of 7,000 inpatients, 40,000 emergency, and 100,000+ outpatient annually. Designed originally as an acute care centre and eventually a full-fledged facility with secondary services but managing an emergency department that saw over 50,000 visits per year; this facility really did make the light shine for many up until its' final daybreak on December 13, 2015. From birth to death, there are many thoughts, feelings, and emotions I felt while exploring. Now, these too can be memories for you, just like that of which many individuals here had that many years ago; just like me.
---
Demolition Information:
https://www.insidehalton.com/news-story/7496707-demolition-of-former-oakville-hospital-about-to-begin/
---
Thank you so much again to every viewer for your continued support with all of my new postings, and a special thank you as to the amazing #urbex community that I am so thankful to have kindly actively become a part of.
---
---
Alderwood Collegiate Institute
https://peakd.com/publish?edit=trezzahn%2Ftales-of-a-place-untold-alderwood-collegiate-institute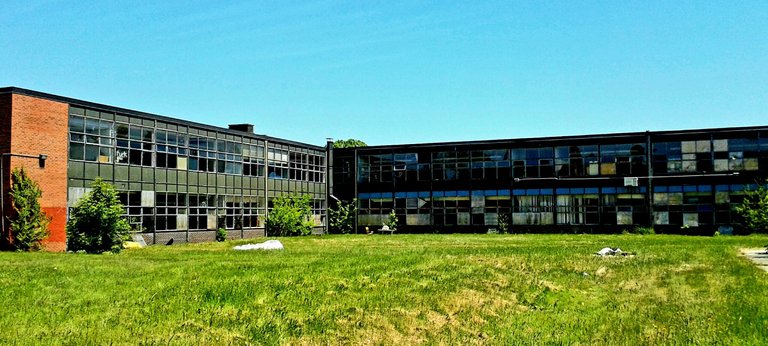 Ontario Place:
https://peakd.com/hive-104387/@trezzahn/tales-of-a-place-untold-ontario-place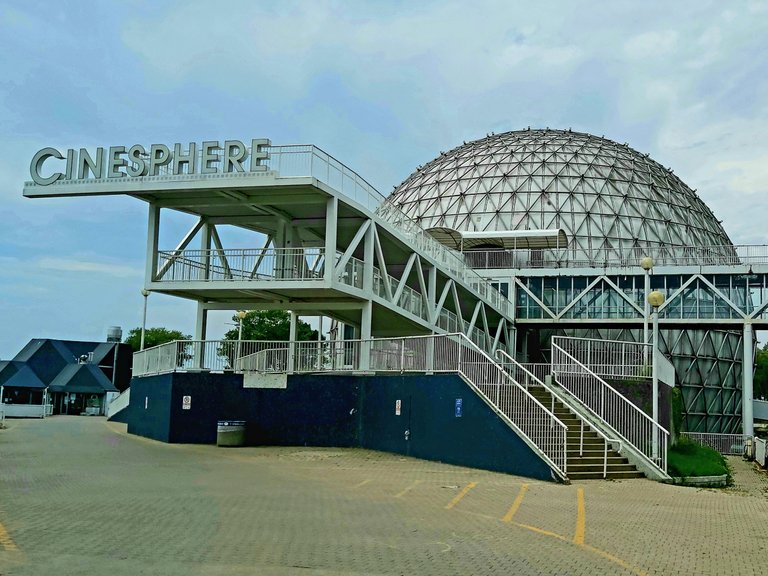 ---
---
Linseed Oil Mills:
https://peakd.com/hive-104387/@trezzahn/tales-of-a-place-untold-the-abandoned-linseed-oil-mills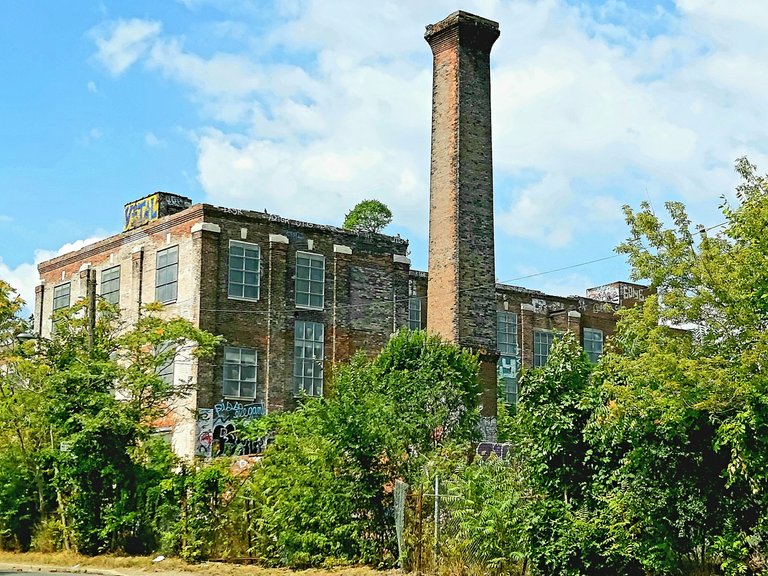 ---
Pinmapple'd
https://pinmapple.com/@trezzahn
---
---
#urbex #proofofbrain #lassecash #palnet #hive #steem #steemit #ecency #abandoned #urbanexploring #old #exploring #adventuring #urban #heritage #abandonedhospital #oakvilletrafalagar #oakvillehospital #oakvilletrafalgarmemorialhospital #trafalgar #oakville #trezzahn #pinmapple
---
---