A Hive'D Up Lifestyle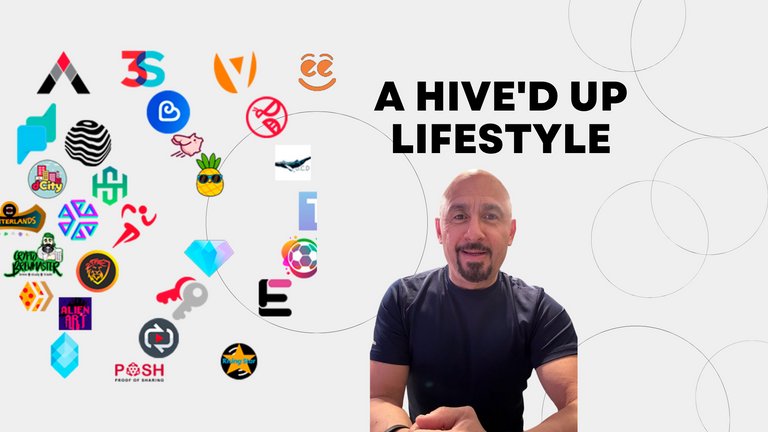 As I teeter on, if I am going to continue working remotely full time in the near future, there isn't as much of a concern about it this week as it was two weeks ago; but it remains tenuous and it is palpable.
The reason I harp of that possibility, it's not to feel any negative vibe towards it, but the opposite is actually the truth and one of the reasons why I feel fine with that happening, knowing; I can remain active on the HIVE blockchain.
Yes, it matters to me. Yes, I thought long and hard about it. Yes, I was concerned about it for a short time. I mean very short time.

We are fortunate enough to be part of an amazing ecosystem that has become a hub for those not having the inclination or time for posting long-term content.
The HIVE blockchain may be underrated in some circles, but the peg in that son of a bitch circle is well entrenched by those who believe in HIVE.
The community alone is leaps and bounds - BADASS - and the talent is fucking amazing.

All this is important, because everyday that I'm on this blockchain, I am witnessing an evolution that proves to me that I'm in the right place at the right time.
What makes my situation tricky is that I am employed, because it's necessary to pay the bills and honestly as long as I'm treated with respect I don't mind working for someone else.
Is it ideal? No! Am I looking to get out of that one day? Of course.
Everything I do on HIVE or being part of the amazing CTP Swarm is geared towards long-term control of my own finances and time without having to work for someone else unless they are a client of - mine - and more importantly, not having to rely on the government to take care of my wife and me as we get older.

As dApps like the one I'm posting on right now (the awesome @ecency) make it easier for folks on the go or when I have the opportunity to microblog on @leofinance THREADS or @dbuzz, I now have these platforms that will keep my activity consistent.
While I'm working remote, it's easier for me to throw up a longer post on Ecency or @peakd, but I can put up a thread or BUZZ on the go and as many times as I want to, if I can't be at home on a computer.
Even if it's to say hello, throw up a banner I created on Canva and make an appearance while showing some love to the communities, I still feel part of HIVE.
When I throw up a longer post, I can either boost it or promote it and that allows for it to stick around for a few days as well as use the **ListNerds **mailer to keep my activity on flow mode.

The HIVE blockchain and it's ecosystem is without question part of my life now. It's been that for a couple of years and I make sure to be active on it on a daily basis.
That hasn't changed, but what does change is life and having to navigate it and still remaining true to my health and fitness by working out 5 or 6 of 7 days a week, putting in 40 hours plus for my employers along with married life, so making use of all the dApps we have access to on HIVE is priceless.
I want to definitely point out, one of the dApps that I began using early on when I joined HIVE and that is @actifit, I was already all in on health and fitness doing high intensity interval training, so Move To Earn? HELL YEAH!!
Don't have much to say? Throw up a photo and a few words on @liketu or have a lot to say, but don't want to type shit then throw up a video on @threespeak.
@jongolson preached about this stuff years ago, before we were anywhere near activity on blockchains, with crypto or being on HIVE. Being consistent and showing up every day to grow your personal brand or a business if you have one and if you can't find something on HIVE to do that, WOW, don't know what to tell ya.

Just as important is the ability to curate content on the go, but a broad array of content and VEEWS by the @ctptalk team has provided that as a go to. I can still do everything from commenting to upvoting to sharing, so it's perfect and it will morph into a monster system along the way.
Then there is the LEO GLOSSARY, which now provides another platform to link educational and useful content to your posts, which @taskmaster4450le has put in a ton of time and work into. Tasks push, helped me realize how useful this glossary is and it's also a platform that will a behemoth once it reaches it's full potential.

There are many other platforms I haven't mentioned, because there are things for gamers, which I'm not one and music @blocktunes and @stickupboys or just folks who do their thing musically on 3Speak.
Guys like @thelogicaldude and @raymondspeaks are in the trenches bringing their constant ideas to the 'chain and it keeps things interesting to the say the least. They give hope to those looking to do things that are out the box, but no brainers.
The point is, the growth of this ecosystem has opened the door for the on the go person who has a life, but can also have a Hive'D Up Lifestyle.

Let's Gooooooooooooooooo!!!
*HIVE Image in the Divider Courtesy of @doze
I'm an upgraded member and use the following services:
CANVA.COM
IMGBIN.COM
CLICKTRACKPROFIT.COM
LEADSLEAP.COM
LISTNERDS.COM
---
---