#NoToTheSuperLeague Ep #2 (ITA/ENG/ESP/FRA)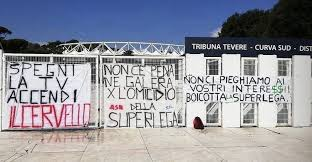 ITA
Dopo due giorni è stato acceso il fuoco a questa coda di paglia , dopo che Florentino Perez ha detto che dovrebbe salvare il calcio , i tifosi Inglesi si sono scatenati bloccando autobus e altro , nelle squadre che sono entrate in questa fantomatica Super League , come il Chelse che sono partite in maniera pacifica ma aggiungo un per fortuna è diventata un pizzico più violenta con fumogeni ecc... E ora dopo tutto questo arriva la notizia ufficiale Il Manchester City ha ufficialmente abbandonato la Super League e fra poco arriverà l'ufficialità del Chelse. E quindi chi la gioca questa coppa le 3 Italiane , il Real Madrid , il Thottenam , chi la gioca sta competizione , in Italia fra poco (mia previsione) giocheranno e vi assicuro che arriveranno le contestazioni , e secondo me L'Inter si ritirerà per non rischiare di perdere lo scudetto. E la stima dei club più tifati d'Italia saranno quelle più odiate. E la Juve , anzi Agnelli è stato riconosciuto da tutti per quello che è realmente.
ENG
After two days the fire was lit in this straw tail, after Florentino Perez said he should save football, the English fans went wild by blocking buses and more, in the teams that entered this phantom Super League, such as the Chelse who started peacefully but I add a luckily has become a bit more violent with smoke bombs etc ... And now after all this comes the official news * Manchester City has officially abandoned the Super League * and soon the ' official status of Chelse. And so whoever plays this cup, the 3 Italians, Real Madrid, Thottenam, whoever plays it is competition, in Italy soon (my prediction) they will play and I assure you that the disputes will arrive, and in my opinion Inter will retire for do not risk losing the Scudetto. And the esteem of the most popular clubs in Italy will be the most hated. And Juve, indeed Agnelli was recognized by everyone for what he really is.
ESP
Luego de dos días se encendió el fuego en esta cola de paja, luego de que Florentino Pérez dijera que debía salvar el fútbol, ​​la afición inglesa se volvió loca por bloquear buses y más, en los equipos que ingresaron a esta Superliga fantasma, como el Chelse que comenzó pacíficamente pero Agrego que afortunadamente se ha vuelto un poco más violento con bombas de humo, etc. Y ahora, después de todo esto, llega la noticia oficial * Manchester City ha abandonado oficialmente la Superliga * y pronto el 'estatus oficial de Chelse'. Y así quien juegue esta copa los 3 italianos, Real Madrid, Thottenam, quien la juegue es competición, en Italia pronto (mi predicción) jugarán y les aseguro que las disputas llegarán, y en mi opinión el Inter se retirará para hacer No te arriesgues a perder el Scudetto. Y la estima de los clubes más populares de Italia será la más odiada. Y la Juve, de hecho, Agnelli fue reconocido por todos por lo que realmente es.
FRA
Après deux jours, le feu a été allumé dans cette queue de paille, après que Florentino Perez a dit qu'il devrait sauver le football, les fans anglais se sont déchaînés en bloquant les bus et plus encore, dans les équipes qui sont entrées dans cette Super League fantôme, comme le Chelse qui a commencé pacifiquement mais J'ajoute heureusement que c'est devenu un peu plus violent avec les bombes fumigènes etc ... Et maintenant après tout cela vient la nouvelle officielle * Manchester City a officiellement abandonné la Super League * et bientôt le «statut officiel de Chelse». Et donc, quiconque joue cette coupe, les 3 Italiens, le Real Madrid, Thottenam, celui qui y joue est la compétition, en Italie bientôt (ma prédiction), ils joueront et je vous assure que les différends arriveront, et à mon avis l'Inter prendra sa retraite pour faire pas risquer de perdre le Scudetto. Et l'estime des clubs les plus populaires d'Italie sera la plus détestée. Et la Juve, en effet Agnelli a été reconnue par tout le monde pour ce qu'il est vraiment.

Like every day, start a tweet, a story, a post on a social network where you say no to the super league
Follow me on
TWITTER ---> https://twitter.com/zottone444
TORUM ---> https://www.torum.com/u/zottone444
HYPPER ---> https://hyprr.com/profile/zottone444
NOISECASH ---> https://noise.cash/u/Zottone444
READCASH ---> https://read.cash/@Zottone444
BLURT ---> https://blurt.world/@zottone444
JOIN ON TELEGRAM ITALIAN GROUP ---> https://t.me/hiveitaly
FOLLOW HIVE ITALIA ON ---> Twitter -- Instagram -- Fecebook
---
---