Report #4 on the use of funds from NFT FOR PEACE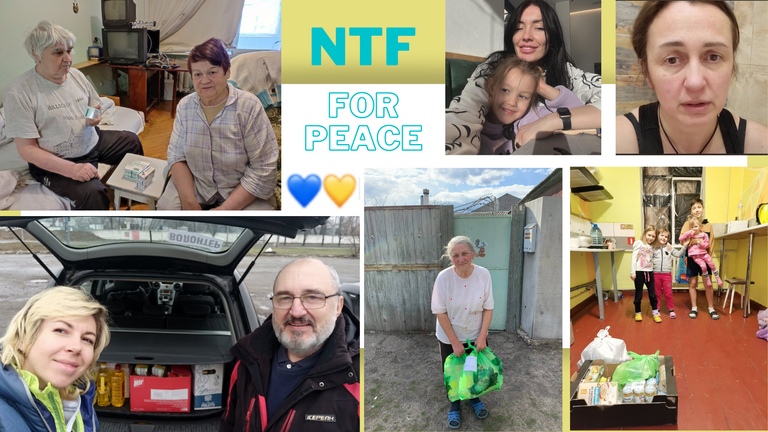 Raised
Thanks to you, NFT FOR PEACE initiative from amazing @hivebuzz team raised 280 HIVE during the reporting period. These funds were transferred to me as Donation #6.
After the conversion and sale on the cryptocurrency exchange, it amounted to UAH 9,120.80.
Usage
The incoming balance from previous donation was UAH 9,020.80.
Together with donation #6 is UAH 18,140.80
The entire amount was sent to volunteers. I supplemented it with your donuts sent directly to me. Here are screenshots of my two bank cards. They have different applications, so the costs looks different.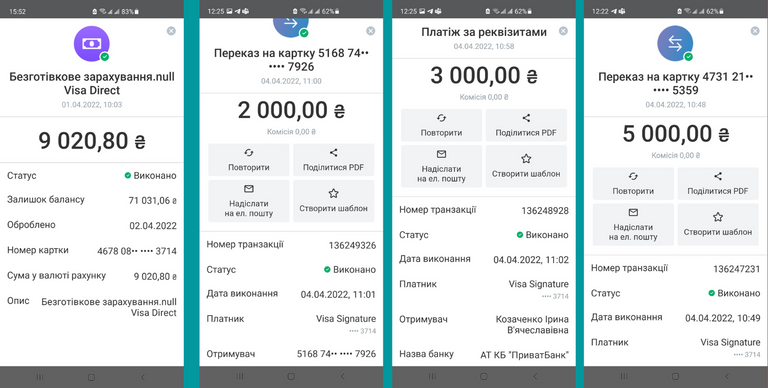 ---

Angelina (Bucha, Irpin, Kyiv) This young lady continues to deliver aid to Bucha and surroundings. The survivors rejoice like children when bread, clean water, canned food and medicine are brought to them. There is a long curfew in these areas day and night. So volunteers go as a part of a column with the military.
Egor. His bicycle team deliver medicine to elderly people who were left alone in Kyiv. The remaining funds were donated to neurosurgical equipment for the Regional Clinical Hospital in Poltava.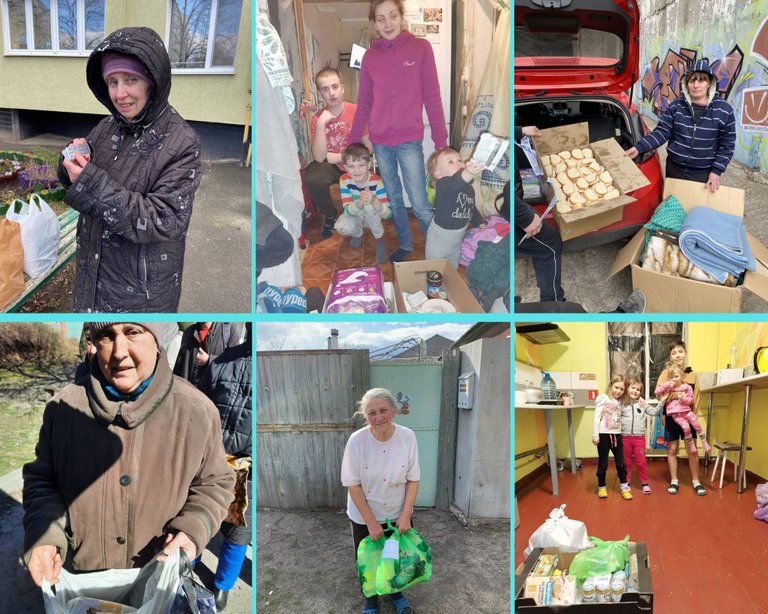 You know, Kharkiv is being shelled every day and every night. Despite this, volunteers do their great work. Find and buy medicine for elderly people that they cannot find themselves since the beginning of the invasion. They buy food and prepare meal. Humanitarian aid sent from other Ukrainian cities is also being delivered, but to deliver it around Kharkiv fuel is needed as well.
I want to share the story Irene told me. It's about a guy from their volunteering center who was delivering food and came under fire of Grad. He fell down and covered his head with his hands. Then he got in the car and drove away. He realized that his arms and legs were cut by fragments only when he started to lose consciousness. He said he did not feel pain. 😱 He has already been operated on. Doctors seized shell fragments and pieces of asphalt from his arms and leg.
Irene herself is a heroic woman. Her little daughter left town with her father for a safe place, and her mother stayed to help people. She aren't gonna leave, but she misses her sweetheart and dreams of seeing her again some day. 💔
Zaporizhia (Oksana). These stories are pure pain. The war is getting closer to this city, only 15 minutes of driving to the line of a fire. It is becoming more and more difficult for volunteers to deliver help. Oksana showed me the lists of medicines that people in the occupation ask for. There's insulin, dialysis, baby food. Long, endless list of calls for help, and the sadness of not being able to help everyone.
They managed to buy butter and send it to the region, which is an incredible fortune for the residents.
This is what the car that carries help looks like. On the way back, sometimes it is possible to evacuate local residents. Once, 11 people were driving in such a car! With tears in their eyes, they beg to take them out, but there is no way to help them all. 💔
A few days ago, a volunteer girl drove away to took help to the district center (in the occupation too), and communication with her was lost. Yesterday she climbed onto the roof of a house to call and say that she is fine. The round trip took her 4 days. And believe me, these episodes are not at all uncommon.
After all, all funds are used.

Ukrainian people from Kyiv, Kharkiv, Mariupol, Melitopol, Zaporizhia, Pology, Bucha, Irpin (and not only) say THANK YOU to all incredible people on Hive! 💛💙
---
---