Report #3 on the use of funds from NFT FOR PEACE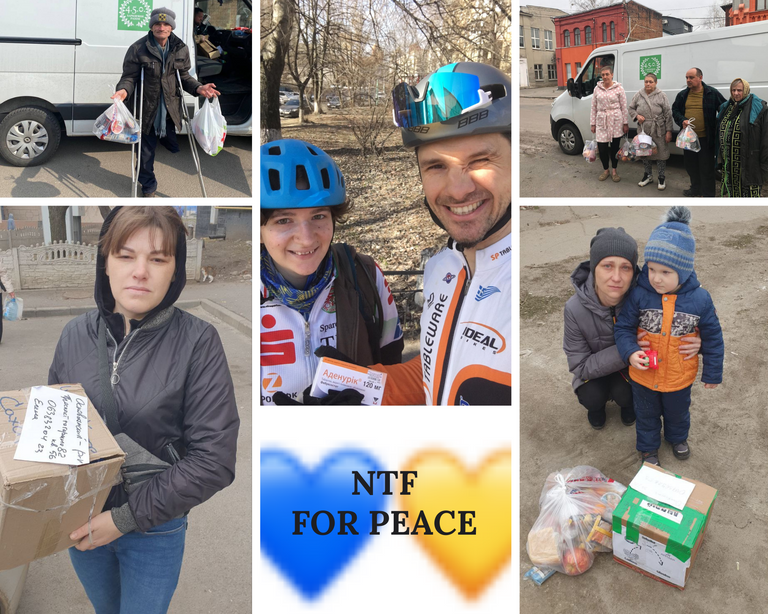 Raised
During 4 days, NFT FOR PEACE initiative raised 237 HIVE.
After the conversion and sale on the cryptocurrency exchange, it amounted to UAH 9,020.80.
Usage
The balance from previous donation was UAH 23,587.72, together with donation #5 is UAH 32,608.52
Angelina reports that she is currently engaged in parcels for mothers and children from Irpin. Also, provisions and medicines were brought to needy families in Bucha. This is all suburbs of Kyiv recently freed from the occupiers. There is now work on demining, removal of dead bodies. People will not be able to return there soon, but those who have not left need help.
Egor and his bicycle team continue their mission on the left bank Kyiv and nearest suburbs.
Kharkiv. The guys continue to deliver food, medicine and hygiene products to residents of the city and refugees. They are extremely grateful for your help! 💙💛
Zaporizhia. I transferred UAH 13,588 on 31 Mar and UAH 10,000 on 1 Apr.
They had 2 hard and busy days. Good news - for the first time ever, they could deliver bread and humanitarian aid to occupied Melitopol! Buses of the Ukrainian Red Cross with humanitarian aid stand just outside the city, occupiers don't allow them to enter. But they let volunteers to enter on their cars. The second screenshot with the cigarettes - this is "a pass"...
One of these fearless female volunteers came under fire on the road today. She is alive but in shock.😨
They also delivered food to an area on the other bank of the river, There, where people did not receive food for a whole month because of the blown up bridge.
After all, the balance is UAH UAH 9,020.80.

Thanks to all Hiveans who bought NFT FOR PEACE! Your donations helps people right now.
From Kyiv, Kharkiv, Mariupol, Melitopol, Zaporizhia, Pology, Bucha, Irpin - Thank you! 💛💙
---
---