Report #2 on the use of funds from NFT FOR PEACE (Updated)

Raised
All right, ladies and gentlemen, buckle up, because I have an exciting news. During another 2 days, NFT FOR PEACE initiative introduced by incredible @hivebuzz team raised 3,551.808 HIVE (910 HIVE and 2,795 HBD)! This is absolutely unbelievable!
We have to give special thanks to @blocktrades for buying every NFT from the cities at the highest price! 💖
After the conversion on the cryptocurrency exchange, I received BUSD 1,882.46 and USDT 1,878.90.
After the sale it amounted to UAH 123,586.72.
Usage
I had to withdraw this amount in a few transactions to 2 cards, because of restriction of the cryptocurrency exchange.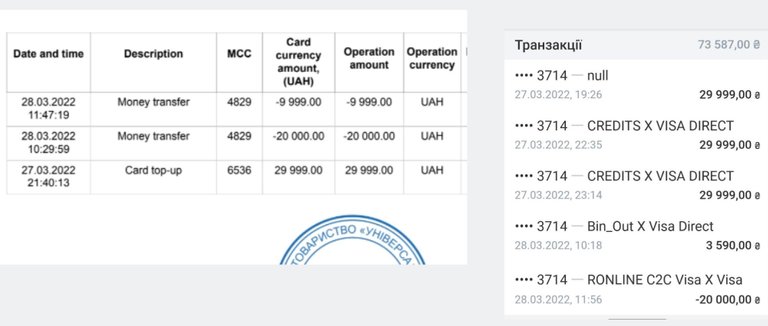 The first amount of UAH 20,000 went to Angelina, and was spent on medicines for people from the Kyiv region, food for the medical staff of the hospital. She cooked them cutlets and pancakes herself! Also, she prepared a package for a mother with two twin girls who will soon be 2 years old. They fled from Irpin few weeks ago having only what they are wearing, and now they live in a small village in Zhytomyr region.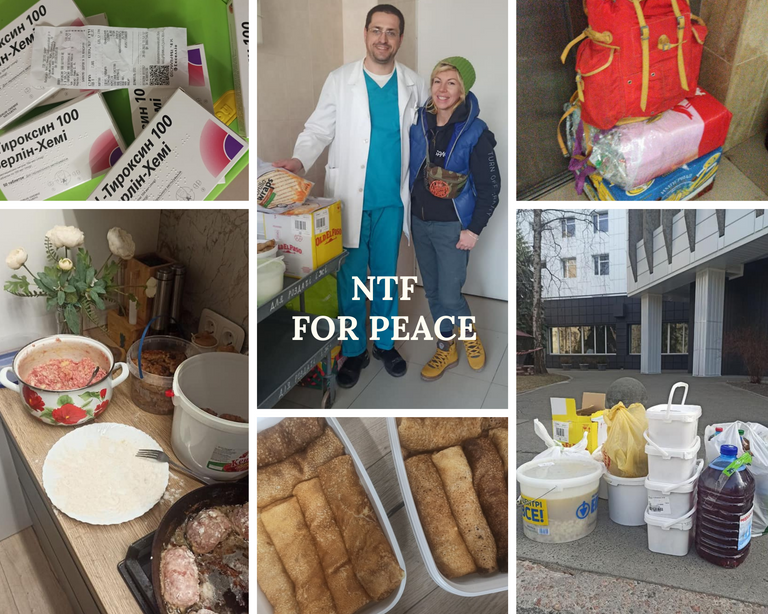 Update from 29 Mar. the parcels reached the recipients.
---
Another exciting news - I finally found Iren Storm - a contact in Volunteer organization in Kharkiv! It was created by activists on February 25. These are incredible and very brave people. Some of them used to work in the children's charity fund, some just sent the children to a safe place, and stayed to help. In the early days, they provided food to several hospitals and a maternity hospital. Now they help a very large number of children and civilians in Kharkiv. From the locals, they assembled a car crew that provides delivery.
I transferred UAH 29,999 to them, and I wish you could hear the voice of Iren. They have been looking for money for two days to fill up the cars, and judging by the screenshot she sent to me, they had no money at all. Tomorrow I will transfer the next amount to them.
Update from 29 Mar. Another amount of 30,000 transferred to Iren. Her photo report is really big, here are some photos:
---
The third amount of UAH 20,000 just sent to a volunteer from Zaporizhia, a city on the in southeastern Ukraine. She was born in Abkhazia, but in 1993 her family fled the country because of the war conflict, they came to Ukraine and live here ever since. Before the war, she was a confectioner. She hasn't left because she cannot leave her 93-year-old grandmother. Now she and her new team bakes bread, buys baby food and diapers, and sends them to the region. To villages where neither Humanitarian Convoy nor regular deliveries reach. What she told me on the phone breaks my heart. But we need to be strong, so she, like all of us, gives all her time and energy to people in need.
I believe I can provide the report for the 3rd amount tomorrow.
Update from 29 Mar. Everything is packed and ready to be sent tomorrow. Food, hygiene items, diapers and medicines to villages where there are no pharmacies. But the worst thing is that these villages are under occupation, and it is very difficult and dangerous to deliver humanitarian goods there. As I said, these are incredible people, heroes.
---


The balance is UAH 53,587.72.
Update from 29 Mar. The balance is UAH 23,587.72.
Still looking for someone that can deliver help in Chernigiv, but looks like the situation there is very sad.
Thanks to all Hiveans for you big hearts and incredible support! We can stop war, and we can save lives. Indeed, we're already doing that.
Thank you! 💛💙
---
---