The FutbolCoin ~ Social Network That Monetizes Human Interest In Football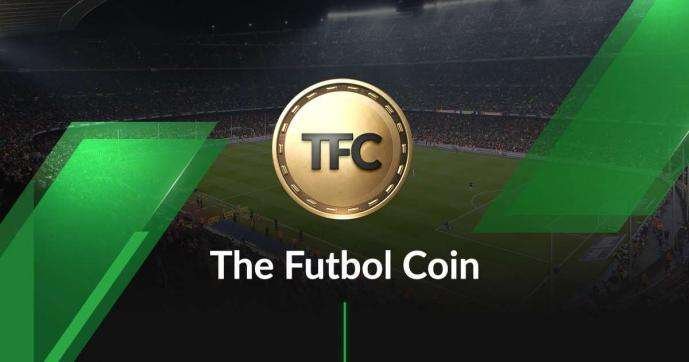 Lately, the sportstalk community has been doing their best to reward user who uses their frontend to hop engagement in the platform, interact and connect with other sports lovers within hive. I see the sportstalk community excelling and making it big in the future and being a part of the community and reading a few articles from their frontend, I know their strive to make that place worthwhile.
The FutbolCoin
TheFutbolCoin with the ticker TFC is a token from Canada and is created on the Stellar blockchain.
The FutbolCoin is a social network project dedicated to the football community and fans.
The FutbolCoin project provides a single platform TheFutbolApp where all the fans, players, coaches, and clubs join and obtain access with one another during a single click.
Using this app, football lovers and fans no more need surfing the net and following up the many news about football or a particular club because all information and knowledge about football, related events, video highlights, ongoing matches, live scores are all available within the TFC App.
TheFutbolApp (TFA) by pandaHAUS was built to provide a single platform allowing players, coaches, clubs, and fans to engage in the digital activities surrounding football that are important to them in a simple and powerful way.
By implementing TheFutbolCoin (TFC), we build a transactional framework and digital economy within that app that allows the wealth of the community to be shared with its participants, contributors, and stakeholders
Price And Supply Of TFC Token
The total supply of TFC token is 1 500 000 000 and the fully diluted market cap of TheFutbolCoin is currently $726 783 022.
The current price of TheFutbolCoin (TFC) as at the time I wrote this is $0.485067 with a trading volume of $15 963 in the last 24 hours.
You can buy around 206.3890 TFC tokens now for $100
The Chart
How To Earn TFC?
The good thing about TFC is that it is a digital asset used to pay for ads within their ecosystem; The TFA.
TheFutbolCoin (TFC) is a Digital Asset like Bitcoin used as the only way to pay for ads within TheFutbolApp (TFA). TFA users can earn the token within the app and spend at merchants who want to access our userbase. This is our way to share ad revenue with our users.
source
Even advertisers get TFC by simply making their goods and services available for purchase, isn't that interesting?.
Advertisers get TFC by making goods and services available for purchase within the TFC wallet which is linked to or embedded in the TFA app.
TFC can also be used to purchase goods and services from participating vendors within TFC wallet (similar to WeChat pay) or for items in TheFutbolApp store such as tickets, merchandise, and other goods supplied by organizations who want to reach our community with offers or get TFC when selling their products.
TFC can also be donated to youth wishing to participate in football via our crowdfunding system or used by recreational youth players/coaches/parents to list their club and roster within the app and enable live scores and video highlights for their club.
To read more about this social network and its token, you can visit its website here
You would know more about the project and other information in the whitepaper or deck.
SPANISH
Últimamente, la comunidad de sportstalk ha estado haciendo todo lo posible para recompensar a los usuarios que usan su interfaz para interactuar con la plataforma, interactuar y conectarse con otros amantes de los deportes dentro de Hive.
Veo a la comunidad de sportstalk sobresaliendo y triunfando en el futuro y siendo parte de la comunidad y leyendo algunos artículos de su interfaz, sé que se esfuerzan por hacer que ese lugar valga la pena.
El FutbolCoin
TheFutbolCoin con el símbolo TFC es un token de Canadá y se crea en la cadena de bloques Stellar.
FutbolCoin es un proyecto de red social dedicado a la comunidad y los aficionados del fútbol.
El proyecto FutbolCoin proporciona una plataforma única TheFutbolApp donde todos los fanáticos, jugadores, entrenadores y clubes se unen y obtienen acceso entre sí con un solo clic.
Al usar esta aplicación, los amantes del fútbol y los fanáticos ya no necesitan navegar por la red y seguir las muchas noticias sobre el fútbol o un club en particular porque toda la información y el conocimiento sobre el fútbol, ​​eventos relacionados, videos destacados, partidos en curso, resultados en vivo están disponibles dentro del
Aplicación TFC.
TheFutbolApp (TFA) de pandaHAUS se creó para proporcionar una plataforma única que permite a los jugadores, entrenadores, clubes y aficionados participar en las actividades digitales relacionadas con el fútbol que son importantes para ellos de una manera sencilla y poderosa.
Al implementar TheFutbolCoin (TFC), construimos un marco transaccional y una economía digital dentro de esa aplicación que permite compartir la riqueza de la comunidad con sus participantes, contribuyentes y partes interesadas.
Precio y suministro de token TFC
El suministro total de tokens TFC es de 1500000000 y la capitalización de mercado completamente diluida de TheFutbolCoin es actualmente de $ 726783 022.
El precio actual de TheFutbolCoin (TFC) en el momento en que escribí esto es de $ 0.485067 con un volumen de operaciones de $ 15 963 en las últimas 24 horas.
Puede comprar alrededor de 206.3890 tokens TFC ahora por $ 100
El gráfico
¿Cómo ganar TFC?
Lo bueno de TFC es que es un activo digital que se utiliza para pagar anuncios dentro de su ecosistema;
El TFA.
TheFutbolCoin (TFC) es un activo digital como Bitcoin que se utiliza como la única forma de pagar los anuncios dentro de TheFutbolApp (TFA).
Los usuarios de TFA pueden ganar el token dentro de la aplicación y gastarlo en comerciantes que quieran acceder a nuestra base de usuarios.
Esta es nuestra forma de compartir los ingresos publicitarios con nuestros usuarios.source
Incluso los anunciantes obtienen TFC simplemente haciendo que sus productos y servicios estén disponibles para su compra, ¿no es interesante?
Los anunciantes obtienen TFC al hacer que los bienes y servicios estén disponibles para su compra dentro de la billetera TFC que está vinculada o incrustada en la aplicación TFA.
TFC también se puede usar para comprar bienes y servicios de proveedores participantes dentro de la billetera TFC (similar al pago de WeChat) o para artículos en la tienda TheFutbolApp, como boletos, mercadería y otros bienes suministrados por organizaciones que desean llegar a nuestra comunidad con ofertas u obtener
TFC al vender sus productos.
TFC también se puede donar a los jóvenes que deseen participar en el fútbol a través de nuestro sistema de financiación colectiva o ser utilizado por jugadores / entrenadores / padres juveniles recreativos para enumerar su club y lista dentro de la aplicación y habilitar resultados en vivo y videos destacados para su club.
Para leer más sobre esta red social y su token, puede visitar su sitio web aquí
Sabría más sobre el proyecto y otra información en el documento técnico o en la presentación.
~Crypto Baby
Posted Using LeoFinance Beta
---
---