Why Utilize The Leofinance Frontend?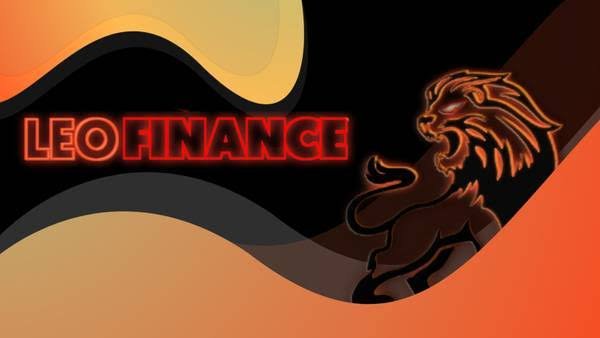 It's a beautiful week and this week promised to be worthwhile ;)
I have been fluctuating for a while now, and it's high time I settle again.
Yes for this week I want to ignite my engaging spirit. I have missed it for a while now.
With so much taking my time both online and offline, I have been passive with my engagement and I am not liking it.
Start With Leofinance?
For this week, I was thinking of building a domain on leofinance :), If not for anything but for the fact that I get inspired every time I see @taskmaster4450 topping the engagement list. Every time it makes me wonder and ask myself if there is ever anyone that can beat him to that position? Probably that would happen if he went on vacation or something because it seems his world revolves around Leo/hive and there is no better way to define, commitment and hard work. And if those two words were to be in human form then you have @taskmaster4450 as one 😁
Though each time I see his name up there I am always motivated to do more but also every time I keep seating at the bottom :( no hard feelings😁
So for this week, I am starting with leofinance, and nothing anyone would do offline to change my plans and goals for this week. And I hope by the end of this week my secret goals are achieved.
Enough of me and let's talk about the community now. Why do you think more users comment or engage through the leofinance interface and not from peakD or hive. blog even when the posts appear on that interface as well?
Well here is a simple truth and what I discovered over the past weeks I have been utilizing the leofinance layer;
SPEED
The speed in the leofinance interface is second to none. If by any mistake you click the Publish Button when you haven't finished with your post or there was an error to be corrected then sorry to put it to you that your post would have been submitted before you even realize it, likewise your comments too. It seems the speed on leofinance and every command button responds within a split second. If you doubt me ask @nathanmars :)
FOCUS
You know when a user utilizes the leofinance frontend then it probably means he or she doesn't need any other distractions as per posts or articles from other fields, it's either their major concentration is to read up finance and crypto-related articles or they just want to follow up some news on leofinance and they can't risk missing out.
On the leofinance interface, you will be rest assure that you won't bump into articles from other communities or fields.
Authenticity
If you are an authentic user on leofinance, the only way to mark you and single you out is if you utilize their interface.
Every community or second layer loves it when users engage through their frontends.
So carrying out your activities from another frontend even when your initial intention was to be seen and heard from a particular community would be at your own risk. So if your aim is to be seen and heard on leofinance then the best thing is to utilize their interface and engage from their frontend.
RANKING
The more users engage through the leofinance interface, the higher the ranking, and if by any chance you want to help in the community's growth then you know what is required of you.
Browse the interface and engage with healthy comments and I bet your existence wouldn't be hidden anymore and with that, you are helping the community's growth without even being aware of it.
So with these few points of mine, I hope I have been able to educate you on why most user utilizes the leofinance interface and why you should also if you are most interested.
It's a win-win for all of us, just give it a try. I hope to see you there soon!
SPANISH
Es una semana hermosa y esta semana prometió que valdrá la pena;)
He estado fluctuando por un tiempo y ya es hora de que vuelva a asentarme.
Sí, esta semana quiero encender mi espíritu de participación.
Lo he echado de menos por un tiempo.
Con tanto tomarme mi tiempo tanto en línea como fuera de línea, he sido pasivo con mi compromiso y no me gusta.
¿Empezar con Leofinance?
Para esta semana, estaba pensando en construir un dominio sobre leofinance :), si no por el hecho de que me inspiro cada vez que veo a @taskmaster4450 encabezando la lista de compromisos.
Cada vez me hace preguntarme y preguntarme si alguna vez hay alguien que pueda vencerlo en esa posición.
Probablemente eso sucedería si se fuera de vacaciones o algo así porque parece que su mundo gira en torno a Leo / Hive y no hay mejor manera de definir, compromiso y trabajo duro.
Y si esas dos palabras tuvieran forma humana, entonces tienes @taskmaster4450 como una 😁
Aunque cada vez que veo su nombre ahí arriba siempre estoy motivado para hacer más, pero también cada vez que sigo sentado en la parte inferior :( sin resentimientos😁
Entonces, para esta semana, estoy comenzando con leofinance, y nadie haría nada fuera de línea para cambiar mis planes y metas para esta semana.
Y espero que al final de esta semana se logren mis objetivos secretos.
Suficiente de mí y hablemos de la comunidad ahora.
¿Por qué crees que más usuarios comentan o participan a través de la interfaz de leofinance y no desde peakD o hive.blog incluso cuando las publicaciones también aparecen en esa interfaz?
Bueno, aquí hay una verdad simple y lo que descubrí durante las últimas semanas lo he estado utilizando la capa de financiación;
VELOCIDAD
La velocidad en la interfaz de leofinance es insuperable.
Si, por algún error, hace clic en el Botón Publicar cuando no ha terminado con su publicación o hay un error que debe corregirse, lamento comunicarle que su publicación se habría enviado antes de que se dé cuenta,
del mismo modo sus comentarios también.
Parece que la velocidad del leofinance y cada botón de comando responde en una fracción de segundo.
Si dudas de mí pregunta a @nathanmars :)
ATENCIÓN
Usted sabe que cuando un usuario utiliza la interfaz de leofinance, entonces probablemente signifique que no necesita ninguna otra distracción según publicaciones o artículos de otros campos, o su principal concentración es leer artículos relacionados con finanzas y criptografía o simplemente
quieren seguir algunas noticias sobre leofinanzas y no pueden arriesgarse a perderse.
En la interfaz de leofinance, podrá estar seguro de que no encontrará artículos de otras comunidades o campos.
Autenticidad
Si usted es un usuario auténtico de leofinance, la única forma de marcarlo y destacarlo es si utiliza su interfaz.
A todas las comunidades o segundas capas les encanta cuando los usuarios interactúan a través de sus interfaces.
Por lo tanto, llevar a cabo sus actividades desde otra interfaz, incluso cuando su intención inicial era ser vista y escuchada desde una comunidad en particular, sería bajo su propio riesgo.
Entonces, si su objetivo es ser visto y escuchado en leofinance, lo mejor es utilizar su interfaz y participar desde su interfaz.
CLASIFICACIÓN
Cuantos más usuarios se involucren a través de la interfaz de leofinance, mayor será la clasificación, y si por casualidad desea ayudar en el crecimiento de la comunidad, entonces sabrá lo que se requiere de usted.
Navegue por la interfaz y participe con comentarios saludables y apuesto a que su existencia ya no se ocultará y con eso, está ayudando al crecimiento de la comunidad sin siquiera darse cuenta.
Entonces, con estos pocos puntos míos, espero haber podido educarlo sobre por qué la mayoría de los usuarios utilizan la interfaz de leofinance y por qué usted también debería hacerlo si está más interesado.
Es beneficioso para todos, solo pruébalo.
¡Espero verte pronto!
.
.

Gif Credit @mariosfame
Posted Using LeoFinance Beta
---
---