Want a Guaranteed Airdrop of a Governance Token? Just use this platform.
Some days back a friend was complaining to me that he never got any DeFi airdrops like UNI, 1INCH, TORN, BADGER etc. It was quite frustrating for him to miss so many high valued airdrops.
I told him that these ain't actually airdrops in the usual sense of getting some free coins for hodling another coin. Nor these were bounties for completing some pre-defined tasks to avail free tokens.
In fact, people were rewarded with Governance tokens for actually being early users to their platform and taking the risk of spending their hard-earned money on these new platforms.
Many people understood this trend and have started using every new platform with no governance tokens in hope to get some reward in future. But there is no certainty of these platforms coming up with a governance token in future or how they will choose to distribute their tokens in case if they do.
So today I'm trying to point all such airdrop chasers to a platform that will give you an assured airdrop of its Governance token a couple of months down the line.
Okay, if some of you may have already used it by now, so lemme get straight to it. I'm talking about CMP governance token which is planned to be launched in next 1-2 months.
For availing this airdrop, you need to use the Component platform. The Component is a community fork of Shell protocol and was started to make a reliable decentralized protocol for stable coin swaps to support Unit Protocol's USDP stable coin. Uniswap's bonding curve is not suitable for stable coin swaps because of the slippage involved.
In Component Pools there is no swap fee. So it's easy to maintain the stable value of the pegged stable coins.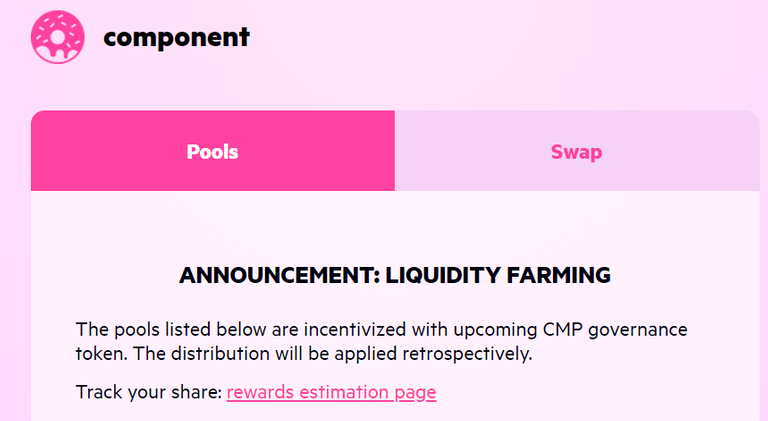 Regarding the distribution of CMP governance token, they officially mentions:
The Component governance token will be distributed retrospectively to the liquidity providers of core pools after a 1-3 month period, there are no certain conditions set so far, and information about distribution parameters will be announced later. The reward period starts from the time of the announcement.
The only thing you need to do is to provide liquidity in one of their pools. The amount of liquidity you supply and the duration of it will be taken into account for the proportionate distribution of CMP.
So even smaller amounts count.
But yeah, be mindful of ETH gas fee!
If you want to save on some gas fee, don't use https://component.finance/ on Ethereum chain. Use it on xDai chain at https://xdai.component.finance/.
Yes, all liquidity provided on xDai network to USDP/WXDAi/USDC (50/25/25) pool will equally count for the airdrop of CMC.
But now don't ask me about the value of CMP. I really dunno! Do your own evaluation. By now, its TVL has already exceeded $39m, if that helps.
So have you ever used any other platform just in the hope of getting some airdrop from it? What's it?
---
---