Can Plants Prepare a Non-veg Dish?

Most hard-core non-vegetarians predominantly from heavy meat-eating regions can't even imagine a healthy & thriving human life sans non-veg food.
I used to get amused by vegan people who regularly posted every single picture of food that they eat for flaunting their vegan diet. Later I learned that many vegans in meat-eating region didn't have access to vegan dishes ...actually they had no idea what a person would eat if he or she turns vegan. So their food photography was instrumental in infusing some awareness among their meat-eating friends about the possibility of delicious vegan dishes.
To some extent, such stereotypes are present in India too.
In India, things are little topsy-turvy!
Here, many vegetarian people want to enjoy non-vegetarian dishes but their ethics or culture doesn't allow their conscience to go for any food prepared by slaughter of animals. Yet, they somewhere have this secret feeling that they may be missing on extremely delicious non-veg dishes. They picturize non-veg dishes as bringing some heavenly experience to one's taste-buds, else, why would non-veg people continue to stick to such a cruel diet!
So over time many businesses started offering non-vegetarian dishes created exclusively from plants and proved that plants have all the tastes that non-vegetarians enjoy and much more than that!
A couple of days back Anand Mahindra, a billionaire industrialist, tweeted the following menu from a roadside eatery: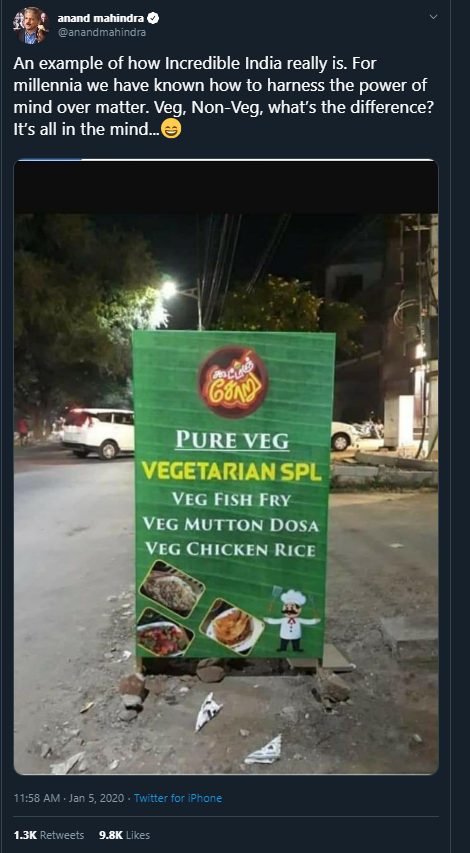 Note that the menu standee has an emphasis on words "PURE VEG" & "VEGETARIAN SPL".
This tweet drew a mixed reactions but it was interesting to see many people tweeting similar vegetarian restaurants that are selling vegetarianised non-veg dishes.
...and finally, a mock-meat food company from my own city tweeted an article link:
Many people do make a fun of it saying why do vegetarians cave for non-vegetarian taste and what kind of emotions do they fathom when eating such vegetarian dishes. Of course, there are many facets and perspectives but this truth can't be denied that several innocent animals are tortured and slaughtered for no reason to prepare non-veg dishes when all tastes can be created through plants.
The other important point this tweet demonstrates is how easy it has become to opt for veganism for one and all! What are you waiting for?
---
---