Another 1INCH Airdrop. This time it's for you! Check your wallet.
It was the Christmas day when 1INCH Exchange launched and airdropped its governance tokens. That was the second time a big airdrop was made to DeFi users after the UNI airdrop by Uniswap in September, 2020.
This time it's on Chinese New Year - the Year of the Bull.
Can we call this as the year of Ox? (As all large DeFi airdrops are being offered
on the biggest DeFi blockchain - 0x... err, not ZeroX but Ehereum).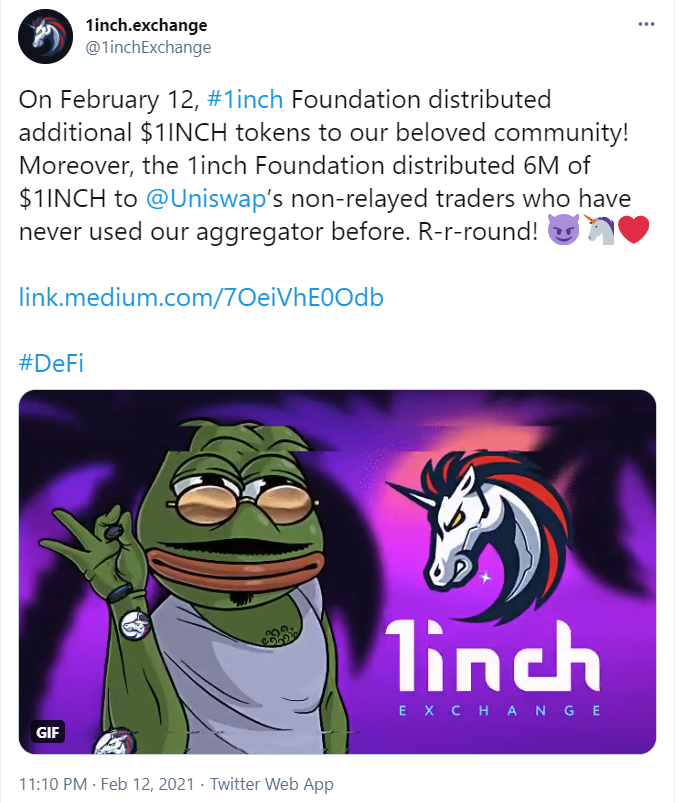 In the earlier airdrop, 1INCH airdropped to the users of its own platform. This time it's for DeFi traders who NEVER used its platforms 1inch Exchange nor Mooniswap. But they were frequently using Uniswap. This distribution happened to the Ethereum addresses which fulfilled following conditions:
(i). At least 20 unique trading days and
(ii). At least 3 trades made in 2021.
If you think your wallet is eligible for this airdrop, just go to 1inch Exchange and claim it.Trading bots were excluded from this airdrop.
Have a great Year of the Bull!
P.S.:
Please check the official announcement here.
---
---