We Are Alive Tribe - The Guide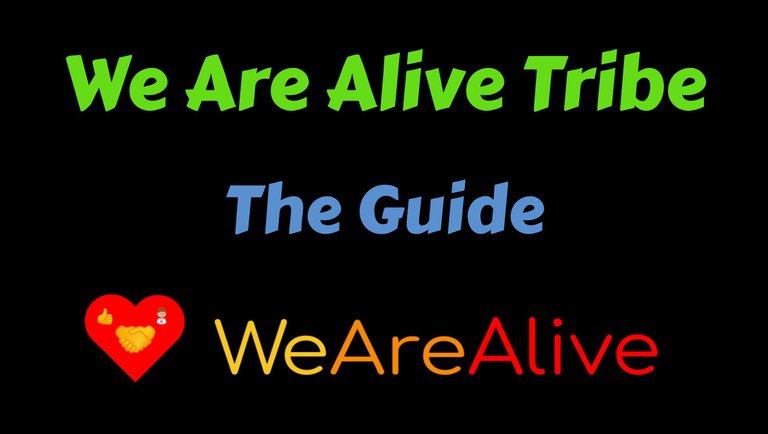 Made in Desygner
We Are Alive Tribe - The Guide
Updated: January 21, 2022
This is the guide for the We Are Alive Tribe located on, https://www.wearealiveand.social/ and our Hive Community called We Are Alive Tribe, with our tokens on Hive-engine, ALIVE and ALIVEM, and the projects and type of posts that are welcome here.
---
Our Tokens And Our White Paper
We have 2 tokens on Hive-engine, one is our rewards token and the other is our miner token, and to post in our tribe you can use 1 or more of our 4 tags, #alive, #iamalivechallenge, #lukeisalive, #aliveandthriving, and make sure to follow our posting guidelines below.
ALIVE: https://tribaldex.com/trade/ALIVE
ALIVEM: https://tribaldex.com/trade/ALIVEM
The details for how our tokens operate and a bit about how we launched them and our original airdrop can be found in our white paper, White Paper 2.0 - ALIVE And ALIVEM.
The We Are Alive Tribe and the ALIVE token was launched on April 16, 2021.
---
The 3 Core Projects In Our Tribe
We have 3 core projects in the We Are Alive Tribe, 2 of them was already up and running a long time before we started our tribe, and one has just been launched the same week as this guide is first published.
The first 2 are the #IAmAliveChallenge and the #LukeIsAlive contest, and the third is the #AliveAndThriving project.
---
The I Am Alive Challenge
The #IAmAliveChallenge was started by @flaxz on April 3, 2020, and it was introduced in this video, I Am Alive - Day 1 - #IAmAliveChallenge - #HiveIsAlive.
The #IAmAliveChallenge (IAAC) has been updated a bit since the launch, especially to work with our tribe, but the main message is still the same.
IAAC is still about remembering that we are alive when we find ourselves in hard circumstances in life, to celebrate that fact and share it with the world on the Hive blockchain, as long as you are alive you have hope of a better tomorrow, a chance to make the world a better place for yourself, your children and the world around you, you matter, you are alive.
We Are Alive!
The 4 points of the #IAmAliveChallenge, all points are mandatory, and it's one post daily plus share your Proof Of Life, and this challenge is about finding hope of a better tomorrow despite the troubles in the world, and sharing your gratitude for being alive.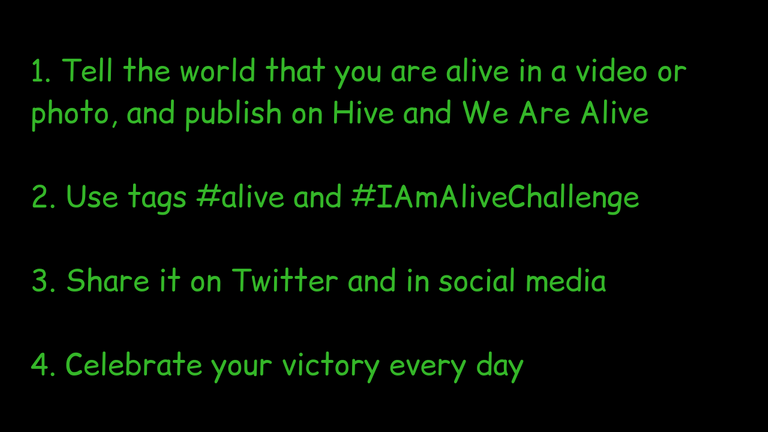 Made in Canva
Alive Engagement Contest
To encourage engagement we have the daily Alive Engagement Contest on the @iamalivechalleng (we know, but accounts can only have up to 16 characters) account, and with 2 winners each day, and this is a project to support IAAC, but everyone are welcome to take part.
First prize is a 4 week delegation of 200 Hive Power which is delegated by @flaxz.
Second prize is a 4 week delegation of 1000 Alive Power and delegated from the stake on the @iamalivechalleng account.
The rules for how to take part in the Alive Engagement Contest can be found in the latest post from @iamalivechalleng.
The @iamalivechalleng account is also using the paid service called Dustsweeper with INOUT priority to make sure that both votes on it's own comments and votes that it makes on posts published by IAAC participants gets above the Hive dust level and actually earns a payout in Hive.
Plus we also have a few more ways to add support, like tipping tokens for example, read more in the latest post from @iamalivechalleng.
---
The Luke Is Alive Contest
The #LukeIsAlive contest was started not long after the #IAmAliveChallenge by @flaxz, and a few months after that it was taken over by @maddogmike who now owns the #LukeIsAlive contest with all of the accounts for it.
This contest is run on the @lukeisalive account, with a daily drawing that currently has 1 winner who gets a 300 CTP Power delegation for 4 weeks and a 1000 Alive Power delegation for 4 weeks.
To take part in it and get drawing tickets for the daily drawing you go and hunt for Luke in the Scavenger Hunt in ClickTrackProfit, and then you make a post about it and share your Proof Of Luke, preferrably with screenshots of finding him, and the post should have a minimum of 50 words.
For each time you find Luke you get 1 ticket for the daily drawing, and if you complete the Scaveneger Hunt by finding him 5 times you will get 6 tickets.
You can also increase the tickets you get in other ways, make a longer post, show your Lead Capture Pages for your list, show your conversion tracking for your list, and make a video, more detaills about this can be found in the Luke Is Alive Community.
If you want to start building your email list and start for free then you can get all those tools at LeadsLeap, they do have upgrades but the basics are free with no time limit to upgrade.
---
The Alive And Thriving Project
As this guide is written the #AliveAndThriving project is just starting, but it is it's own core tribe project, and the support center for it is @alive.chat, and our daily chat is also where we will share updates and news for the tribe, plus financial tips to help you thrive economically in the long term.
We have now also started a curation and moderation project for #AliveAndThriving on the @aliveandthriving account, which has a lot of Alive Power to vote with, and it is followed by @youarealive which has a lot of Hive Power to vote with.
While sharing your financial goals and your journey to reach them is part of #AliveAndThriving, it is also so much more, to thrive in life includes all parts of your life.
So #AliveAndThriving is about you and your life and sharing your life's journey, living life to it's fullest in all parts of it, like personal, mental, spiritual, your hobbies and interests, and also your journey to financial freedom.
The #AliveAndThriving project and posting for it is therefore also less formal than both the #IAmAliveChallenge and the #LukeIsAlive contest, but to make sure that everyone knows what it is about, both to make posts for it and to curate posts published for it in our tribe then we have made 4 points of what it is about and how to take part.
The 4 points of #AliveAndThriving, the first point is mandatory, then add one or more of the rest, share your journey to thrive in life.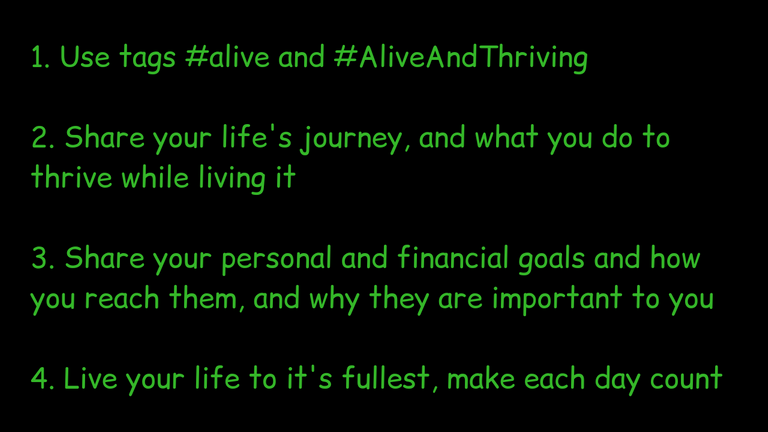 Made in Canva
We want you to thrive in life, and to share your journey towards that and to do that in the We Are Alive Tribe, and get encouragement and build relationships with others on the same journey, live your life to it's fullest and make each day count.
---
Posting Guidelines For The We Are Alive Tribe
So what posts are welcome in the We Are Alive Tribe?
1.
Posts for the 3 core projects are of course very much welcome here, the #IAmAliveChallenge, the #LukeIsAlive contest and the #AliveAndThriving project.
2.
Post about the 3 core projects and posts that are part of projects supporting the 3 core projects are of course welcome.
3.
Posts about our tribe and about our tokens are also welcome in our tribe.
---
Additional Projects To Support The Tribe
We also have quite a bit of additional projects running to support the tribe and the tribe members, and we will list them here.
Curation Trail
@bradleyarrow has set up a curation trail for the tribe on his own account, if you want to follow that see his guide here, Joining a Curation Trail... Updated.
Twitter Sharing
@bradleyarrow is also our Twitter Captain, and when you share your posts on Twitter then tag him with his Twitter handle and he will make sure to retweet it to spread it further, https://mobile.twitter.com/AndersonSBrad
Noise.cash
We have a community for the We Are Alive Tribe on Noise.cash, sharing your posts there will earn you Bitcoin Cash, https://noise.cash/c/we-are-alive-tribe-ml256g21
You can get a BCH address directly from Blocktrades if you want to get your payouts automatically converted to Hive, just make sure to set a payout limit to avoid too high transaction fees.
Discord
We have a Discord set up for the We Are Alive Tribe, and there you can get support and more resources if needed, https://discord.gg/qXqv63J
Hive Knowledgebase
We have created a knowledgebase about Hive and affiliate marketing called Hive Affiliates Community, the index is located in Hive Affiliates Community - The Guide.
Alive Video Masters
@iamraincrystal is heading our Alive Video Masters project, it is a mentorship program to help people get started making videos on Hive and the We Are Alive Tribe, and to support it she has her own Discord for it, https://discord.gg/mw83TtJAfK
Plus a quick start guide and an ebook can be found here, I Am Alive Challenge - Start Making Videos - Easy Guide With Tutorials.
Want To Post On CTPtalk?
If you also want to post on CTPtalk while posting for the #IAmAliveChallenge then we have created posting guidelines for that, Posting Guidelines For IAAC On CTPtalk.
Get Alive Power Delegation For Your Project
If you are running a project or look to start running a project in the We Are Alive Tribe then you can apply for a delegation of Alive Power from the @aliveprojects account here, Alive Projects Is Alive - ALIVE Power Delegations For Tribe Projects.
@flaxz is running the #AliveOnThursday staking contest, and pays out a total of 1000 Alive tokens from his own earnings to participants who have increased their ALIVE stake during the week.
Daily BRO And PGM Payout To ALIVE Stakeholders
We pay out a total of 0.43 BRO tokens and 5 PGM tokens to ALIVE stakeholders every day, this is paid for by the earnings on @aliveprojects, and the payouts are done using the @youarealive account, and here is more details.
Enagagement Rewards
Our Engagement General @jlufer is promoting engagement in our tribe by upvoting meaningful comments with his own stake.
Alive Tipping Bot
We have a tipping bot that sends out 0.1 ALIVE token tips as stake with a comment command !ALIVE, and you can use it given that you have at least 1000 ALIVE staked, and we have 4 levels.
Level 1: 1k AP = 10 tips per day
Level 2: 5k AP = 20 tips per day
Level 3: 20k AP = 30 tips per day
Level 4: 100k AP = 40 tips per day
Read more about it in the latest post from @alive.chat, and you have our initial announcement below.
Alive And Thriving Ebook
Team Alive and headed by @flaxz and @threesteps is currently writing on a free rebrandable ebook for the We Are Alive Tribe, look forward to the launch for more details.
---
Thank You!
Thank you very much for reading this post, leave your thoughts in the comments below, and ...
Stay safe, awesome and alive!
Sincerely,
We Are Alive And .Social
Written by @flaxz
This is my own personal opinion, do your own research before investing, and seek legal counsel if uncertain.
---
---
---
---