🗞 Daily Crypto News, March, 24th💰
Welcome to the Daily Crypto News: A complete News Review, Coin Calendar and Analysis. Enjoy!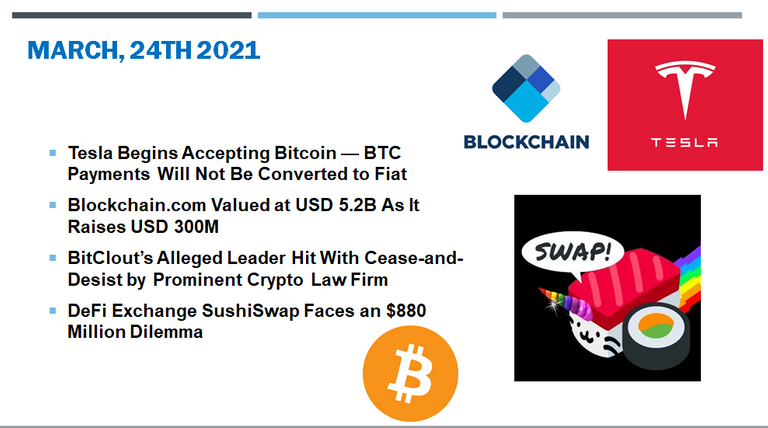 Elon Musk's electric car company, Tesla, has started accepting bitcoin payments. Musk, whose title is now Technoking of Tesla, also confirmed that all "Bitcoin paid to Tesla will be retained as bitcoin, not converted to fiat currency."
Tesla Now Accepts Bitcoin
Tesla has begun accepting bitcoin payments. Elon Musk, who recently changed his title from the CEO of Tesla to the Technoking of Tesla, announced via Twitter Wednesday morning, "You can now buy a Tesla with bitcoin." The bitcoin payment option has also been added to the Tesla website along with a page explaining how to pay with the cryptocurrency.
Musk further tweeted that the "pay by bitcoin capability" will be available outside the U.S. "later this year." In addition, the Tesla technoking confirmed, "Bitcoin paid to Tesla will be retained as bitcoin, not converted to fiat currency," noting that his company "is using only internal & open source software & operates bitcoin notes directly."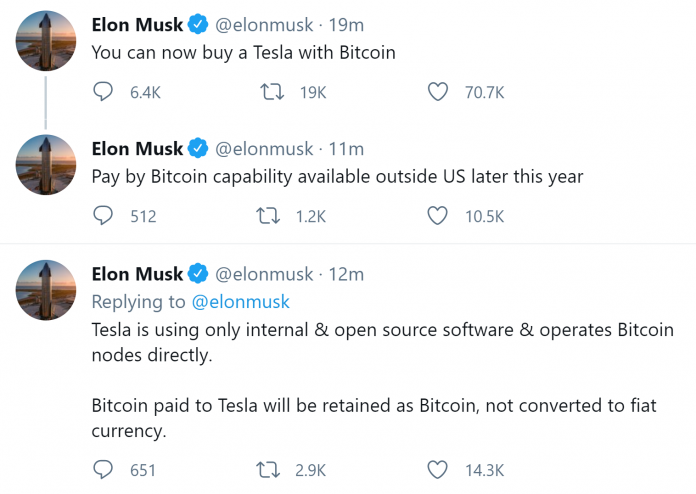 Initiate payment from your bitcoin wallet. You can either scan the QR code or copy and paste the bitcoin address and the exact bitcoin amount into your wallet.
London-based major crypto firm Blockchain.com raised USD 300m in an investment round that gave the company a USD 5.2bn valuation.
In a February 24 announcement on the company's website, CEO Peter Smith said that their Series C round was led by DST Global, Lightspeed Venture Partners, and VY Capital, as well as with participation from other existing and leading investors from across the world.
This round follows the USD 120m strategic growth round announced in mid-February, which was led by a number of macro investors. The company said that the new partners "who have experience in supporting companies during times of hyper growth — are the perfect complement to our recent addition of some of the best macro investors like Louis Bacon and Kyle Bass."
Smith added that over 31m verified users from over 200 countries use the company's products, while they've also seen a 3x increase in active users over the past 12 months. Furthermore, Blockchain.com is "highly profitable across each of our business lines," it added, having surpassed all of 2020 contribution margin in the first 2 months of 2021.
Brandon Curtis, the product lead for decentralized token exchange Radar Relay, has fired a legal warning shot at the alleged creator of controversial social network BitClout for using Curtis' likeness without his consent.
Anderson Kill P.C., the law firm representing Curtis, has sent a letter to Nadar Al-Naji, formally claiming the former Basis founder breached California's civil codes. BitClout is a social media network that issues "creator coins" (paid for in bitcoin) corresponding to different users. The platform appears to use profiles pulled from Twitter, regardless of whether the Twitter user has actually signed up to BitClout or not.
The cease-and-desist letter is the latest twist in the odd tale of BitClout, a controversial project whose founders have gone by pseudonyms. While one of those founders, who goes by the handle Diamondhands, claims BitClout offers a new way to monetize a social following, others have balked at several aspects of the rollout, including the current inability to trade out of the BTCLT token once it is purchased.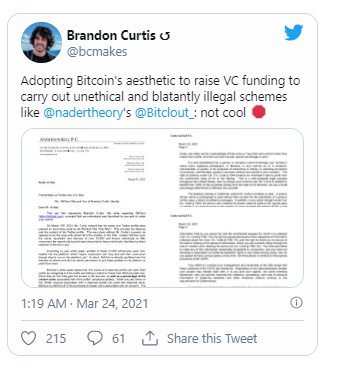 SushiSwap is supposed to be unlocking $880 million in tokens. But fears that this could crash the token's price are sparking debate in the community.
A significant amount of SUSHI tokens are set to be released from the end of April onwards.
SushiSwap's community is debating whether the token releases should go ahead.
The community of decentralized exchange (DEX) SushiSwap is wrestling with the issue of an estimated 47 million tokens ($880 million) that are set to be released from the end of April. The concern is that, if these tokens are suddenly dumped on the market, the project's token—which only has a $2.3 billion market cap—could be crushed.
But on the flip side, if SushiSwap reneges on the deals—and some code suggests that the DEX could have the capability to do so—then it would be a slap in the face to those who bootstrapped the project through its early days. Something that DeFi Pulse co-founder Scott Lewis said, "would result in a significant degradation of sushi's reputation if they ask protocol participants to earn again what is already owed."
🗞 Daily Crypto Calendar, March, 24th💰

"Kava 5.1 proposed to upgrade at 15:00UTC March 24th."
"$HARD Money Market Version 2 is set to launch 15:00UTC Wednesday March 24th. 9:17 AM · Mar 9, 2021"
"STONES can be used to redeem curated and selected Ethernity NFTs. Farming won't start till March 24th."
"SakeSwap on #BSC countdown - 6 days"
My Neighbor Alice (ALICE)
"Join us for an AMA with Binance Polish."


➡️ Youtube
➡️ LBRY
➡️ Twitter
➡️ Hive
➡️ Publish0x
➡️ Den.Social
➡️ Torum
➡️ UpTrennd
➡️ Read.cash
➡️ Spotify
➡️ Be paid daily to browse with Brave Internet Browser
➡️ A secure and easy wallet to use: Atomic Wallet
➡️ Invest and Trade on Binance and get a % of fees back
➡️ Check out my video on Unstoppable Domains and get 10$ off a 40$ domain purchase
➡️ Get 25$ free by ordering a free Visa Card on Crypto.com using this link or using this code qs4ha45pvh


20% of this article rewards wil go to the @hodl-fund account in order to support HODL Community Initiatives.
Find out more about HODL Community: Crypto Social Community and by following our community account @hodlcommunity

If you would like to delegate some HP to our community and support us; we give you back 90% of the curation rewards on a daily basis ! APR > 12% !
500 HP - 1000 HP - 2500 HP - 5000 HP
Make a good APR Curation by following our HIVE trail here
---
---