I Have Accumulated 500 HBD [ENG-TUR]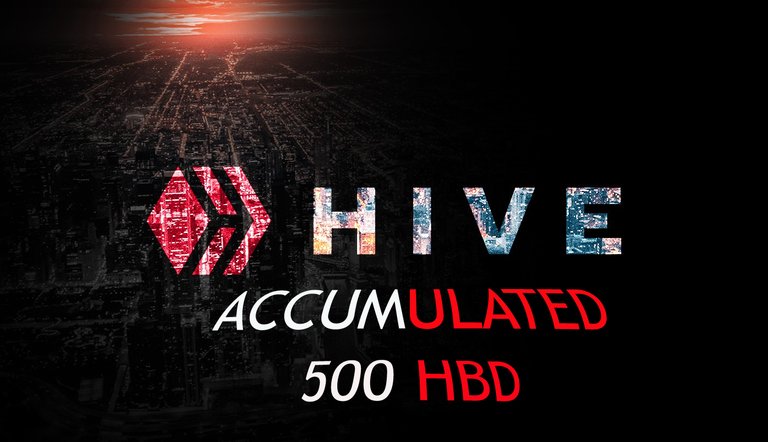 I took the photo from hive.io community and rearranged it.
Hi Friends
Today I have reached my another goal on HIVE, which is accumulating of 500 HBD. As you know, HBD is a stable cryptocurrency of the HIVE blockchain whose value is equal to or desired to be 1 USD. To make the value of HBD equal to 1 USD, smart contracts that convert HIVE to HBD or HBD to HIVE are operated on the HIVE blockchain. For details and technical information, you can check 1, 2 and the recent post of @taskmaster4450.
Merhaba Arkadaşlar
Bugün HIVE'da bir başka hedefim olan 500 HBD biriktirme hedefime ulaştım. Biliyorsunuz ki HBD, HIVE blokzincirinin, değeri 1 USD'e eşit olan ya da olması istenilen stabil bir kripto parasıdır. HBD'nin değerini 1 USD'e eşitlemek için HIVE blokzincirinde, HIVE'ı HBD'ye ya da HBD'yi HIVE'a çeviren akıllı kontratlar çalışmaktadır. Detay ve teknik bilgi için 1, 2 ve @taskmaster4450 'in güncel yazısına bakabilirsiniz.
Some of the author rewards are distributed as HIVE and some as HBD on the HIVE blockchain. The proportion of this distribution can be changed by HIVE witnesses over time. In 2021, an annual interest of 12% began to be paid to HIVE members who transfer HBD to their savings account in order to preserve the value of HBD. The interest rate was subsequently increased from 12% to 20% to further encourage HBD savings. There is no financial institution in the world that pays an annual interest of 20% for an instrument whose value is almost equal to 1 USD. If you deposit this money in USD in any bank in Turkiye, you will receive interest payout at the rate of 1%-2% per annum and also you will pay tax about 20% of the interest income. Considering today's HIVE and HBD prices, I think it makes a lot of sense to save HBD and get interest payout.
HIVE blokzincirinde yazar gelirlerinin bir kısmı HIVE, bir kısmı da HBD olarak dağıtılır. Bu dağılımın oranı zaman içinde HIVE tanıkları tarafından değiştirilebilir. 2021 yılında, HBD'nin değerini korumak amacıyla tasarruf hesabına HBD transfer eden HIVE üyelerine yıllık %12 faiz verilmeye başlandı. HBD tasarrufunu daha da teşvik etmek için faiz oranı sonradan %12'den %20'ye arttırıldı. Değeri hemen hemen 1 USD'e eşit olan bir enstrüman için dünyada yıllık %20 faiz veren bir finansal kuruluş yok. Bu parayı USD olarak Türkiye'de herhangi bir bankaya yatırsanız yıllık %1-%2 oranında faiz alırsınız ve ayrıca %20'ye yakın da faiz gelirinden vergi öderseniz. Bugünkü HIVE ve HBD fiyatları dikkate alındığında, bana göre HBD biriktirip faiz almak çok mantıklı.


Source
From today on, if I don't transfer any HBD to my savings account, I will get 8.33 HBD interest payout per month and 100 HBD per annum. I don't take the compound interest into account. Assuming the price of HIVE is at $0.30, I will have got interest payout of 27.76 HIVE units per month. If convert 500 HBD to HIVE, it makes 1666 HIVE. Supposing that I powered up with all of it, I could not have got 27.76 HIVE curation rewards per month with that much HIVE Power. As is seen, it is more rational to accumulate HBD and got interest payout at today's prices. On the other hand, I see that it is not preferred to accumulate HBD both in the TR community and on HIVE general. HIVE Power Up Days may also have affected this situation. At the beginning of each month, the list of monthly HBD interest payouts distributed on the HIVE blockchain is published by @geekgirl on the basis of account. As far as I have followed her posts, there is an increase in the HBD accumulation of the HIVE community every month.
Bugünden itibaren tasarruf hesabıma hiç HBD transfer etmezsem, aylık 8.33 HBD, yıllık ise 100 HBD faiz geliri elde edeceğim. Bileşik faizi hesaba katmıyorum. HIVE'nin fiyatını 0.30$ olduğunu kabul edersek, aylık 27.76 HIVE biriminden faiz geliri elde etmiş olacağım. 500 HBD'yi HIVE'a çevirirsek, 1666 HIVE yapar. Hepsiyle oy gücümü (kovan gücü) arttırdığımı düşünürsek, bu kadar oy gücü ile aylık 27.76 HIVE kürasyon geliri elde edemezdim. Görüldüğü üzere bugünkü fiyatlarla HBD biriktirip faiz geliri elde etmek daha rasyonel duruyor. Buna karşın, gerek TR topluluğunda gerekse HIVE genelinde HBD biriktirmenin pek tercih edilmediğini görüyorum. Bunda Oy Gücü Arttırma Günlerinin de etkisi olabilir. Her ayın başında, @geekgirl tarafından HIVE blokzincirinde aylık dağıtılan HBD faiz tutarları listesi hesap bazında yayınlanıyor. Onun yazılarından takip ettiğim kadarıyla HIVE topluluğunun HBD birikiminde her ay artış var.
I am not completely sure about my next strategy. It might be necessary to convert some of the HBD to HIVE with the expectation that the price of HIVE will rise above 1 USD in the future. For now, I think of accumulating less HBD and converting the remaining HBD to HIVE to participate in the HIVE Power Up Days with a higher amount of HIVE. Let's see how the balances will change on HIVE in the future.
Bundan sonraki stratejim konusunda tam emin değilim. İlerde HIVE'ın fiyatının 1 USD'nin üstüne çıkacağı beklentisiyle HBD'nin bir kısmını HIVE'a çevirmek gerekebilir. Şimdilik, daha az HBD biriktirmeyi ve kalan HBD'yi HIVE'a çevirip ile Oy Gücü Arttırma Günlerine daha yüksek tutarda HIVE ile katılmayı düşünüyorum. Bakalım ilerde HIVE'da dengeler nasıl değişecek.
What is written here is not financial advice. My calculations are based on today's prices, conditions may change tomorrow. The best investment is doing your own research and decision before making any investment. Thank you for reading.
Burada yazılanlar yatırım tavsiyesi değildir. Yaptığım hesaplamalar bugünkü fiyatlar üzerindendir, yarın şartlar değişebilir. En doğru yatırım, yatırım yapmadan önce kendi başınıza araştırıp karar vermenizdir. Okuduğunuz için teşekkür ederim.
---
---