Merit As Reward - What Is The Fate Of Brawl | New Daily Focus View


It should be more than a week already since they announcement of adding merit to the normal chest reward option for players and prior to that, only brawlers have the chance of earning merit based on the guild battle which was really good back then because it serve as an added advantages and a motivator for players to join guild and take part in guild brawl battles. Since they introduce gladius pack which you can only purchased with the merit earn from brawl, I have been looking forward to each guild brawl match and i always make sure I don't miss one because they serve as free cards with more benefit, plus it add to our cp collection. Since we cant purchase those card on market, we have too keep playing brawl match.
But it seems brawl isnt that important anymore since they introduce merit to normal chest reward and people have been asking what is the use of guild/brawl battle since the only thing earn is now easy to collect. On my side here have seen close to 600 merit so far and have seen people earn more merit like dec since what you see is now random. I hope bring more reward to guild battle so as to make brawl battle encouraging.
Daily Focus Update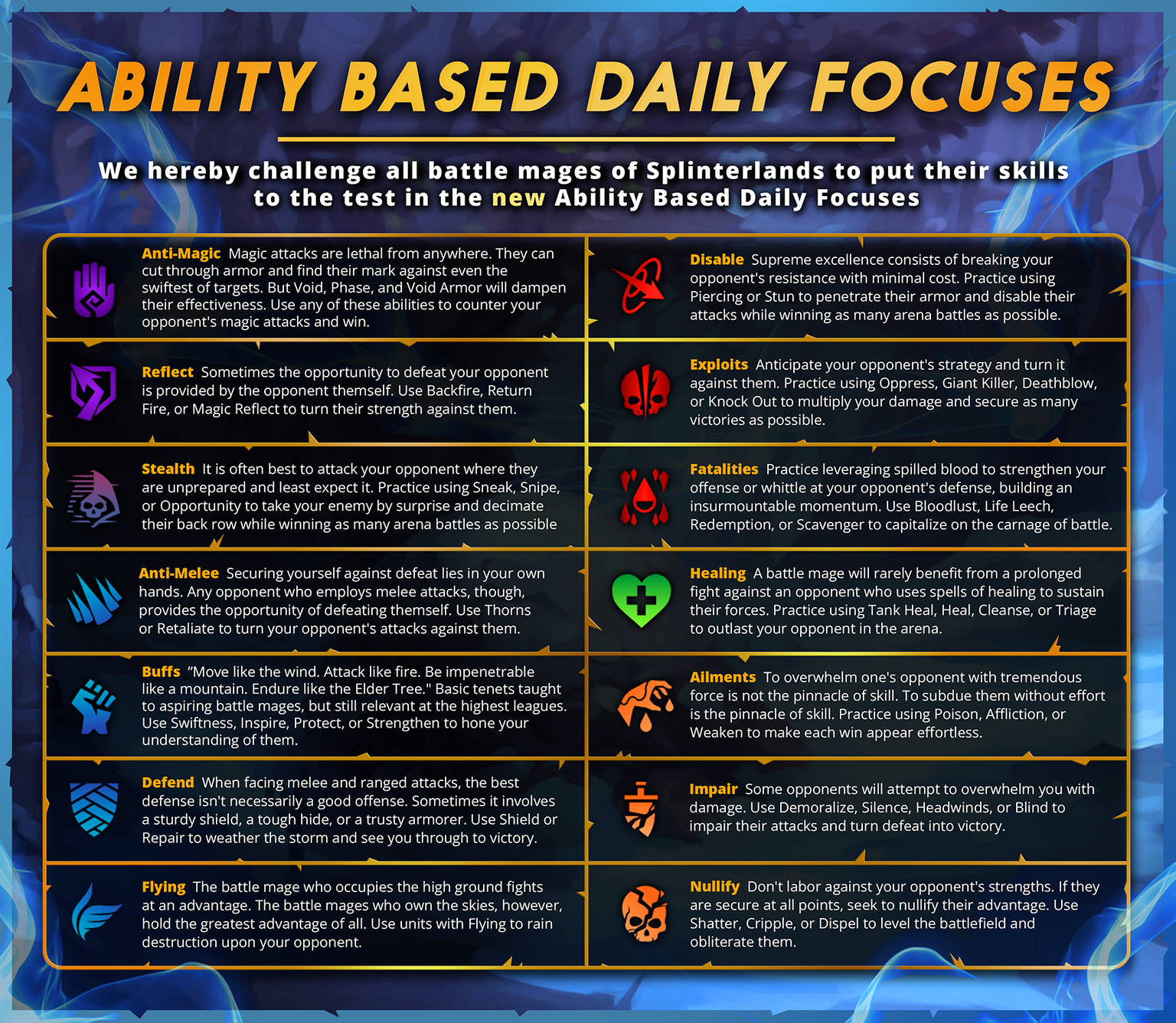 One of the thing have been really looking for since the new daily focus update is this particular image i saw on @mawit07 post, it give full information on all ability based focus, what you need to know and how you can prepare for daily battle. I can say this is far better than the element daily focus which give skilled player more advantage over you, they tend to know what you might be playing against them and have the possible chance to counter your attacks or deal more damage to your monster cards. Using a single element in battle waste my ECR mostly since I have to battle my heart out to meet up with my normal daily chest target but it is very easy now since you can see most of the abilities in different element unless you didnt level up your cards or decide not to rent.
Have been giving 3 abilities so far (Anti-melee, stealth and disable) and they were every easy based on the abilities attached to them, patiently waiting for others so i can test them out. The image is important and well detailed, you should check it out.
More details about splinterland Doc, click here


---
---