Greed And Cryptocurrency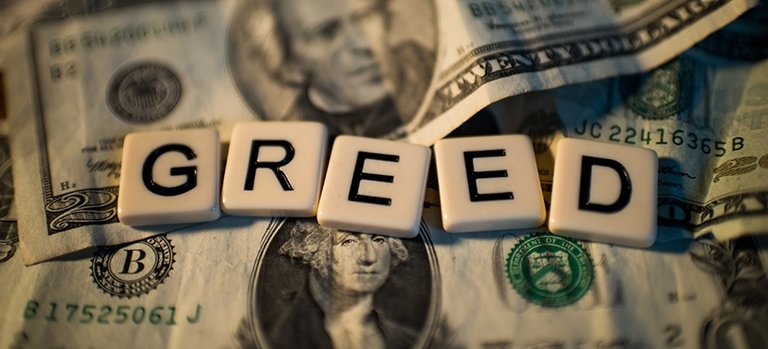 If you have been following my articles you would know I have once mentioned the fact that my dad isn't a fan of cryptocurrency. Two days ago I was having my usual conversation with him about business and a little bit of cryptocurrency evangelism but he still wasn't seeing reasons with me. He made mention of many major scam incidents supposedly similar to cryptocurrency that happened in the country including the notorious MMM. Today there is no single Nigerian who doesn't know about MMM and that's because at least 20% of the population tried it with hopes of getting so much profit in return.
Funny right? At that time MMM promised to reward investors X2 any amount they invested in the business within a few days. It still amazes me that many people didn't bother to find out exactly how this would happen or where the money was from, all the cared about was the X2 profit they would be making in days. Greed had them calculating returns in their head and smiling sheepishly at themselves, most thought they had hit the mother load and took loans, some sold their cars and houses while others stole from their places of work. Sadly MMM crashed shortly after taking all their money and dreams along with it.
Why do you think so many people fell for such an obvious scam? The simple answer is greed. Looking to reap where you did not sow, trying to make money without having to do anything blinded so many people. Some victims had stroke and died, some became vegetables , some went into debts while others lost their jobs and ended up in prison cells.
This like many other scams are reasons why at least 50% of Nigerians don't believe in cryptocurrency. Many think it's another MMM with a longer name because they do not understand how it works just like my dad. Sadly scammers are still taking advantage of the "still greedy" ones by hiding under the cryptocurrency umbrella because they are still looking for an opportunity to reap where they did not sow. An example of such scam is , buy 50BNB and get 100BNB at the end of the month, most of these victims know so little about cryptocurrency and their greed pushes them even further. Even the best traders can't guarantee 50BNB profit at the end of the month because the market is totally out of anyone's control, well the scammers know that but the greedy ones don't.
Greedy people as well as scammers are reasons why people like my dad would never believe in things like cryptocurrency no matter how much I explain because they know someone that knows someone that got scammed. It is sad how greed affects both victims and people around by creating a fear cloud which blinds them from enjoying legit opportunities. Until people learn to take interest and make proper research about projects before investing, greed will continue to create the fear cloud that will keep them and the people around from taking advantage of the amazing opportunities.
---
---