Entrepreneurship Vs Trading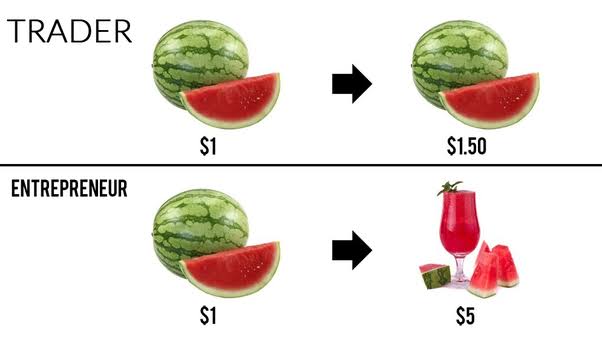 If you are in Nigeria, you would have noticed the sudden soar in people calling themselves entrepreneurs , CEOs, or traders whilst selling fashion items or other things. I am not a debbie downer but actually just here to set the facts straight. A lot of people confuse what being an entrepreneur means with what trading is all about just because they feel one sounds or feels higher or better than the other. Selling is when you give or hand over a thing in exchange for money for example selling bags , clothing items or shoes and others while an entrepreneur is a person that is able to see the need in the market and fill it while making money out of it.
A typical entrepreneur story is that of Garrett Camps, Uber founder. After Camp, he and his friends had to pay a very high price to hire a private car and he thought to find a way to reduce the cost of direct transportation. By sharing the cost with other people rather than one person having to pay the whole fee he found that it would be more affordable and so this idea became the Uber we know. With time Ubereats and UberX was created according to the change in need of the market. He found a problem that other people would be facing just like him and so he created a solution while making money from it. Entrepreneurship is not about buying goods at a cheaper price and selling it higher, neither is it about selling things online because most business have an online store.
Trading when carefully paid attention to and done smartly offcourse you will be successful especially if you have a large network of friends or customers. As an entrepreneur if your products or ideas are not solving problems then you are not truly an entrepreneur. Being a trader or an entrepreneur requires effort and truly creating value for your customers or the market. While trading might not work for everyone, so also entrepreneurship. The fact that being an entrepreneur is the vogue of the business world a lot of people jump into it without a proper understanding of what is required to be one. They find themselves failing over and over , for some it might be because the market for their idea has not been created yet and for some it's just because their ideas inst worth a penny now or in the next couple of years.
While both are aimed at making profit, they require different tactics and efforts. Being an entrepreneur requires lots of patience, hardwork and smart work as well. A traders success on the other hand is measured by how much you can sell. People wonder why they aren't making it big yet, it might actually be because you are on the wrong path and entrepreneurship is not for you. Some people might be able to joggle both and still be successful but we all know ourselves and our ability as well. Figure out what works for you and stick to it so you don't put unnecessarily stress or pressure on yourself. When you have decided which path suits you better , the next step is to take the right steps in the right direction so you don't become a gambler.
---
---